Blank Label Custom Shirt Review: After 12 months of reviewing all things golf, I have found more and more companies whose attire is just as appropriate off the golf course as on. Coincidently, at the same time I was discovering this phenomenon I stumbled upon a company called Blank Label who makes custom dress shirts. I guess it is fair to ask what a dress shirt review is doing in a golf blog . . . it's simple really, I figure if you read any of our apparel reviews, you are also probably just as particular about the clothes you wear off of the course. Hence, Blank Label falls into what we call "Golf Lifestyle".
Just like your favorite golf shirt, a well-tailored dress shirt is indespensible. The very name "dress shirt" implies that you are dressing up so obviously it should look good. Sure you could go into your local Marshall's and get a shirt for $40 and look like any other schmoe. Or you could go to a fancy store and choose from what they have on the rack and drop $250 and two hours of your life. Or, you can have your own custom tailored shirt made with your personal choice of colors and styles (and still have time to get in 18 holes).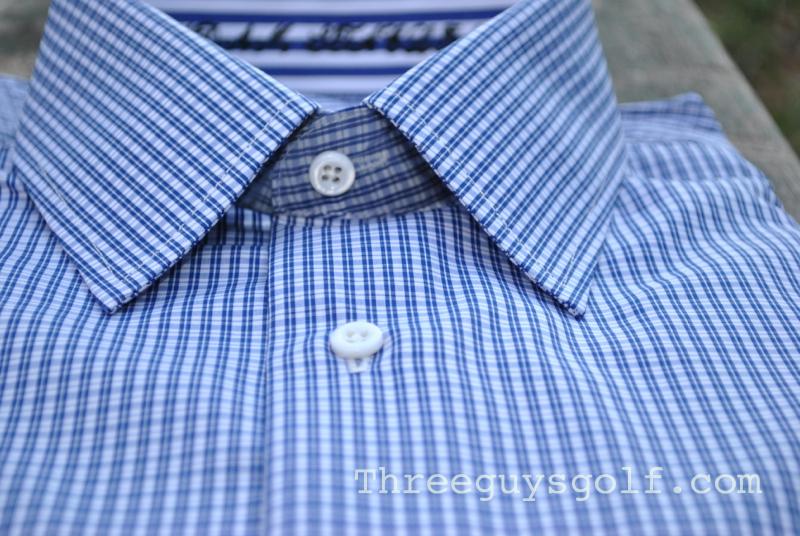 Here's how it works. The Blank Label website is super easy to navigate and allows you to literally build your own shirt. Not only can you choose the material, but you can choose collar style, pocket, cuff, placket, shoulder and buttons. Plus there are 3 monograming options. In my case I had the cuff monogramed and my name in the collar. Yea, it's kinda nuts, but also pretty darn fun to mess around with.
Speaking of collars and cuffs, you can also add contrasting material on the cuffs and collars (ala Cam in Modern Family). With all of these options, I defy you to not find a style you love. While it may be a bit overwhelming to make all of these choices, it is pretty hard to go wrong. However, if you are stumped, the website gives you a head start on a bunch of good looking styles categorized by collections. ie sporting, everyday, imported, etc.. Still, I might suggest you also employ the time-tested "ask the wife" approach when in doubt.
Finally, there is the sizing. Blank Label has three options: tell them your sizes, measure your best fitting shirt or send them a shirt. In my case I simply measured a shirt. Stupid simple and now they have my sizes and any new orders will be seamless. If on the chance the shirt does not fit, they will rebuild you a new one and donate the other to charity (kinda sweet). So what does this all cost? My shirt was $95 which is on the low end but most shirts run around $100-$125. Again, not going to the Men's Warehouse…priceless.
So here is the lowdown: you get the exact shirt you want, with a ton of options, in about 4 weeks at a significantly reduced price from that of a high end tailor. Plus they seem to add new fabrics all of the time so you will never run out of options. Done and done.
You can check and build your own shirt on the Blank Label website.