Strokes Gained Putters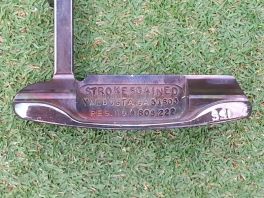 Ah, but a man's reach should exceed his grasp, or what is Heaven for? – Robert Browning

…we wanted a cool place for our buddies and customers just to hang out, talk golf, watch golf, roll putts and tinker with putters. – Neal Rohrbach

Where does he get those wonderful toys? – The Joker
It's probably best for us all that the reach of the founders of Strokes Gained Putters exceeds their grasp for now, or they might still be lounging inside Strokes Gained's luxurious putting studio cum world headquarters. And who could blame them? With overstuffed leather couches, big screens tuned to Golf Channel, and an 8×12 putting green emblazoned with the company logo (by day co-founder Neal Rohrbach is a marketing and business development guy, and it shows in the details), not to mention the CNC mill, lathe, and various noisy and very cool machines for turning chunks of steel into works of art. There's even a restaurant next door for late-night takeout, and if I were a betting man (which I am, at every opportunity) I'd take odds that there's a fridge with a few IPAs stashed in it, tucked unobtrusively out of sight.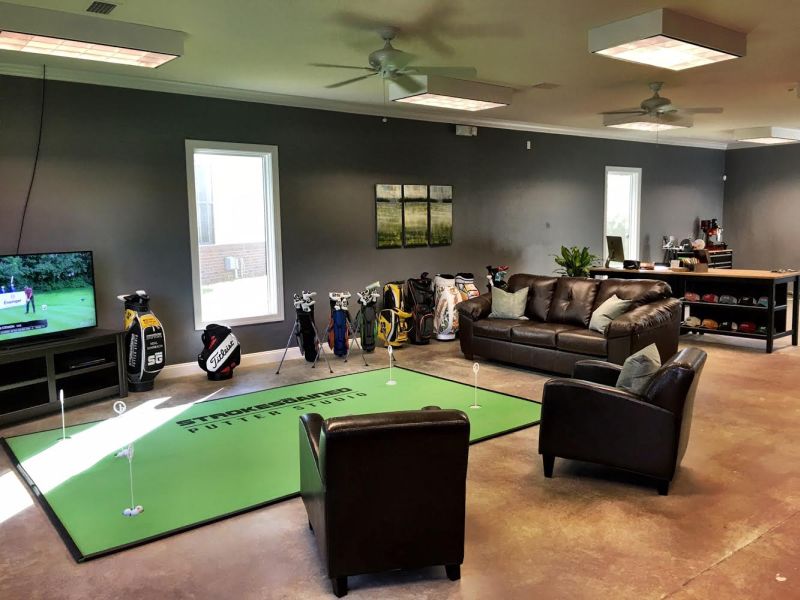 I want to live here
Why are we all fortunate that Neal and Jimmy felt compelled to create a high-zoot, brass-rail, gentlemen's club of a putter lounge? Because, like everything else, it's all good fun until the bill comes due. According to Neal: "I dug such a hole opening [the lounge] up that I was forced to put the retail in gear…" And putting the retail in gear means that Strokes Gained putters are now available to wider and grateful world.
For this review, Neal and I exchanged a few emails and, based on our conversation, he decided that the St Simons Island would be the best fit for my eye and stroke. I sent him my specifications, and before long I was ducking out of work at lunch to run to the post office. I have to confess that I lost a lot of my golf blogger reserve when I unboxed the SSI.
The guys at Strokes Gained have a bit of a finish fetish, constantly toying with new finishes to enhance the classic good looks of the Strokes Gained designs. Neal finished my St Simons Island in torched motor oil, and it is without a doubt the most attractive finish I've ever had on a putter. The iridescence of the finish highlights the lines of the classic rounded-bumper Anser style head. I'm not a fan of shiny finishes on the top line of a putter, but the torched motor oil is like the perfect little black dress – turning negatives into positives by highlighting the putters features. Just visible in the finish are milling marks running the length of the top strap, killing glare and helping to align the face squarely.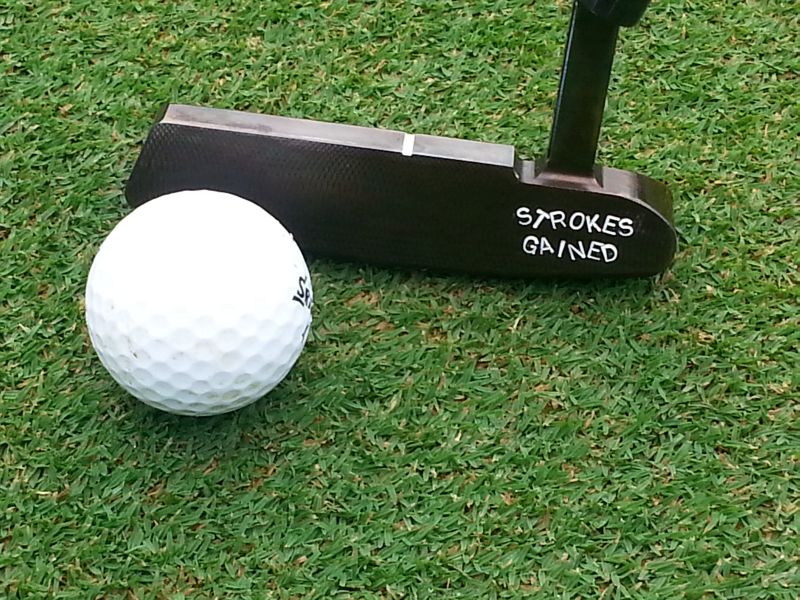 Hello gorgeous!
Adding a finish to a putter with a milled face is tricky – I've seen more than a few milled faces with clumps of finish in the grooves, which is not only unsightly, but kills the soft feel that's the raison d'etre for a milled putter. The finish on the St Simons Island is flawless, with even depth and color everywhere. Which is critical, because the St Simons Island is, to my eye, the most attractive putter in the Strokes Gained lineup. I've always been a fan of the rounded bumpers and rocker sole of the original Ping Dalehead Anser, and the St Simons Island captures the flowing lines that make that putter an all-time classic perfectly, with a hint of south Georgia drawl that just makes everything about the St Simons Island a little more.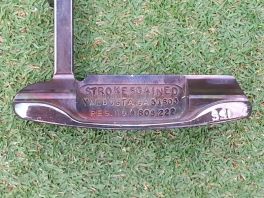 All the way from Valdosta
After being milled from a blank of carbon steel on a 5-axis CNC mill, all Strokes Gained heads are hand-finished in the studio, which results in a head with character, which is not to be confused with a head that looks like it was hand finished. The flats are flat, the curves have consistent radius, all of the lines show evidence of care and patience. The hand-stamping is artfully paint filled, charming, never sloppy. The single alignment line across the top line is crisply machined and crisply filled. This is a head that looks right at home amid the hardwood and overstuffed leather of the Strokes Gained studio.
The head is attached to a stepless shaft of the kind popular in high-end putters. I appreciate this attention to detail – it's the sort of thing that seems like just so much putter puffery, but really feel that stepless shafts give a feeling of quality that's lacking in their stepped counterparts. Mine is trimmed to play at my preferred 34″, and adorned only with a label bearing the Strokes Gained logo and recording my preferred specs (34″, 4 degrees of loft, 71 degrees of lie) and proclaiming proudly that Strokes Gained putters are made in the USA.
The user interface on my SSI is a standard-sized pistol grip from Pure, in never-after-Labor-Day white and adorned with the Strokes Gained logo. I've always been a fan of firmer grips than the slightly soft and tacky Pure, but in combination with the nicely weighted shaft and 350g carbon steel head, this grip gives excellent feedback and never left me wondering what was happening at the moment of truth.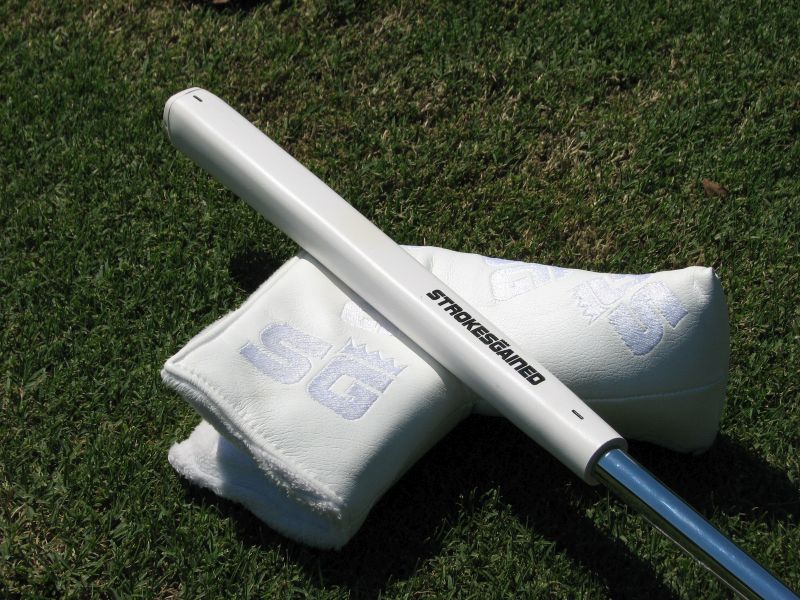 Cheap goodies are not how we roll
To complete the package, the SSI is swaddled in a custom SG-logoed headcover from Iconic Golf. It doesn't say that it's leather, but the top-grade synthetic is buttery soft to the touch, with nicely done embroidery. The hook and loop closure isn't my favorite, but it's attached firmly, which eliminates one my major issues with the type. Rip it open (exposing my other issue) and you're greeted with the softest, most plush lining I believe I've ever felt in a headcover.
The overall unboxing impression of the Strokes Gained St Simons Island is one of serious commitment to quality. Honestly, during my first photo shoot with it I realized that I might not even care if I couldn't make putts with this putter, it is simply too serious a piece to leave at home.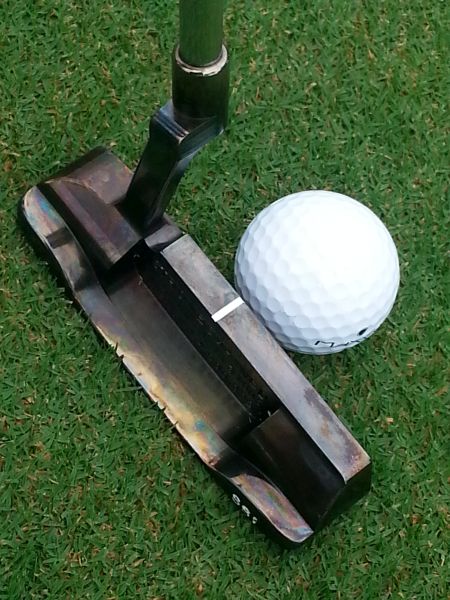 Loving the torched finish
Fortunately I'll never know whether I would have continued to bag the SSI even it wasn't working. After the shoot, I dropped my standard array of test balls on the practice green and started putting the SSI through her paces. Neal says that Strokes Gained's design philosophy is to build a putter that you can't wait to pull from the bag, and by that standard the St Simons Island is a roaring success. I'm always eager to hit this putter, and not just because it's appealing to look at.
I know that I've mentioned numerous times that Strokes Gained putters are made from carbon steel, but unless you've tried a carbon steel putter you might not appreciate what that means. Carbon steel is softer than stainless, and the combination of a solid blank, deep face milling, and carbon steel gives this putter a solid, authoritative feel. The best way I can describe it is that this putter feels like solid metal all the way through. After rolling my SSI for a week, my previous gamer (from a studio everyone reading this would recognize) felt as though perhaps there was a void in the casting that allowed the head to resonate a bit at impact. In contrast, the SSI hits like closing a bank vault. You can feel all of the energy being transferred into the ball, with no rebound in the putter face. For me this translated into phenomenal distance control. Almost immediately my misses became no-stress kick ins, and I'm gradually getting over my fear of the dreaded three-jack.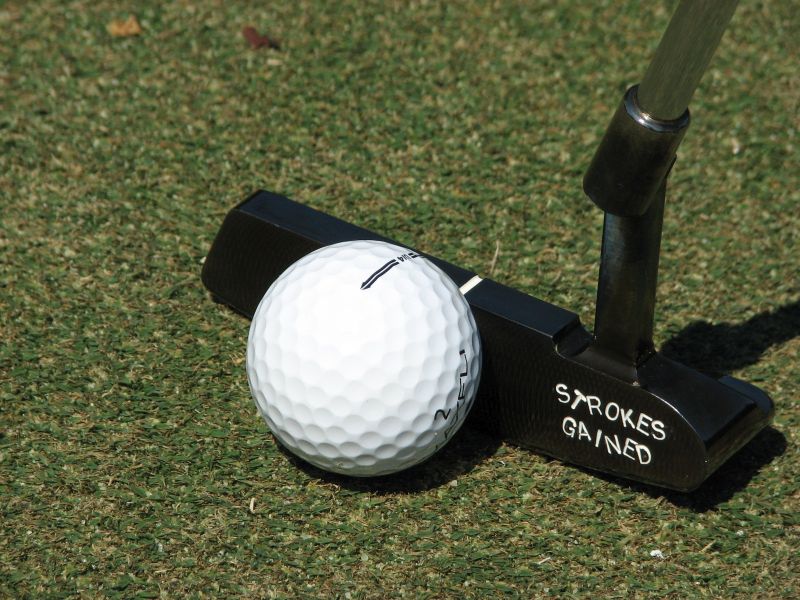 The combination of soft carbon face, stepless shaft, and just-soft-enough grip makes the putter feel like an extension of your fingers. I'm a very handsy putter, I've made my peace with it, and the St Simons Island has taken my putting stroke to another level. Every time I stand over the ball I feel like I've got a chance to make the putt, and that kind of confidence goes a long way.
I almost said "that kind of confidence is priceless," but with prices clustered in the $550 neighborhood, "priceless" probably doesn't apply. Besides the monetary price tag, carbon steel exacts its own price. Stainless steel is stainless because of the addition of a few other metals, like nickel and titanium, which also harden the steel. Carbon steel lacks these additions, hence the buttery feel of the strike. You can't just play a dew-sweeping early morning round and then just throw your carbon steel putter in the trunk until next time. Neal recommends wiping it dry and treating it with gun oil after every round, and my own (admittedly anal-retentive) process includes WD40, Rem Oil, and a silicone gun and reel cloth. For the admittedly significant price tag, though, you get something that's increasingly rare – an absolute, uncompromising devotion to quality.
My Strokes Gained putter is an example of the feel you get when there are no unimportant details. So I've added a can of silicone spray to my golf back, where my St Simons Island will ride for the foreseeable future.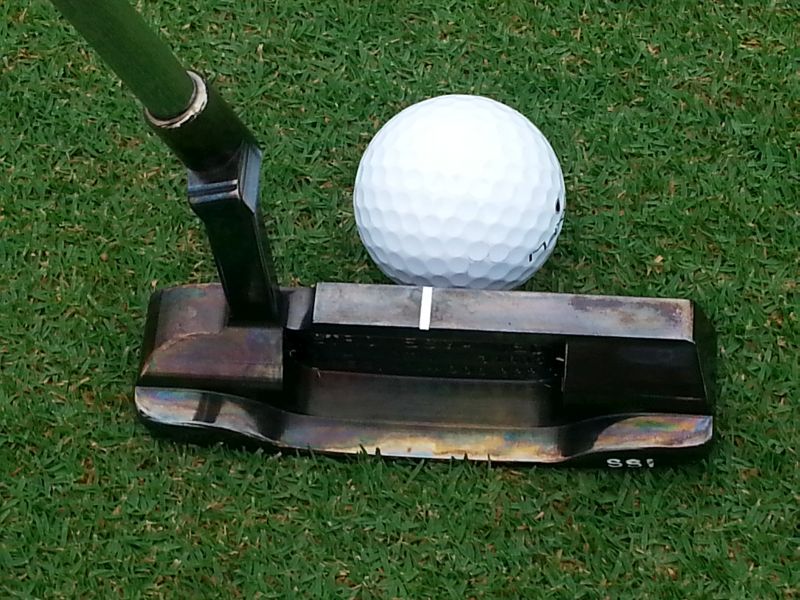 You can see the whole lineup of Strokes Gained putters, along with bags and swag (get the t-shirt, trust me) at http://strokesgained.net.