Ricky Johnson Custom Putter Review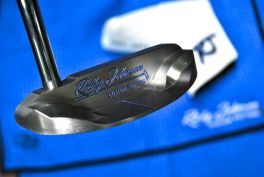 A couple of years ago I ended up having dinner and drinks with the founder of My Golf Spy and one of his writers. Among the many topics we spent time talking about was the rise of the boutique putter market. For years the putter market was dominated only by the major brands like Ping and Callaway. However, with the increased popularity of Scotty Cameron, brands like Edel and Piretti got more attention from people looking for some putter bling.
The idea of putter bling obviously flies in the face of what MGS stands for, since they obsess with being "datacratic". In other words, they were having none of my argument that looks matter.
While I am a full fledged supporter of MGS (and even gave them money during their Kickstarter campaign), I have mixed feelings about testing putters. MGS contends that their testing methodology clearly shows that putters like the Ping Ketsch are far superior to nearly any boutique brand in part because they have a much larger R&D budget. The feeling is that boutique putters are made by dudes in a basement with no real science behind the product. On the surface, I buy into the argument, and in a vacuum, I might agree that a boutique putter has no chance to stack up against the likes of Ping.
Unfortunately, the Ping Ketsch along with other MGS putter winners are down right ugly, or best case, not very good looking.
As a consumer I want both. I want a putter that performs and one that looks beautiful. Why should I have to settle? Why can't I have a well-designed putter that is also drop dead gorgeous?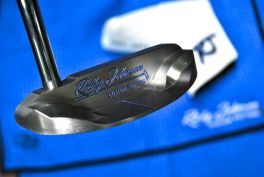 Besides vanity and ego, my reason for wanting a good looking putter is because I am 100% convinced that how your putter looks (at least how you think it looks) has a great deal of influence on how well it performs. The opposing attorney would likely call to the stand Jason Day and ask him to swear on the Bible that he is not revolted by the Spider Putter. Did TaylorMade literally put lipstick on the pig with the red version?
More seriously, I don't ever care what pros think or what is in their bag. Anyone who wants to claim performance based on what a PGA Pro does is nuts. Those guys are aliens and we have zero – yes zero – in common with them and making any comparison to our game is worthless.
Back to my difference of opinion with MGS – if I am only partially correct that looks matter then tests like MGS are inherently flawed because no one falls in love with a putter during a testing exercise. No one is trying to grind out a 79 on the 18th hole with a flat stick that they have no emotional tie to. I don't care if you putted lights out with a honking mallet putter during the test, if you don't love the look you are destined to have confidence issues which as we all know is a death knell.
On the other hand, I truly believe that a love affair with a putter's looks can overcome some performance shortcomings. I am not saying boutique putters have shortcomings, I am just saying that while it may be hard to measure the value of looks, I firmly believe it exists.
Returning to my original proposition: why can't I have looks AND performance? Well, if you ask Ricky Johnson he will most definitely tell you that his line of putters is exactly that – looks and performance.
Like many boutique putter shops, Ricky Johnson started out as a hobby based on his knowledge of milling and working with metal. The legend is that Ricky got tired of trying to find a putter he liked and decided to make his own. After a few models and lots of testing, he started getting requests from buddies to make one for them. Next thing you know, Ricky is in the putter business.
As a putter snob who owns a half dozen boutique putters and has personally tested a dozen more, I was intrigued by the Ricky Johnson brand. As it happened, I got to play a round with a Ricky Johnson Putter a few years ago when I was at the PGA Show in Las Vegas. While it was just a prototype and looked more or less like a typical Anser type blade putter, I ended up putting really well that day. So the chase was on to see about getting a Ricky Johnson to review. Despite having putted well that day in Las Vegas, I was concerned about getting another blade putter as they have never suited my game very well.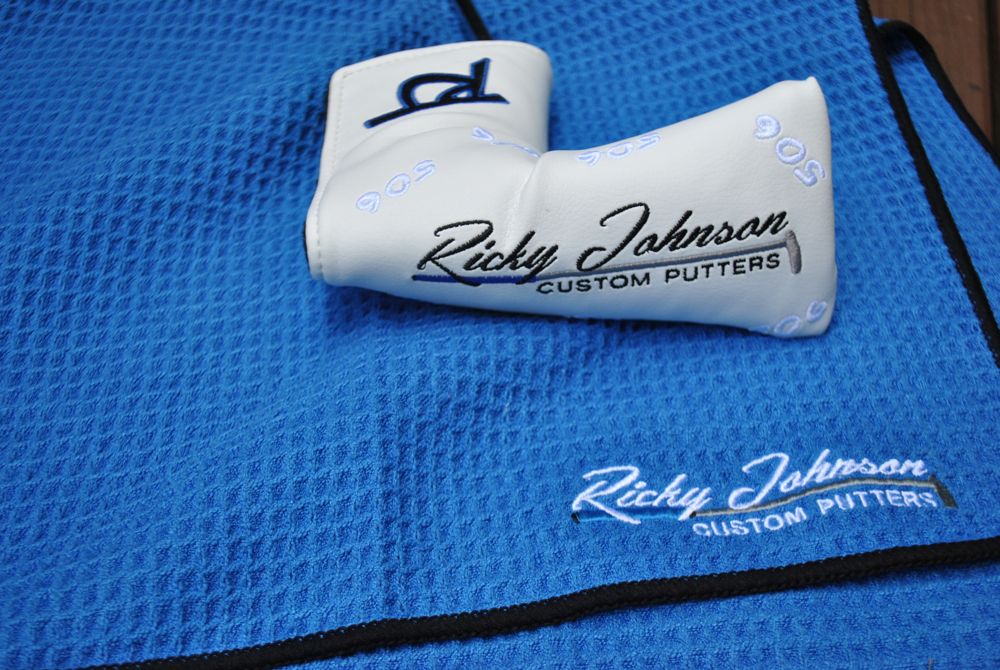 I suppose good things come to those who wait, because by the time I got around to lining up a review, Ricky Johnson had begun offering what they call the Five O Six Wide body. All of the clean looks of a blade with a little extra under the hood.
Metal Matters
All Ricky Johnson putters are 100% Milled from a single 303SS Stainless Steel billet, which for most of us means very little, but for those metal heads it means quite a lot. Before detailing why the metal matters, it's important to understand the difference between cast metal and billet steel.
Billet Steel versus Cast Metal
Cast metals are created when you pour metal into a form or shape (like milk into a glass). Once it dries, you take off the form and you are left with the shape. From that shape you can now mill the putter head to give it that boutique look.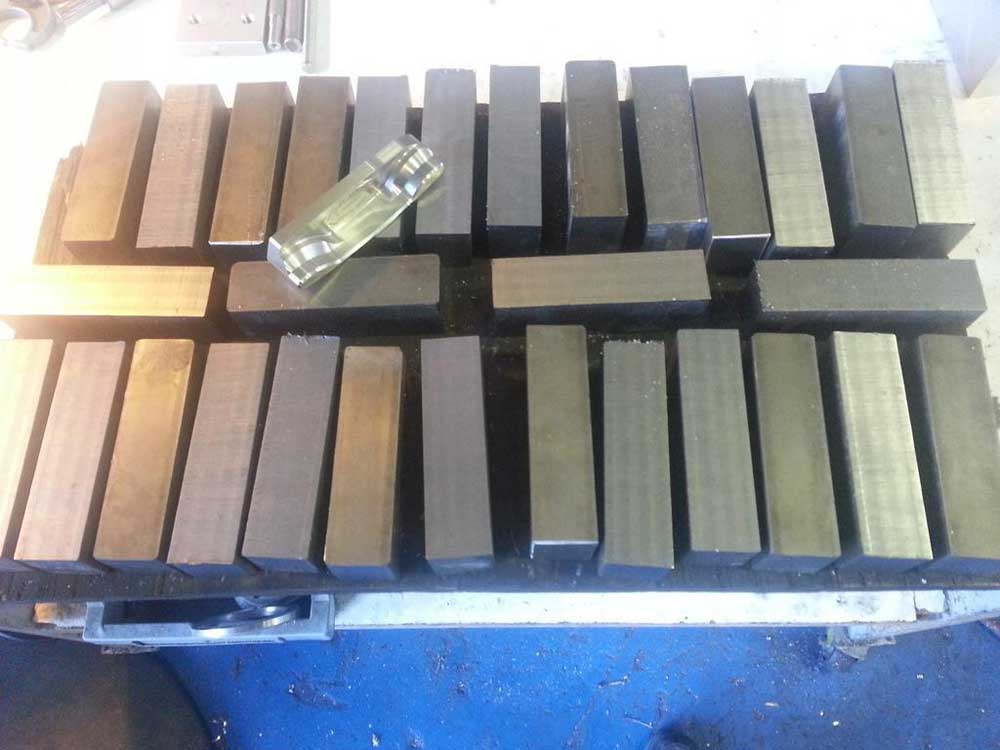 When you start with billet steel you begin with a solid piece of metal that has been compressed – like if you filled a form with metal, waited for it to dry, mashed it down, then poured more into to form, mashed again and kept repeating. The result is that the billet steel is inherently much denser than cast metal. OK, but does that matter? Yes, because the billet is denser you get a much softer feel and consistency. While I am not an expert, I think it's pretty universally agreed to that milling a billet steel is preferred over cast metal.
Was my boutique putter made from cast metal or a billet metal?
Interestingly, this is not an easy question to answer. Using cast metal is far cheaper than a billet metal so companies are not exactly advertising they use cast metal when they are charging $300 a pop.  A quick look through a number of boutique putter websites however provides few answers. Sure, you will see beautiful milling and paint fill, but how that metal was created is rarely explained.
Perhaps this is why Ricky Johnson is so transparent about his material. He wants you to know exactly how each putter is made. For most of his putters, Ricky Johnson uses 303SS Stainless Steel. This provides a very durable product that will not rust with age.
The Putter Bling Craze
If you follow the boutique putter market at all you know that the rage is to have tons of bling, paint fill, and other crafted metal tricks. Honestly, I love that shit but I am also a fan of a classic look. However, I am also somewhat skeptical of some of the quality behind many of the brands. In the case of Ricky Johnson putters, I think they do a nice job of splitting the difference between art and performance. While you won't find over the top paint fill and detailing, the branding, sight lines and milling are prominent enough to let everyone know this is no big box store putter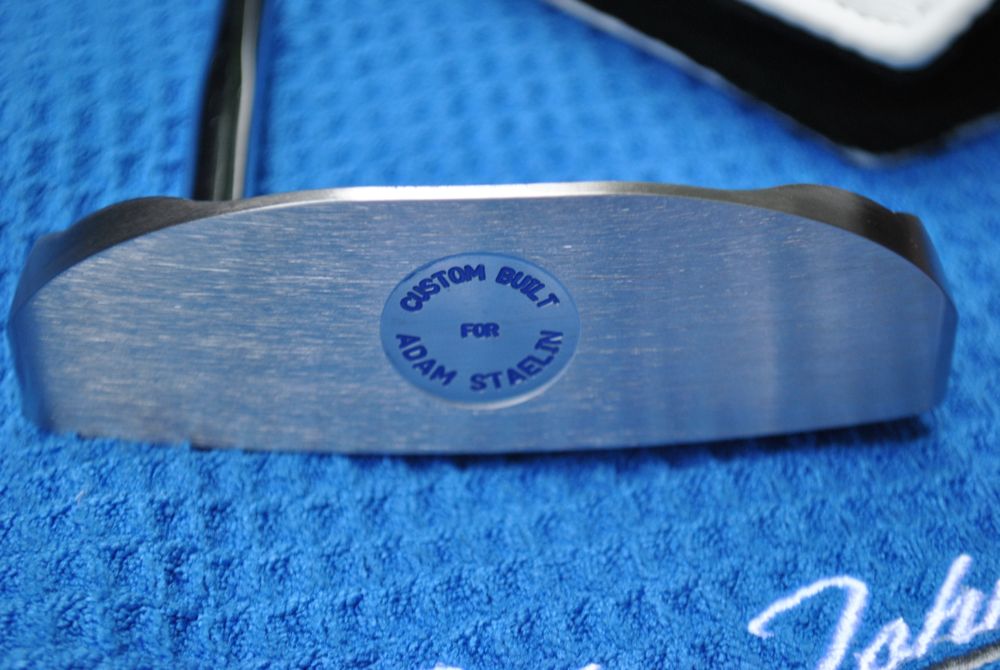 Then off course you can have it customized like I did with your name engraved into the sole. Additionally, they have recently added the words "Ricky" on the neck which looks really cool.
Finally, the face of the putter is where you will find the "secret sauce". Ricky calls this face milling technology "Game Face", which is supposed to get the ball rolling quickly, reducing skimming across the grass. The idea of course is better control. Please note that this putter has been approved for USGA play.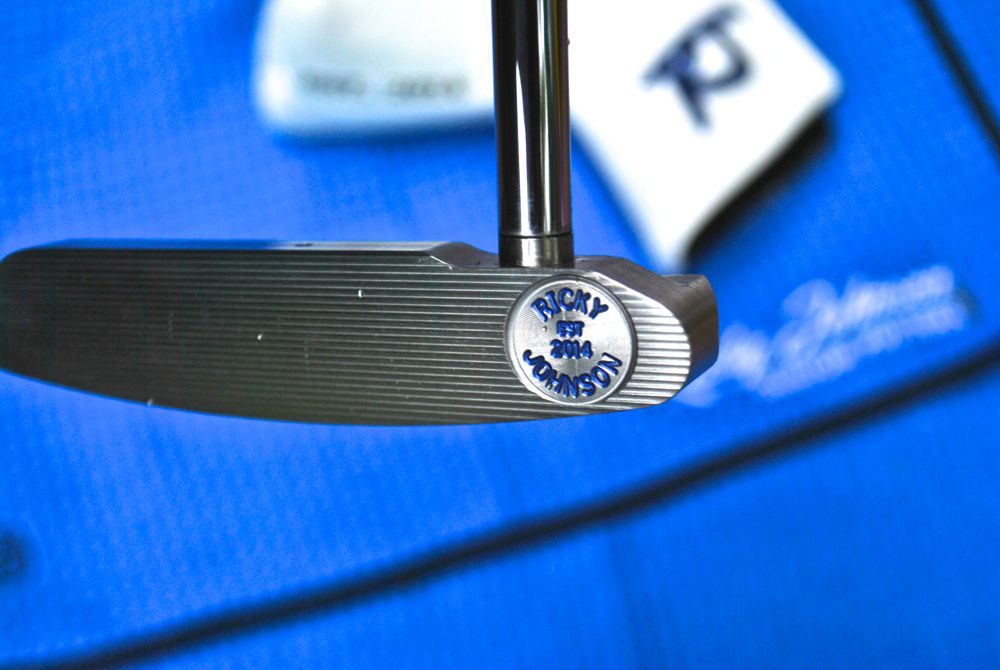 On the course
So I have had the Ricky Johnson 506 wide body putter in my bag now for a few months for this review and while it took me a few rounds to make an adjustment, I am a full believer. Part of the difficult transition was because I was coming from a SeeMore putter that had a center hosel. Basically, it just took a little time for me to get used to looking at the blade and feeling comfortable with my alignment. Additionally, the Ricky Johnson Wide Body is toe up rather than face balance like my previous putter.
Out of the box, what I really liked about the putter was the weight. Oddly, if feels very light which gives me a lot of control but in actuality it is 340 grams which is about the same weight as my SeeMore, which feels heavier. I can't quite explain this but the result is that I am confident with my stroke whether on slow or fast greens. With that said, I really like it on fast greens as I can just get the ball rolling on the right line without a lot of manipulation.
On the greens, it feels incredibly natural in my hands. Unlike many of the large head putters, I don't feel like I am wielding some high tech, over-engineered monstrosity. The Ricky Johnson simply has that classic feel, which for me leads to increased confidence.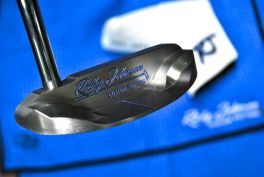 Since I railed a bit on the MGS testing I will not bore you with my short game details, but I will give you a little antecdotal evidence.
For years I have been about a 10 handicap. However starting July 1, 2016 I started posting lower scores, and as of September 2016 my handicap is a career low 7.7. Now I understand that no one cares about my handicap (my wife pretends she does but I know better), but I have to consider why my handicap would come down so much in the space of three months. Of note is the fact that in April I got the TaylorMade M1 and then in mid-July I got the Ricky Johnson Putter. These are the only two new sticks in my bag. I can tell you the TaylorMade M1 is a beast, but from April to July my handicap stayed at about 10. It was not until August 1st until my handicap went to an 8.4. Remember there is a delay in handicap timing. Now on September 15th my handicap is 7.7.
I don't have enough data points to declare that the Ricky Johnson putter was the key to my improved scoring, but 7.7 is nearly 2 strokes better than any previous handicap I have ever had… just saying.
Getting a Ricky Johnson Putter
This is the inherent problem with boutique putters: there is limited opportunity to test them, so with a $400 price tag it is totally understandable to be wary of ordering a putter without ever holding it in your hand. If you are lucky enough to have a buddy who owns a Ricky Johnson, that is probably your best bet to take a test drive. For the rest of us, fortunately, the guys at Ricky Johnson are really good about helping you through the process. For example, in my case they were very quick to return emails and answer questions as I tried to figure out what model to review. Additionally, the Ricky Johnson Instagram account has tons of pictures of the various models so there will be no shortage of visuals.
Odds and Ends
I would be remiss if I did not mention the headcover. The Ricky Johnson headcover is simply outstanding both in design and functionality. You will note the American flag which is simply a no-brainer winner. Function wise, the magnet on the back makes it not only very easy to take the headcover off and put back on, but is also very secure (mine has never come off, even riding in a cart).
You will note that the pictures include a branded Club Glove towel. This is my second Club Glove towel (I lost my first one) and I can easily say, it is the best towel on the market. So, if you end up getting a Ricky Johnson putter, I would highly recommend adding the towel to your cart.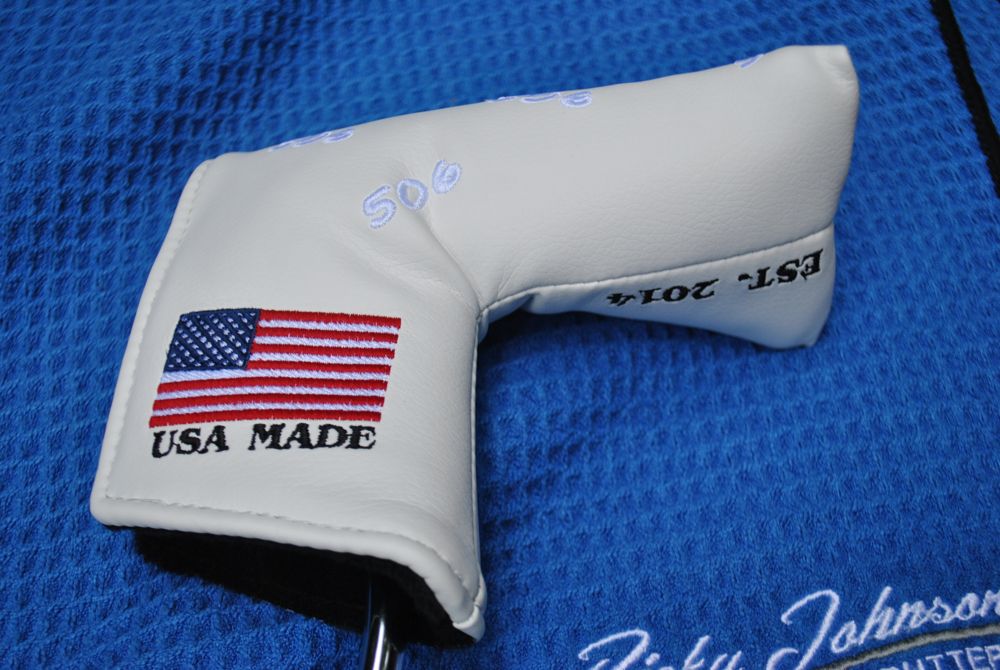 Along with length and lie, you will also get to choose your grip. Not surprisingly, Ricky Johnson offers a number of boutique grips including Salty Grips and Best Grips. They also have Pure Grips and of course, my favorite, SuperStroke.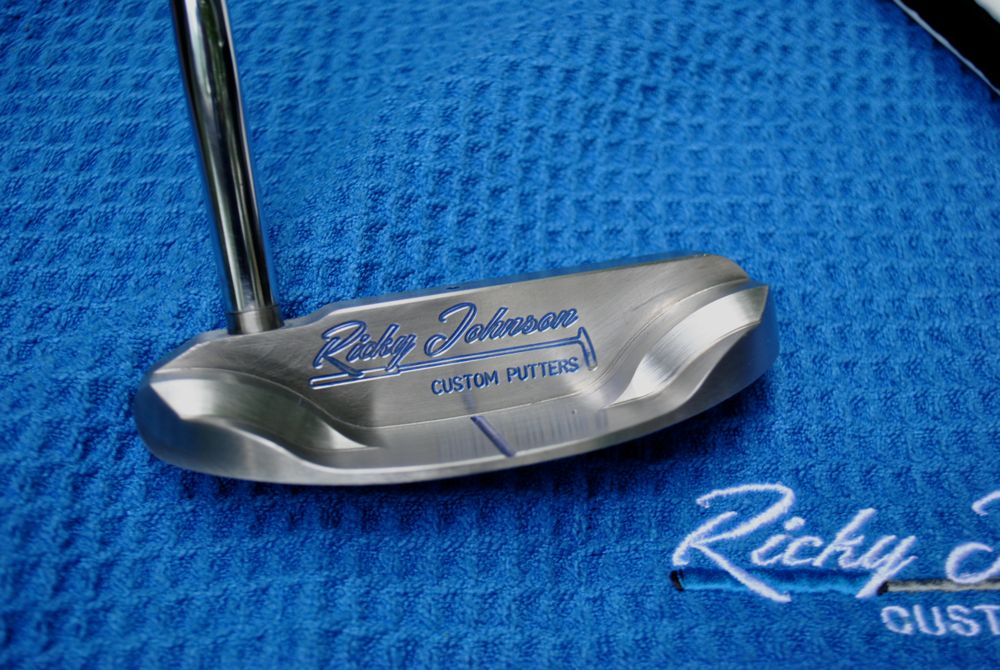 Whether you decide to purchase a Ricky Johnson or not, I do recommend following them on social media as they are good for some great content. If in fact you do end up getting a RJ putter, please stop back to let me know what you think.