Interview with Stacy Prammanasudh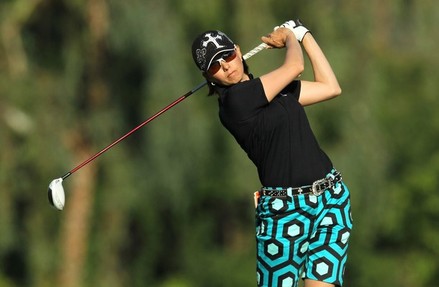 Anyone who watches golf (especially this year it seems) knows that no lead is safe. Given the fact that I had just watched Adam Scott card four consecutive bogeys to let the 2012 Open slip away, I thought I would start my interview with two-time LPGA winner Stacy Prammanasudh by asking her about staying focused during the final stretch of a golf tournament. She admitted that even though she was able to avoid looking at a leader board during her first win on the Futures Tour, most times it is a real challenge to stay in the moment. God knows, I have practically written my "victory speech" many a time after a great 7 holes start to a round. Hence I was all ears when it came Stacy's advice on how to play one shot at a time when glory is so close at hand (whether that be an LPGA victory or just a personal best score). Specifically she spoke of slowing things a down as you head toward the finish line and focusing on routine tasks. Yup, it is the old, stay with your routine . . . uh, routine. Unfortunately, we both agreed – easier said than done.
On the flip side, we also talked about dealing with a slow start and the importance of keeping the past in perspective. Stacy speaks of focusing on the remaining potential birdies rather than dwelling on mistakes gone by. Again, easier said than done but a real lesson for all of us. Even though 17 birdies may not be in the cards for us weekend golfers, we still can recover from a double or even triple bogey on the first hole as long as we can shake it off quickly and get back to our game.
Stacy Prammanasudh came out of college as a big time player and quickly had success on the tour. Capitalizing on her 2003 Futures Tour Player of the Year credentials, Stacy began to rack up top 10 finishes and recorded her 2nd LPGA win in 2007. With over $3 million in career earnings Stacy Prammanasudh has been a legitimate force on the tour for nearly a decade. Then in 2011 Stacy stepped away from golf to start her family. Now back at it full time (well as much as her seven month will allow it), Stacy is working toward returning to her winning ways. We all know, taking just a few weeks off can really effect our game so you can imagine the daunting task of trying to return to the LPGA after a year away. While Stacy has struggled recently and is clearly frustrated with her results she maintains a positive outlook and perspective for the game.
Speaking of frustration, I have often wondered what goes through a player's mind as they realize late Thursday or early Friday that they are not going to win that week, or worse, not make the cut. As you would imagine, Stacy is not thrilled with the experience of missing cuts and relates some of the same frustration us weekend hackers have. Yes, I know professional golfers make a living on the track but we also sink a week's worth of hopes into a round. Who amongst us has not woken up extra early for that "big match" only to come home heartbroken by a poor performance. Yup, the stakes are different, but the emotions are the same.
To that end, Stacy was very honest in her admission that she has struggled to regain her swing and that it can be incredibly frustrating to not meet your personal expectations. Stacy says she tries to focus on the times she has been successful and recall those emotions and feelings to remind herself that she indeed does have the skills required to win.
This I believe is an excellent lesson for all of us who go through ups and downs in our games. Maintaining a belief in oneself can be perhaps the most powerful factor in actually playing better. So here is to seeing Stacy back in the winner's circle and us weekend hackers taking our buddies' ten spot.