Captain's Choice Format
Captain' Choice: This weekend I will be playing in a Captain's Choice tournament which got me thinking, why is the format so darn fun?  First, for those of you who have never played in a Captain's Choice tournament let me give you a quick introduction.  The format is simple.  Each team member tees off and proceeds to the spot of the best drive where everyone hits their next shot.  This continues until the ball is holed.  Basically, it means you get a 250 yard drive and a 4 to 20 foot birdie putt on every hole.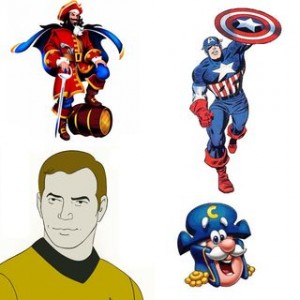 All-Star Captain's Choice Foursome
In no particular order, this is why the format works so well:
1) It is a great for high handicappers since it lends itself to making it possible for even a team of bad golfers to shoot below 80.
2) It gives you an idea of what it is like to be a pro.  Going 8 under is unheard of for amateurs but when you get four 12 handicappers, it can be done fairly easily.
3) What is better than 5 hours on the golf course, 28 beers, 4 buddies and making birdie after birdie?  Umm, nothing.
Side Bar: 
So I was thinking about the above foursome.  I figure Captain America would be the A player – big bomber off the tee despite a tendency to pull yank it.  Captain Morgan is probably a hacker, but with a few drinks in him can pull off any number of lucky-ass shots.  Captain Crunch would be the short game wizard.  Not very powerful, but a keen eye for reading greens and an uncanny ability to stick a short iron close.  Finally, there is Captain Kirk who is likely a horrible golfer but exceptionally skilled in making sure the cart girl comes to visit every other hole.