Cobra Tour Trusty Wedges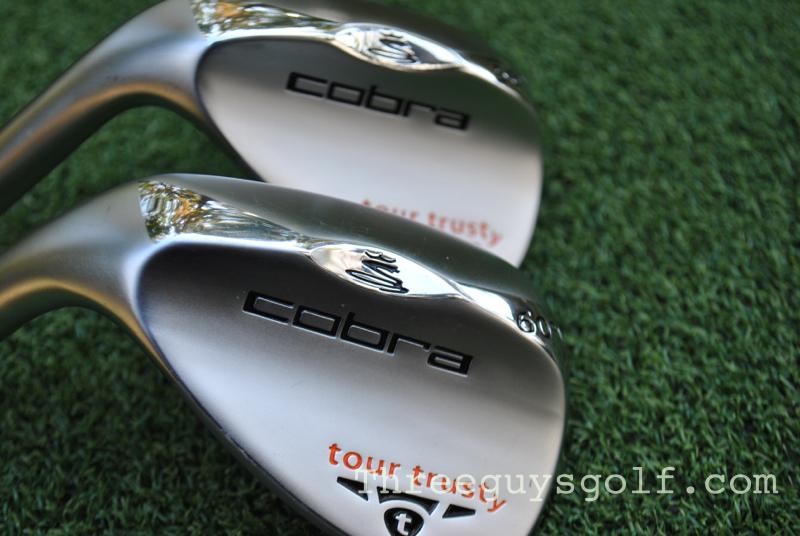 Cobra has recently released their Tour Trusty wedges, designed to be a performance wedge that follows in the footsteps of prototypes played by Cobra's Tour Pros (Fowler, Poulter, Blixt, yadda yadda). In a nutshell, this is Cobra throwing its hat into the tour-level  wedge ring, vying to lock horns with the Titleist Vokeys and Clevelands of the marketplace. The club is designed with non-offset shaping, and selling points include: larger milled grooves (more spin), a special notch K-grind (better turf interaction), and "variable feed rate milling" (more spin).
Now, if you're hip to Three Guys and what we do, you will know that I cannot really speak to any of those 3 technical items because I wouldn't know the first thing about testing them at a scientific level. What I am capable of pulling off, however, is simply taking a 56 degree and 60 degree wedge out for a few rounds to see what's doin'.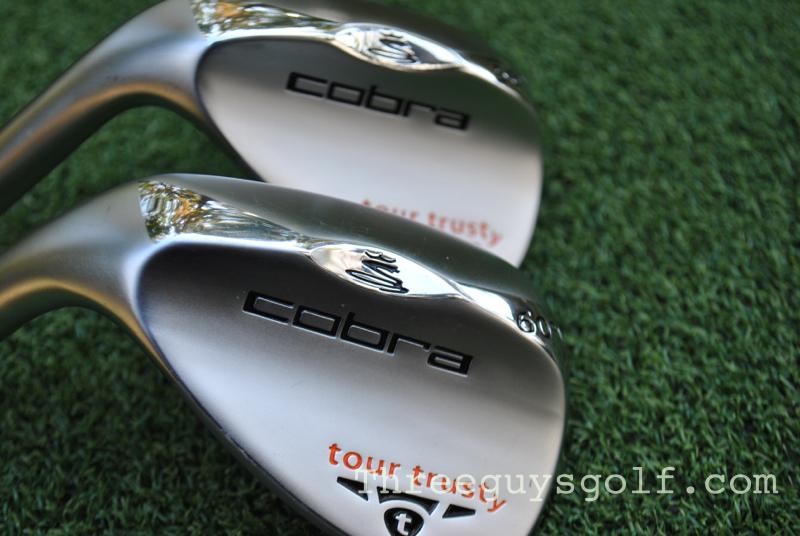 First Thoughts: These are good looking wedges. Classic shape, but a little more interesting than a basic wedge due to the satin and chrome finishes playing off of each other (mine being the Tour Matte Satin model), and of course the little orange "tour trusty" logo adds some edge. But at the risk of sounding like a hack, before I could dive any deeper into the looks of the club, my brain realized that the grip I was holding was the best grip I have felt to date.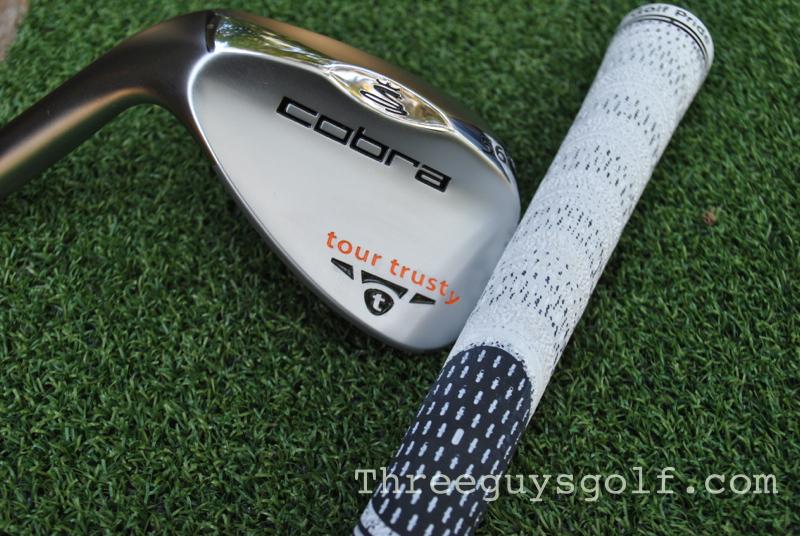 It seems lame to give a company credit for choosing a cool grip, because any one of us could just roll into a local retailer and have our grip of choice installed. But at the same time, hell yeah!, this club comes with a sick grip (Golf Pride New Decade Multicompound Whiteout). Doesn't hurt in the first impressions category, and feeling that much more like Zorro can be only be a plus. FYI, the shaft is a Dynamic Gold S200.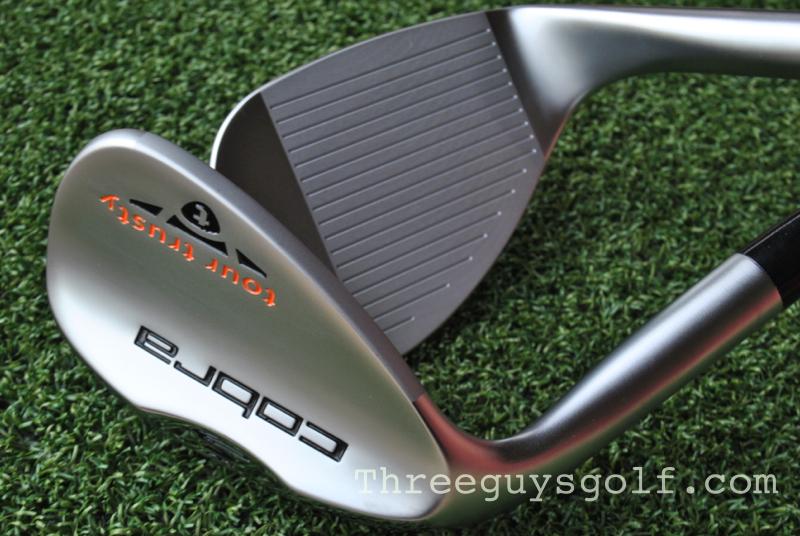 First Swings: Okay this is where I start drifting all over the road, and it has nothing to do with the performance of the Tour Trusty. Bear with me . . .
For about a year now I've only had a 58 degree wedge in my bag, with the Gap Wedge from my iron set being the next step down. My thinking was that I would use the 58 in the sand and for crazy flop-shots only . . . everything else was better played with the gap wedge as it had the same look, weight, and feel as the rest of my clubs. The theory started with the phenomenon that I think all 10+ handicappers can agree on: I hit my gap wedge 120 yards and in proportion with the rest of my iron shots with regards to distance, trajectory, and spin. Then I pull my 56 degree out and I'm lucky to hit that little thing more than 80 yards, and I almost pull a hammy trying. So why not just choke down on my gap wedge and hit those 50 – 120 yard shots with a nice smooth swing, with the nice chunky clubhead I've grown to know and love? That's the idea, anyway.
And actually, for us duffers, why ARE we supposed to gear down to such an entirely different club once we get within 80 yards?! Sometimes I get mad about stuff . . .
Where am I going with this? First, I'll say that the Tour Trusty feels heavier and more substantial than any top-tier wedges I've played in the past. It's something you notice a tiny bit when you pick up the club, a good deal more in your practice swing, but it really hits home when you move through the ball with a level of stability that I don't recall ever experiencing with any other wedge. When people talk about "feeling the clubhead throughout the swing", this must be what they mean. Keep in mind that I don't exactly wield the world's greatest short game, so it could be that this weighty feel simply appeals to my game more than it would yours. But frankly, I don't care about yours . . . just jokes!
The next aspect of the Tour Trusty wedge that jumps out immediately is the grip of the clubface. Keep in mind that my existing wedge was about 3 years old, so my scale might be a bit off, but the face of the Tour Trusty has the look of sandpaper and was throwing some serious bite on my first few shots. I'm sure most wedges could boast the same attribute when brand new, but hey, I'm just saying these babies have teeth, which is better than gums (pipe down, guys).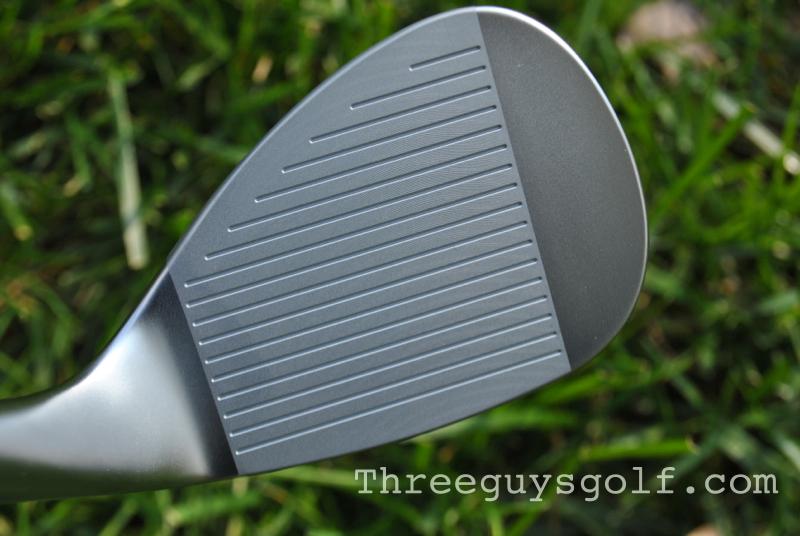 Finally, to my eye the Tour Trusty clubheads are the slightest bit larger than most wedges I've played (Cleveland, Titleist Vokey). I've read some other articles that don't seem to think the Tour Trusty is any larger, but my eyeballs disagree. I think this also lends to my general vibe that these clubs are just a bit more substantial than most wedges, bringing them closer towards the feel of my set that I like so much.
The Payoff (if that's what you want  to call it): So I've got a lot of things going on here, and I wouldn't blame you if my Year 2013 wedge philosophy sent you heading for the zee hills. But after playing 4 rounds with these wedges, I can simply say that I have hit some of the best shots I've hit in years. Yes, I happened to figure a few little things out with my chipping stroke at the same time, but I have to give the heavier feel of these clubs a bit of the credit on that (and probably the sole grind as well). The clubhead just moves through the turf in such a smooth way that I have less of those yippy demons on short shots that have plagued my game in the past. Set the club in motion, don't be a complete jackass for about 2 seconds, and watch your ball advance towards the hole.
When it comes to the full swings, I've hit the best 60 – 80 yard shots with this 56 degree club that I've hit in a long time, and at setup I just feel good about them. It makes sense, as they feel less like a crazy little spoon club and more like a real stick to me.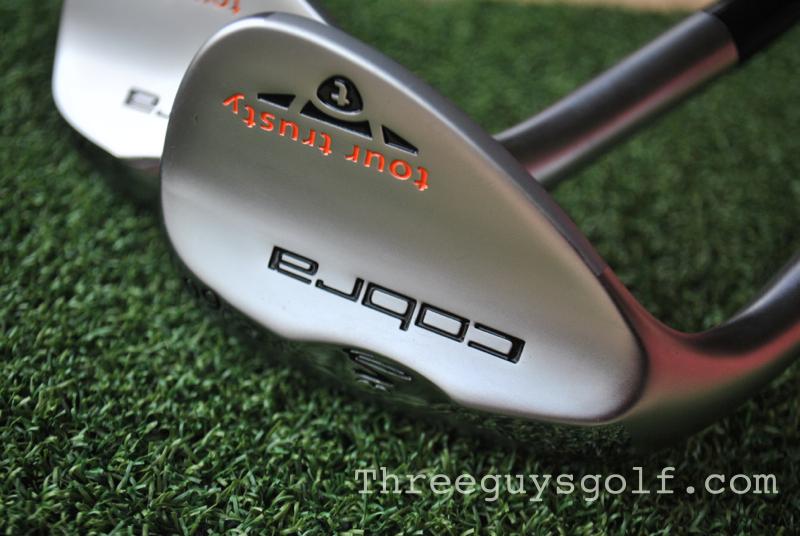 I'm not trying to sound like one of the message board guys that buys a new driver and suddenly shoots a 71. I realize it's ridiculous to give the clubs all of the credit when the golfer also has to swing the right way. But the fact remains that I have drained my first 30 yard pitch since circa '99 (no fluke, totes pure) and hit countless other shots that felt way too smooth. I don't know if it's the notch K-grind or the larger grooves or the high-tech milling, but these wedges are absolutely legit. If the question is whether or not Cobra can take its place next to the big boys in the wedge aisle, the answer is yes. There is no doubt that they have produced a tour-caliber performance wedge. And if your relationship with your current wedges can be a bit quirky at times, like this guy's, then it is definitely worth giving the Tour Trustys a test run. I can honestly say they are now anchoring my bag.
You can learn more on the Cobra website.