Cobra Bio Cart Bag Review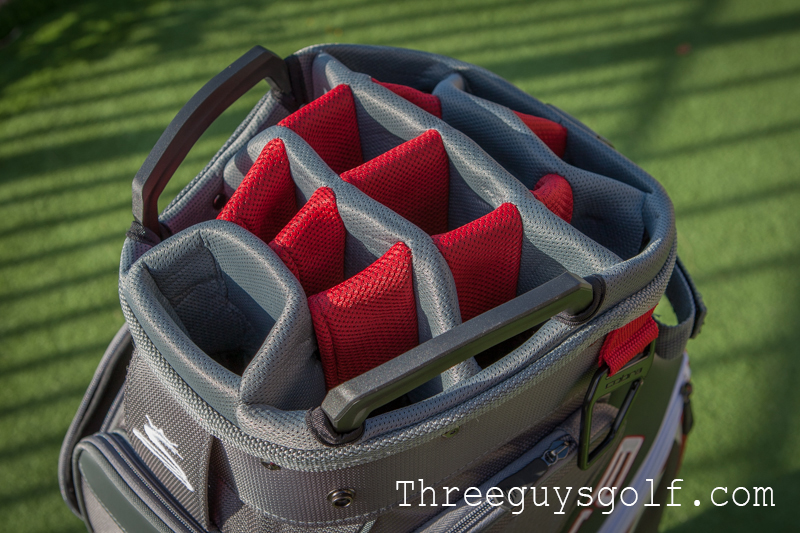 Yea, I'm one of "those" guys….you know the guys that totes everything short of a practice net to the golf course. Wallet, phone, keys, money, snacks, yardage book, camera, GoPro and sometimes a video camera. By the time I am done, my pockets can tend to be a bit "overcrowded". Heck, just getting the cart and unloading all of my crap into my bag has seriously been one of the largest burdens of my rounds. That's no longer the case though now that I've put the Cobra Bio Cart Bag into play.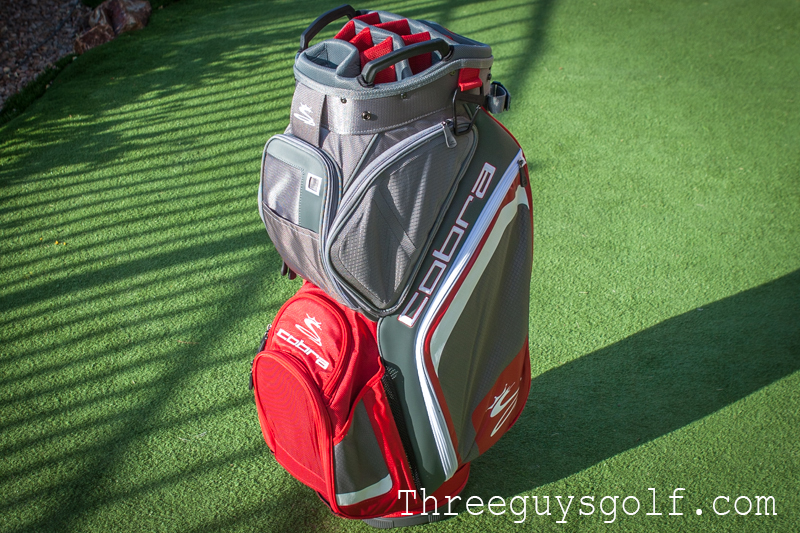 Armed with more features than a hack golfer like me deserves, the Bio cart bag has been nothing but pure bliss as a club hauler. I've been using a stand bag, which I have zero beef with, but when I took into account how much I practice at home and how often I ride in a cart (pretty much 10 times out of 10), it was a no brainer on my part to step up to a bag that is more fitting to my needs as a social golfer.
One of the reasons I was so fed up with bags of yesteryear was how there was, at maximum, 6 slot compartments to organize your clubs. Even with just a public education, even I know that 14 doesn't go into 6 very well. Maybe I am a neat freak but it  just annoys the heck out of me that my clubs were lacking the organization I desired. 1 slot per club is just better  and I'll never consider anything other than that for future bags.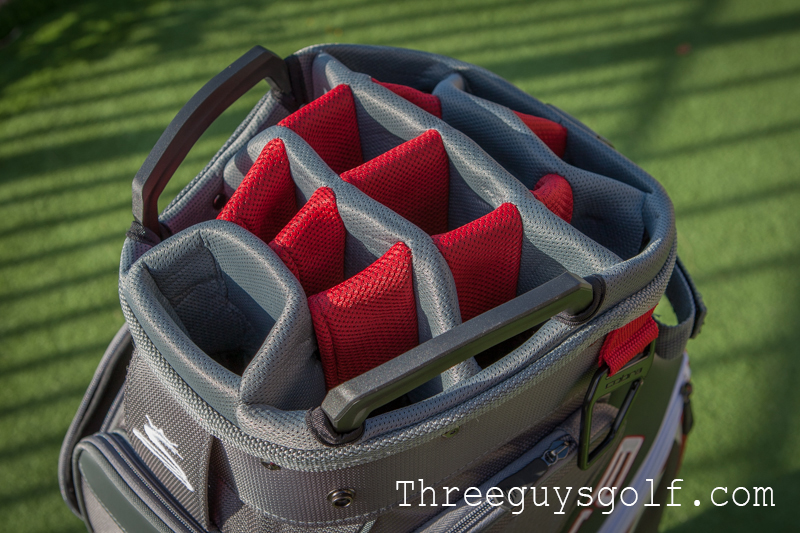 The Cobra Bio bag didn't disappoint in that respect . . . 14 slots with a putter slot that's lined and wide enough to fit "fat" putter grips which is really smart considering it seems like 90% of players I see nowadays are playing a larger grip. Not only is putter slot wide enough to fit a fat-gripped putter but deep enough for it to sit down far enough to keep the putter cover locked into position.
The other feature that is really handy considering the bags size is the two grab handles that are also on the top of the bag. Because the hand grab is on the back side of the bag (when it's on a cart) it makes it super easy to pick up the bag and remove it from the cart as well as loading and unloading from your car.
From there the features just continue to impress. On each side the bag houses two very large "oversized side apparel pockets". Perfect for rain gear (whatever that is) and an extra pair of shorts, pants, shoes, socks, a jacket, a towel a copy of the Wall Street Journal . . . get the idea? They're huge. The sad part is I have yet to tap into this extra space; even with all my additions to my bag these remain vacant (I am a victim of stupid perfect weather here in Las Vegas)!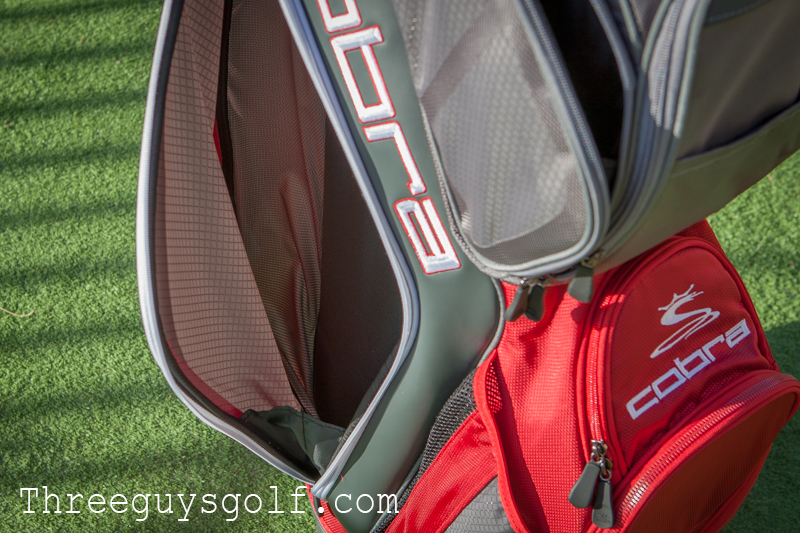 This bag has it all, in my opinion. Just like the large pockets on the side for larger pieces of clothing you'll also find two twin pockets on the sides of the bag above those larger ones. Both are divided so it's really like having 4 extra pockets. One half of one side is lined so you can place your phone or camera in there and not worry about it getting all scratched up. I throw my wallet, my keys, my GoPro, my wedding ring and anything else loose in my pockets in there as soon as I pull the bag from the truck. No more worries about "lost keys" or anything else for that matter.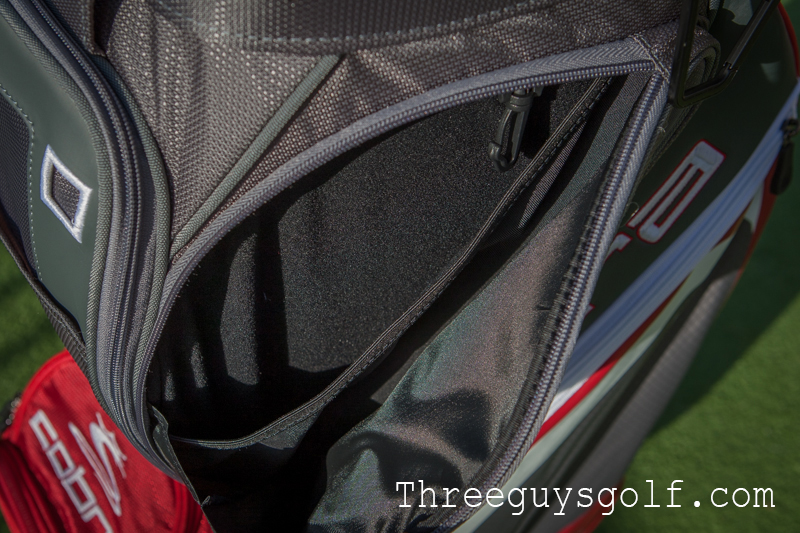 In the other side is where I keep my gloves, ball markers and divot tools, it's incredibly convenient. If I had one issue it's the same I have with 90% of golf bags when strapped into a cart. Zipper access to those two pockets is rendered useless because of the strap holding it to the cart covers it up. Cobra added a nice feature with the logoed loop for the strap to slide through, but the left the upper side zipper is ultimately blocked out. Seriously though, that is my only gripe for an otherwise flawless bag.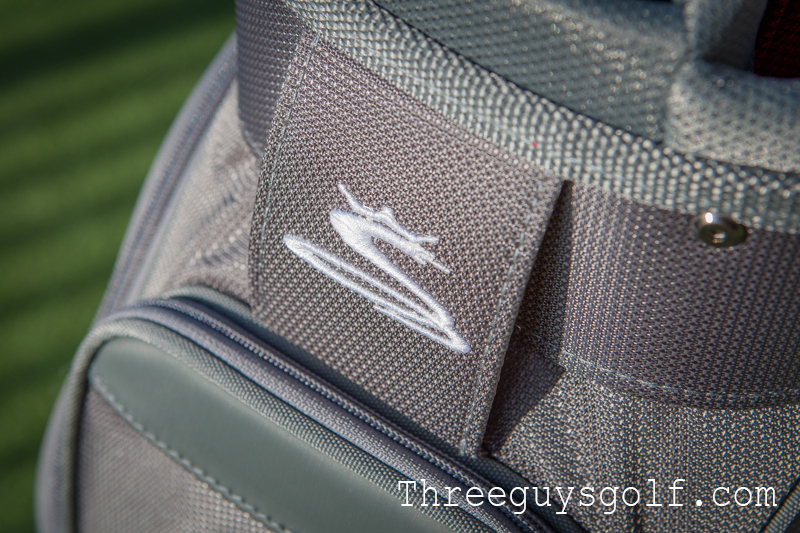 Three more pockets to go! The "goods" pocket, as I have named it, is my favorite. It has a neat little mesh net on the inside where it holds my rangefinder, business cards (hey I said I was a social golfer) and tube of GolferSkin. The rest of the pocket is large enough to hold my club brush, a bag of tees, my "go to" golf balls and some other items like a GolfBuddy or a SkyCaddie.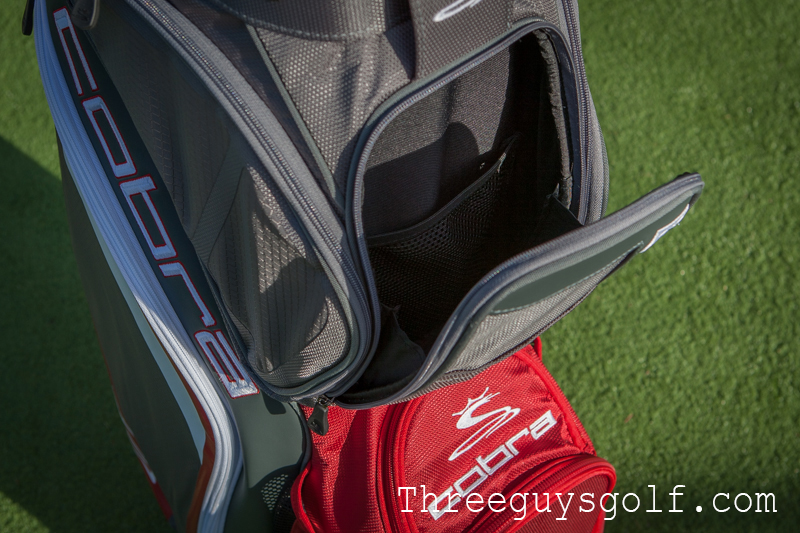 I'll also throw some cash in there so I have quick access to it when the cart girl shows up. On the outer portion of the zippered pocket is a spot for a marker or pen. I have found the stubby sharpies work best, regular size ones are just a tad too big and have the possibility of falling out if bumps occur during the round.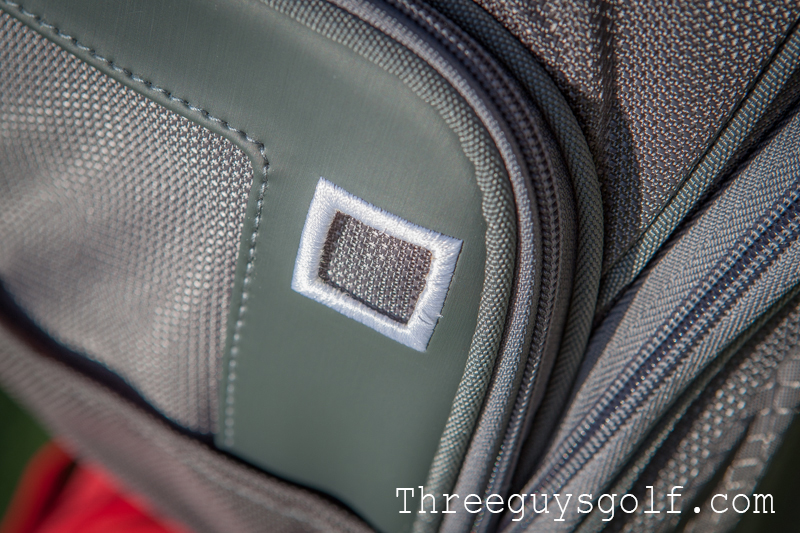 The two pockets near the bottom can be used in different ways. The larger pocket at the bottom called the "large ball pocket" by Cobra is a massive area for storage. You could fit a ton of golf balls in there, but I chose to use it to hold the rest of my junk. The cart mount for my range finder fits in there perfectly as does my Cart Charger and my ES12 from Ernest Sports. Items that I was stuffing in pockets that weren't big enough now have a safe and happy home. You can even fit a couple boxes of balls in there (in their original boxes) if you needed to.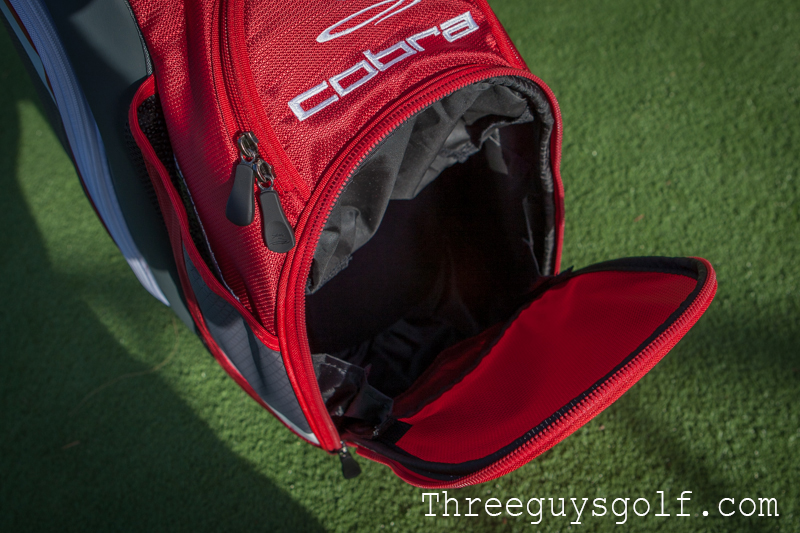 One other feature I really like is the fact that the front pocket is removable so it is easy to have embroidered, which by the way is always a good idea.
The last pocket, which sits just over main ball pocket is large enough to hold several hundred tees. Normally, I would have other items in this pocket but since there is no shortage, I am able to reserve this space for just tees.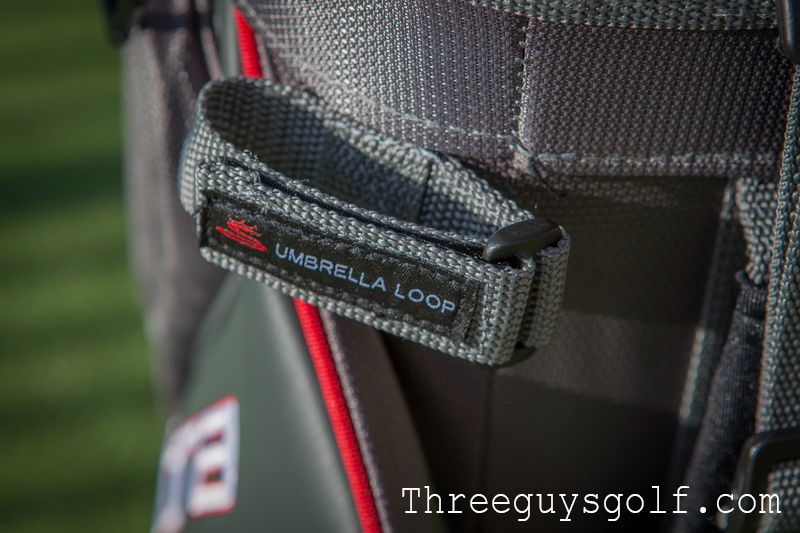 Oh wow, I forgot about two more pockets. Next to the larger pocket at the base of the bag you'll find two more areas that are designed to hold drinks. No, not "that" kind of drink – more like water bottles. Lined with the typical material you find in any cooler pocket, these dual pockets work perfectly for holding your thirst quenching products throughout the round. The last round I played, the cart cooler onboard had more cobwebs in it than ice so I quickly turned to the beverage pocket and I was honestly surprised at how well it kept my water cool considering it was 98° outside.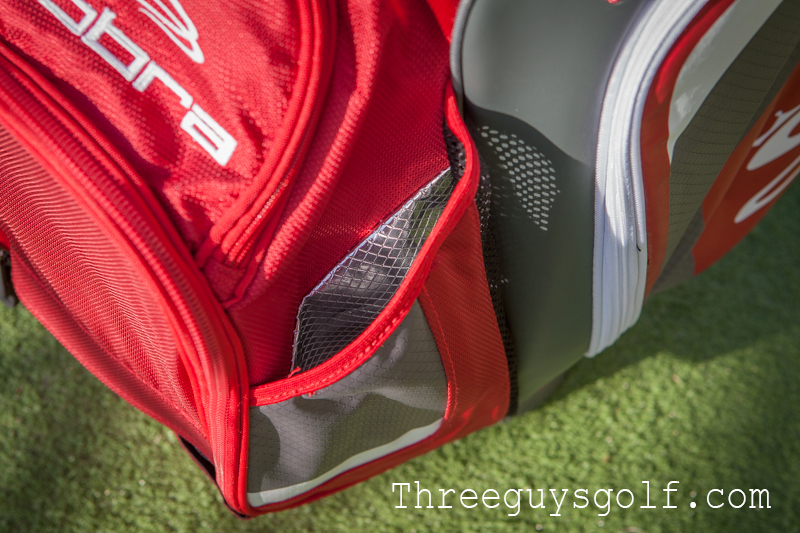 The overall design of the Bio bag is solid. I feel they covered all areas of need for the modern golfer and then made it one sharp looking golf bag. Amongst all the features I covered there are items like the umbrella holder (again, no idea why you would need that) and a really nice custom towel clip. The Cobra logos that are stitched in beautify the bag, and the shoulder strap, which tucks in nicely to an elastic strap when not in use, is very comfortable when you're carrying the bag from place to place.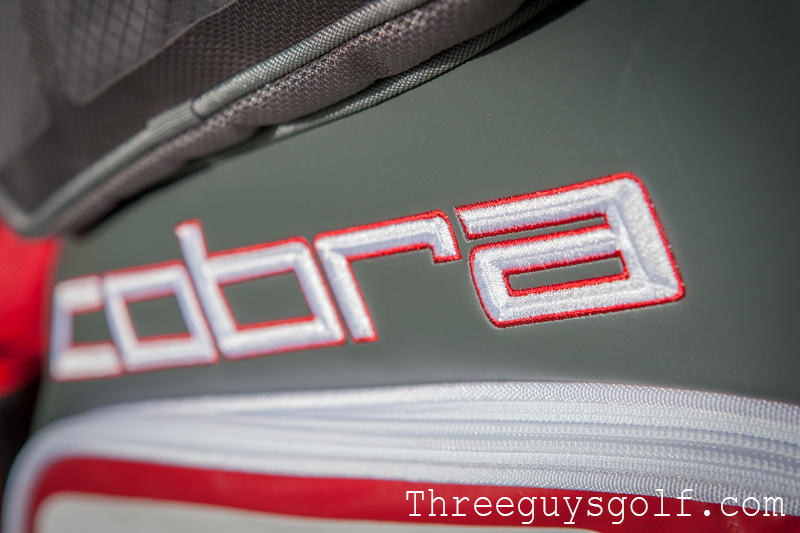 Retailing for $210.00 the Cobra Bio cart bag is one of many golf bags that Cobra is putting out and in my opinion it is top notch. Be sure to check out the Cobra/Puma website for all the other golf bags they offer along with this one.