Cobra BiO CELL Driver, Fairway, Hybrid, Iron Review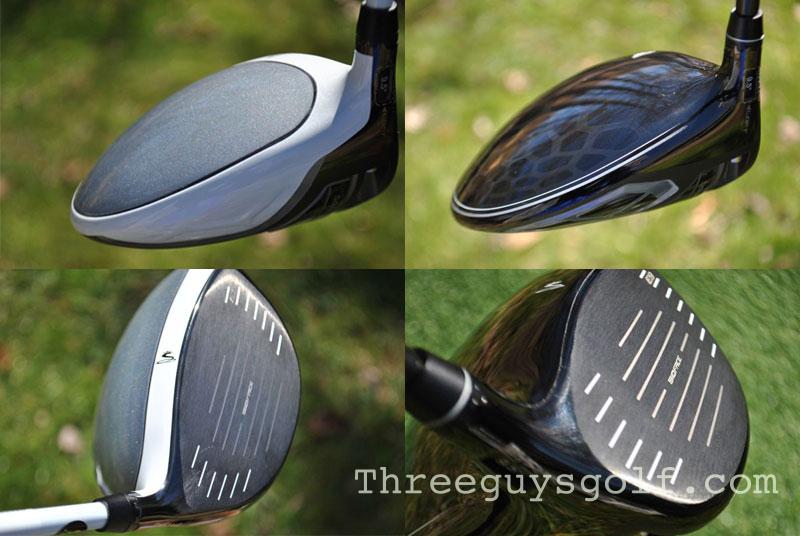 I've got my work cut out for me today, for sure. I have spent the last few weeks testing out Cobra's complete Bio Cell and Bio Cell+ lineup, and now it's time to spill the beans. Take a breath, this will be a complete review of the Bio Cell driver, fairway wood, hybrid, and irons, as well as the Bio Cell+ driver and irons. I'm still not quite sure how to break this down in a way that will not annoy/bore/annoy (in that order), but like a good Three Guy, I'm sure as hell gonna try.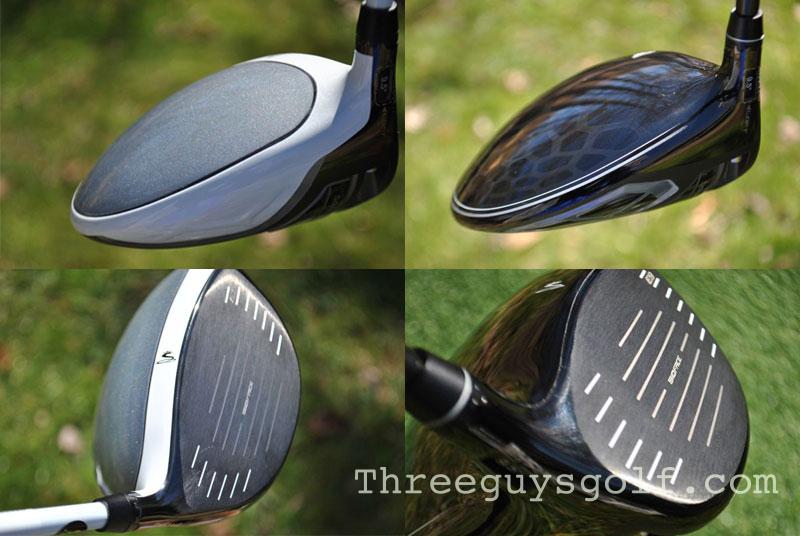 The Bio Cell line is a pretty big deal for Cobra, coming after their fairly successful AMP Cell line of 2013 and boasting some never-seen-before technology. The term Bio Cell refers to the technology Cobra has utilized to manipulate weighting in their clubs to maximize distance, forgiveness, etc., AND it refers to the technology built into the faces of each club, creating more heat. And of course, as you've probably seen by now, the lineup offers customizable colors ranging from classic black to Rickie orange, blue, red, white, and more.
Now in a typical review post, I would walk you through the various aspects of the clubs that I thought stood out, then wrap things up with a typically badass conclusion. But in case you don't have the attention span for such things, I want to make a few basic points regarding my experience with the Cobra Bio Cells:
Over the years I've always kept my eye on Cobra, understanding that they made decent clubs because I knew enough decent golfers that kept them in the bag. There was a time in the late 90s when the King Cobra and King Cobra II irons were as mainstream as anything, little hosel fins and all. Shoot, Hale Irwin absolutely destroyed the Senior Tour with those suckers! (The fact that they were owned by Titleist lent some credibility as well.) Anyway, Cobra was eventually acquired by Puma, then Rickie Fowler came along, and the clubs got a little yellow and a little orange and what have you. As a standard hacker/consumer who didn't pay too much attention to the industry nitty-gritty, I had no choice at this point but to put Cobra on gimmick watch.
Moving into 2014, Cobra continues to push the fashion-y aspect of equipment by offering several color choices on each of their clubs . . . I can already picture the old curmudgeons surmising that this color choice hullabaloo is just a fancy distraction, selling more style than substance. And while the young rebel in me appreciates the trailblazing move to offer different colors, I must also confess that a fuzzy part of my brain equated this to Cobra moving one step further away from the "serious" club category.
Guess what . . . the opposite is true. In fact, each one of these Cobras is just a solid, stable golf club, and I mean that as a compliment. For all the jazz-handy stuff going on with color choices and Bio Cell designs, each one of these clubs is a rock-solid performer with no "loner" qualities whatsoever . . . you'll have to read about each club to see what I mean. Put it this way: if they were teenagers, and I was a 68 year old retired guidance counselor, I'd say they had their head screwed on tight and their feet on the ground. I'll probably delete that last sentence later, or just punch myself in the face for having typed it.
Bio Cell and Bio Cell+ Drivers
The Bio Cell driver is Cobra's everyman offering, designed to maximize distance, forgiveness, high launch, the whole schmear. The Bio Cell+ driver is geared toward better players. In terms of feel, these two clubs are worlds apart, primarily due to the fact that the clubheads are made of different materials. Both drivers, as well as the fairways woods and hybrids, boast Cobra's MyFly8 adjustability technology, allowing you to adjust your loft in 0.5 degree increments, with a few draw bias settings available as well. The "SmartPad" technology ensures that the clubface will remain square even after adjusting loft, except of course if you choose a draw bias. All in all, it's a nifty system that puts to rest fears of loft affecting face angle.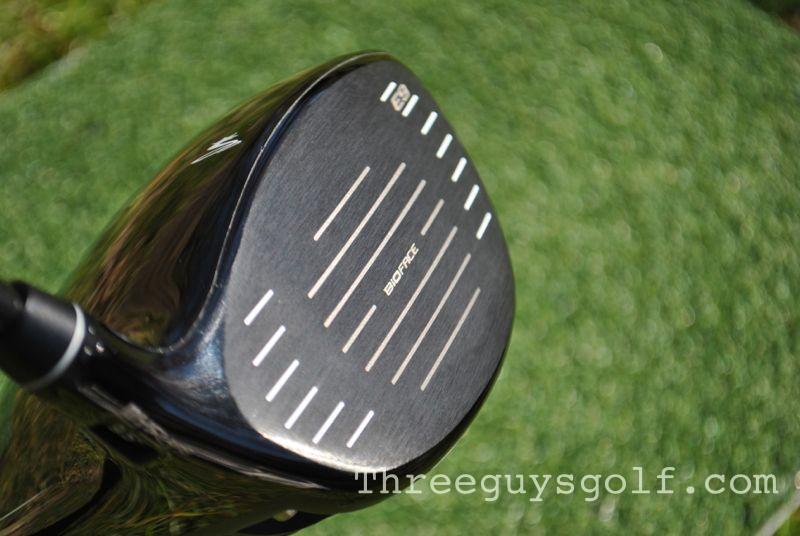 The Bio Cell driver is a sharp looking stick (mine was black so nothing crazy there), sporting a small white border around the outside of the clubface, and in the right light, a visible pattern of scientific webbing watermarked towards the back of the club . . . bio cells?! The club looks plenty game at address, and armed with a stock Grafalloy Project X shaft, this driver hits it plenty long. The feel at impact is crisp and satisfying, leaning more towards a ceramic feel than anything else (for you softball folks out there).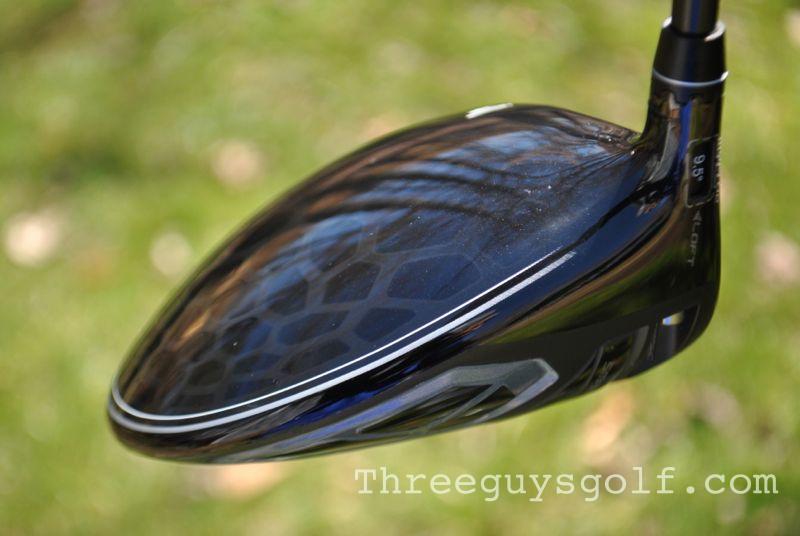 Where the Bio Cell driver really stands out is in the forgiveness category. You will know when you don't hit one on the screws, as the feedback can't disguise that ugly truth (it's science!), but the ball still gets out there with similar distance and trajectory. The crazy part . . . this is the most self-correcting driver I've ever played with, and I don't even know if there is such a thing as a self-correcting driver. If I pulled the ball a bit, which constitutes about 90% of my misses, the ball would start right and then have a little cut that moved it right back into the fairway (normally it would just keep bombing straight into the trees). Even crazier for my game, however, was that if I pushed one out and immediately decided that I had just hit an anemic push fade/slice, I would then look up and watch the ball draw itself back in. Sounds like BS, but all I can say is that this was my experience consistently, and I NEVER draw the ball. Pull-hook yes, left-to-right draw no. I'm not saying it was the most glorious thing you've ever seen – keep in mind this was a mis-hit – but being in the fairway sure beat being where I thought I was headed. "Game improvement" indeed, but with enough chutzpah that you can still feel like a tough guy with this club in your bag.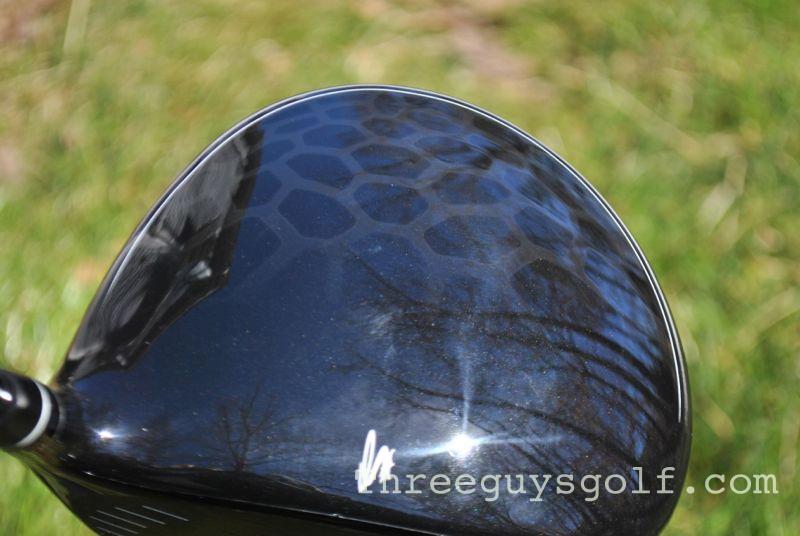 The Bio Cell+ driver is a completely different animal. First you'll notice the different look: the crown of the club, whichever color you choose, is framed by a white border. When you first pick up the club you can't decide if it looks crazy or not . . . it's almost weird that you haven't seen anything like it before. After a hitting a few balls, I decided that it was actually very helpful, or at least comforting, framing the ball at address and predicting sweetspot city.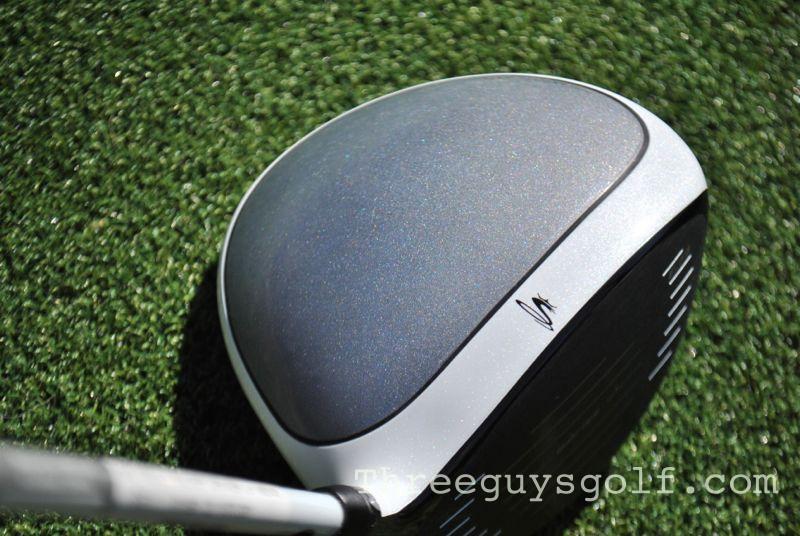 But now, the striking looks award on this club actually goes to the stock Matrix Red Tie 6Q3 shaft – it's white! I may have missed something over the years, but all I can remember in the way of funky colored shafts is the lime green Aldila that kicked it all off, the yellow/blue ProForce shaft that Furyk used to wield back when he was a thing, then everybody went black for a while, Bubba went pink . . . has anyone ever done a white shaft before?! If the answer is yes, then my apologies for wasting the last 8 seconds of your life. Bottom line: the white Matrix shaft looks cool as hell.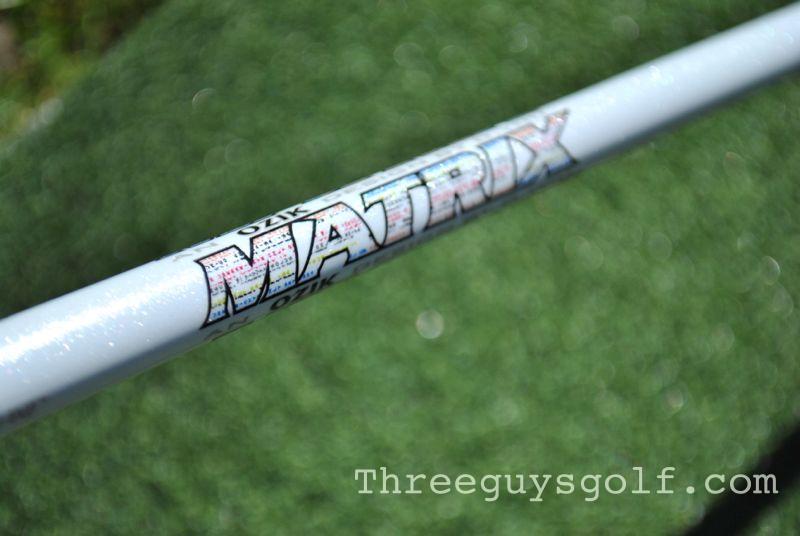 The feel of the Bio Cell+ is also totally different from the regular Bio Cell. The crown of the Bio Cell+ is made of multi-material composites that reduce weight on the top of the club and create a much softer, spongier feel than the standard Bio Cell driver. Think athletic, racquetball feel at impact, not an actual sponge. That would be depressing.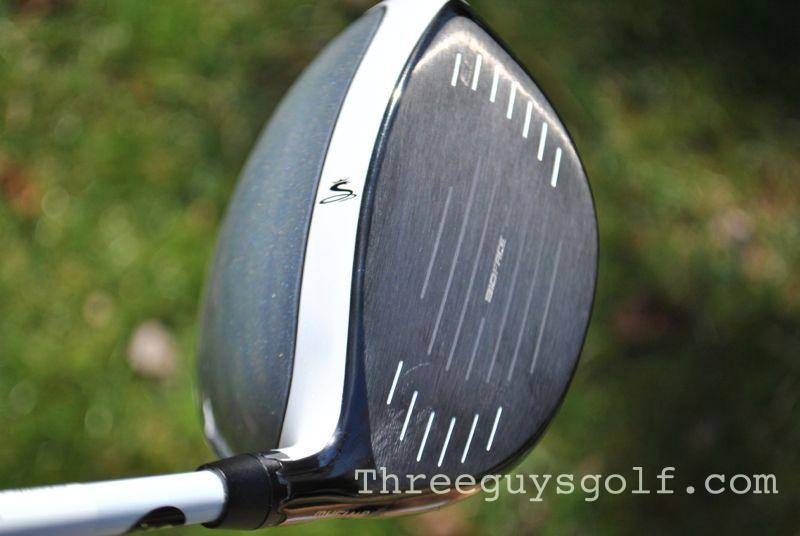 Performance-wise, the Bio Cell+ is pretty addictive. Again, nothing crazy, but every ounce of the club just feels like it's doing exactly what you've asked it to do, no frills and no complaints. The shaft must be right up my alley, because I have to put a truly gawd-awful swing on a ball to feel any sort of chatter or any funkiness whatsoever. This club just goes back and comes through, and the dispersion on all shots is extremely tight. Cobra claims that the club was engineered to produce lower backspin, and I do think this is the case as my ball seemed to rise to its peak height and then just keep bowling forward, looking like slow motion for a second. Ultimately I think the distance was comparable with other drivers, this club just produces a slightly unique flight to my eye.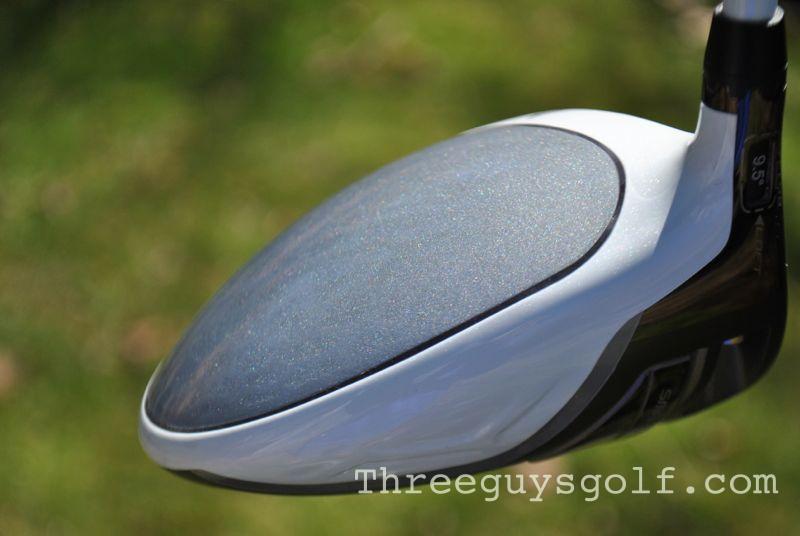 Factoring in the soft, forgiving feel of the Bio Cell+ driver and the extremely tight dispersion, I've pegged the Bio Cell+ driver as a more generous version of a "tour" club, not as demanding of its owner as other tour drivers that I have tested. In fact, I had such a blast playing this club that I'm honestly surprised that Rickie Fowler also plays it, like if a chump like me can rip this thing so well then he's GOT to be stepping up to something more difficult. This club just elicits confidence at address – the combination of the visual aid and the no-nonsense shaft made me believe my ball was headed where it was supposed to go, and of course that tends to be a self-fulfilling prophecy. I don't think it's a freak on distance, or workability, or any other feature; I think it's just a damn solid driver with a unique feel to it that will definitely knock the socks off some golfers, and a really cool look that gives you that extra level of excitement to wail away.
Bio Cell Fairway Woods and Hybrids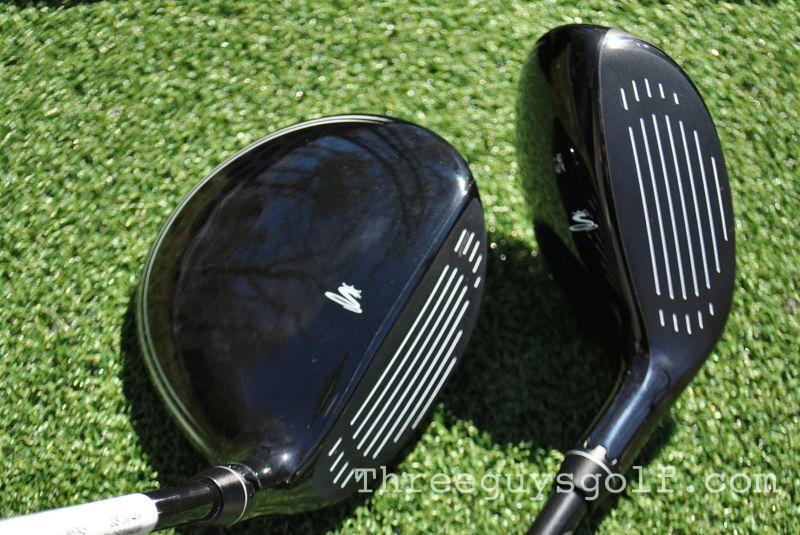 Please note that Cobra offers a "+" version in the fairway woods, but not in the hybrids. Fear not for your attention span, however, because I only tested the regular Bio Cell fairway wood, so this will be a bit less complicated.
With the fairway woods, you have two choices: the 3-4 wood (ranging in loft from 13.0 degrees to 16.0 degrees via MyFly8 adjustability), and the 5-7 wood (ranging from 17.0 degrees to 20.0 degrees). Note that there is a Draw bias setting on the ".5" of each loft, so at 13.5, 14.5, and 15.5 you also have the option of locking in a Draw bias. Jeez I hope that makes sense.
Anyway, I was able to take the 3-4 wood out for a spin, and what I found was just more of the same, which is a compliment. The club sets up nicely behind the ball, with the same white border on the crown giving it a good look at address. One swing and you immediately know this is a friendly club – the ball flies high and long, no sweat. I should probably disclose that I have never really found any 3 wood to be all that much different from another once out on the course, so I can't really put on a big show in this review. This is a good 3 wood, no doubt, and I truly enjoyed hitting it. The adjustability will be helpful in tuning into whatever your intended ball flight might be, and overall you won't be leaving anything on the table if you play this club.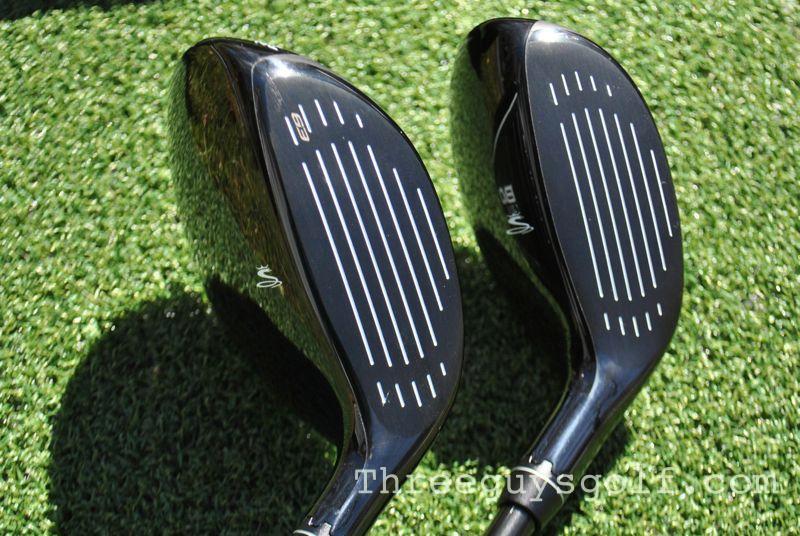 Same deal with the hybrid (sorry). Same white border on the crown, which by now you know I am a fan of. Again, the club is plenty forgiving and plenty long, with adjustable loft settings allowing you to tweak ball flight.
Much like the Bio Cell driver and 3 wood, the feel of this hybrid leans toward game-improvement; more so than a Titleist or Tour Exotics hybrid, so if you're looking for a player feel, I wouldn't expect the Bio Cell to be in your top 5. For the average golfer, however, this is as much club as you will ever need and it is perfectly capable of hitting quality golf shots.
Ultimately I am still old-school enough to think that the fairway woods and hybrids usually fall in line with the driver of the same name, so because I am a fan of the Bio Cell driver, it was no surprise to me that the 3 wood and hybrid would give me the same solid vibe. If you insist on reading between the lines here – I don't think the 3 wood and hybrid have any unique characteristics that would prompt me to seek them out as a one-off club in my bag. Neither of these clubs are mercenaries for hire. Instead I think of them as a solid 1-2 punch that could complement any driver I choose. And obviously, if you are digging your red Bio Cell Driver and want some matching sticks, then Cobra makes the decision a no-brainer.
Bio Cell and Bio Cell+ Irons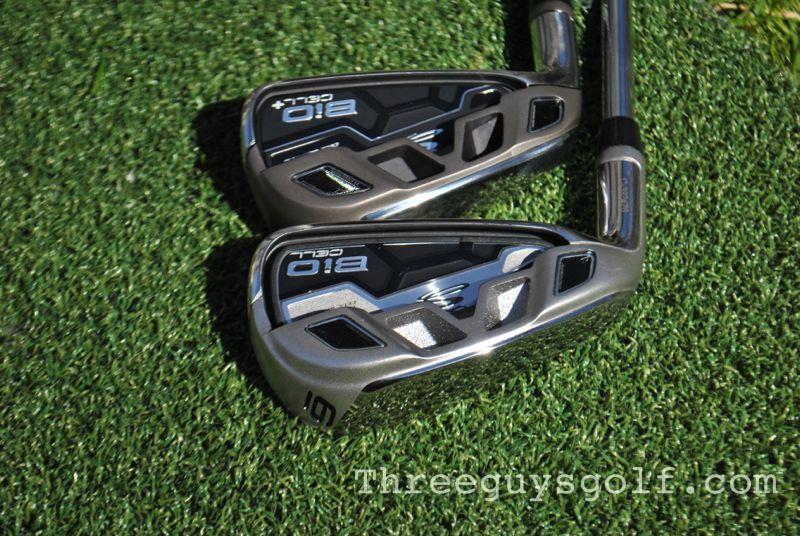 Ah, finally some controversy! There has been much discussion amongst gear enthusiasts regarding the bold/modern look that Cobra went with on the Bio Cell line of irons. In a world where "traditional looks" are lauded, Cobra charted a risky course in designing the Bio Cell irons with a funky techno look, as seen above. What creates this look are tungsten weighting ports that Cobra uses to create maximum performance for each iron – heel and toe to create forgiveness in the long irons, center of the face for added distance and control in the short irons. Have you heard that one before?
So . . . about the looks . . . I was not too crazy about them at first glance. I was not offended by the modern look and blindly waving the traditional flag, mind you, I just didn't think the chunky/busy look was the coolest thing I had ever seen. Assuaging my disappointment, however, was the realization that I once felt similarly about my current set of AP1s, and after about 6 minutes of having those in the bag, it was an afterthought. Seriously now – it's almost too easy to argue that when you're standing over the ball at address, you can't even see the back of the club so who cares . . . I know, it's also important just to dig the look and get stoked every time you pull them out of the bag. I understand that notion in theory, but in reality I think any club that you love to hit will be one you like to look at. And more importantly, if you are digging the way a club performs, who cares what it looks like?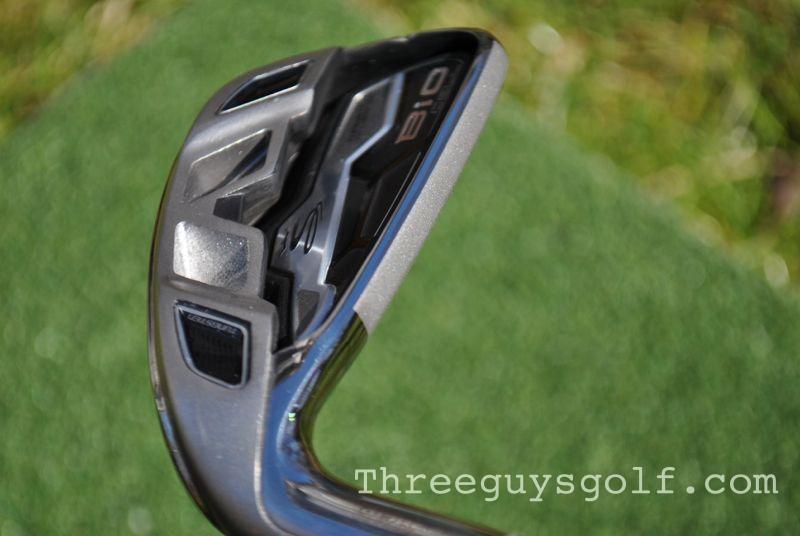 Okay, time to see if these babies can be loved for what's on the inside. The short answer, predictably, is yes. The regular Bio Cell iron has that signature Cobra feel that combines "solid" with "hot". On my very first swing with the Bio Cell, I immediately remembered the Demo Day last year when I was smash-housing an Amp Cell 8 iron, wondering how this club could have flown under my radar. The Bio Cell has a similar feel to that Amp Cell, almost like the face has springs, but perhaps a bit more refined and with a bit less cushiony dispersion.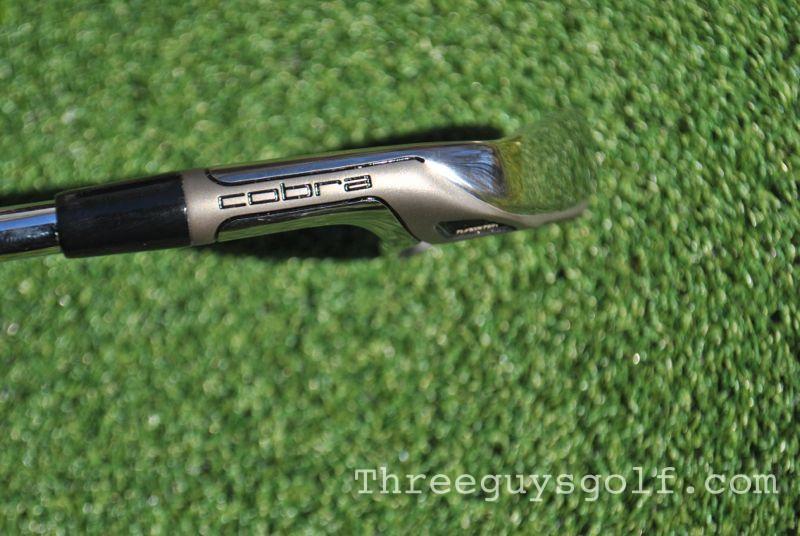 With the Bio Cell+, Cobra is making a run at the better-player category, which aims to provide a little more forgiveness but the same workability as a straight-up blade. With a thinner topline than the Bio Cell and a slightly smaller clubhead overall, you can immediately recognize the fact that the Bio Cell+ is geared for better players. And when I took my first few swings I KNEW this club is for better players.
I say that because, as expected, a mis-hit is met with some negative feedback, and a well struck ball feels like a hammer hitting a nail. So solid. The Bio Cell+ is exactly what it sets out to be – a club designed to reward good swings with a piercing trajectory and workability, while bad swings won't get the same level of forgiveness that you'd get with the regular Bio Cell. When I would put a bad swing on the ball with the Bio Cell+ irons, it was no longer a "hmm, maybe it will find the edge of the green" scenario . . . it was time to grab the pitching wedge. But when hit right, the Bio Cell+ produces a no-nonsense click that feels absolutely rock solid and true, just like a blade.
Let's Wrap This Up . . .
Oy, that was a lot of ground to cover. And truthfully, I don't really have the gumption to tell you whether or not these Cobra Bio Cell clubs are better than the next guy's. What I did learn, however, is that Cobra is absolutely a legitimate player when it comes to clubs and should always be considered in a fitting. For those of you that already knew that, the Bio Cell line will be a natural progression towards better, as technology advancements tend to go. For those folks that might think all of the color options and Rickie Blixting signify a club that offers more bark than bite, I have to disagree. As I mentioned up top, each one of these clubs is surprisingly far from eclectic – they are all just damn solid clubs that feel great and perform well.
Check out all of these clubs on the Cobra website.