Adicross Gripmore Golf Shoes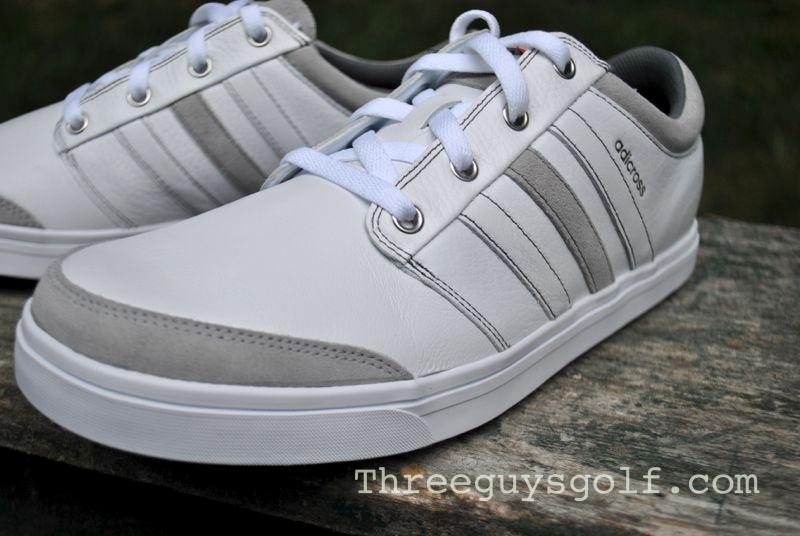 If you watched any U.S. Open coverage last weekend, then you'll recognize these suckers: Martin Kaymer cruised to victory last weekend wearing the Adicross Gripmore shoes. For a bit less prize money, I did the same.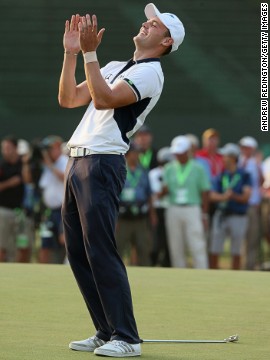 The big news regarding the Gripmore is the new spikeless "cleat" configuration that promises to deliver more grip (get it?) for you and your sweet swing. Specifically, the outsole features 54 gripmore cleats and a total of 286 points of contact for "the ultimate combination of versatility and performance". In person, you definitely notice the unique look of the cleats and pattern . . . the cleats are hard and sharp, but because the sole is flat, they sort of blend in and remain flush with the sole as though it were a street shoe.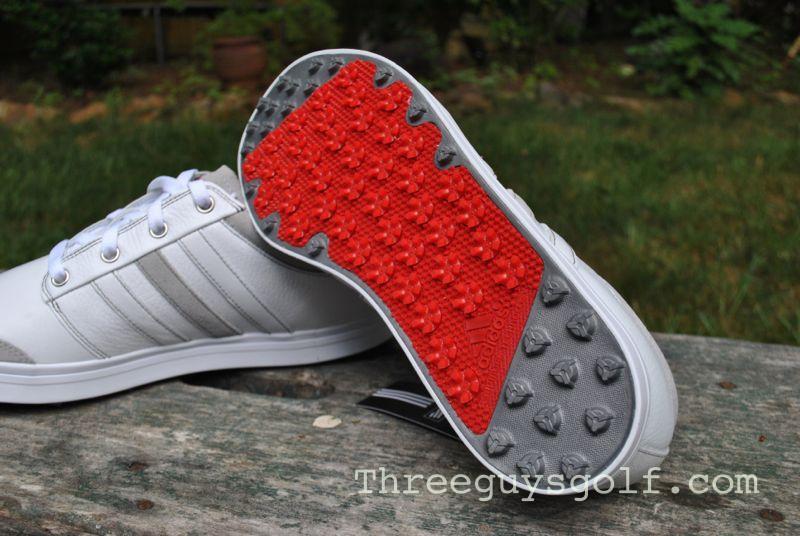 Adidas currently offers the Gripmores in white, aluminum (gray), and black . . . mine are white, for the record. The overall shoe is kind of a classic street look, but a bit wider than usual. For me the extra width was huge from a comfort standpoint –  there was absolutely no pressure on my feet at any point, something I am apt to feel with most golf shoes.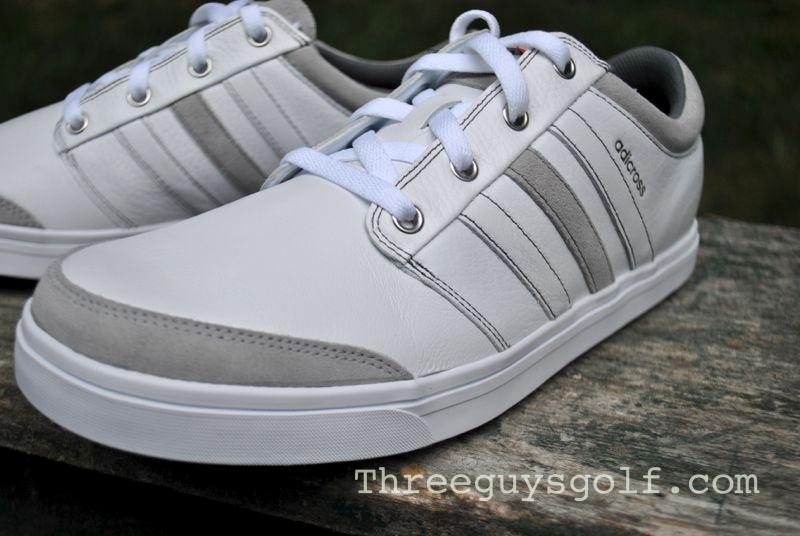 If forced to find a downside to this generous width, I'd say that the front end of the shoe comes dangerously close to the Run DMC big toe'd Adidas from back in the day. But hey, that might be a good thing for all I know, just pointing it out. I think this is a case where you would definitely want to see the shoes in person before buying, because pictures tend to make the Gripmores appear a bit more sleek and athletic than they are in person. And actually, they looked pretty athletic on Kaymer's wheels too, but for some reason when I took mine out of the box I was a bit surprised by the bulkiness/roundness of it all.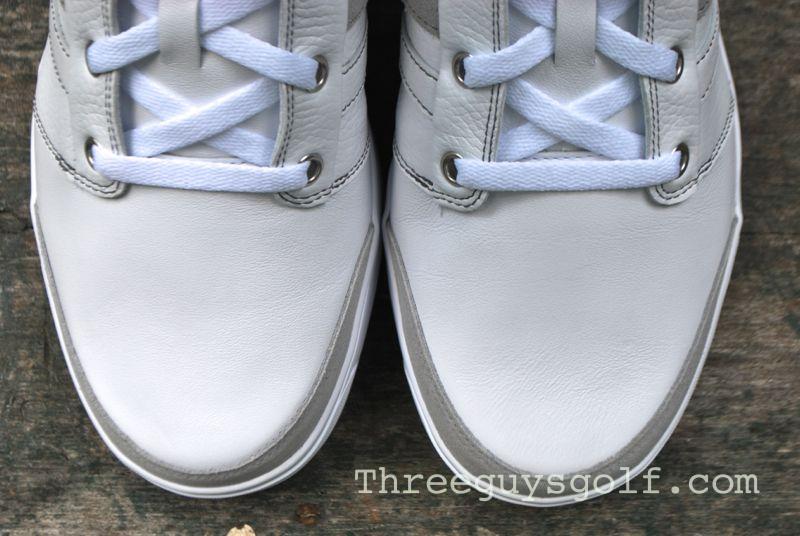 The upper of the shoe is good ol' leather with Adidas' ClimaProof technology, so it feels just fine and keeps water at bay. My white shoes have picked up enough dirt to eliminate the new shoe dorkiness, but not so much that they look dirty. And because they are leather and waterproof, they can be easily cleaned (this was tested on an obscurely-located one square inch area . . . hate me some bright white shoes!).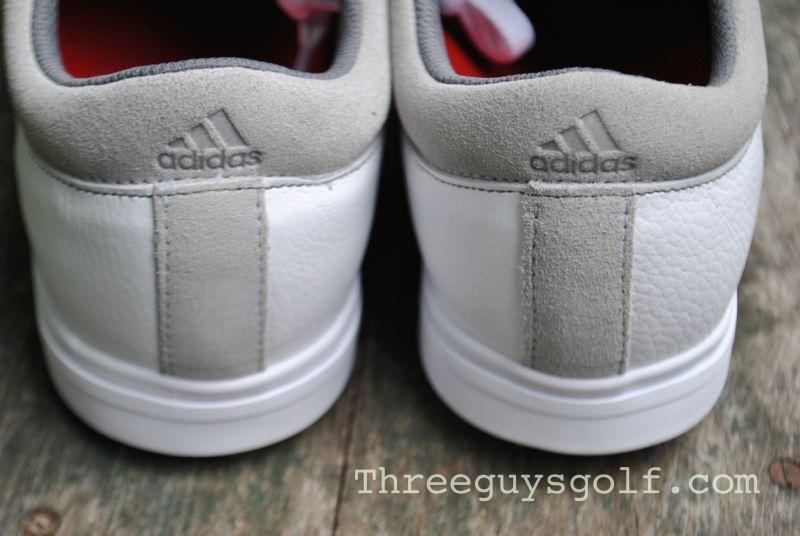 From a performance standpoint, the Adicross Gripmore certainly gets the job done. At no point in any of my rounds have I slipped or felt anything other than totally in control (of my feet, not necessarily my ball). So I would say the grip thing is legit, and perhaps it is even more impressive that they were able to achieve such grip with a shoe that can still be worn off the course. The shoe provides adequate cushion to the dogs as well; nothing remarkable to note on that front, they are plenty comfortable when playing 18.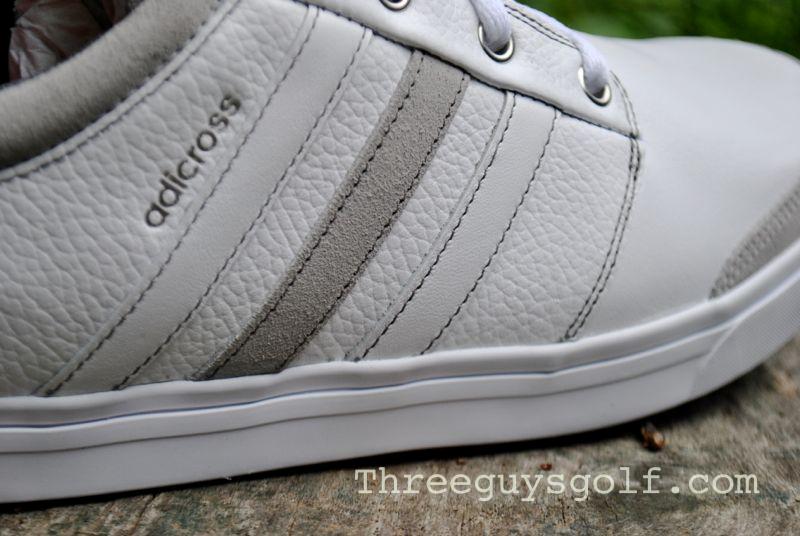 When it comes to shoes, it always boils down to looks and performance. Martin Kaymer just won the U.S. Open by 8 strokes in these puppies, so I'm thinking you can count on the Adicross Gripmore's level of performance being of a high caliber. So if you dig the looks, at $150.00 the Adicross Gripmore is definitely a viable option.
You can learn more on the Adidas website