Adidas Tour 360 Boost Golf Shoes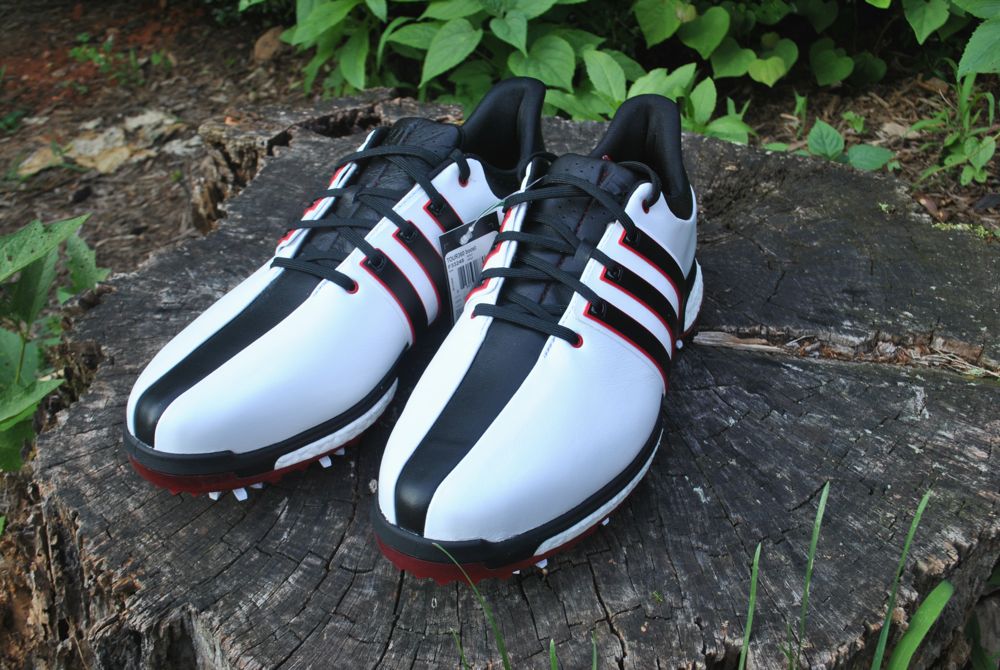 For years I have had my eye on the Adidas Tour 360, but for whatever reason I have never owned a pair. Unlike most models of golf shoes, the Tour 360 have remained relatively consistent over the past 10 years without a major design overhaul. This year's model is no exception, although they definitely look way cooler than past models.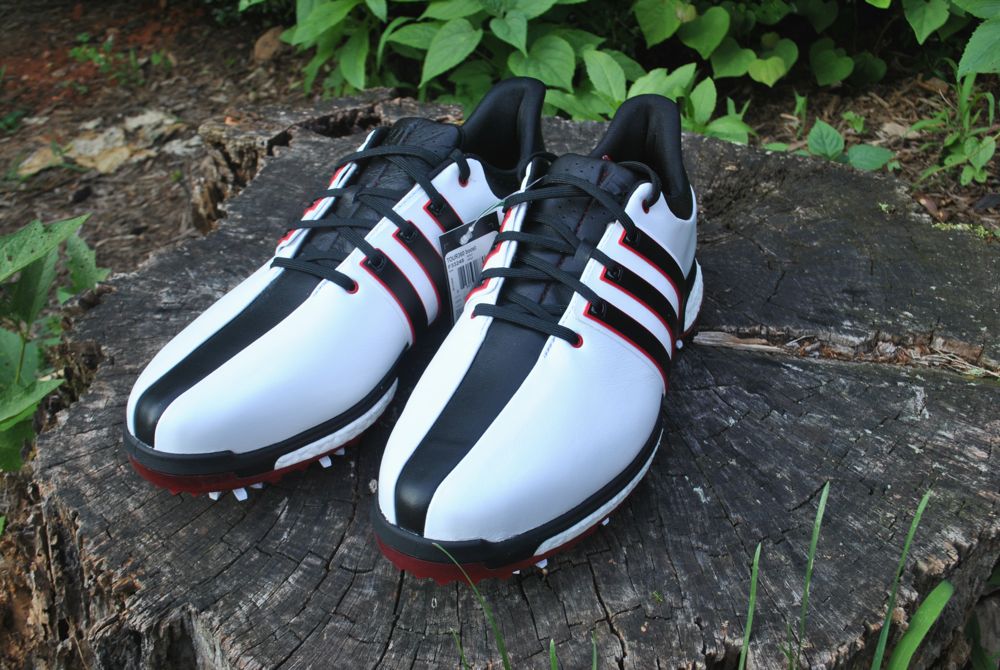 As I have mentioned in past posts, golf shoes can be categorized into two groups: Pro level and non-Pro level. In other words, are the top studs on the PGA tour wearing them. In the case of the Adidas Tour 360 Boost, you can be sure they are a Pro level shoe with guys like Dustin Johnson wearing them on a regular basis.
Right out of the box, the Adidas Tour 360 Boost make a big impression. Solid, beefy and with aggressive striping the Tour 360 scream "I am a badass shoe, prepare yourself accordingly". This is not a light flexible walking shoe. This is a structured, stabilized, ground gripping monster that can handle the likes of DJ's 140 MPH swing and never bat an eye.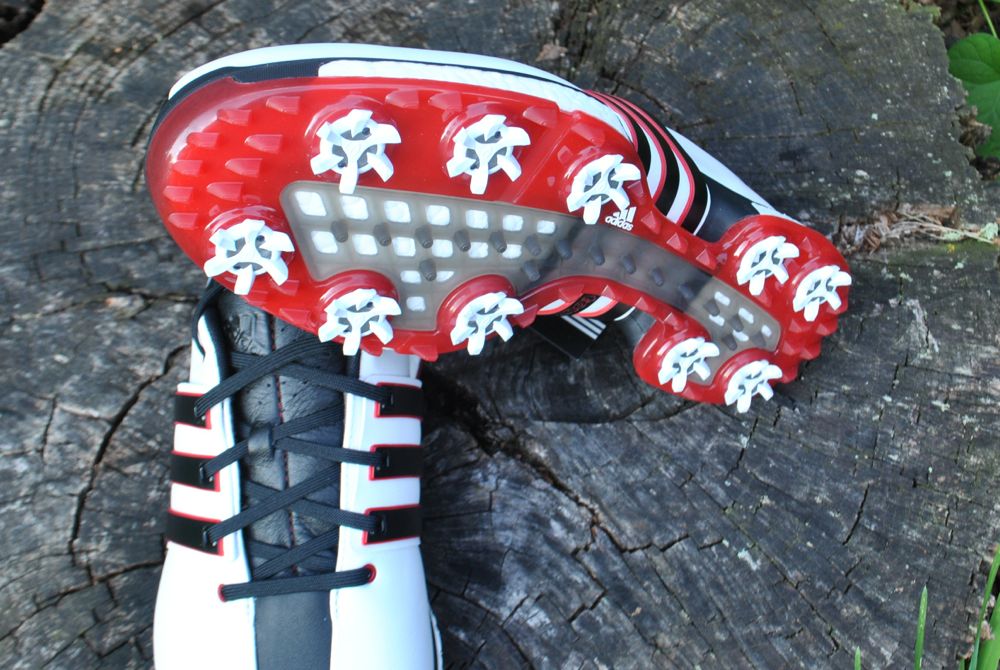 My first time out with the shoe was during my weekend group play where I got a ton of positive comments. Since the dudes I play with know I get gear on a regular basis, I can count on them to give me honest feedback. Without any empirical data, I am pretty sure the Adidas Tour 360 shoes got the most positive feedback I have seen over the years of my golf whoredom.
That first round I ended up riding, which is a bit unusual for me. Despite not walking 6 miles, I did notice there was a ton of heel padding, which I think is really important in terms of comfort. From a playability and structural standpoint, the Tour 360 is nearly unmatched. You almost feel like DJ in these kicks, and I think I caught myself even halfway striding after a well struck ball. Honestly, is there a person on the planet who has a more confident "I own this fucking place" stride the Dustin Johnson?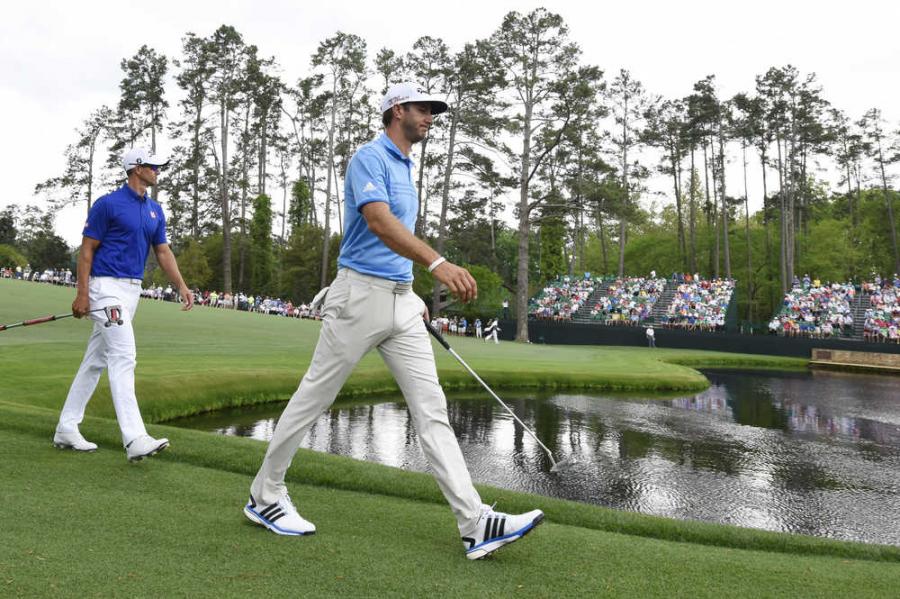 Man-crushes aside, the Tour 360 ooze badassery, and I for one, always believe that any boost in confidence is a good thing when you are playing a game that loves to toy with your ego.
For me there are 5 things that I measure a golf shoe by: comfort, structure, quality, grip, and looks.
Comfort:
The Adidas Tour 360 are as comfortable as any Pro level shoe I have worn. Clearly, shoes like True Linkswear are going to be more comfortable as they lighter, softer and more flexible. But ultimately some dudes just prefer a more substantial shoe. Even though I tend to wear a walking shoe, I typically choose a Pro level shoe when I am going to ride or play a big time match. With that said, I have walked 18 holes in the Tour 360 and found them to be just fine. Yes, slightly heavier but, all in all, perfectly acceptable for walkers in part because of the Boost material in the heel. Basically the Boost is a pillow like material that gives you a little bounce in every step – very noticeable and welcomed.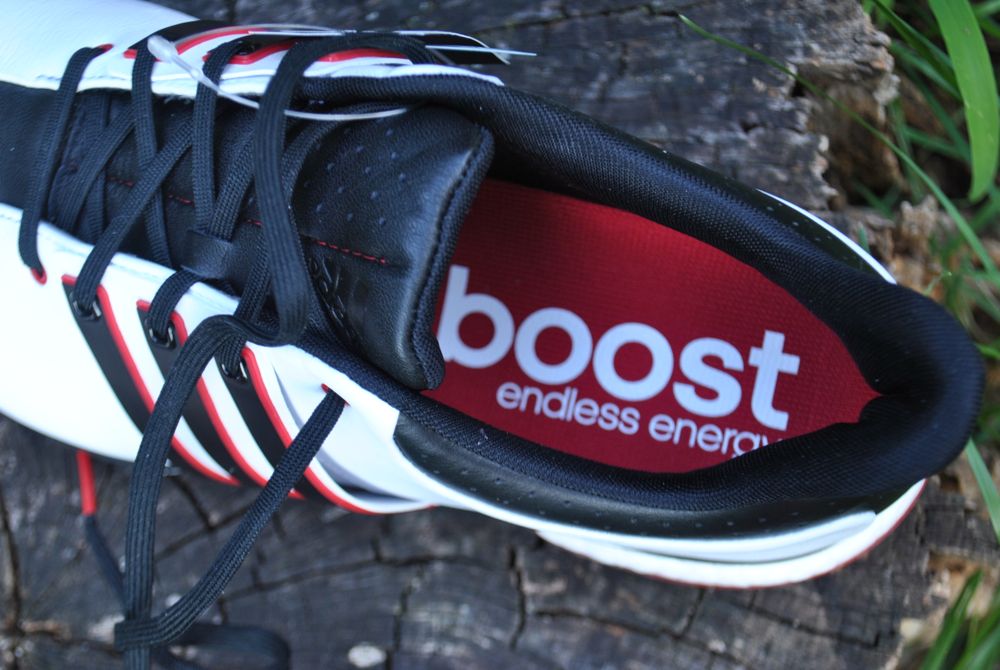 One final note on comfort – last year I reviewed the Adidas Boost, and while I loved the look, for some reason they just did not fit my feet well and ended up hurting my arch. I was obviously concerned that I would have the same issue with the Tour 360 as they are similar. Fortunately, there has been no such issue.
As regular readers know, I have a serious issue with tongues that are not secured to the shoe, which inevitably leads to them moving to the side. Unfortunately, the Adidas Tour 360 Boost tongue is also not tied to the main shoe but for some reason it has not been an issue – it only moves slightly to the side during the round. Still, I would love to see that modification made.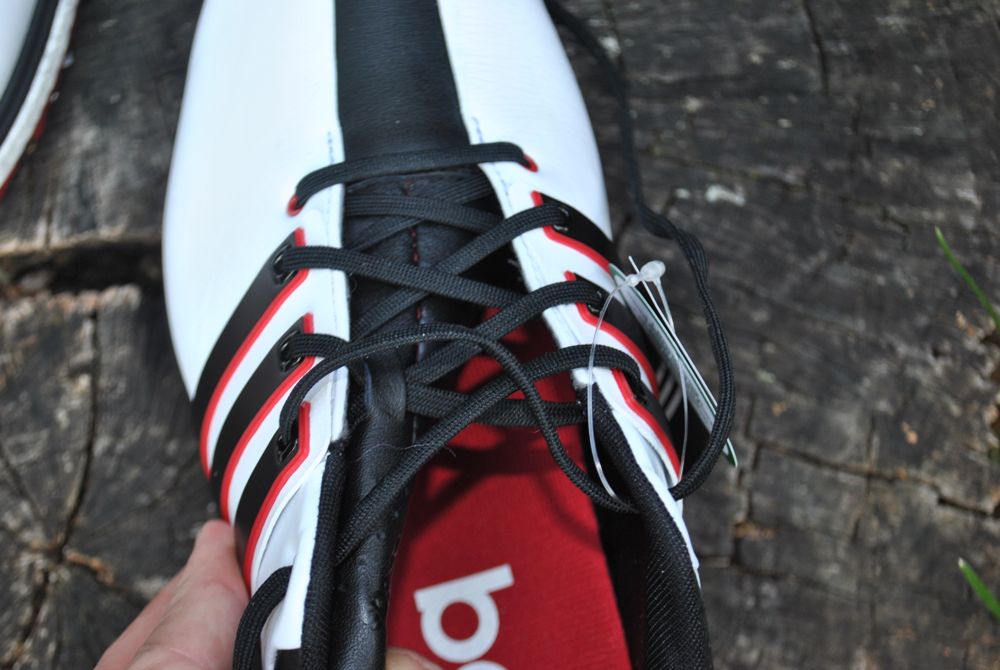 Structure:
A buddy of mine has serious foot problems and has been relegated to playing golf in his running shoes. While it has always struck me as a disadvantage, he contends there is no difference and he actually is wearing the most comfortable golf shoes. While that may be true in his mind, the fact is golf provides a number of challenges for the golf shoe (grip not withstanding). If you are an aggressive swinger there is a ton of lateral torsion which a running shoe is not meant to withstand.  The Adidas Tour 360 Boost has a two piece design such that the upper part wraps around your foot providing outstanding structure. You will note that there is a gap between the sole of the shoe and the midsection of the upper. This allows the shoe to have more surface space while minimizing any movement in the upper section. Kind of genius.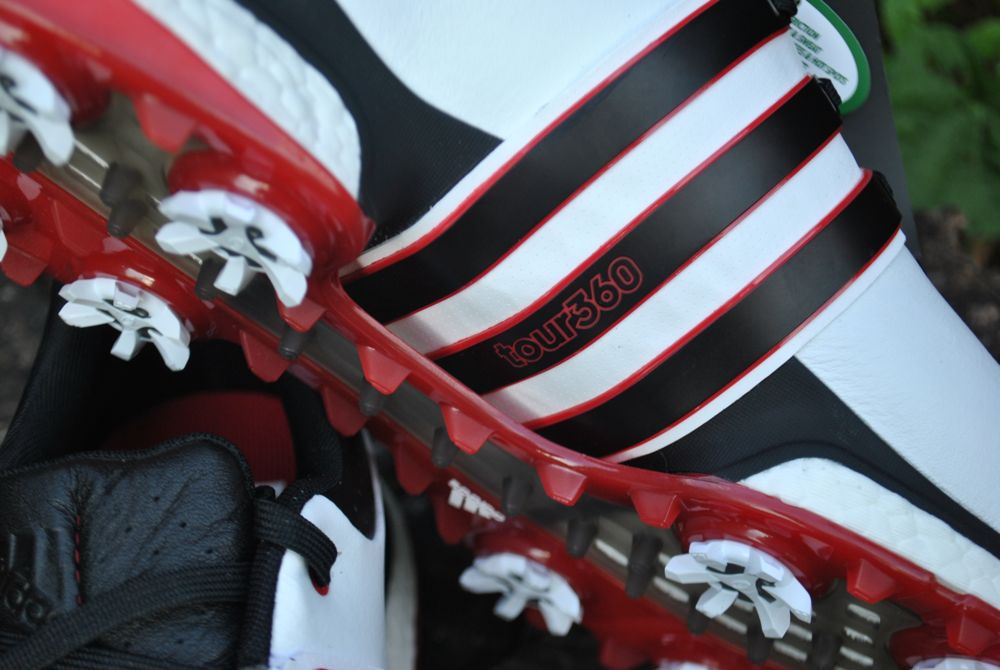 Beyond the two piece construction, you will also note the high heel cushion. I was a bit worried that this would be uncomfortable but no such issues and I suspect it does lend a tiny bit more of support. In any case, it is a unique feature not often seen.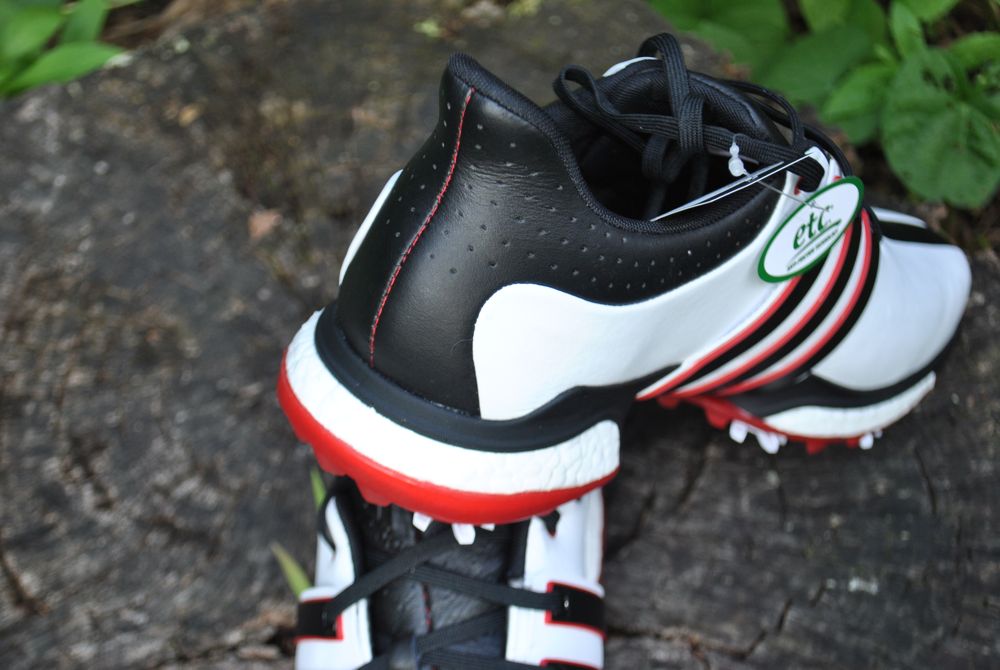 Quality:
Since you are gonna plunk down $200 on these shoes you should expect them to last many seasons. While I clearly cannot attest to that time period, from all vantage points I see no reason to doubt the quality. For one, I have a couple of buddies who still wear five year old Tour 360 shoes. Secondly, the leather and stitching looks top notch. Finally, because they have replaceable spikes you will not have to worry about tread wear.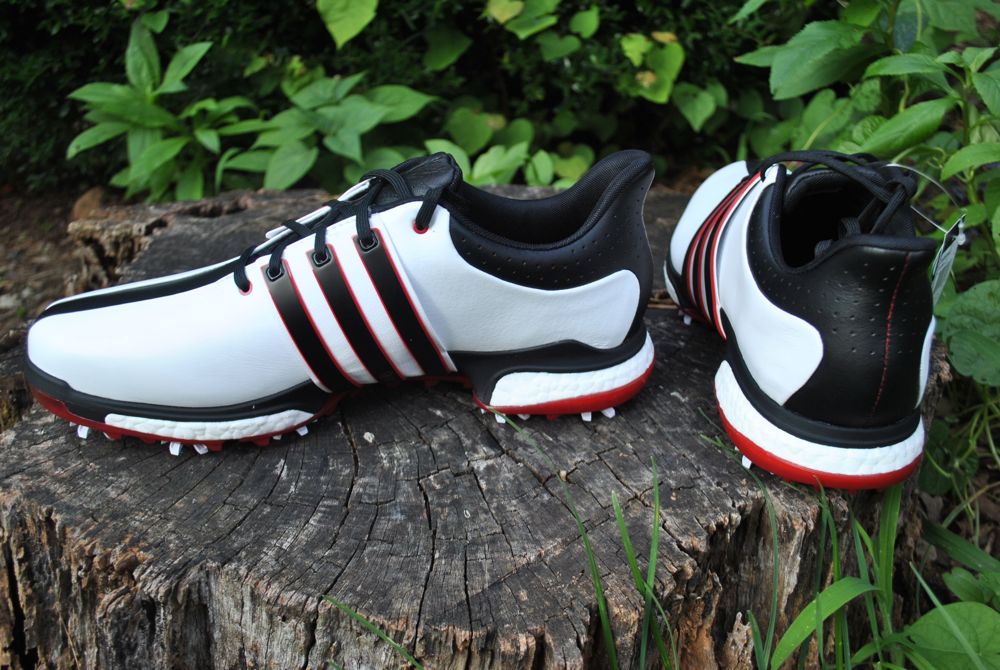 Grip:
Grip is probably overrated, but again, if you have dreams of swinging like DJ, grip does come into play. As with most amateurs, I tend to place too much value on arm speed instead of leg push. The fact is the power is generated from the ground and that is where Pros set themselves apart from the weekend player. It then stands to reason that you want as much connection to the ground as possible. Now Adidas has some fancy name for their sole, but basically, it is a shitload of spikes. Also, you will recall that the upper and lower sections are split in the middle so you get extra ground coverage in the mid section.
Looks:
No doubt I am a shoe whore as well as a shoe snob (the best of both worlds). I have never liked golf shoes that look too athletic or non-golfie. For example, most of the Nike shoes have never done it for me looks-wise. The Adidas Tour 360 Boost, on the other hand, are spot on brilliant. I am gonna say maybe the best looking shoe I have owned. I am not sure who decided to put the strip down the middle but it has just enough golf tradition in it while also giving it the finger. As I mentioned, the peanut gallery at my club was pretty much blown away and gave the shoes 100% thumbs up.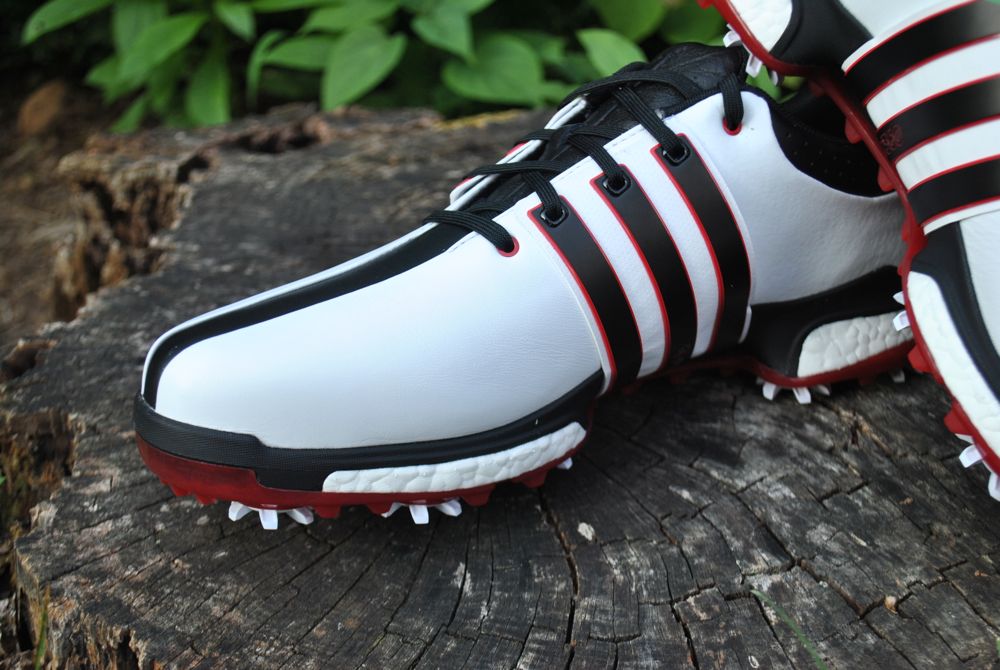 Odds and Ends:
The Adidas Tour 360 Boost has become my favorite shoe. It has everything you would want in a golf shoe. It goes to reason then that you will want to keep this baby clean and looking like new. Good news is that they are super easy to clean with few nooks and crannies. Even the Boost section around the sole wipes clean.
If you are in the market for a Pro level shoes that will give you years of wear, I would highly recommend the Adidas Tour 360 Boost.