Adidas Clima Cool Ballerina Golf Shoes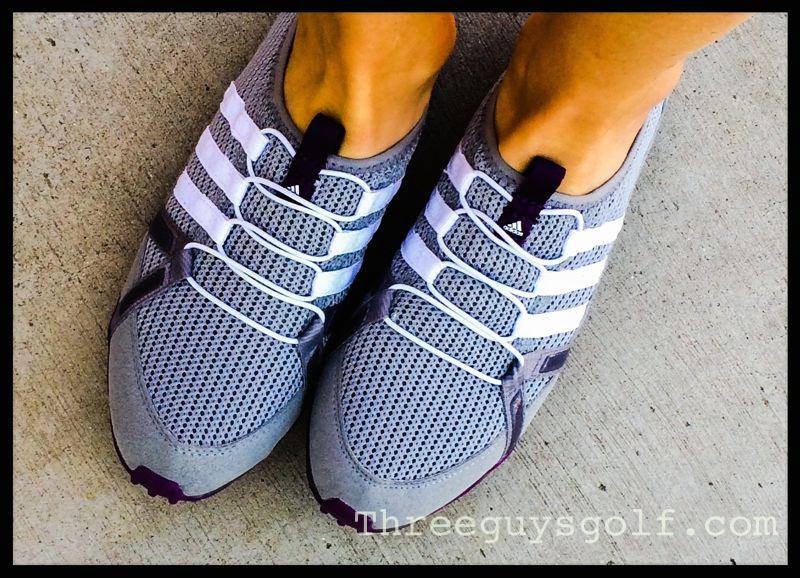 All Day I Dream About Shoes

Boots, wedges, heels, stilettos, flats, sandals, tennis shoes, fancy shoes and yes don't forget golf shoes, we dream of them all. It isn't new news that one of the paths to a girl's heart is through shoes. We all own more than we need, yet struggle to pick which ones to wear each morning. We will never stop buying them, NEVER! Sometimes we buy them just for the look, actually more than we're willing to admit we buy them just for looks. Other times we buy them for comfort and sometimes for functionality.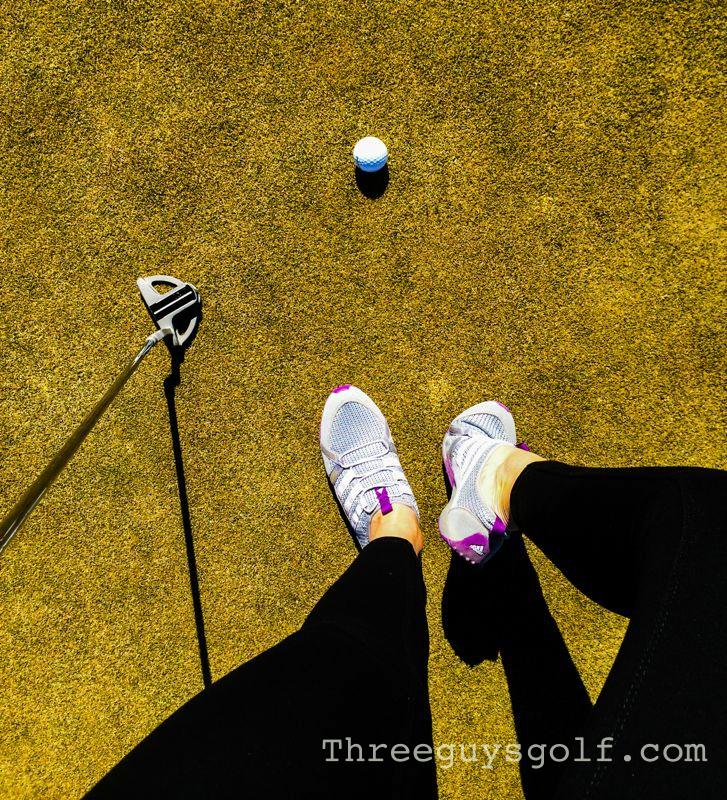 No matter the occasion, no matter the purpose we enjoy our shoes. What is not so much fun is the hunt for the perfect shoe. I have come to the conclusion that it's not shopping that I enjoy – it's the thrill of finding something that fits or that I love. Shopping isn't what brings me joy; it is the purchasing that feels so good. The thought of "Oh I can't wait to wear this I am going to look and feel so good"! Recently I was able to feel that because of the brand new clima-cool ballerina golf shoes that Adidas just released.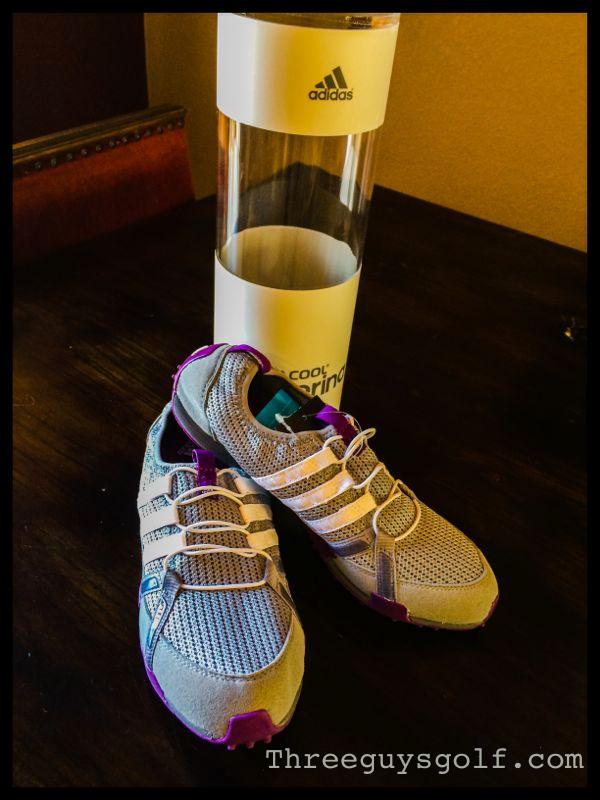 I am in love! I have struggled for years trying to find a golf shoe I liked. When looking for a golf shoe you know you need to find a shoe that is for functionality and comfort. Most times they are clunky, wide, heavy and not attractive. The clima-cool ballerinas are amazing; it truly feels like you're golfing barefoot. I guess that makes sense considering they only weigh 4.8oz. When I first put them on at home the day I received them, I joked that they felt like a house slipper. They molded to my foot and I actually didn't take them off for the rest of the day as I ran errands and went to my son's soccer practice. These shoes do not look bulky like a golf shoe traditionally does so you can definitely get away with wearing them on and off the course.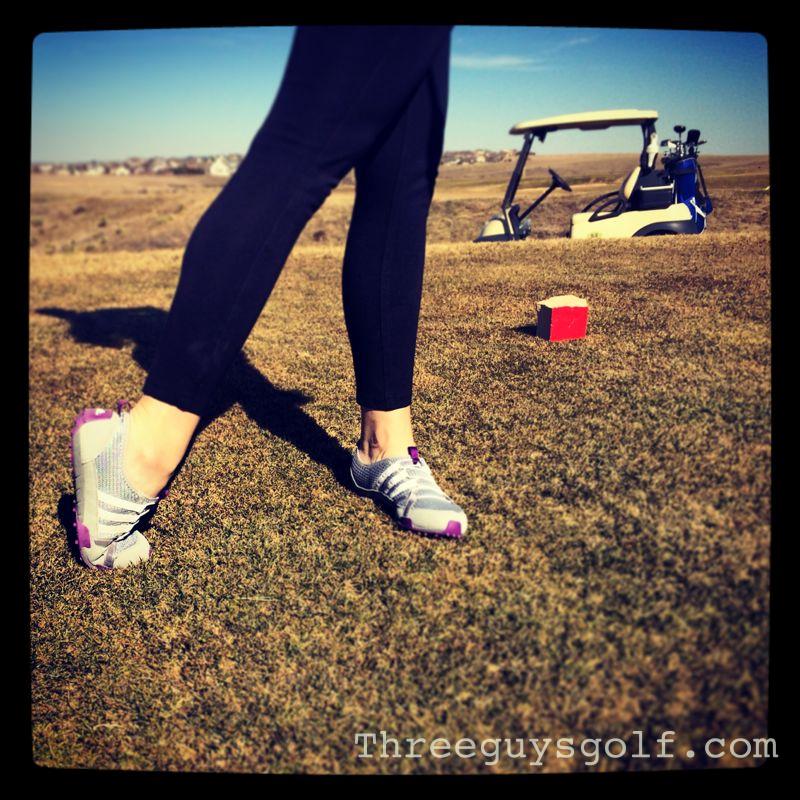 As I approached the tee box on hole 1 I found myself being a little nervous about the shoe. I had already fallen in love and god forbid they don't perform on the course. My fears were they wouldn't be supportive enough, my heel may slip out the back during my finish and that sand would get in them . . . that is only if I go in the sand though, which I don't, yea right. Turns out, Adidas knew what they were doing when they designed this shoe. The mesh they used to create part of the body is permeable enough to allow your foot to breathe yet still fine enough to not let sand through. The opening of the shoe molds around your ankle also blocking sand or dirt from up top. The fabric they used does not cut off circulation; I was worried it would be too tight and bug me after an hour or be too loose and my heel would slip out, neither happened. The shoes honestly mold to your feet, and this is probably why Adidas offers a 90 day comfort warranty! That blew my mind when I read that, you won't find that with your Jimmy Choo's.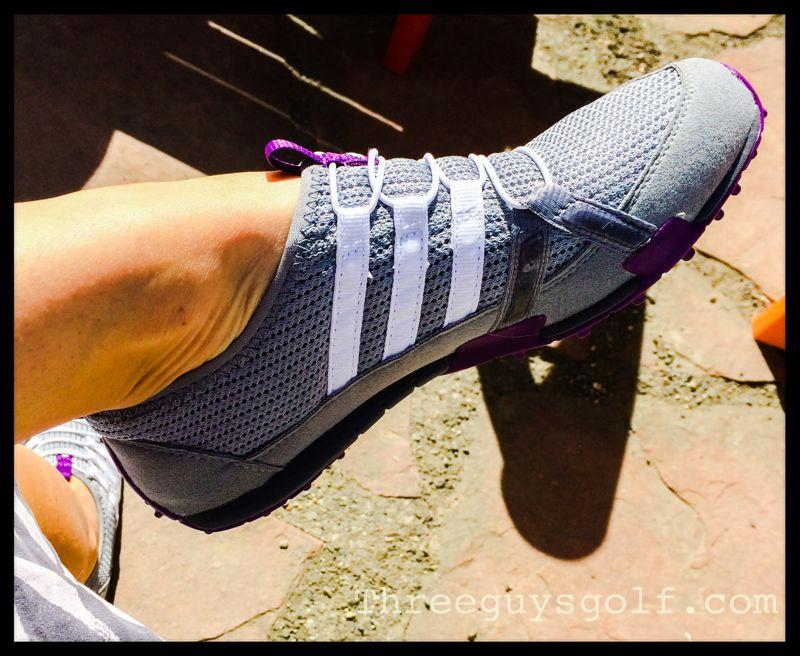 This shoe does not have spikes and I'm starting to think those are soon to be something of the past. I am seeing less and less golf shoes that have the traditional spikes. These ballerina shoes have a thin moldable sole with a consistent grip design that is created of small rubber nodules. They also have a foam insert with arch support (kind of reminds me of memory foam). I just can't say it enough, these shoes are amazingly comfortable and I will own multiple pairs. They are functional, comfortable and good looking.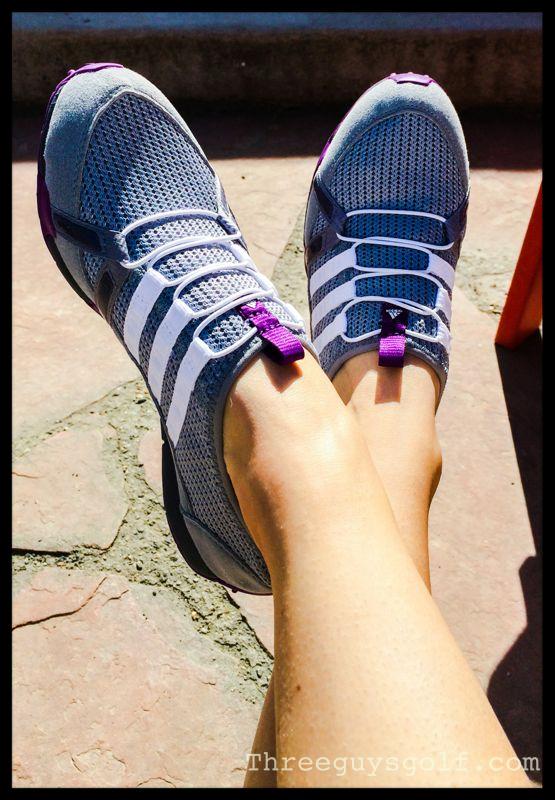 Currently you can find them online, where they are retailing for around $99. They come in solar blue & silver, silver & bahia mint, and mid grey & tribe purple. I would love for them to make a black or charcoal grey shoe with red accents and a white & pink combination. My thought is these shoes are going to fly off the shelves this season, so I would get them early. I hope to have one in each color . . . it will be hard to slip into another shoe after experiencing the comfort of the Adidas ballerina.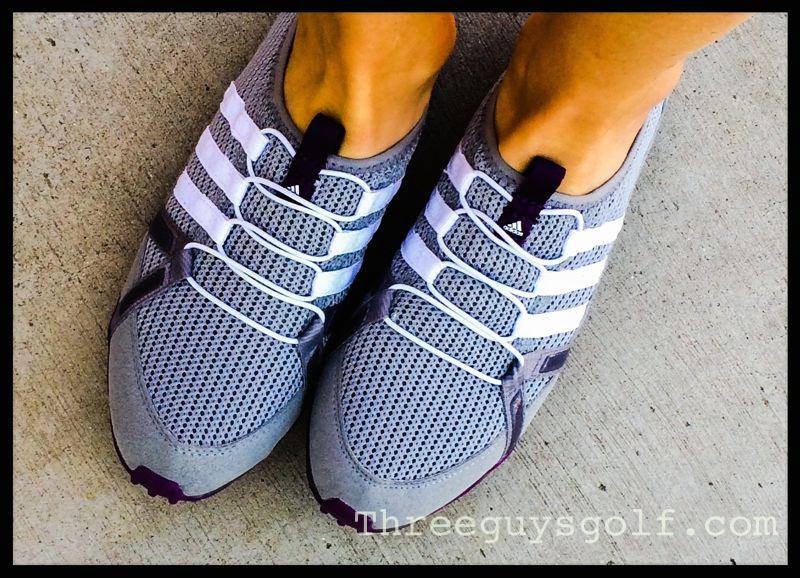 Here's a little history for you. People for years have believed that Adidas stands for All Day I Dream About Sports, some believe the S stand for soccer and those of a juvenile mind firmly state the S stands for sex. In truth it stands for none of those things. Adolf (Adi) Dassler started the company in 1949 and he decided to name his company by using the first three letters of his first name and the first three letters of his last name, creating Adi-Das. That being said I will never say AdiDas again without sounding like I have an accent. However, my prediction is if they continue to produce such killer shoes then then they will soon be known for the acronym All Day I Dream About Shoes!  The funny thing about acronyms is they are often untrue, just like the word Golf: 'gentlemen only ladies forbidden' is not its true meaning even though many still claim it to be. The word golf started as a medieval Dutch word "kolf" or "kolve" which meant "club". It wasn't until the 16th century that it transcended into golf.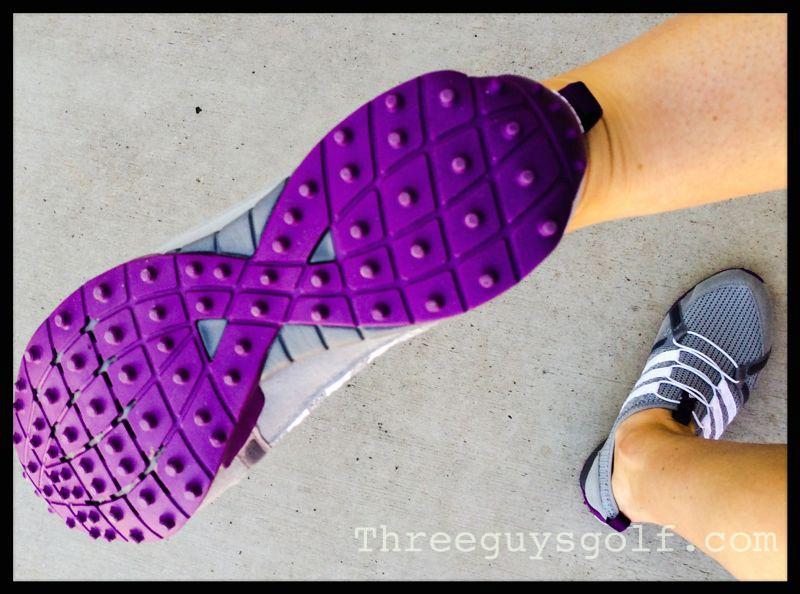 Throughout my life asking why and why not has served to be a blessing on some occasions and a curse on others. I like to understand things, I am never afraid to admit I do not know something and I also am not afraid to blaze a new path if I don't like the options before me. At one time I did believe that golf stood for gentleman only ladies forbidden. In a feisty I'm going to do what I want state of mind I create a league called SWING. This actually is an acronym and stands for Savvy Women In Need of Golf.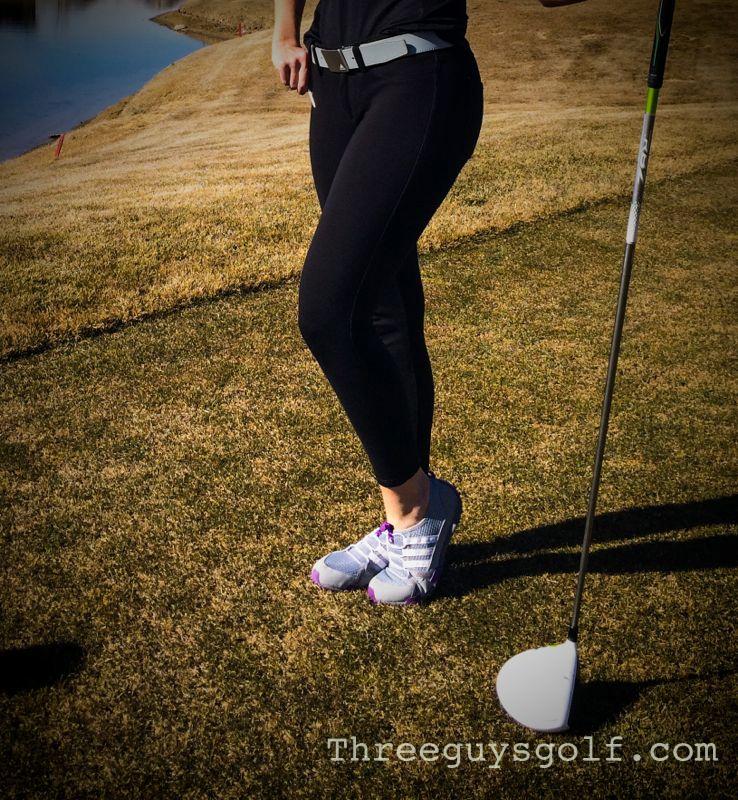 We are a non-competitive cocktail league for women and we thrive on growing the game one happy hour at a time. We love to bring fashion on the course so believe me when I say "this shoe is going to kill it", because if anyone knows what's going to look good on the course it is my league. So whether you golf or SWING, or believe the S in Adidas stands for sports, soccer, sex or shoes, it really doesn't matter as long as you're swingin' a club somehow somewhere. Those who dress well, play well, let's keep the game alive and look good while we're doing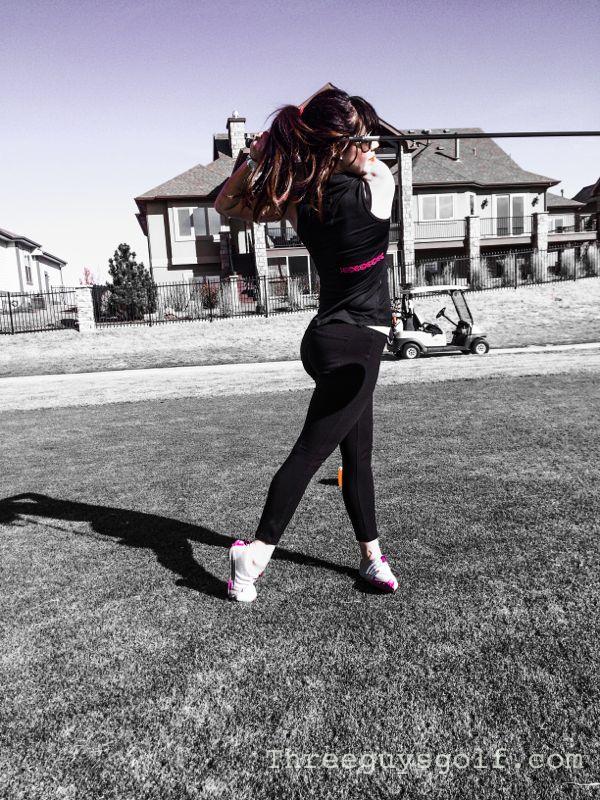 You can check out the Adidas Clima Cool Balerina golf shoes on the Adidas Website.