True Linkswear 2014 Review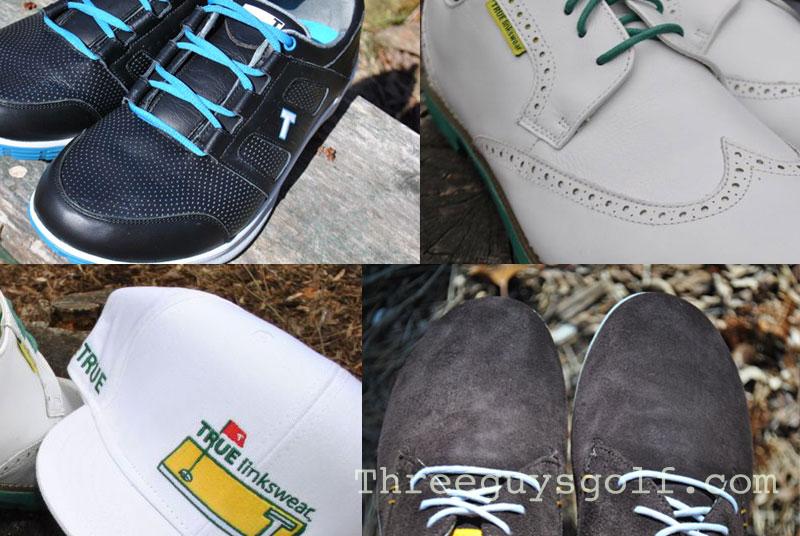 Where to start? Let's start with the basic disclaimer that I have been a huge fan of True Linkswear since I got my first pair of PHX a couple of years ago. Looking back at those early models I am genuinely impressed that the company has been able to make such huge improvements to a shoe that (at the time) I thought was pretty darn solid.
Once known as uber comfortable clown shoes, True Linkswear are now far better looking and even more comfortable than ever before. The three new shoes that I have personally worn are the Oxford, Lyt Dry and the Limited Edition Masters Wingtip.
True Linkswear Oxford:
The Oxford is far less "golfie" than most of the other TRUE shoes, but they are certainly appropriate for the course. However, I wanted to give them a more robust test run than just a simple loop around the track. For my "off track" testing I decided to make them my primary shoe on my recent jaunt from North Carolina to Mt. Rainier Washington via the John Candy express, i.e. planes trains and automobiles.
My journey started with a plane flight to Chicago where it felt like I walked the entire downtown and every tourist venue in the city. A day later, I hopped on a train for 48 hours, where I watched six states pass by (and yes, N. Dakota is exactly as foreboding as you can imagine). Granted I did a lot of sitting (and drinking) on the train, but foot comfort was still a priority as I made many a walk from the viewing car to the bar car. Finally, I drove from Seattle to the foot of Mt Rainier. All told, the True Linkswear barely left my feet and I could not have been happier.
You see, the True Linkswear Oxford is one part fashion statement, one part walking shoe, and one part bedroom slipper. Everything about this shoe is done right. They are so light that you barely feel them even when you are hoofing around Chicago.
A couple of technical notes: The TRUE Oxford is made with treated suede which will show some water stains but not any more than a traditional suede shoe. Obviously this is not a great wet weather shoe but you also do not need to be ultra careful either – they will just gain a little personality with every mile they trek. Truth is I won't play too much golf in this shoe but that is only because I have four other pairs of True Linkswear shoes. However the TRUE Oxoford has become a staple in my everyday footwear. The beauty for me is that I get all of the comfort of a True Linkswear golf shoe in a model that looks great with jeans (and they are only $99).
True Linkswear Lyt Dry:
Next up is the True Linkswear Lyt Dry, which is the top of the line tour performance shoe and is the one that Ryan Moore is currently wearing on the PGA Tour. In short, the Lyt Dry represent the most technologically advanced shoe True Linkswear has ever made.
A couple of things jump out for me beyond the techno speak. First I love lace and tongue system. The laces are raised above the shoe and the tounge is held securely all the way to the sole of the shoe so it won't slide around.  The end result is that the shoe fits securely and never needs any adjustments.
Regardless, they will definitely be THIS man's TRUES. I have worn the Lyt Dry shoes many times over the past few weeks and I absolutely love them. One small design note is that the back heel section is raised higher than most of the other styles to help provide greater support. Out of the box it did feel slightly odd and I was unsure if it would ultimately bother me. However it only took a couple of holes for me to get used to the feel and now I never give it a thought.
Last but not least, the price point is outstanding. While most top of the line golf shoes run close to $200, the True Linkswear Lyt Dry are just $149, making them a steal in the high end golf shoe niche. If you have owned a pair of True Linkswear you will be impressed with the new features; if you have never owned a pair then this would be a great time to try a pair on.
True Linkswear LE Masters Gent Wingtip:
Last but not least is the Masters Limited Edition TRUE Gent Wingtip. Note the Gent Wingtip is techicnically a 2013 shoe but is being included because  1) they are new to me and 2) the Masters starts tomorrow.
If there is one ding on True Linkswear it is the non traditional styling. Well, fear not, the Gent Wingtip is welcomed in the swankiest of swanky country clubs. Plus if you are still worried about being "too hip",  no one has to know you are actually wearing a shoe half the weight and twice as comfortable as the old school counterparts.
If the True Linkswear look has eluded your preference or if you just want a more traditional option, the Gent Wingtip might be just the ticket you need to punch.
Finally, beyond the comfort and style of True Linkswear, the company and its people are just fantastic. I have been working with these guys for the past three years and they are some of the best in the business. They stand for all of the right things and just keep pumping out one great shoe after another. As they say, "Enjoy the Walk".