TRUE Linkswear Proto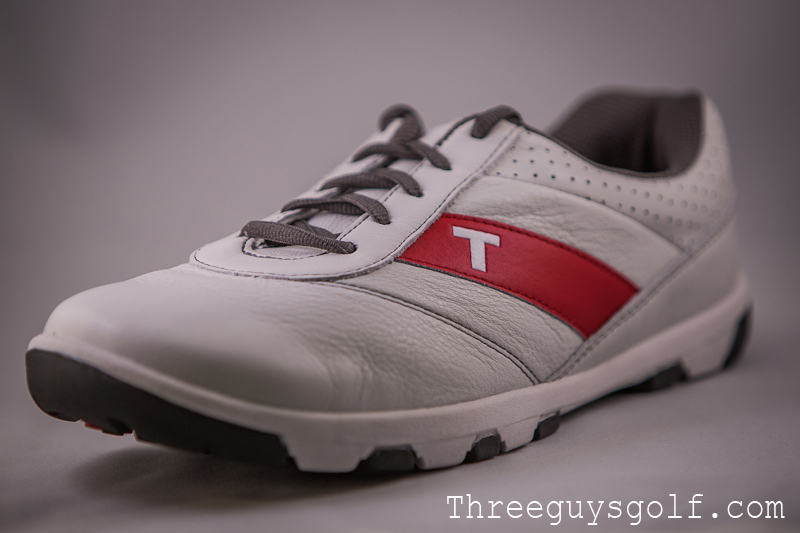 TRUE Linkswear Proto Review: I don't know about you, but I can only read how something is clearly "The Best" before I have to find out for myself. Muddling the matter further is our desire to put that prestigious label on every new widget that comes to market. Therefore, I was very excited to finally get my hands (or feet to be exact) in a pair of TRUE Linkswear shoes as they have widely been described as the most comfortable golf shoes available.
Interestingly, TRUE Linkswear has garnished a ton of praise with comparably little marketing. However, inside the world of golf, the shoes are widely considered by many players (most prominently Ryan Moore) and bloggers to be the premier golf shoe.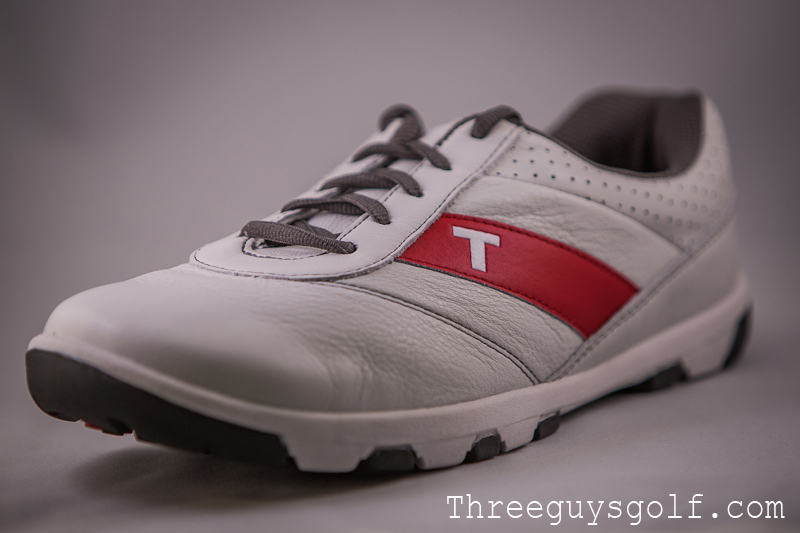 Not only does TRUE Linkswear market their brand differently, they just seem to think about shoes differently. Unlike many shoe companies, TRUE Linkswear does not promote added distance, shaved strokes, increased spin or game improvement. Instead, they are solely (pun intended) focused on two things: comfort and allowing the body to function naturally. And get this, they actually require their employees to play at least 18 holes of golf during the work week (umm, where do I send my application?). Beyond just being good employers, TRUE Linkswear uses this as a way to get constant feedback on how the shoes perform in the real world.
TRUE Linkswear Proto
My first impression when I opened up the box of Proto's was "Wow, that's a great looking shoe!" The entire design and concept is very appealing and I could instantly sense the high quality. As we all know, the casual sneaker look craze that was started a few years ago, thank you Freddie Couples, is still going strong and TRUE has done a remarkable job of capitalizing on this look. Where TRUE has exceeded everyone else by a mile, in my opinion, is comfort.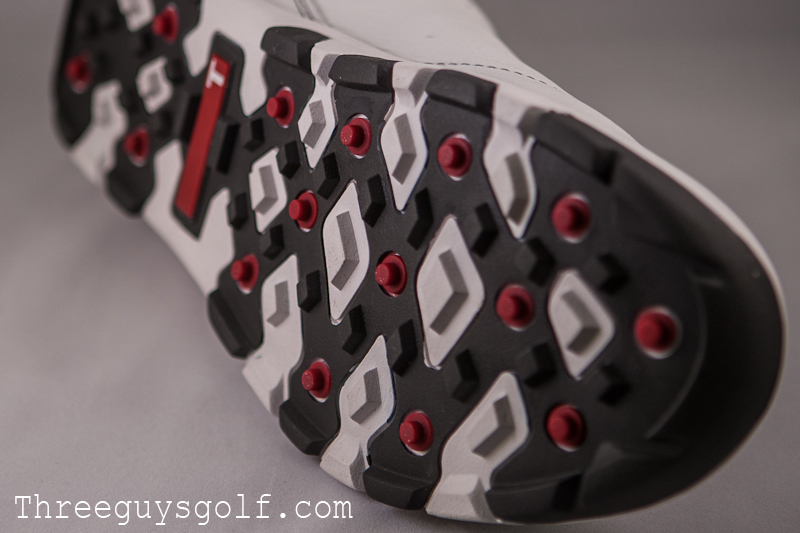 The only thing I was a little concerned about was the zero drop aspect of the shoe, but once I stuck my feet inside and started walking around in the Proto's my worries were quickly erased.
As far as sizing goes, I spoke with a representative from TRUE and they told me that a good rule of thumb is that the TRUE's run in sizes typical to what you would find in a FootJoy and about a half size larger than Adidas. Three Guys Blogger, Adam, who is a big TRUE fan, says he always orders his normal size or maybe a 1/2 size smaller. While the TRUE are a broad shoe, they do incorporate a memory foam heel which locks you in and prevents traditional slipping.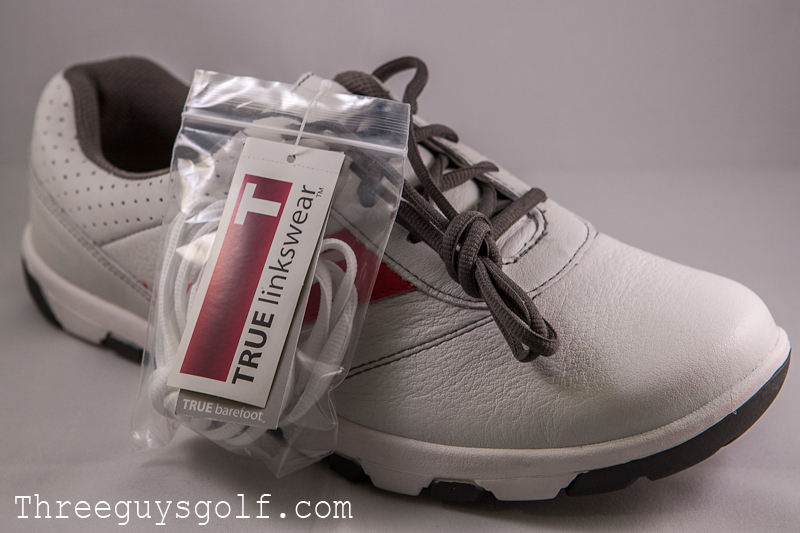 The very wide toe area did take a little time to get used to, but only because I'm tied into a very snug fitting running shoe every day at work. When I initially put the TRUE's on my first thought was that it was way too big. Toes should not have that much freedom to move around. I couldn't have been more wrong. The wider toe area allows your feet to be freer and move around more. It also gives you an amazing sense of balance, which I experienced immediately during my first practice session I had while wearing them.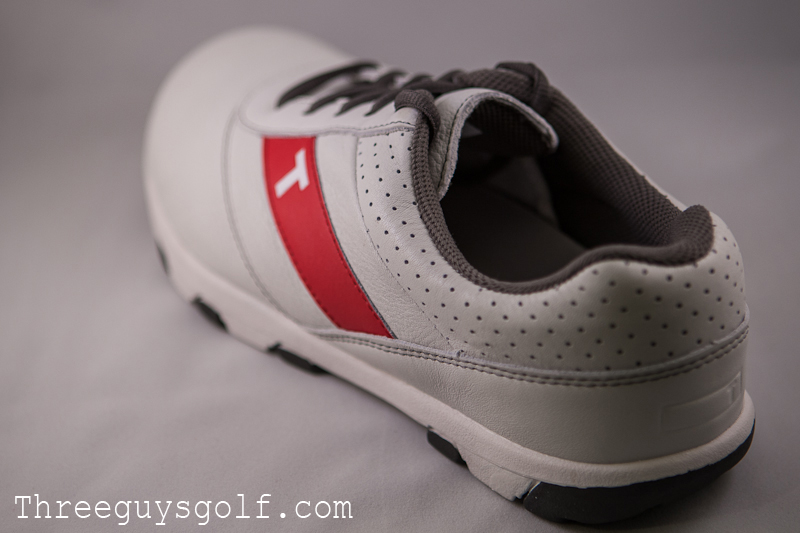 A great practice session is always a good thing, and the TRUE Proto's were fantastic, but I couldn't wait to get out on the course to see how they handled real playing situations. As a golfer who has ALWAYS worn spikes this was going to be my first time ever playing in a shoe that was free of the twist-in spikes. Naturally I was a little apprehensive that my footing was going to be an issue, but not once did I find myself out of position, slipping or off balance on a downswing or a follow through. Sand, grass, rocks, mud – you name it – I found myself in some pretty sticky situations throughout the day, I even had to climb up the side of a dirt hill to track down a ball. The Proto's were by far the best part of my game that day and my feet thanked me later on that night by not aching one bit. 18 holes on a tough desert course and I felt fantastic. That's how a shoe should treat you.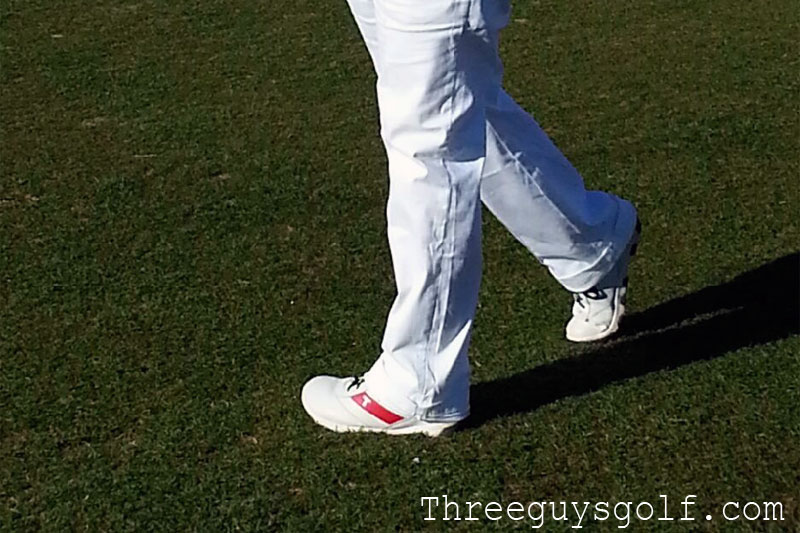 The Proto's I received came in White/Grey/Black. Other color combinations like White/Kelly/Charcoal, Black/Charcoal/Red, Black/Electric Blue and Brown/Sand/White gives the line some great versatlity. The Proto is a waterproof shoe that cleans up very nicely. A simple wipe down with a damp cloth post round then let them air dry and they'll be good to go for your next outing. You might be more paranoid than I am about keeping your kicks clean and if that's the case you can always add some leather conditioner to the shoe, but in my opinion it's not a necessity.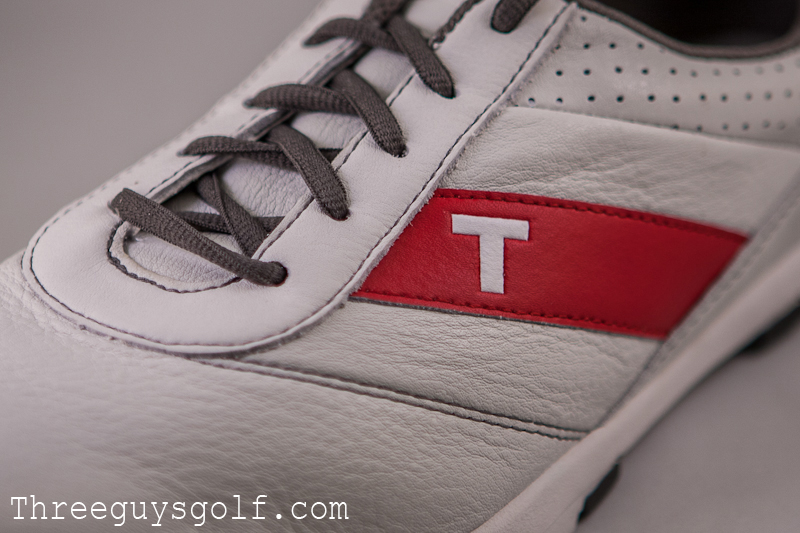 Seeing as I have very limited experience with spike-less minimal shoes I can without a doubt say that the bar has now been set very high for me. The TRUE Proto's have fantastic styling, amazing comfort and are now on top of my list for a must have golf shoes.
You can see the full line of products from TRUE Linkswear on their site.