Dunning Golf Spring Review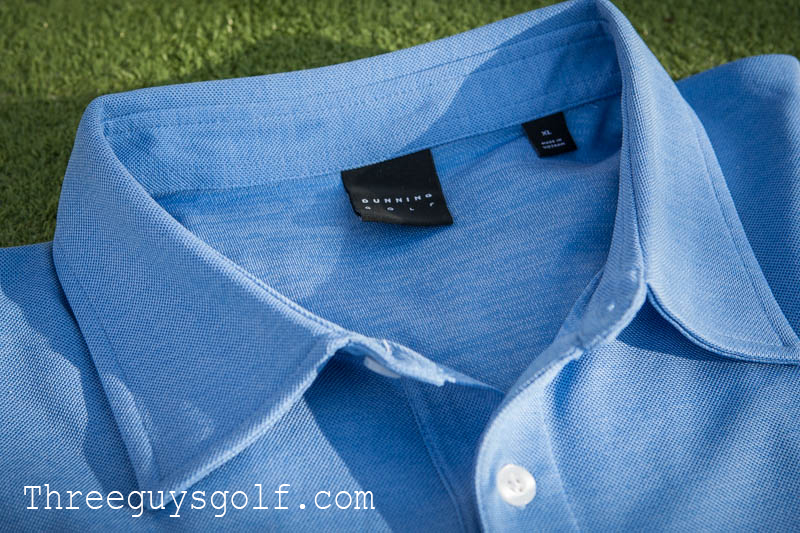 Comfort, function and style are the three pillars by which I measure golf apparel. Obviously, it has to be comfortable for me to even consider wearing out on the course. Nothing is more disconcerting than finding a great looking polo that just rubs you (literally) the wrong way. It also must to be functional. For example, it drives me crazy when you're stuck with a tiny pocket that can't even fit a tee or ball marker. Lastly, where the level of importance is debatable, it has to look sharp. Meet those three marks and we have a ballgame.
My evolution as a writer as well as a golfer has been an ongoing battle when it comes to style. Where in the past an off the rack pair of cargo pants and a clearance aisle polo from KOHL's would suffice for a Sunday round, I'm now finding that there is a place for a little class in my wardrobe. With the addition of some new high quality threads from Dunning Golf's new spring line, my status amongst the golfing public, without a doubt, has been elevated.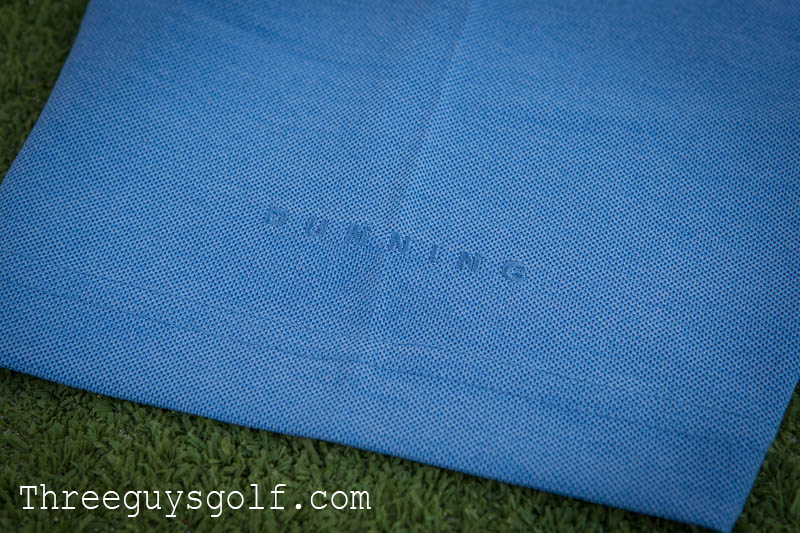 Dunning Golf is an apparel company that established itself back in 2001 and since then they have been making a name for themselves by putting out some amazing, functional clothes that are a perfect fit for today's modern golfer. The clothes are incredibly well made and perform flawlessly on the course. In my opinion Dunning has nailed the simple yet classy style that most golfers I socialize wish they could pull off. Not to say my golfing buddies are slobs by any means, but there is no way they'd turn down a wardrobe upgrade like I received.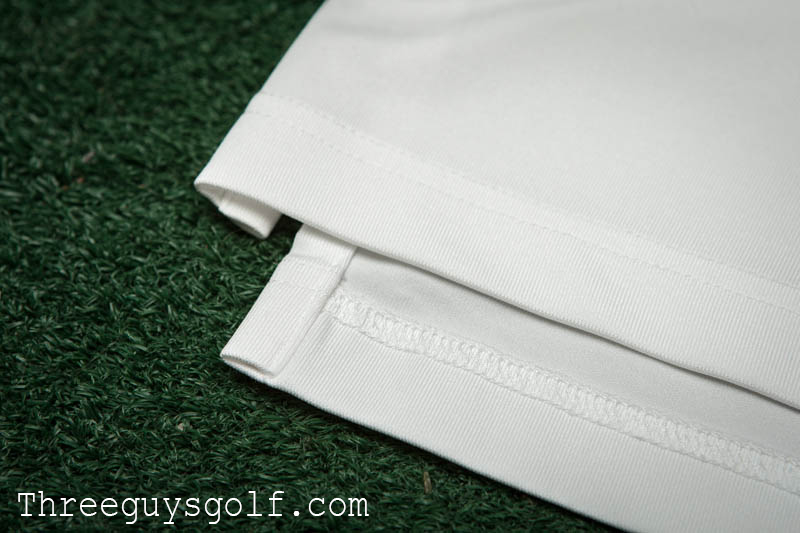 Where a good number of apparel companies look at style and appearance when designing a clothing line, I feel Dunning laid their foundation on performance. Utilizing some of the highest quality fabrics you can find and combining that with some unique tailoring, the performance of the Dunning clothes is hard to argue against. Having been very loyal to a single brand this past year, I've been snobbish when considering new clothes because I've yet to find anything that meets the performance, look and function of their gear. Much to my delight (and surprise), the Dunning apparel is on par at every level . So much in fact that lately I've been perplexed on which items to grab out of my closet when getting ready to hit the links.
Beyond the standard shorts, pants and polos, Dunning also has a well-crafted layering system that is unbelievably comfortable. While my excellent choice to reside in the desert southwest hasn't allowed me to fully implement the base layering system (other than the superb boxer briefs that I wear all the time now), I did manage to wear the Long Sleeve Merino Dunning provided us one day when temperatures hit the unruly lower 50's a few weeks ago.  Needless to say it was an amazing thermal and I'm looking forward to when the cooler temps return in the fall knowing I have this go to piece.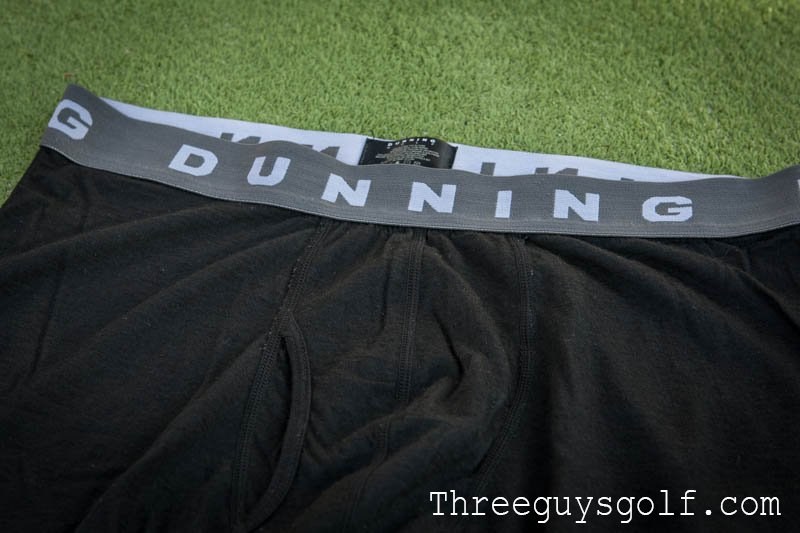 The two polo's we received both have a tremendous feel to them. Lightweight fabrics are the new craze in golf, and while these are not the lightest you'll ever put on, the comfort and performance again shined through. Not being the body type that likes to show off the six pack, mainly because it doesn't exist, I enjoy a more relaxed fit with my shirts and the Dunning Polo's were perfect.
The Heathered Stretch Pique Polo has a more traditional look and feel. It's the type of shirt you can wear on and off the course so you won't be limited just to golf to look outstanding. Made from 50% Luxury Polyester and 50% CD Polyester (I had to look that one up!) the polo has an amazing feel right out the bag and I had no doubt it was going to be an exceptional shirt before I even tried it on.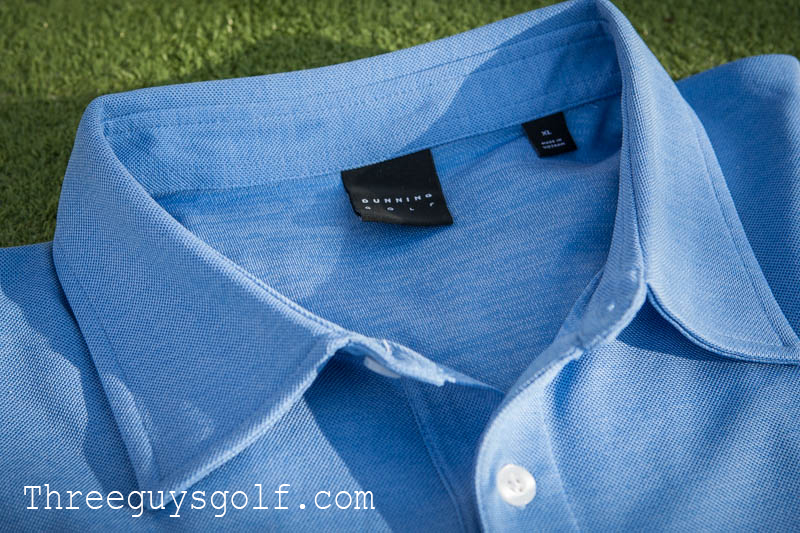 The Stretch Solid Jersey Polo is much more like the golf shirt you're probably used to seeing. Made from 93% Technical Polyester and 7% Spandex it is heavier than the lightweight polo's I spoke of earlier making this style polo designed for those players that prefer a denser feel to their shirts.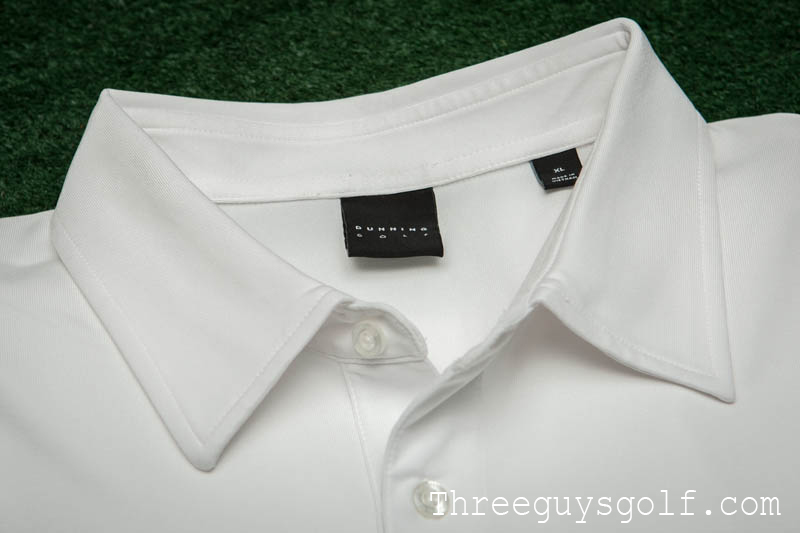 While the layering system and the polo's were a surprise and highly exceeded my expectations, where Dunning really knocked it stiff was with their shorts.
The Players Fit Solid 4-Way Stretch Woven Shorts blew me away. Going back to my not so fit figure – when I unpacked the shorts from the bag and held them up my first thoughts were "There is no way these are going to fit." With reluctance I stepped one foot then the other in the legs and began to pull up what has become arguably the best golf shorts I've ever owned.
The fit is outstanding and oh my goodness are these shorts comfortable. Direct from the Dunning site these words are what is used to describe the Players Fit Woven Shorts:
"Offering extraordinary playability, Dunning pants and shorts have repeatedly been identified as the best technical bottoms in golf."
I couldn't have said it better myself. Not only do the shorts look amazing but while playing in them I not only received a great look on the course but I also got great versatility while I was playing. The 4-Way Stretch design kept me out of those pesky situations where if you squat down just another inch you round and social life is over.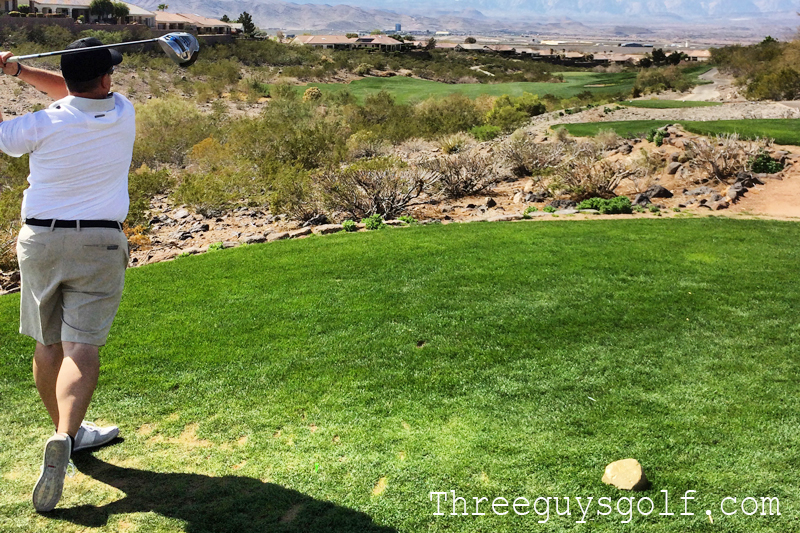 The shorts are available in a variety of color choices like, Black, Tan, Charcoal or White if you like to live life on the safer side. For the more stylish, Dunning also offers Dark Beige, Reef, Halo and Zephyr. You'll have to visit their site to see the color pallet besides the Zephyr shorts pictured below.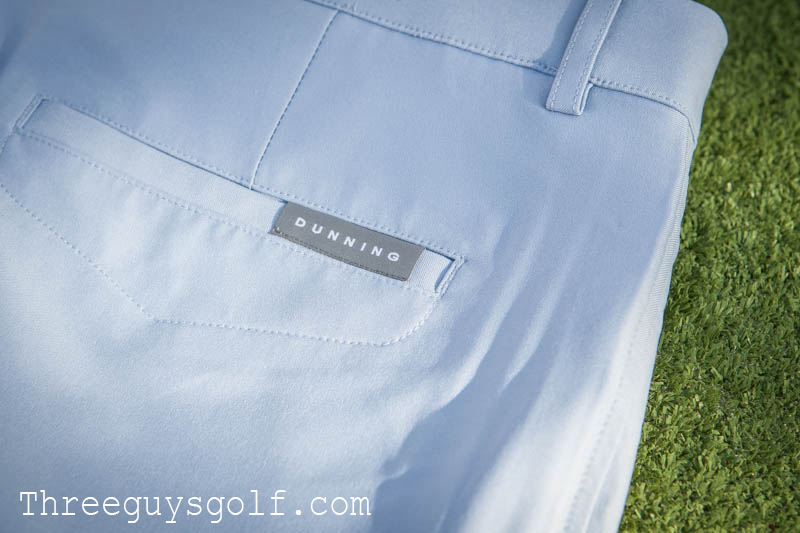 I couldn't have been happier with this order from Dunning, every piece they included not only looks outstanding and is superior when it comes to comfort but the playability was just phenomenal. I was easy for me to determine why players like Charles Howell III, Roberto Castro, Jim Furyk and Nicolas Colsaerts, to name a few, have been wearing Dunning as they make their way through the PGA season.
You can see all the products Dunning offers on their website.
Be prepared though – what I talked about here is just the tip of the iceberg. Jacket, Pullovers, Sweaters, Pants, Belts and so much more are available. It will be tough not wanting to pick up one of everything!