Who is Smooderoo?

Instagram: candy for the eyes. One search on #golf pretty much nails how predictable golf IG feeds have become. Product shot after sunrise after swing sequence after hot babe with a golf club, repeat.  Thankfully, there are a handful of very clever IG accounts that stand out from the crowd. One of my favorites is a woman who goes by the handle @smooderoo. A quick glance through her account and you realize this is not your average girl golfer IG account. No selfies, no philosophical quotes and no bullshit. Smooderoo has somehow blended golf shenanigans without overt sexuality or self promotion in a unique and refreshing manner.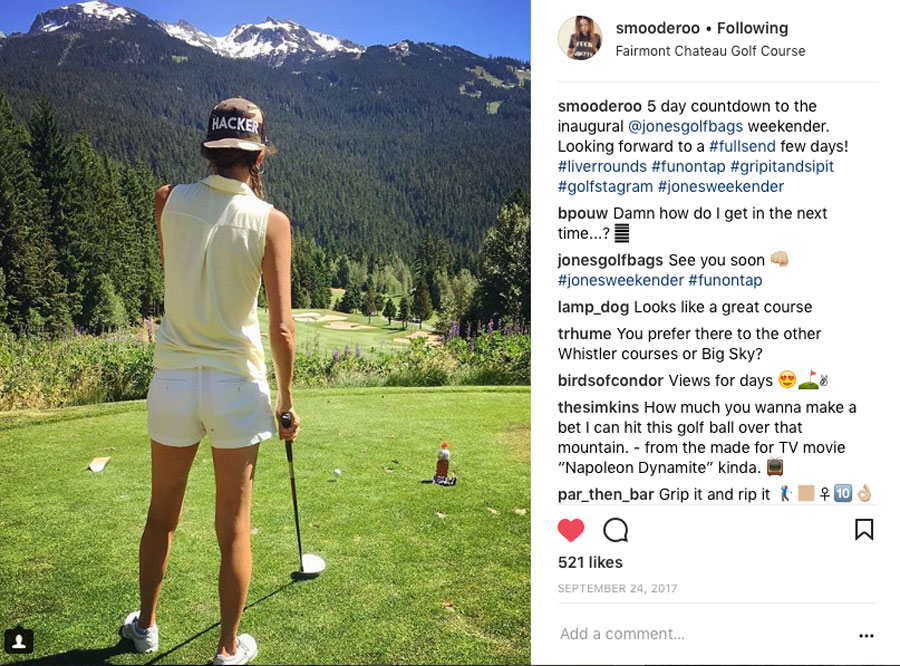 The only downside is that we are still left wondering "Who is the chick under the backward hat? Who is Smooderoo"? Thankfully, Sarah was kind enough to provide some answers. And don't forget to follow her.
Lets start with your Instagram account name. What is the story behind the name Smooderoo?
– It has to do with my College nickname (based on my maiden name). I'll be Smoods to some people forever – the boys at Jones even stitched it onto my bag (because they are awesome). Smoods was maybe taken when I signed up, but Smooderoo was more fun anyway.
You are Canadian right?
– Eh? Born and raised.  But if I'm honest, I don't love beer. That's why I try to shotgun it.  And I can't skate.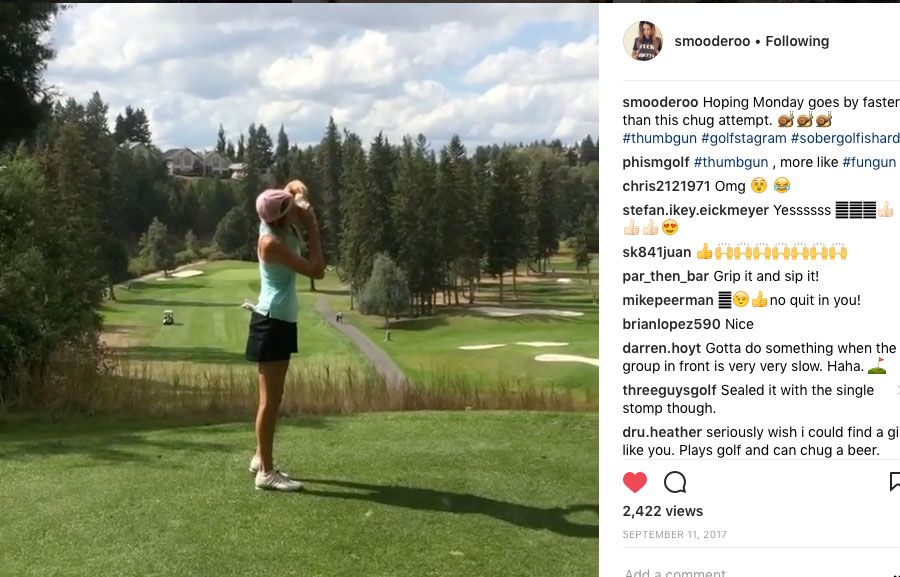 Your bio says you are an ex varsity golfer. So you played college golf?
– Yup, but up here in Canada. I knew I was never going to be professional and I wasn't good enough to play for a NCAA school down there, so I stayed up here to make sure I still got a great education. We were part of the NAIA so we got to play in lovely warm parts of the states. While the football team played nationals in freezing temperatures and snow, we got to be in Daytona beach.
You started your instagram account in 2014. Did you have a plan for the account back then?
– Not at all. I feel like I was late to join and didn't see the point at first. Initially I was just sharing funny shots of my life in general, then I started following golfers and realizing it was a great way to make contacts. Soon I was only posting golf pics because no one seemed to care about other ones. I jockingly called it golfstagram and told my actual friends they probably didn't want to follow it. Anyone who sees it probably thinks I'm a crazy alcoholic – and that's definitely part of my personality, especially on the golf course – but I also love to cook and sing and paint and read and bake. And I work – a lot – I just don't usually post about that stuff because that's not what the account is about (and it's not that entertaining).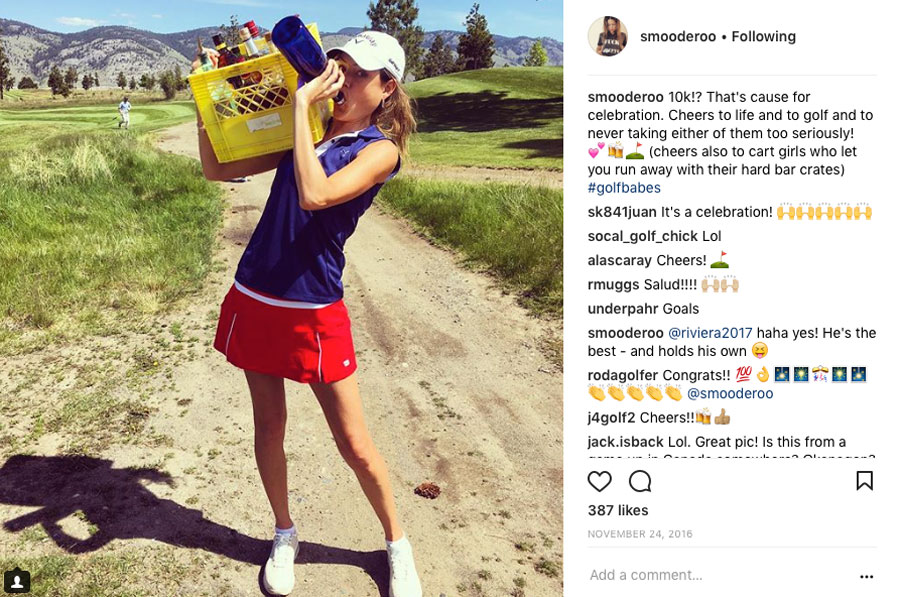 You now have about 12k followers? Were you surprised at how many people wanted to follow you?
– It's definitely interesting, and flattering. I like that people enjoy what I do. I try to make people laugh or show cool scenes. There's a few selfies on there but I largely try to avoid them. I never want to be posting something solely to fish for superficial compliments.
Has your notoriety come at any expense or has it led to any opportunities?
– It has led to unbelievable opportunities and I've met incredible people. Instagram can open your world to friendships or experiences you would never otherwise encounter. It has also got me on to a few golf courses I would never have got to play. And no, no sexual favours were ever exchanged – there are luckily many genuinely good people out there. The offers have obviously diminished since I'm no longer single, but at least I know that the offers that come now are genuine.
Are you sponsored? Do you get free shit? 
– Definitely not sponsored. Definitely some free shit!  The best perks are obviously the ones involving access to cool courses (I'm still working on Cypress and Shadow Creek…). I've had some people send me gear and am always taken aback that they deem it worthwhile. I feel pretty uncomfortable "advertising", because who am I to sell stuff really, but I am flattered that companies offer. I try to stay authentic and only accept things I will actually use. I will never hawk a selfie stick. Or a rangefinder.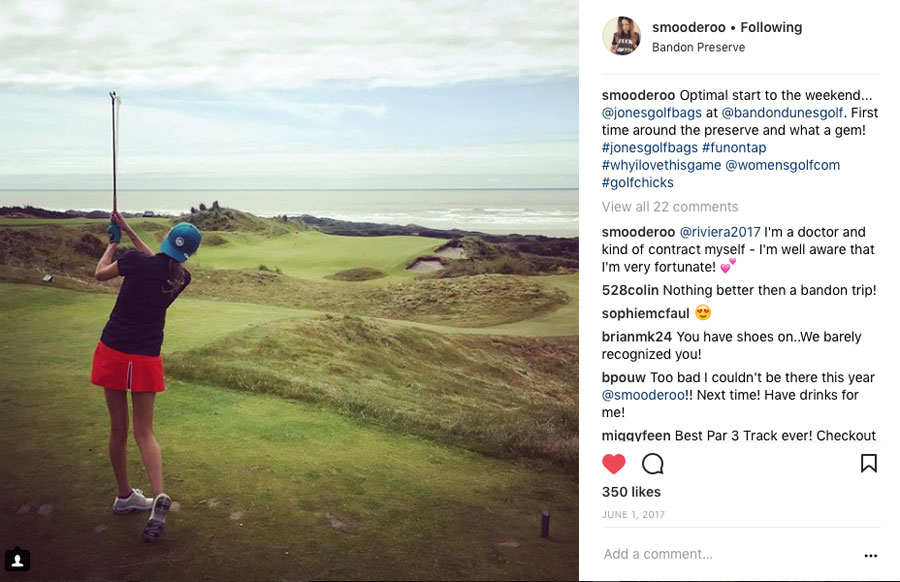 Has your goals or expectations for your insta account changed?
– It's always nice to gain followers but I refuse to play the selfie/sexual game. I want to be entertaining and authentic and if people are on board, then that's awesome. I'm not making a concerted effort to grow though – the less time I'm on my phone the happier I am.
What is the inspiration for you signature drinking move.
– One of my best friends in college had this signature mailman move, which came from his fraternity. To the best of my knowledge it comes from Karl Malone's dunk technique. Why a Canadian frat adopted it I'll never know, but they would take pictures of themselves "mailmanning" all over the world. #mailmaneverywhere?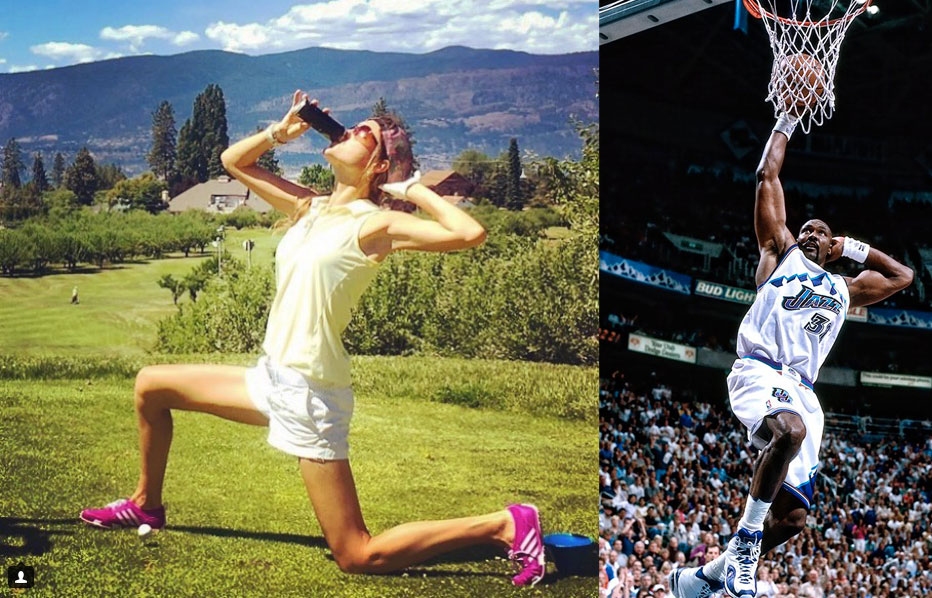 Have you ever been tossed off a course or asked to "tone it down"
– I'm actually pretty conscientious and try to be mindful of other players.  I grew up at a stuffy private course so I know how easily people can be offended!  I did get suspended from my college team for doing donuts in a parking lot, but to be fair it was pouring rain and no one was around. I also got a slap on the wrist for drinking out of a trophy at nationals.  I ask you, why are they cup-shaped if you can't drink from them?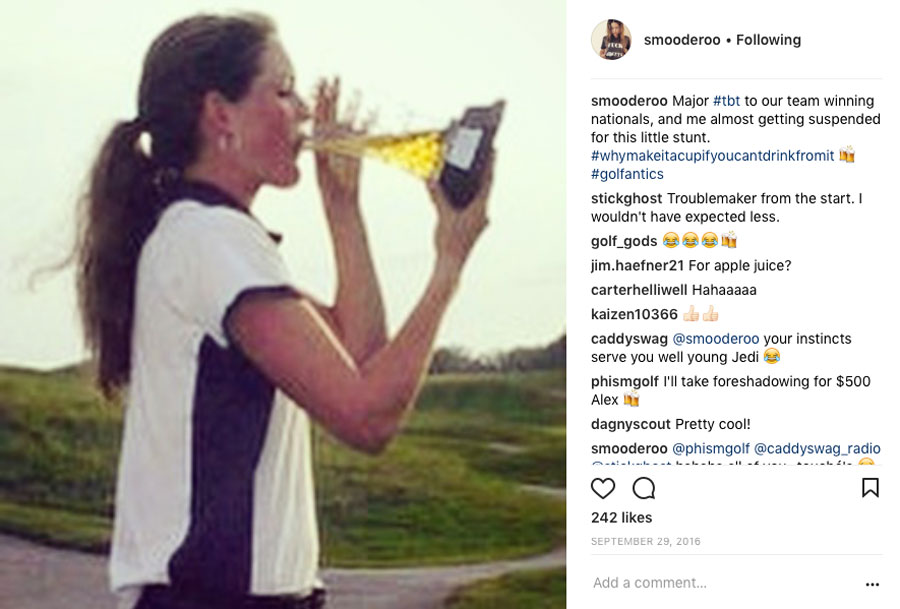 Do you have a golfing crew? What is their story?
– I don't have a set crew – it seems not a lot of people golf anymore, and my husband definitely doesn't have friends who play. He thought he'd take it up when he was 70 and too old to do anything else. I've taught him that in the right scenarios it's a lot of fun – and we will play with anyone who is out there to above all have a good time.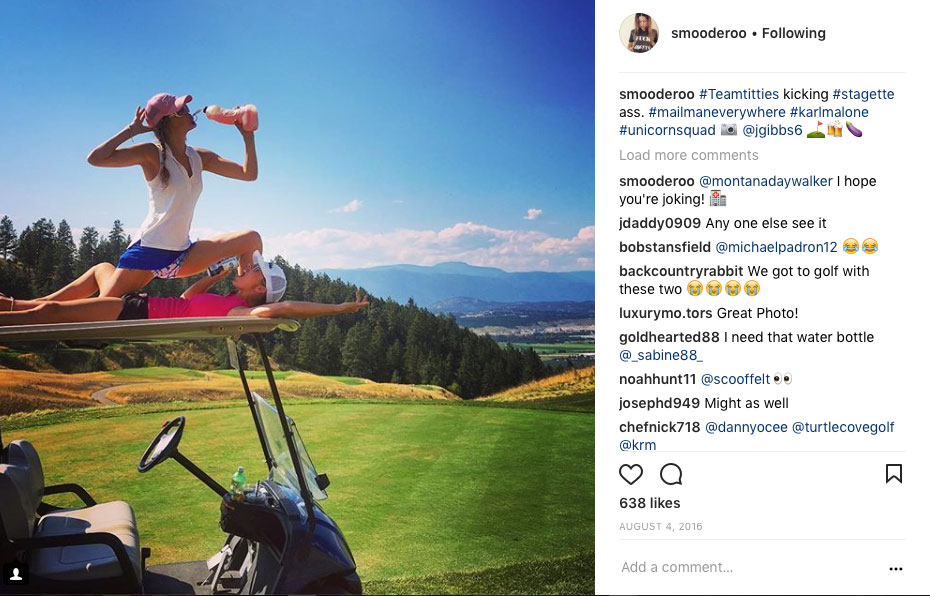 How often do you get to play?
– People seem to think I golf all the time, but that's obviously not the case. I am super lucky though and probably play about 30 rounds a year. But I never keep score (unless it's a tourney). My last handicap entry was from 2003 and I haven't worked on my game since. I'm much more fun when I'm not trying – and I'm not mature enough to write down a bad score and still have a good time. Life is too short to be mad on a golf course.
What does your husband think of smooderoo? Is he jealous of all your fame and did he make you write "happily wifed" in your bio?
– He and I had a rough start with the Instagram thing and he still doesn't really get it (and to be honest sometimes neither do I).  But by now he's seen a lot of the good that comes from it and knows he has nothing to worry about. I put it up as much for him as for me.  If guys are talking to me I want it to be for the right reasons.
I see you have met David Feherty. Have you had the opportunity to meet other golf celebs?
– I somewhat forced David Feherty to meet me!  We were at the Waste Management Open; one friend was following her boyfriend, another friend was following Ricky Fowler… once the action was done at 16 I was following Feherty, and wasn't leaving without meeting him. I saw an opportunity to jump the ropes while Hideki and Ricky (Fowler) were returning to the tee during the playoff.  I had just enough liquid courage and totally didn't notice how much security there was… I got away with it, but was probably close to getting tossed. I mailed him his own Titties hat a few months later.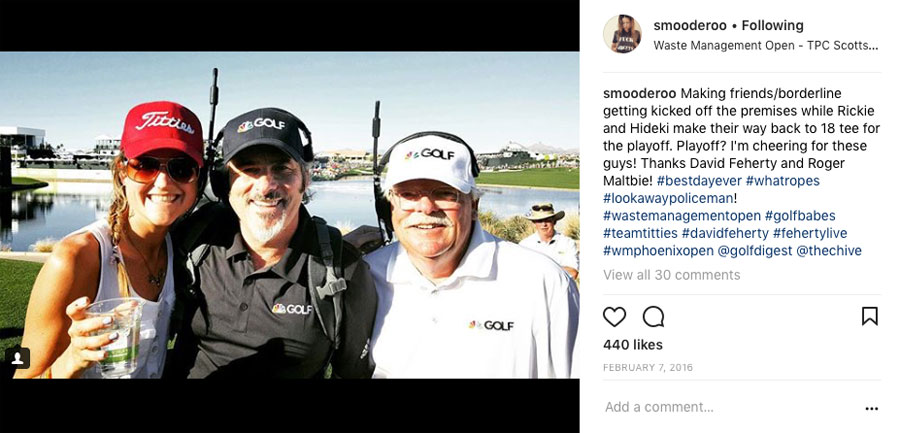 I briefly met Nick Faldo – we actually played through his group at a course in Montana. He was as standoffish as he is reputed to be. But I gave him a Titties hat too.
Besides golf you also ski right?
– Lifelong, though not as much anymore. Whistler is so crowded and so expensive, so I no longer buy a pass. I'd rather save my money for a few heli ski days. Or for golf trips.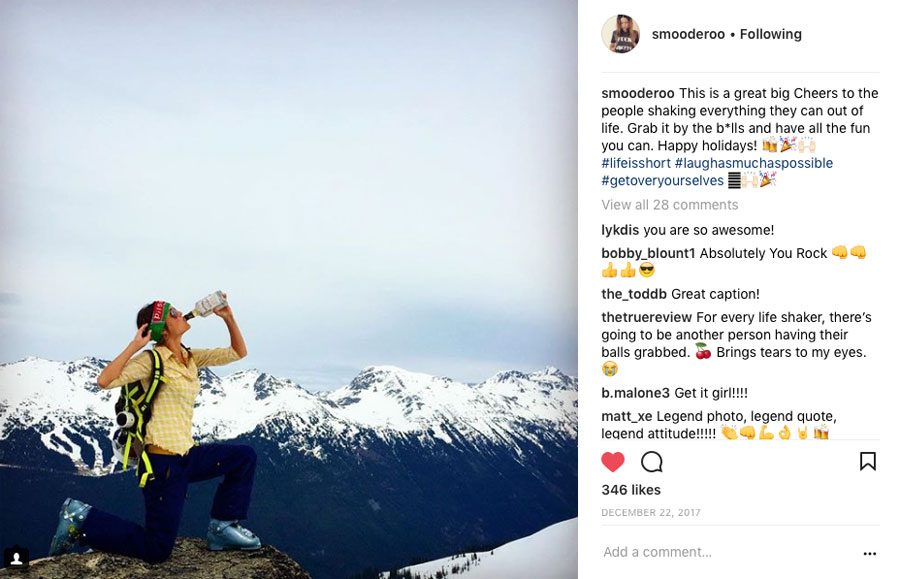 Any near death skiing experiences?
– Some near death GT racer experiences, but surprisingly none on skis. Even skiing a whole run in the Trex costume.
If you had to choose, skiing or golf
-Definitely golf. I love the adrenaline of skiing and I excel at the après, but nothing beats a day on the golf course with a good crew. It's way more social, and more accessible to people. Also you can enjoy golfing with people of all levels, (so long as you share similar attitudes). Skiing is zero fun with a beginner.
Favorite golf courses?
– Anything beside the ocean!  Bandon, Pebble, Torrey. In Cabo during the winter you get to see whales breaching off shore. Unbelievable.
I also really love links style courses which allow you to be creative – Bandon may be one of my favorite places on earth. And people trash Chambers but I thought it was so much fun. So many ways to play any given shot. However, if each stroke was worth a few thousand dollars I may have been less amused.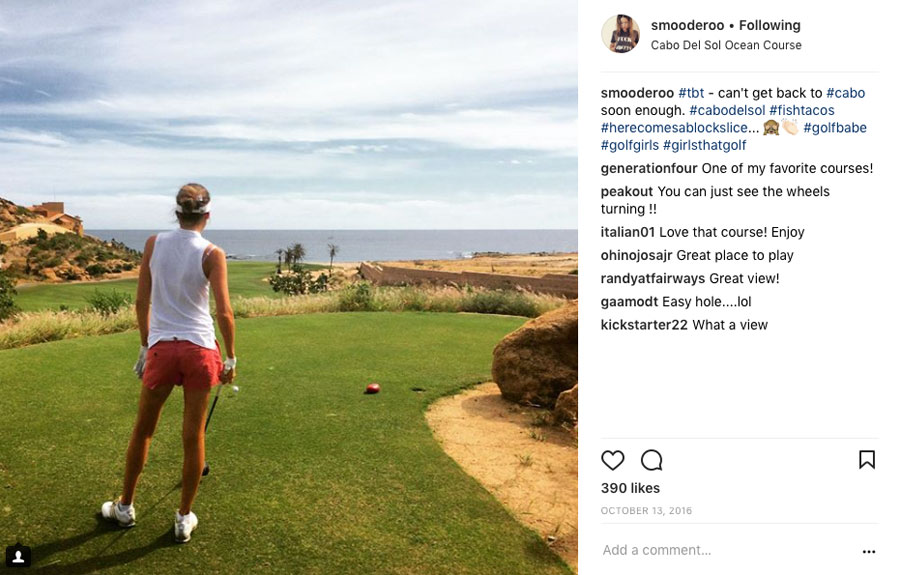 It looks like you work in the medical field. Do your coworkers know who Smooderoo is?
– Yeah I'm a doctor and do wonder if the IG account might be an issue at some point. A few coworkers know but I definitely don't advertise it. Our ER department head somehow saw the antics in San Diego – I'm waiting to hear about it but he's probably saving it for some optimal moment of workplace humiliation. Maybe it will be aired at our staff party this spring. I should maybe skip that party.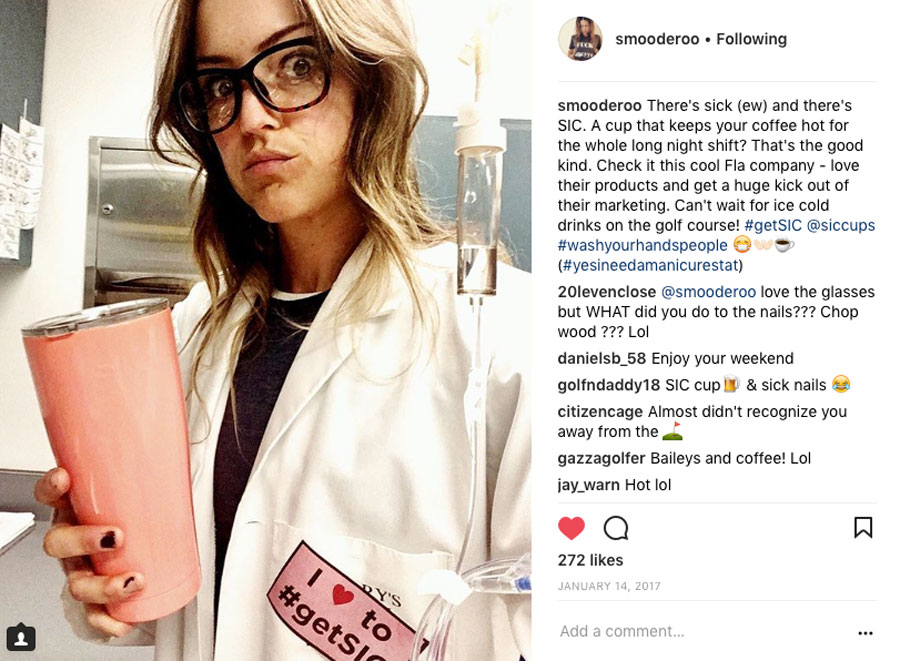 Who else should I be following on Instagram?
– 2girls1hole is an account I love because they share my spirit for having fun on the golf course. Lindseyacartwright has become a good friend and she is hilarious too. Asher Golf and Lie and Loft are two companies who are doing some awesome things in the golf world (but you're already down with Asher 😊). And of course Trojangoddess because that chick is badass and has a swing that dreams are made of. I think she could drop kick me further than I can hit the ball.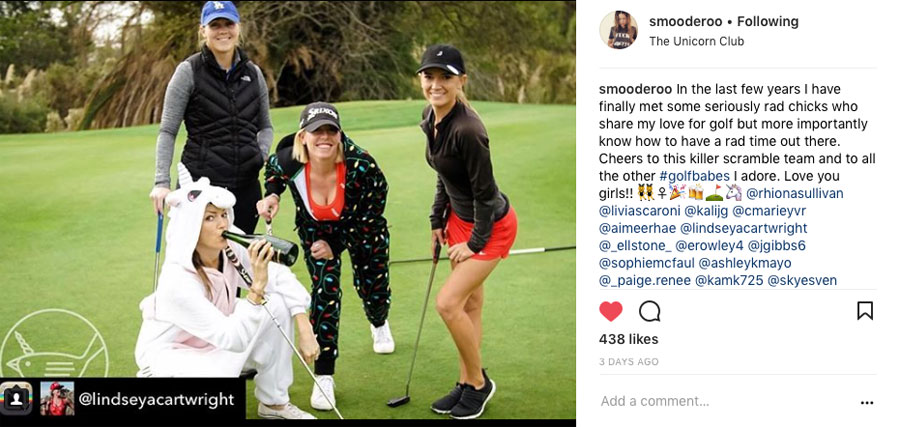 Huge thank you for playing along and keep on rocking the backward cap!