Minimum Squared: The perfect wallet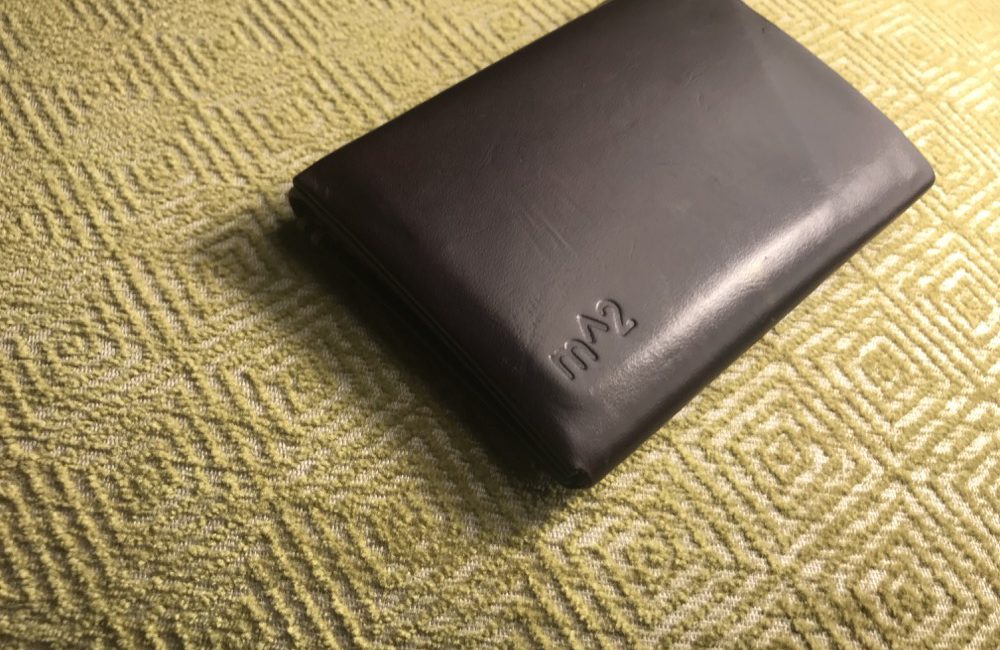 I love the idea of making superior products designed for mundane tasks. Take for example the razor. There are a million razors that work just fine, but when you put your hands on a weighty shiny chrome-handled razor you feel like a king. Even better you can have such elegance without a huge price tag, because in the end it is just a razor. With limited opportunities to treat yourself like royalty, I am a big fan of finding the little things in life to make such a statement.
Besides razors, another great place for affordable kingsmanship is a wallet. My search for the perfect wallet began about 3 years ago when I started to review yardage books. As it turned out, many of those companies also made wallets since they were already in the leather business. While I absolutely appreciated many of those offerings, it occurred to me that these were wallets made by golf accessory companies rather than wallet companies.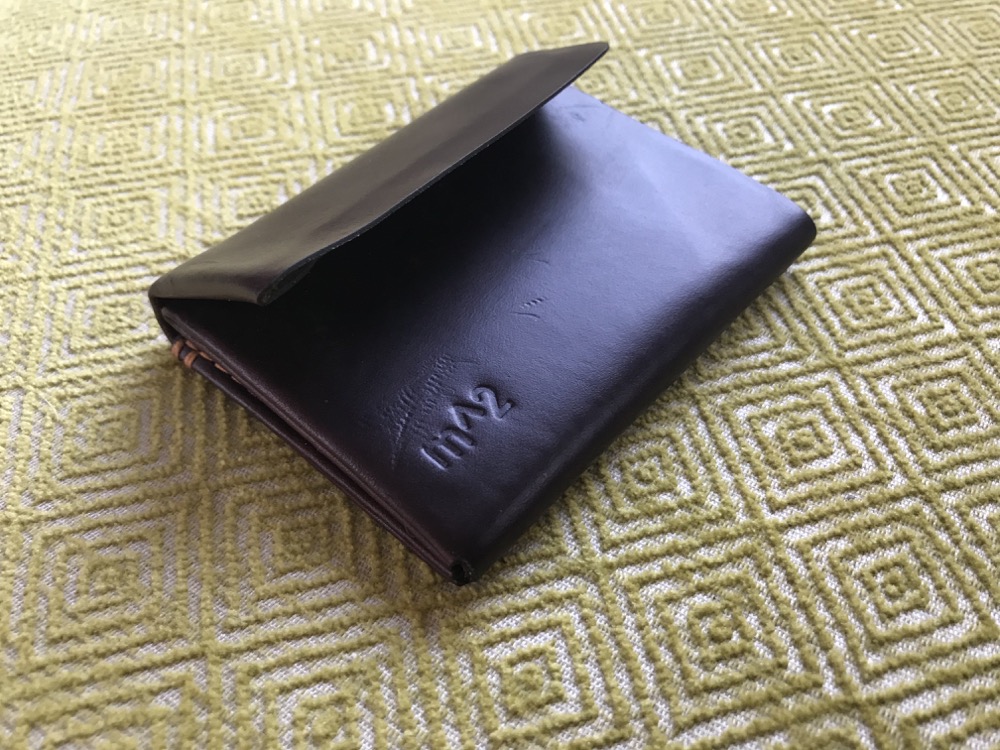 For those of you familiar with the show "Comedians in cars getting coffee" there is a great scene when Jerry Seinfeld and his guest walk into a diner that has an extensive menu. After perusing the 40 pictures of breakfast food, Jerry notes with great sarcasm,  "I always feel good about a restaurant that has so many things to choose from because you just know everything is going to be really good"
The obvious point is that it is hard to do lots of things well. Hence, my search for the perfect wallet inevitably led to a wallet company, specifically Minimum Squared.
Minimum Squared Wallet Materials:
As the name would suggest, Minimum Squared is solely focused on making the best front pocket wallets on the planet. Currently, Minimum Squared offer 4 collections, each with a number of color options. For this review, I selected the Slim Wallet which sources leather from the renowned Chicago Leather Company, Horween Leather. If there is one thing I have learned on my quest for the perfect wallet is that all leather is not created equal. Quality leather has an incredibly soft feel, lasts forever and over time develops a unique patina. The result is a wallet that will look worn but not worn out.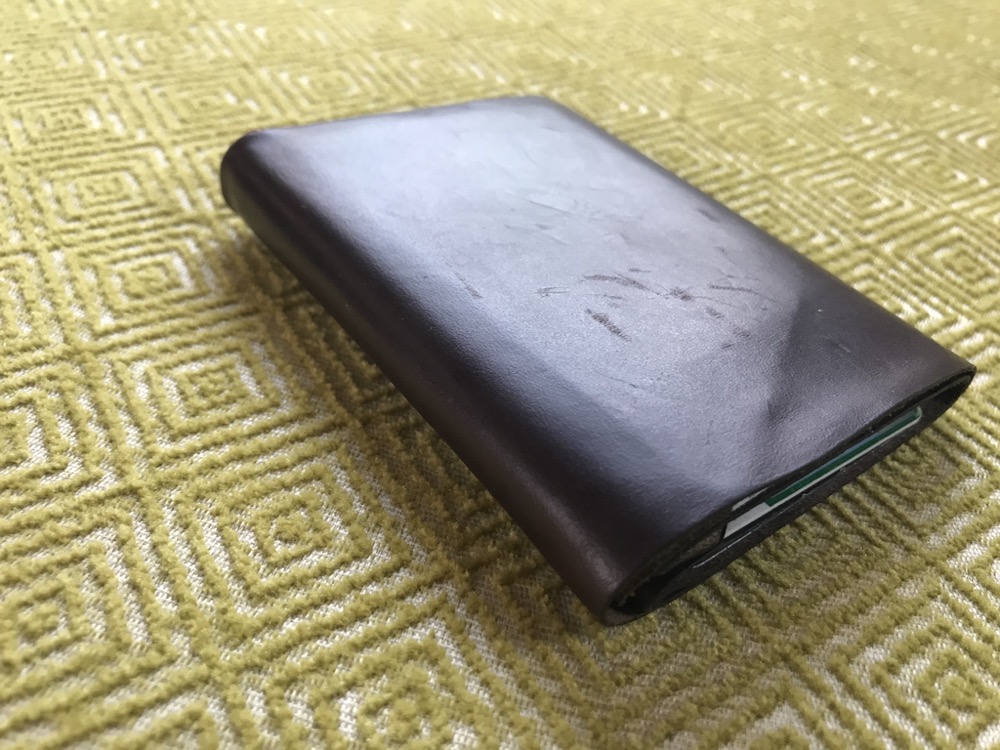 I have been carrying my Minimum Squared wallet for a few months and while it still looks new, I can already see changes in the color and texture. For me, this is what I love about the material as it takes on the chemistry of the owner. The wallet literally changes based on your specific skin oil or how you carry it.
Augmenting the leather is the Fil au Chinois Lin Câblé waxed linen thread that has been manufactured in France since 1847. Using a saddle stitch, the Minimum Squared wallets, are hand-stitched for durability and the thread provides as a contrasting color. In my case, I chose an orange thread to complement the leather tone.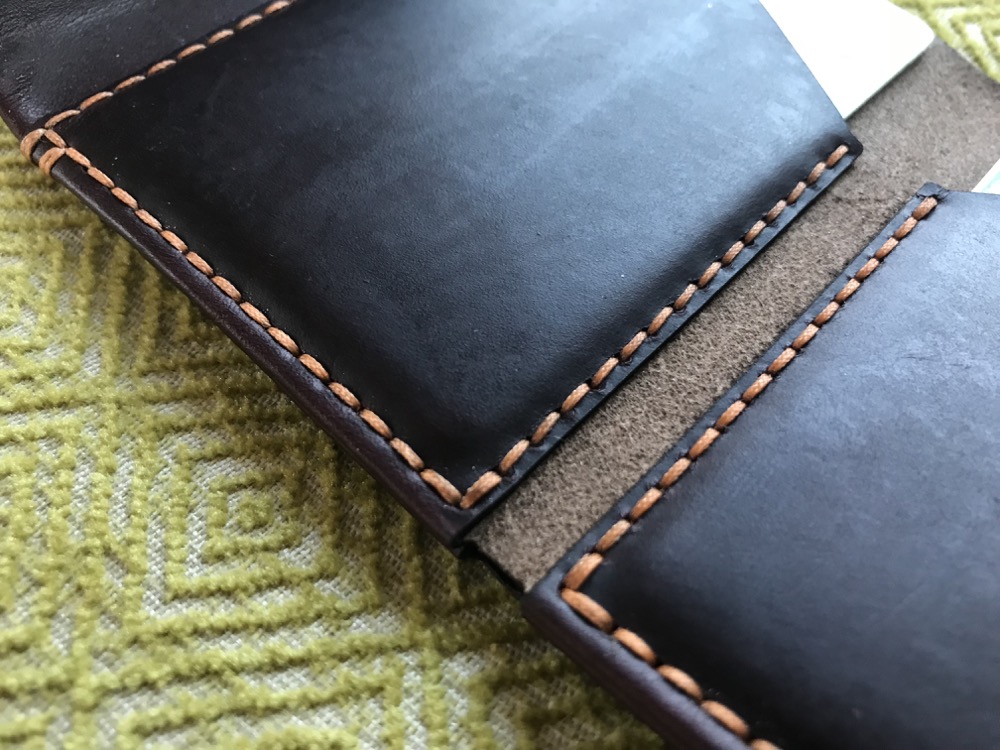 Minimum Squared Functionality:
The trick to a minimalist wallet is getting everything you need into a small package. You might say the most minimal wallet is a rubber band wrapped around cash and cards, but alas that would lack a great deal of style (and trust me, rubber bands break).
The first step in designing a wallet is deciding on how much it should fit. If you require more than that I might suggest you do some prioritization. I promise you, you will not miss carrying your 12 loyalty cards or the 10 business cards you picked up at last year's trade show.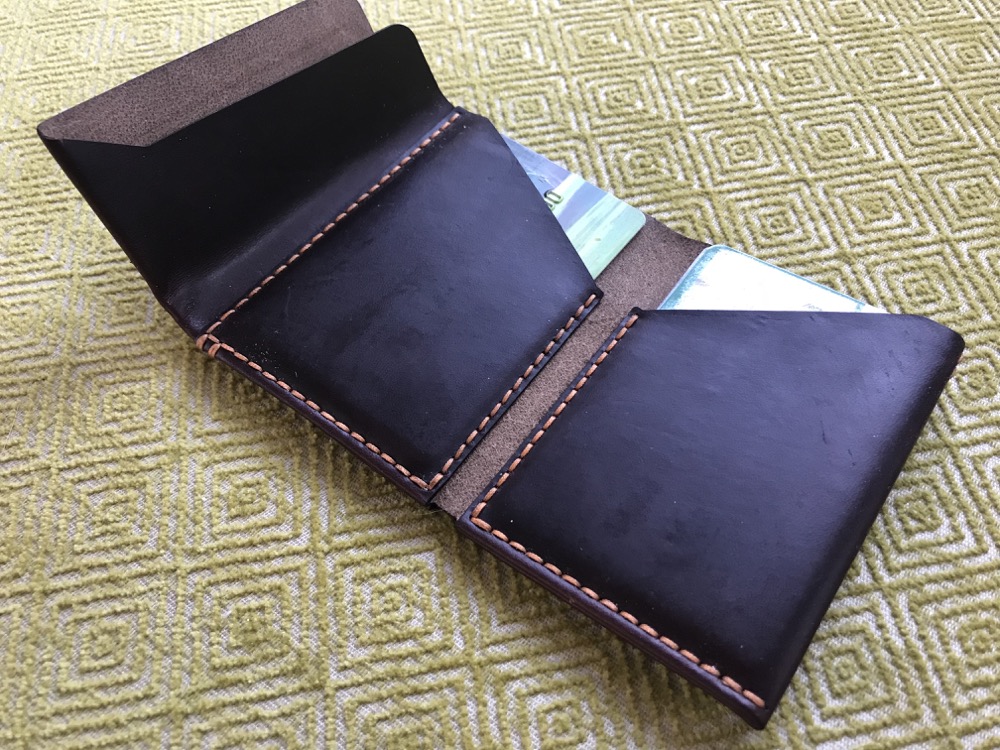 Size wise, the wallet is just a touch taller than a credit card and the same for the width. Fully loaded, the wallet is only slightly thicker than the contents. In other words, it is not much bulkier than a rubber band wallet, but has infinitely more style and functionality.
Along with designing a wallet that can carry enough stuff, it is also critical to make it such that getting cards in and out is quick and easy.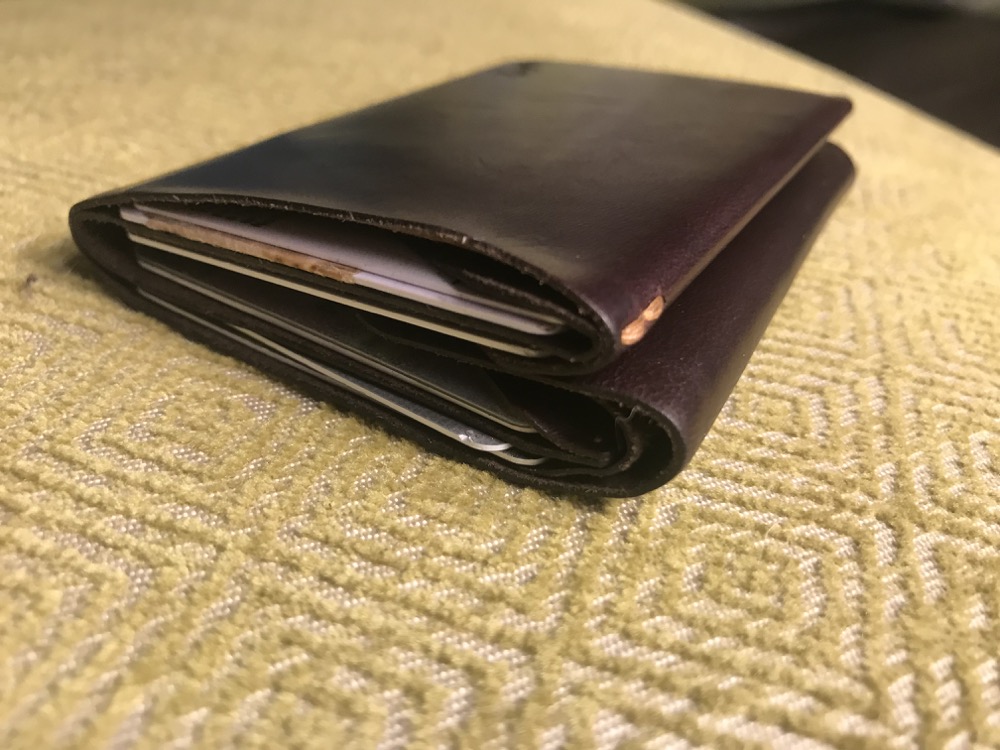 The card slots are such that when you open the wallet two slots are immediately available. This is where I keep 3 credit cards and my driver's license. There are two other slots on the inside where you would keep your cash. While not as handy, they are perfect for cards you do not use on a daily basis.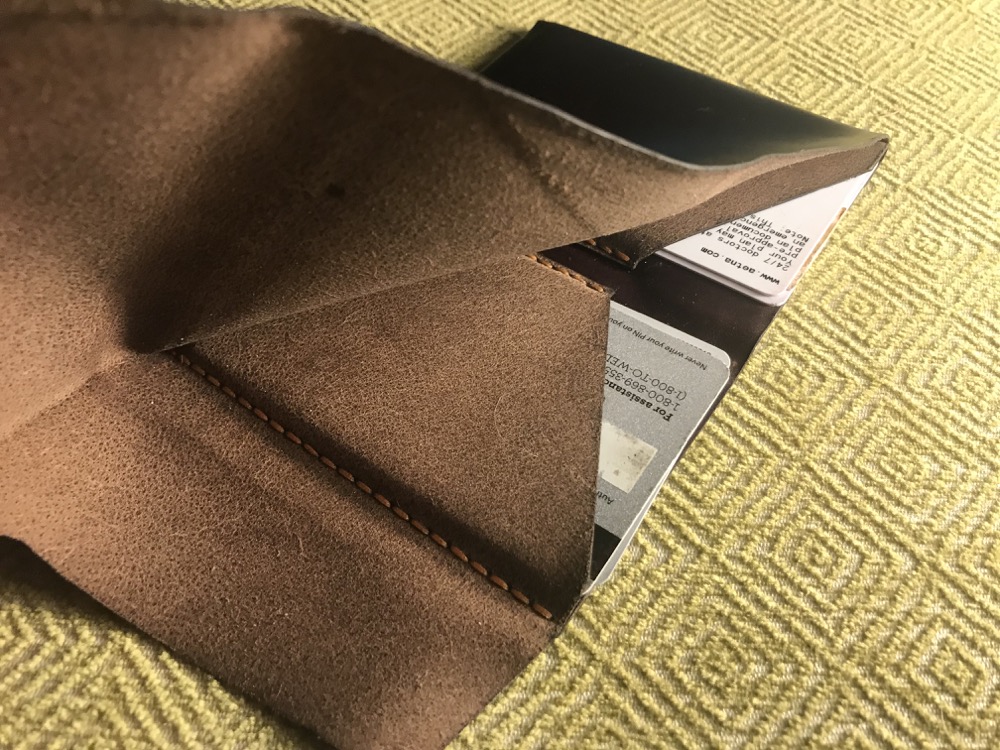 Lastly, the space for cash is such that it works for both US and European currency. In fact, I would guess it was designed primary for larger bills although it works just fine for US bills.
Unlike some of the other Minimum Squared designs, the Slim Wallet does not have any elastic or closure mechanism. Simply fold the wallet in half with the tab in-between the two main sections. While it is an incredibly simple self-closure method, it works extremely well. I have never had any of the contents fallen during my transports.
Bottom line on the Minimum Squared Slim Wallet:
Since most of us can't have the best of everything, it's nice to have the best of some things. Given the fact men carry a wallet for about 16 hours a day, it seems like a good place to start when considering treating yourself to the best. The wallets are available on the Minimum Squared website and they ship in the US and worldwide.