Axess Wallet Review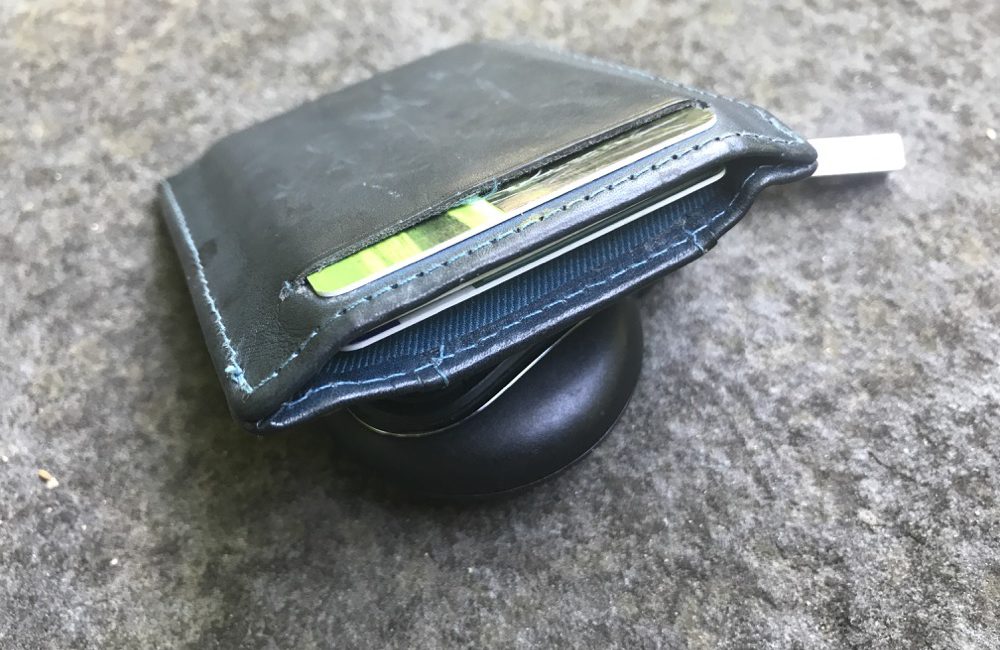 There is no greater shame than being forced to hold your wife/girlfriend's purse while she is away. Even the coolest of dudes have zero chance of not looking like a tool. Which brings me to another peeve: how come women seem to fill their purse no matter how big or small? My wife will contest that it allows her to always be prepared. Sure I am all in when it is time for us to stash a few beers in her purse when we go to the movies or when I need a tissue, but beyond that, what a physical burden.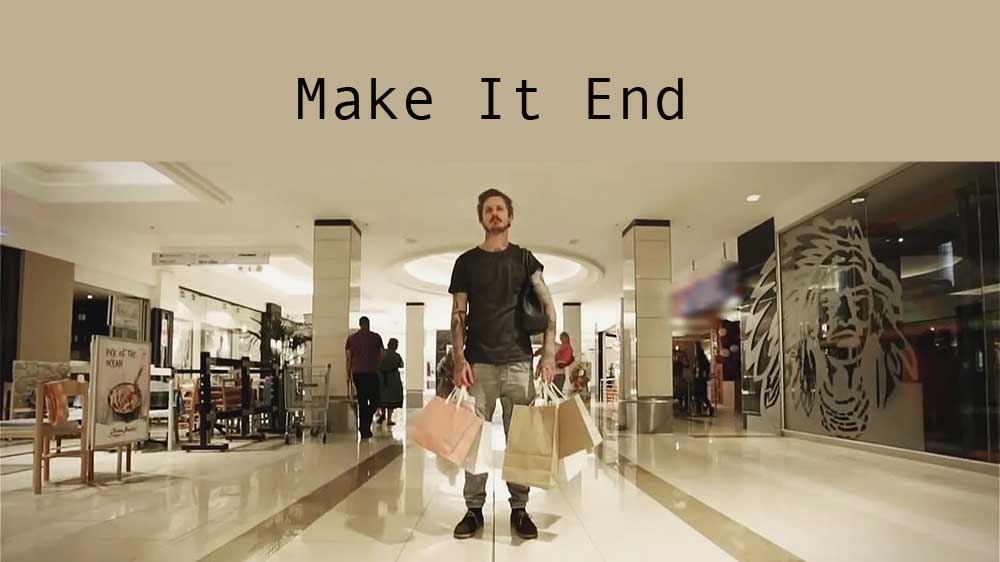 Fortunately guys are not trapped into lugging around a tote bag. The flip side is that we have to decide what essential items we need to have on our person. About 10 years ago I moved from a standard back pocket wallet to a smaller front pocket version and I have never looked back.
We all know the classic Seinfeld scene in which George realizes his back problems are a result of carrying a wallet that is 3 inches thick and busting at the seams. That is the inherent problem with the back pocket wallet, it provides us with too much opportunity to jam it full. The next thing you know you are one step away from needing a man purse.
Making the switch to a front pocket wallet does require you to make some hard decisions because they can only carry about 6 cards and limited paper. However, once you realize you do not have to carry around 15 MVP cards things get easier. This is especially true if you link rewards to your cell phone or use other mobile solutions to reduce wallet clutter.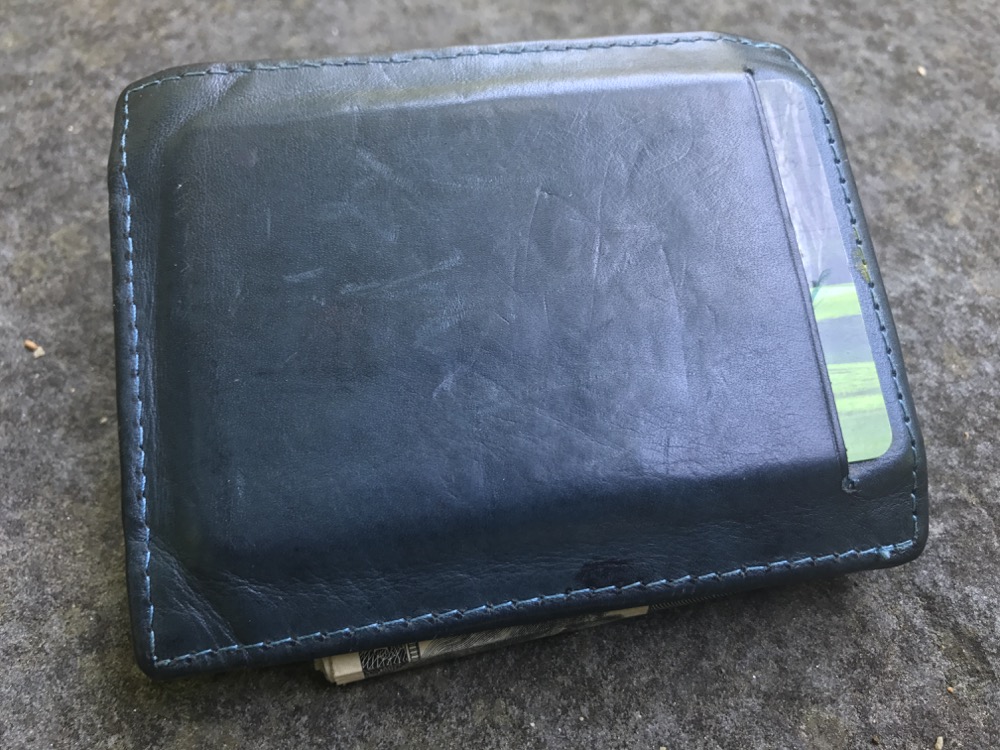 Axess Front Wallets Review:
Having carried a front pocket wallet for many years I have a good sense of what are the most important features. First off, since you will be carrying this sucker around all day, I want a wallet that looks good. Like a watch, a wallet says something about who you are. Back in the day, having a velcro surfer wallet said "hey, I am 20 and think I am pretty cool". Now at 50, I want my wallet to say "I am a grown-ass man".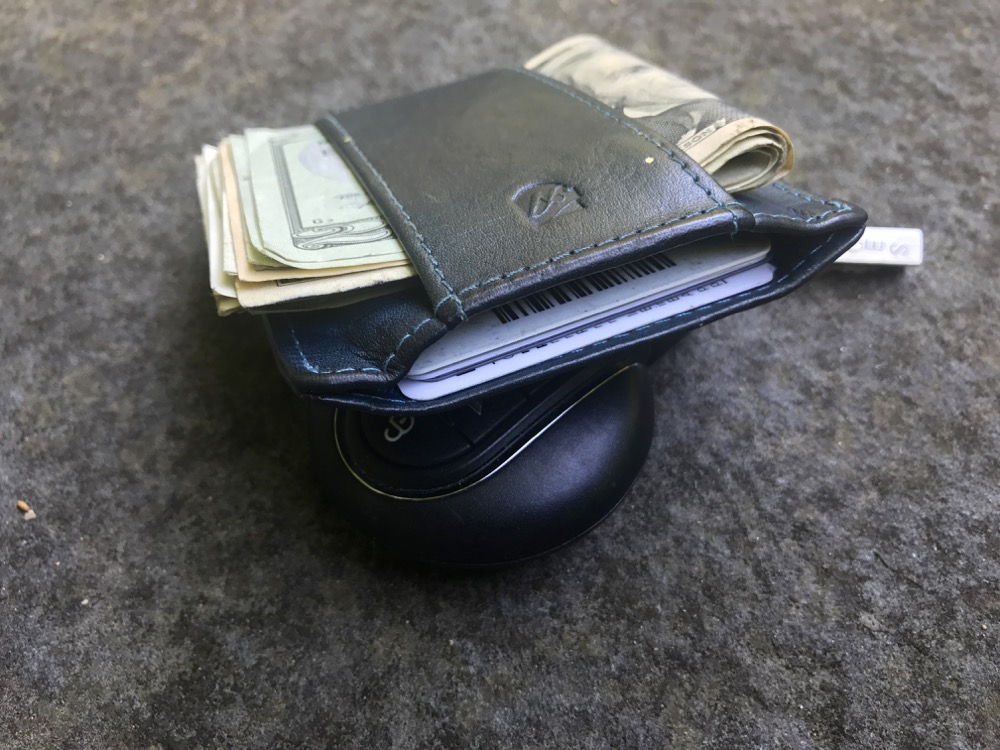 Axess Front Wallets makes a number of versions, each with a focus on the type of needs you require. For example, the Axess "Smooth" is perfect for students or anyone who has to regularly show an ID Card. I gave this wallet to my son; he has been using it for a few months and really likes it. He keeps about 4 cards in the wallet and a little cash. Still, the key element on this model is having his ID card readily available.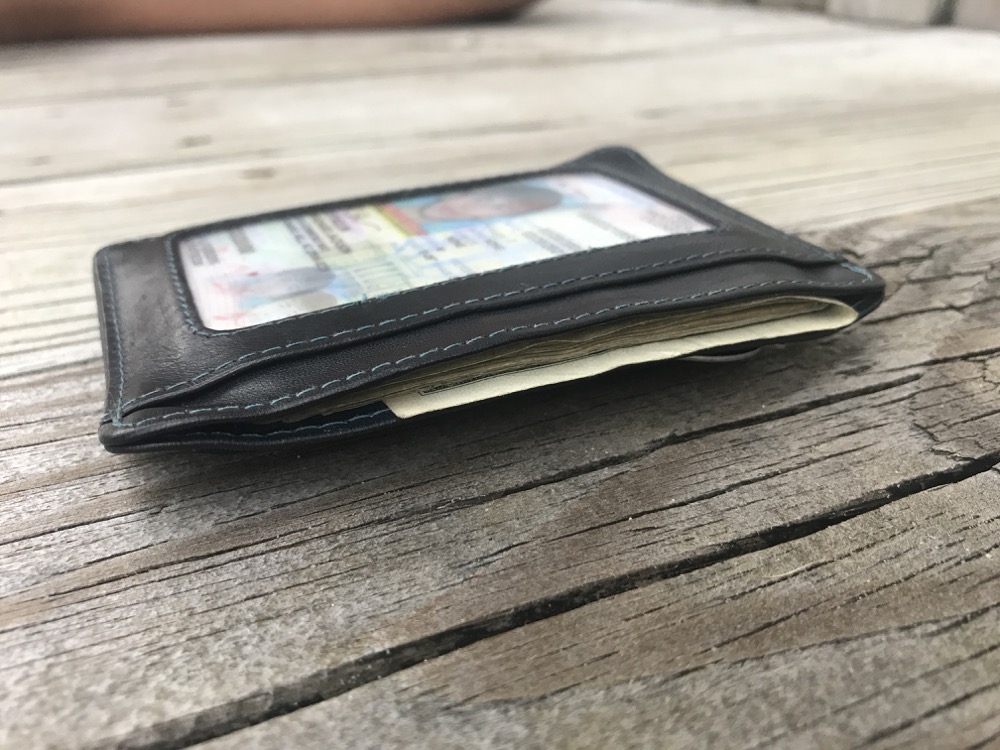 For me, I chose the Axess Ideal wallet. Initially, this model was a touch odd due to how the money is stored. However, I quickly got used to folding my bills in half and pushing them through the strap. In the case I only have 2 or 3 bills (hundreds of course), I will fold them twice to provide a snugger fit. With that said, I have never had problems with bills falling out.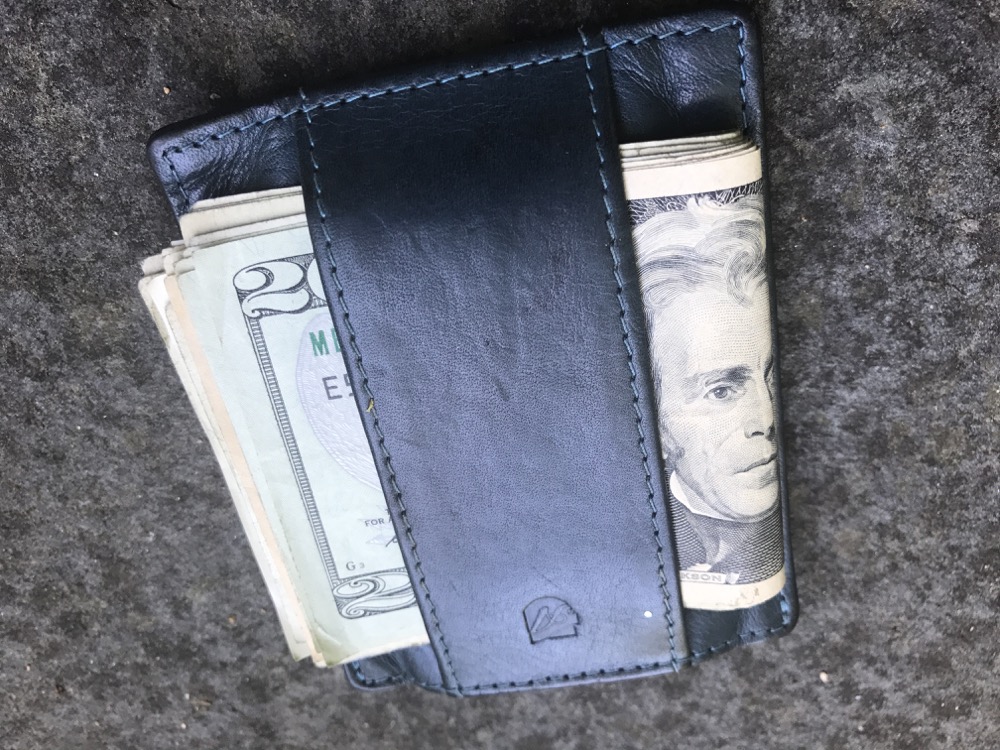 My favorite feature of this wallet however, is the single slot for a credit card. This is where I put the card I use 90% of the time. This way it is a snap to find what I am looking for. Beyond the front slot, there is a larger slot in which I keep 4 other cards (driver's license, ATM, Amex and insurance). That's it – no gym membership, no coffee club and no receipts. I know there are plenty of guys who think they need to carry a lot more but once you force yourself to carry less than 8 cards you can free yourself from the George Costanza disease.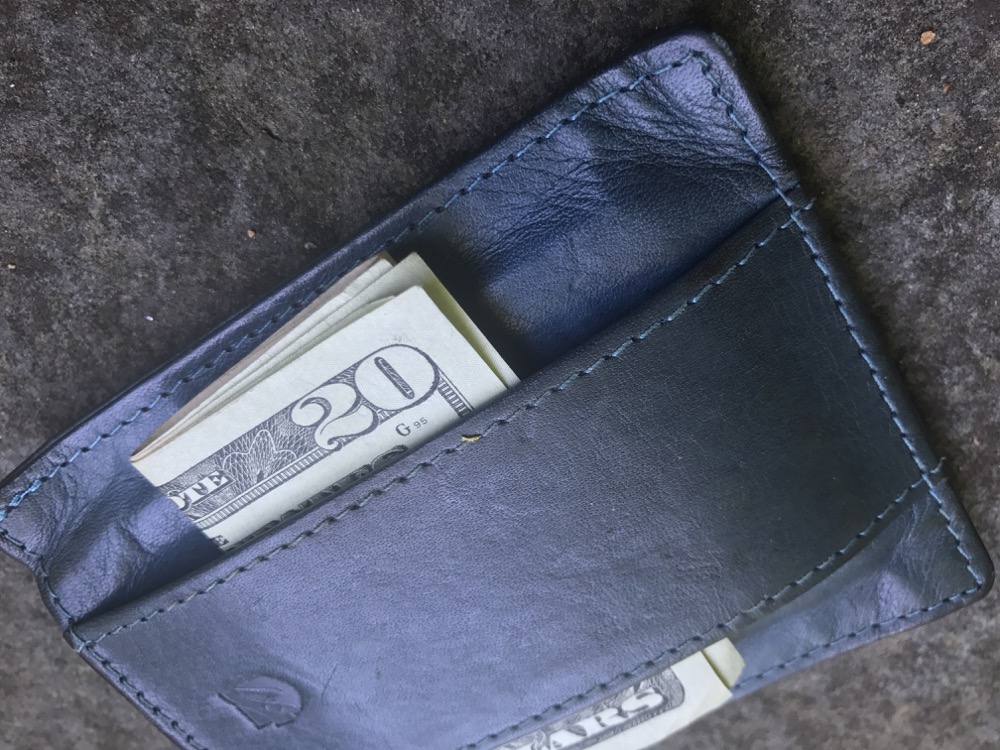 Beyond functionality, the other key feature of any wallet is style and quality. All Axess wallets are made from tanned Tuscany leather, which not only holds up very well but has a great feel and look. Again, I have been using my wallet for several months and you can see from the pictures that it is still in great shape. For me, I like a wallet to look worn but not worn out, and that is the beauty of quality leather. Unlike cheap leather, vegetable tanned leather picks up traces of life it comes in contact with and develops a unique patina. This is why old leather journals are so fascinating to touch because it feels as if the leather itself holds as many stories as the pages inside. Axess wallets are much the same as you can literally see it change over time as it transforms based on its environment.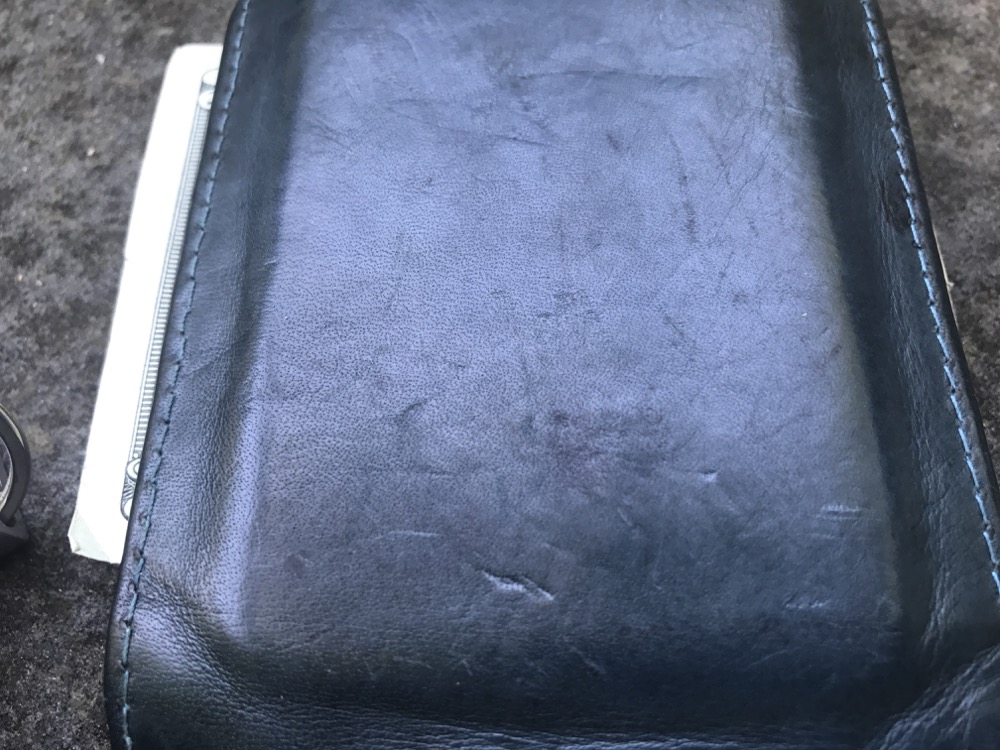 Clearly the main selling point for Axess wallets are style and functionality, but there is also a bit of technology built in. Each of the Axess wallets features RFID blocking. RFID stands for radio-frequency identification. RFID is a technology that lets a chip in a card use radio waves to communicate over a short distance to allow shoppers make charges by passing a card in front of a terminal. The problem is that they are susceptible to security breaches. While I have never known anyone to be hacked by an RFID reader that does not mean it does not happen.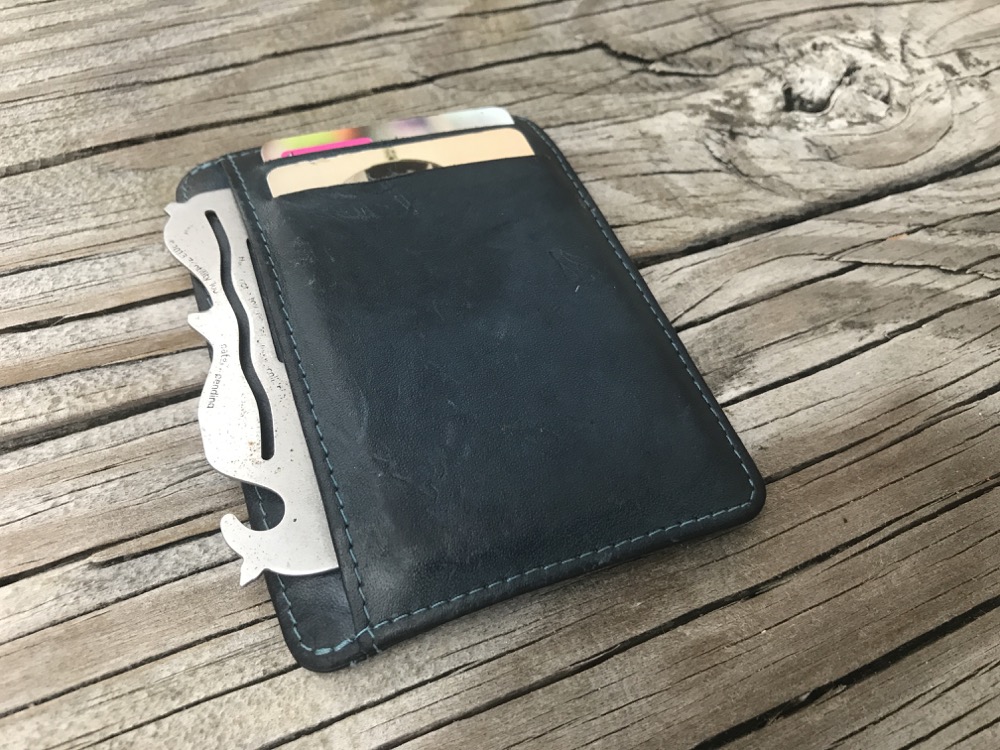 NOTE: If you carry a subway card or other such ID that needs to be scanned regularly then you can use the outside pocket which does not have RFID protection.
Bottom Line:
After months of use, both my son and I give the Axess wallets two thumbs up. Despite having very different needs for our wallets, the models we chose are well suited to our lifestyle. This is a wallet I expect to have for many many years and look forward to watching it age over time without falling apart.
If you are still one of those guys who is back pocket carrying then I highly recommend you give a front wallet a try. I have little doubt that you will feel your load instantly lightened. Plus a wallet in a back pocket is a really bad look.
Axess wallets run about $30-$40 which is quite a margin considering you will likely keep it more many years.
Check out Axess Front Wallets on their website.