Footboy DNA Helix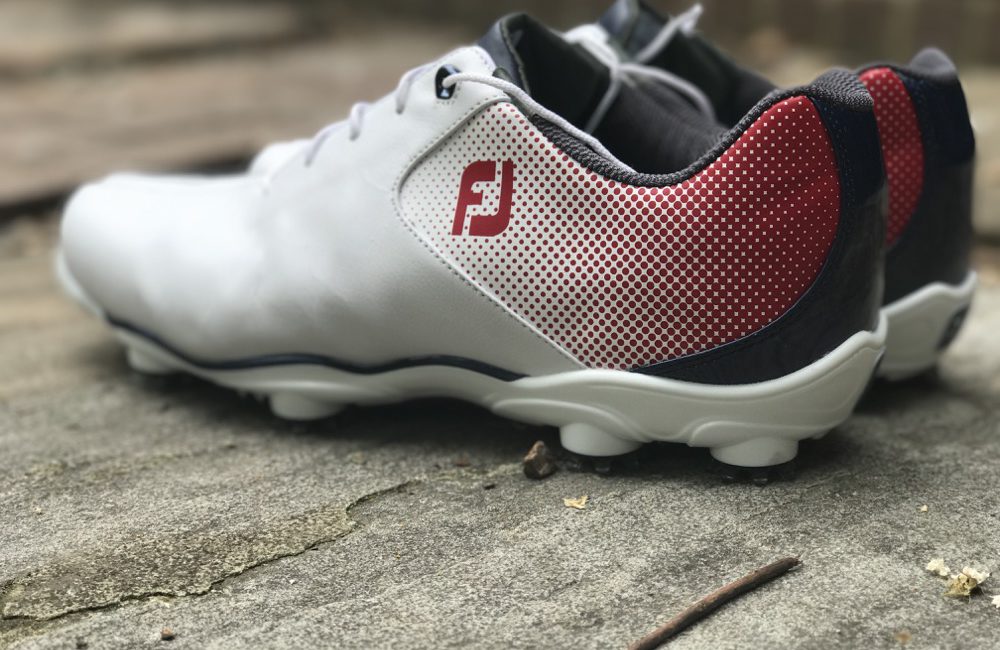 Footjoy, the number one shoe in golf – period. Yep, it is going to be a hard road to knock off this perennial powerhouse. Part of Footjoy's dominance comes from the fact they have so many styles. From the tried and true Dryjoy's to the M Project, Footboy has the map covered. However, with so many models it's like a box of chocolates with every review-I just don't know what I am gonna get or like. Unlike other brands, Footjoy has a dizzying amount of variability, making it hard to give a blanket statement about the brand other than they run wide, are generally comfortable, and typically lack style.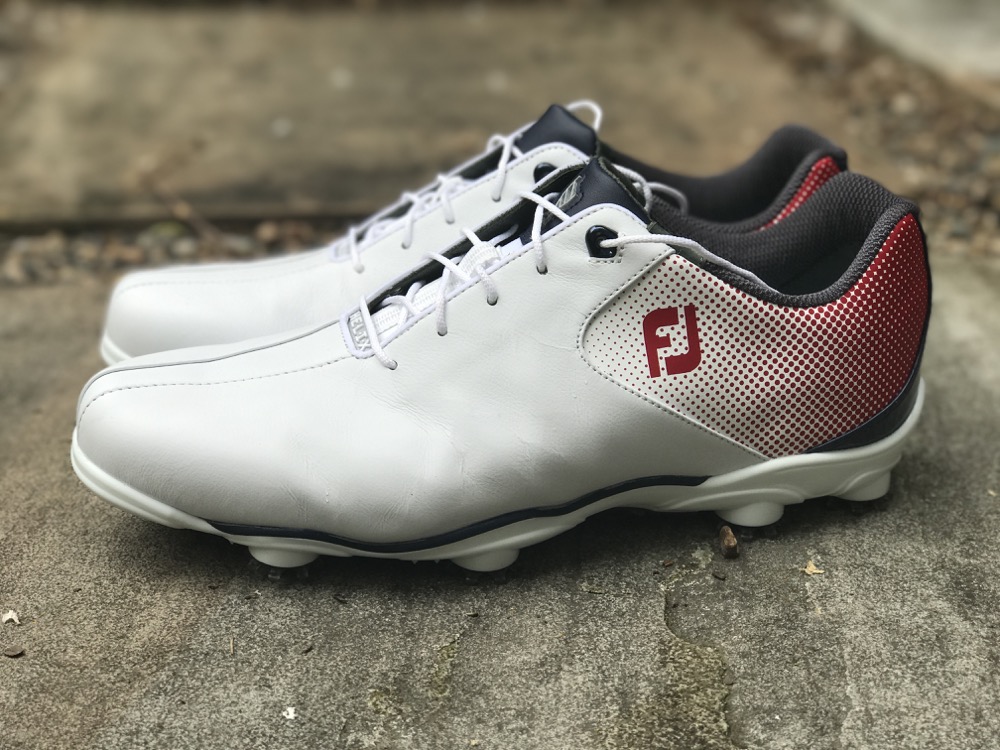 For example, I really like the comfort of the Footjoy Freestyle and think they look really cool but I hate the Footjoy Hyperflex both in terms of comfort and style. However, in the case of the Footboy DNA Helix, I figured I had a pretty good read considering I reviewed the original Footboy DNA a few years back.
What I expected was a well-designed Tour model shoe that featured solid technology but nothing that would make me choose it over my current favorite Tour shoe, the Adidas 360 Tour Boost.
As a baseline, I love the Adidas 360 Tour Boost. They are super cool looking, very structured, comfortable, and exude "badass". The only problem with them is that they are fairly heavy, making them not a great option for walking. That and the fact that one of the shoes squeaks.  Seriously, I cannot figure out why it squeaks every time I walk. Squeak aside, my fundamental issue with Tour level shoe is that they are too heavy, and since I walk most of my rounds it limits how much I can wear a Tour level shoe.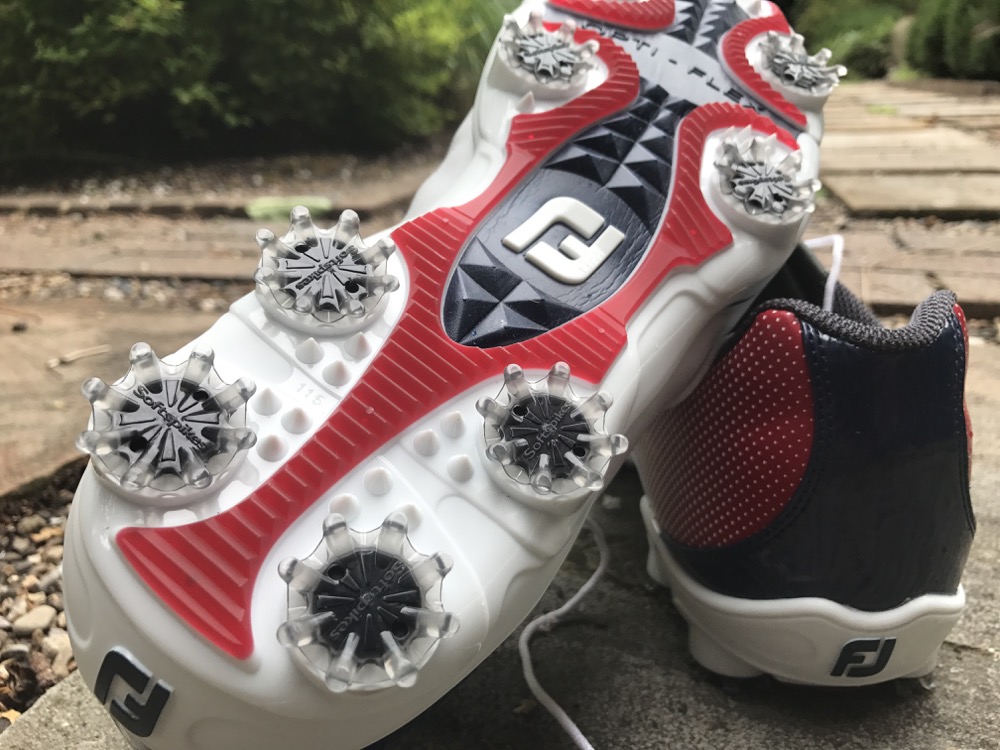 The original Footboy DNA were certainly light enough to walk in, but overall I just never loved them. To be fair, I think the plain white with texture was my biggest complaint of the DNA, and with so many options in my closet they just never broke through to the starting lineup.
With that said, the Footboy DNA was well received got a reboot with the DNA 2.0. A few years later and with lots of feedback from Tour players, Footboy revamped the shoe again and have released the DNA Helix for 2017.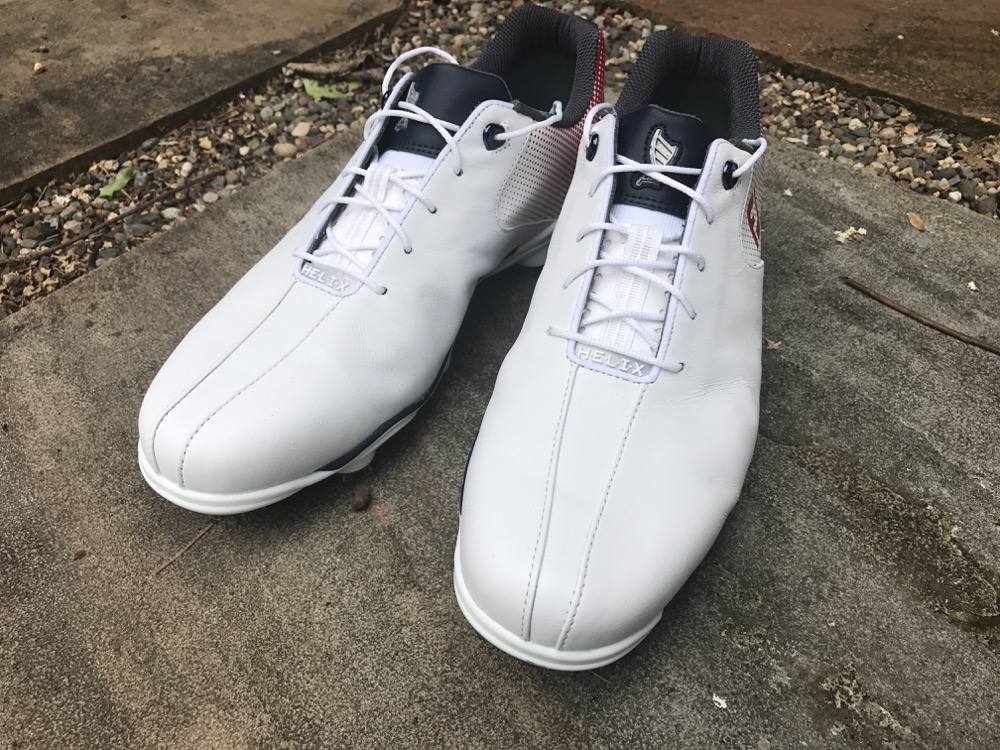 Specifically, Footboy lightened the shoe, added stability and made some cosmetic changes to the heel area. I am always wary of marketing speak but a few swings wearing the DNA Helix and it is clear this they are a Tour level shoe. As an aside I like to use the term "Tour level shoes" as a way to designate that it is a brand's top line model (typically costing over $180) and can be found on the fairways of the PGA Tour.
As a consumer who is considering a Tour level shoe, this means we expect it to last 3-5 seasons and be absolutely rock solid in terms of being waterproof and holding up after hundreds of rounds.
When I first got the Helix, I took them out for a few rounds not expecting much more than what I experienced with the DNA. Basically, I expected them to be comfortable with solid traction but nothing more that would make me wear them after I had done my testing. Two months later I find myself choosing to wear the Helix nearly every round. Again, I typically have about 7 pairs of quality golf shoes to choose from.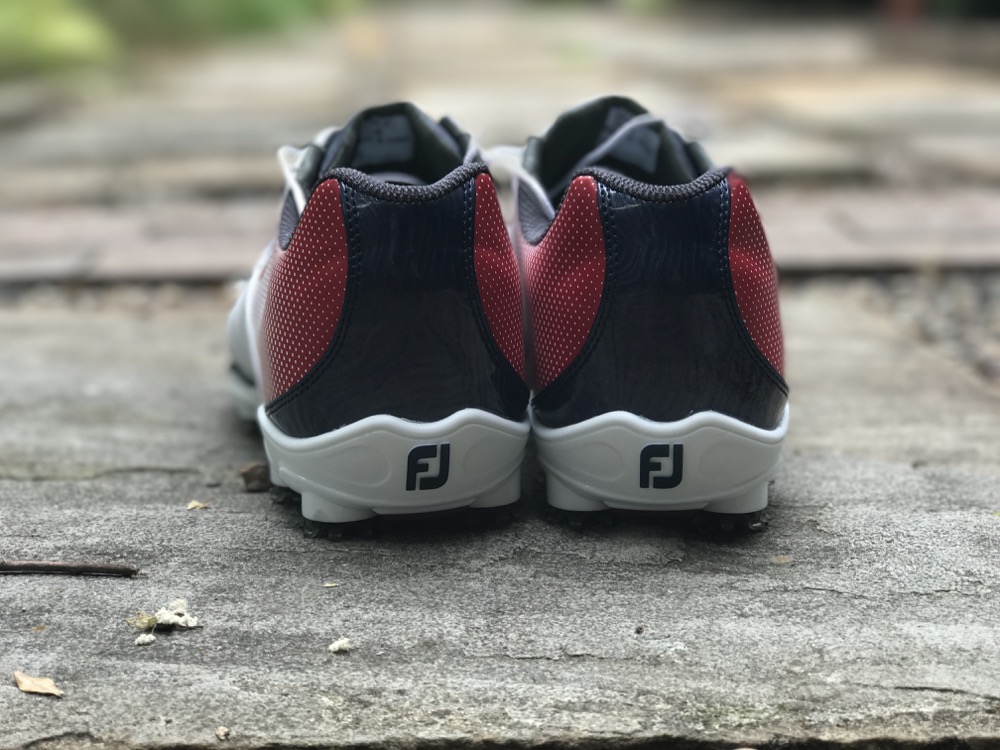 So why are the Footboy DNA Helix my top choice this year? Despite not loving the style (I would say they are a 7 out of 10), the comfort and stability is top notch. Years ago, I went on a rant on how spiked golf shoes were over rated. Well, I think I went overboard and I am back to preferring a spiked shoe.
Over the past two months I have played in varying conditions from bone dry to extremely wet. Just this week I played a mountain course in Virginia. We actually had a 45 minute delay while it dumped about 2 inches of rain. Not only were my feet absolutely dry, but I was super impressed with the level of traction both during my swing and navigating the steep terrain. It is hard to quantify traction and stability during a round, but subliminally you can tell. Perhaps it is manifested in a level of confidence. In any case, despite having zero expectations of wearing these shoes more than 5 times, I am on round 15.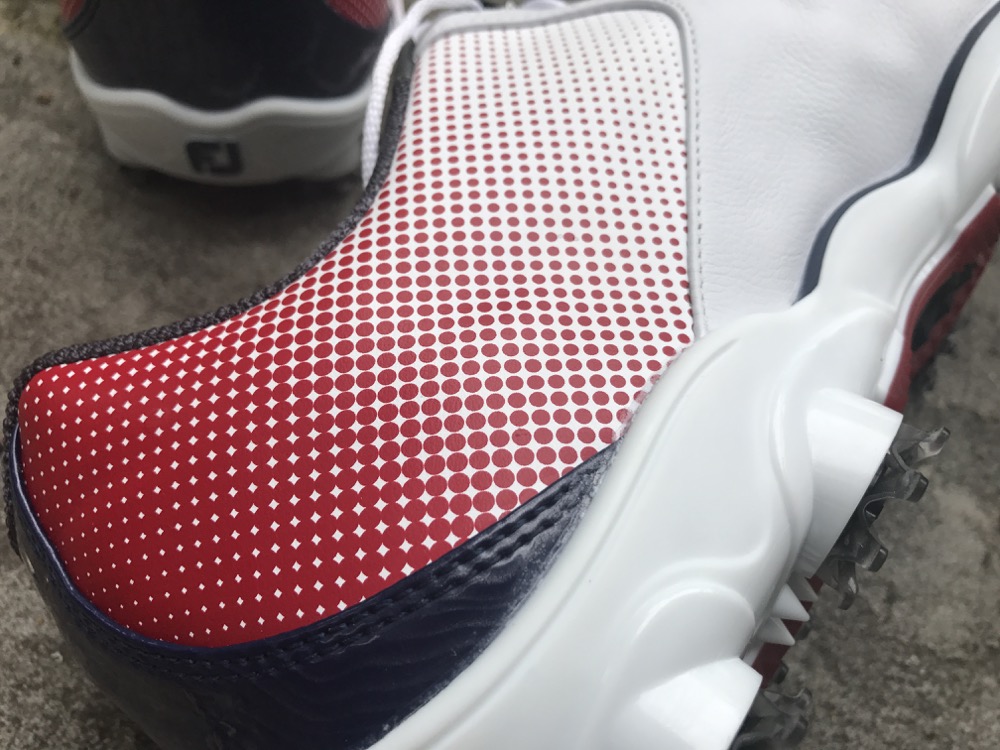 One of my favorite quotes is from long time NBA player Rasheed Wallace, who coined the phrase "ball don't lie". I liken that to "feet don't lie". You see every time I go to the closet to grab a pair of golf shoes my brain eyes the brash looks of the Adidas Tour 360 or Puma Tour Titan but my feet yell "grab the Footboy DNA Helix". Feet don't lie.
If I had to boil it down to the top 5 reasons why the Footboy DNA Helix have become my go to shoe this summer they would be:
Weight: The DNA Helix are super light compared to other Tour level shoes.
Comfort: While still not as comfortable to walk in as "sneaker" type of golf shoes, the Helix are absolutely appropriate for walking 18 holes.
Traction, grip and stability: the Footboy Helix has these qualities in spades. I don't think you will find a shoe that is significantly better in this area.
Quality leather: along with being waterproof, the DNA Helix leather is really soft, making it more flexible when walking than other Tour level shoes.
Low heel: I am a fan of shoes with little to no heel which is common in many high end golf shoes. Fortunately, the Helix sits very low to the ground.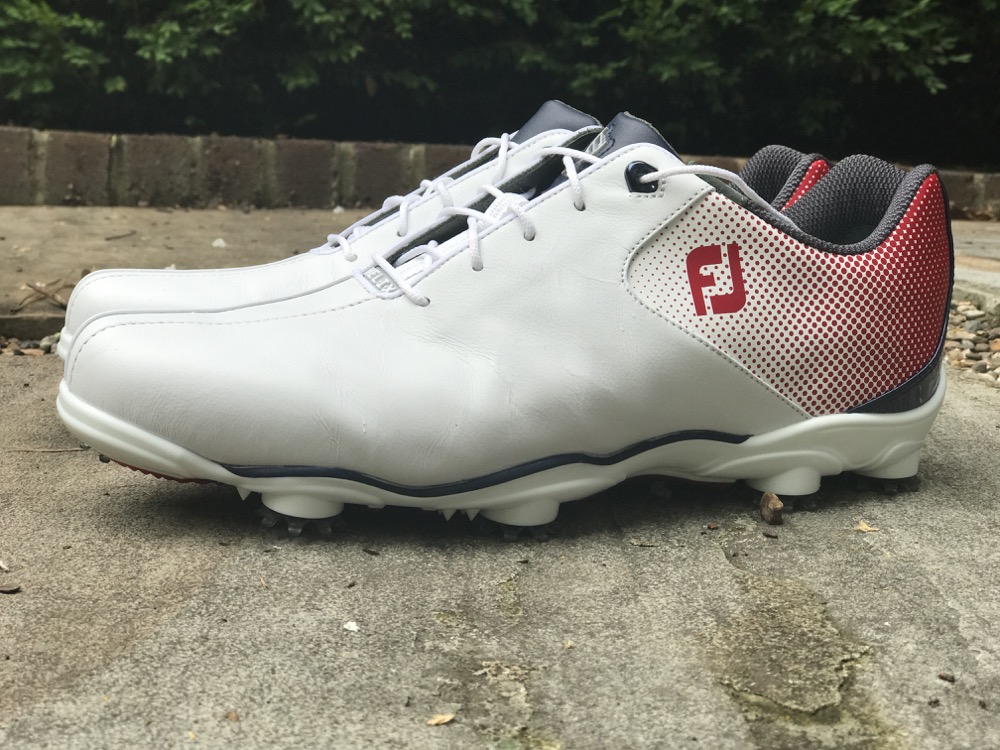 Short story, I am a fan of the Footboy DNA Helix. While not cheap, $220 or so, you should expect to get many seasons out of this shoe. Moreover, you will be hard pressed to find a shoe that will deliver more stability and traction without giving up comfort.