Footjoy DNA Review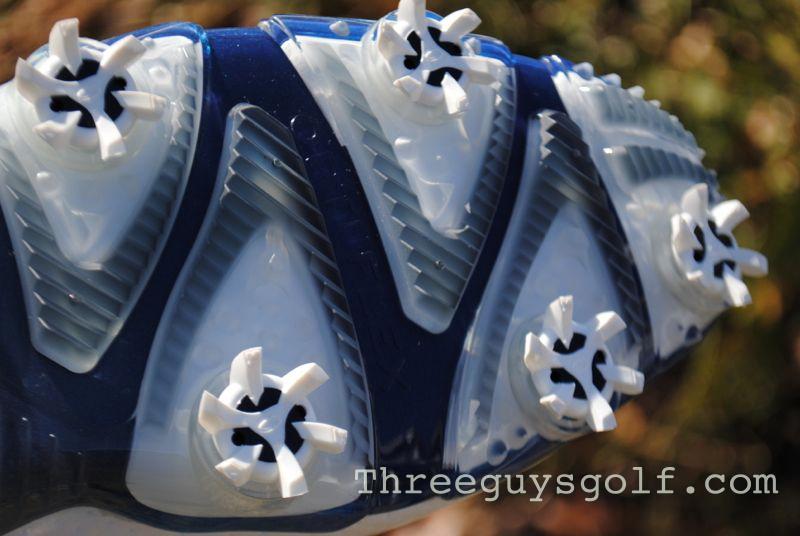 Being the Imelda Marcos of golf shoes, I now can tell a good shoe from a great shoe in about 5 seconds, which is exactly how long it took for me to determine that the FootJoy DNA fell into the latter category.
Last fall I reviewed the FootJoy Icons and I continue to wear them on a fairly regular basis. With that said, the new DNA's are a clear upgrade in just about every facet (except they are not money blue and yellow like my Icons).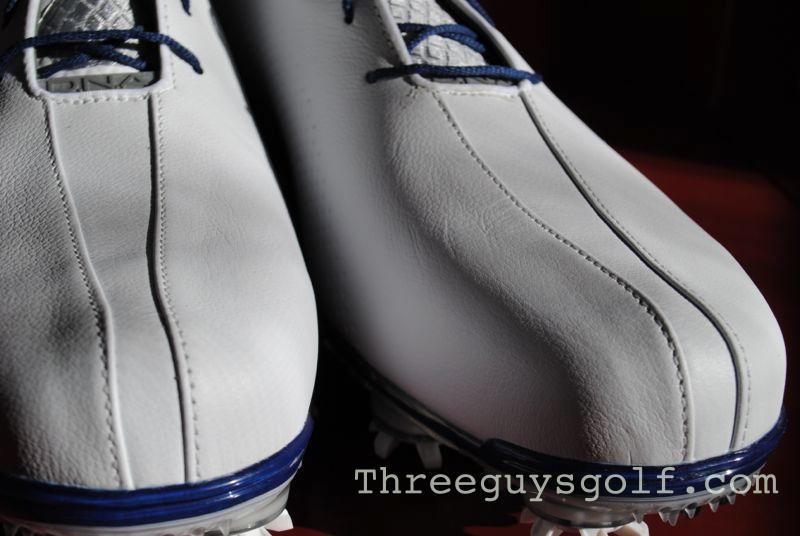 About two months ago, FootJoy began rolling out their new shoe in a series of "secret" packages sent to the media. Each package included one or two pieces of the new shoe. The campaign was meant to be a teaser as well as a way for the company to highlight the specific areas of technological improvement they have built into the shoe. Sure it was kind of corny and maybe not the hippest promotion in the world, but remember this is FootJoy who has just recently shed their "get off my lawn" mentality . . . so I'll give them a B+ for effort on the promotion.
Regardless, let's do the walk through all of the items I was sent and dig into all of the scientific research behind it. On second thought, lets NOT do that. If you want all that mumbo jumbo you can read the FootJoy site or some other regurgitated review. Instead I will give you my semi-technical explanation and the reason why you should care (keep in mind, I was Psych major not a Chem major).
Ankle collar: This is the part that goes around your heel. It is squishy and soft and even though I am sure there is a more scientific term it boils down to the fact that you will not have any ankle issues – ever. Not on your first round or your hundredth round.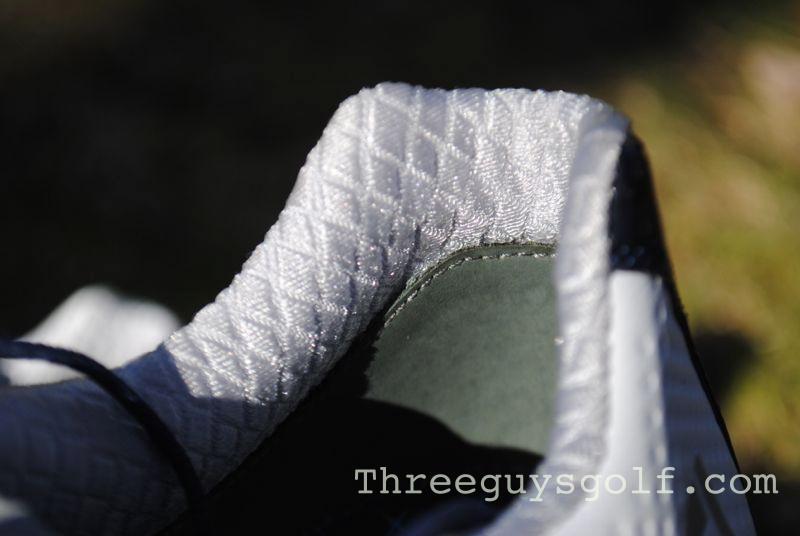 Tongue: Again, squishy at the pinch points (or at least more squishy than most). Whatever, what I really care about is whether it will stay in place. I absolutely hate it when the tongue gets pushed to one side and the laces end up on my foot. Not the case with the FootJoy DNA. Oh, and the laces are top notch . . . top notch.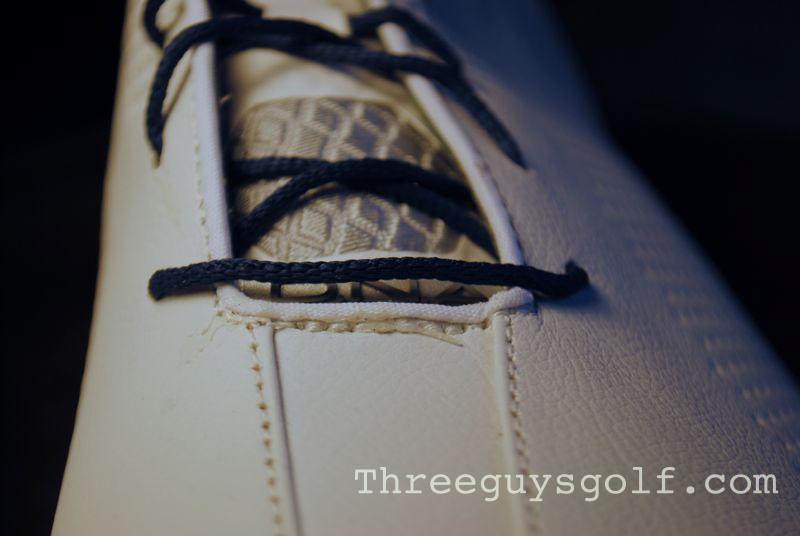 Sole: The real change is the positioning of the spikes. For the DNA, FootJoy moved the spikes really close to the edge of the shoe. So close you can almost see a spike peeking out if you look from directly above. My expectation is that this provides superior traction, balance, and grip, but honestly FootJoy has been kinda nailing those things for years. Still, it is impressive that they continue to improve on what they do so well.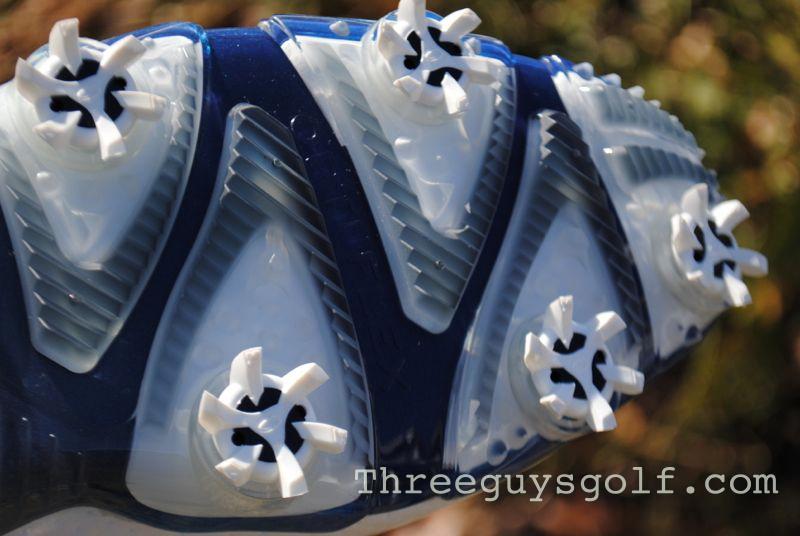 Insert: In my mind, this is where FootJoy really hit it out of the park. I own a pair of FootJoy Icons and I dig them but they are pretty heavy and walking 18 can be a little taxing compared to a much lighter shoe. The DNA insert has massive padding on the heel which provides for increased cushion and support. I can walk 18 in these shoes with no problem and there is noticeable support around the heel.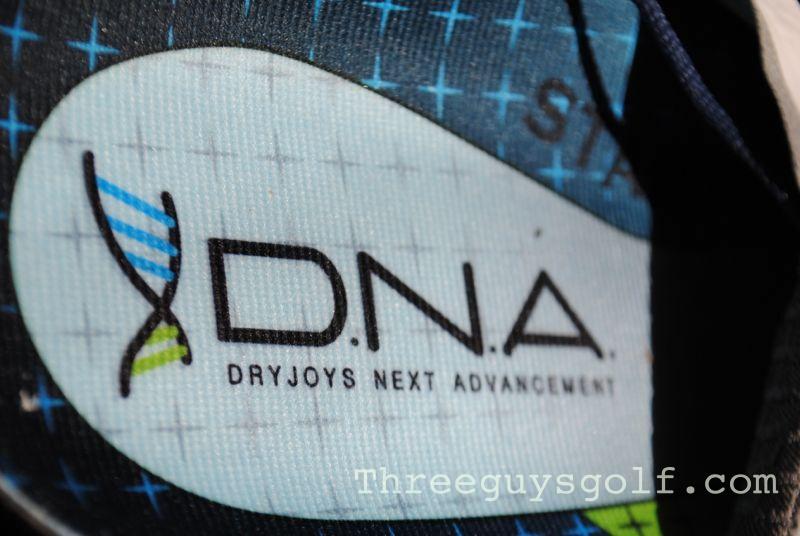 Fittingly, my first round (actually the first time I wore the FootJoy DNA shoes) was when I had the opportunity to play TPC Sawgrass as part of the BBBatTPC media event. Now normally it is a fairly dumb idea to wear brand new shoes for a big round of golf, but I had supreme confidence in FootJoy (or at least I was keeping my fingers crossed). Admittedly, I prefer a non-cleated golf shoe, but I still enjoy the feel of a more substantial shoe on occasion. Fortunately, the FootJoy DNA are not bulky or particularly heavy so you don't feel burdened by clod stoppers.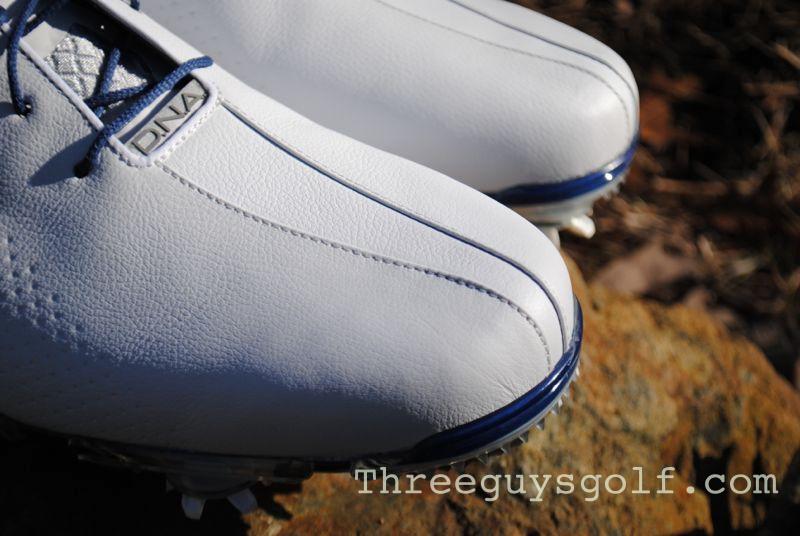 As I mentioned earlier, I own one other pair of FootJoys. They were custom designed by me which means they are not white. In fact they are blue with yellow accents. It's not so much that I wanted blue shoes, but I want shoes that don't look dirty and white can be boring. Well, for a white shoe, FootJoy did a pretty good job. First they added texture in the form of small circled indentions on most of the shoe. Besides giving the shoes some depth, they also help to give the shoe breathability which some of the older FootJoy models lacked. They also gave the shoe a touch of blue on the heal and near the sole that also helps to balance the look and reduce the solid whiteness of it all.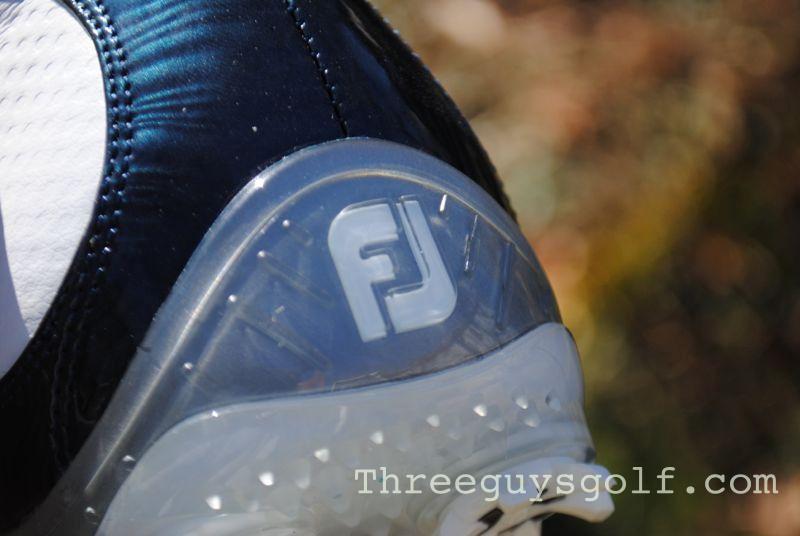 Still there is the issue of dirt. Now, maybe you belong to a swanky country club where there is only perfectly manicured fairways, but I unfortunately do not. Here in NC, we play golf 12 months a year but for about four of those months it can be wet and cold, and since bermuda grass does not absorb water when it is dormant, we get mud. As much as I hated to wear my white FootJoy DNA shoes in these dreadful conditions, I wanted to see how they would do. Obviously they are waterproof. I think FootJoy has been doing waterproof since day one but keeping them clean was a whole other ball of wax, especially considering the texture.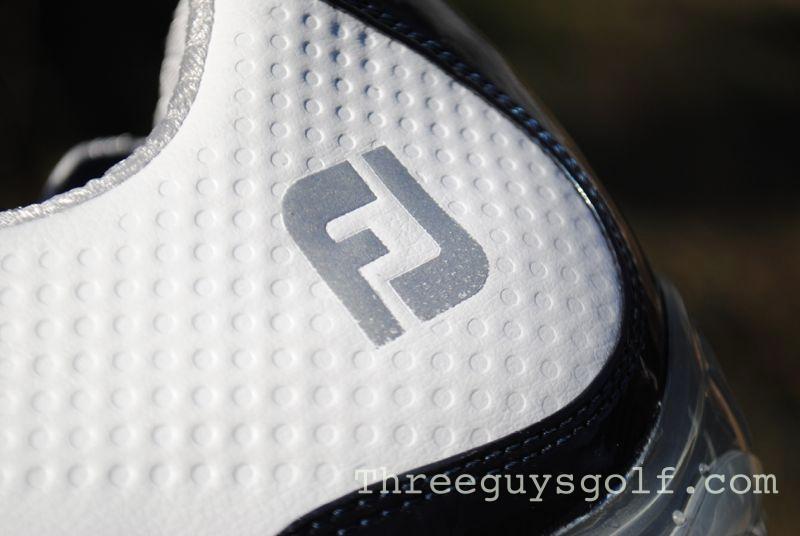 On this particular day the fairways were reasonably dry, albeit squishy in some sections. Throwing caution to the wind, I stepped into the bank of a small stream (I had to search for one since my ball is always next to the pin). Mud rolled up and around the shoe as I cringed, wondering if they would once and forever never be white again. For good measure, I played the final 4 holes with one muddy shoe, threw them in my car and headed home to scrub a dub dub.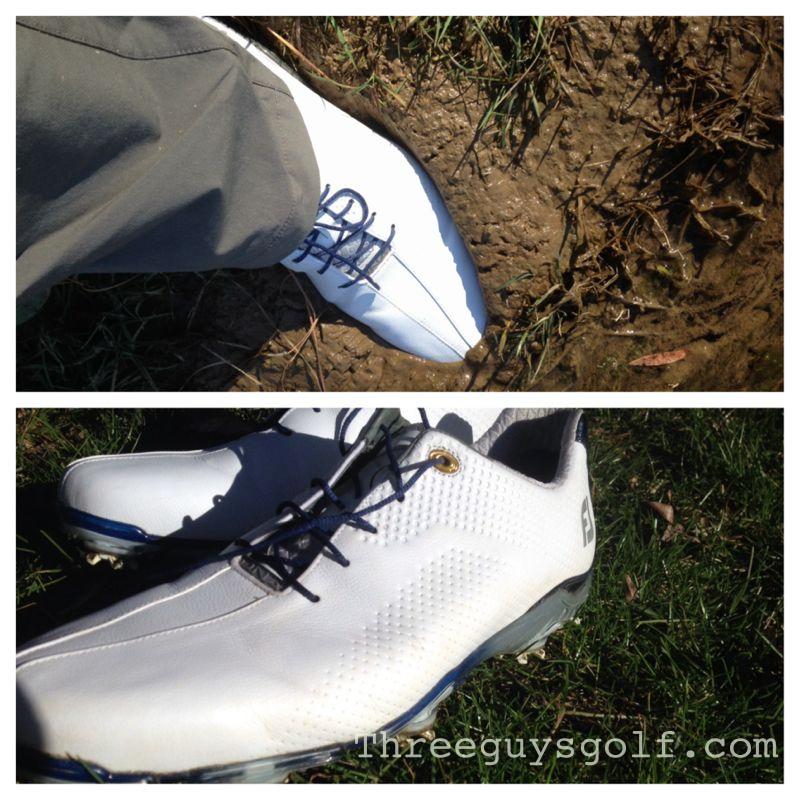 Since there was so much mud, I took the hose to them to get off the big chunks, then simply toweled the rest off. The process was far easier and effective than I was expecting. In no time the FootJoys were perfectly white again. It was almost as if there as a bit of protective coating that allowed the mud to never really penetrate the shoe. Either way, I am thrilled as I am no longer fearful of wearing them in less than ideal conditions.
A final note on sizing. The DNA's run the same as other FootJoys but I do feel like there is a wider toe area. Additionally, the leather is softer and more flexible than other FootJoys which I think makes walking much easier.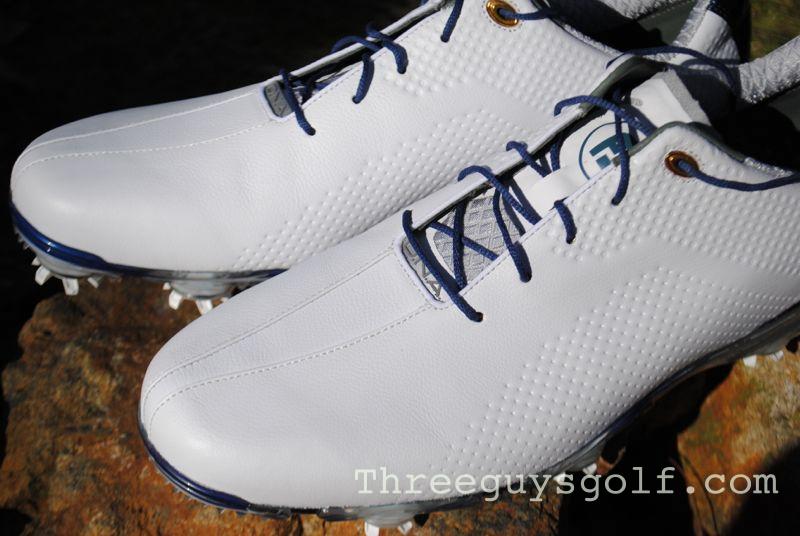 Last year, FootJoy tried to break the mold with the M Project and showed they could compete in the spikeless, barefoot market. In 2014, FootJoy is seeking to reaffirm that they absolutely own the premium spike golf shoe. For this guy, I think they have made a pretty solid case.
You can see the whole line on the FootJoy website.