TaylorMade Catalina Cart Bag Review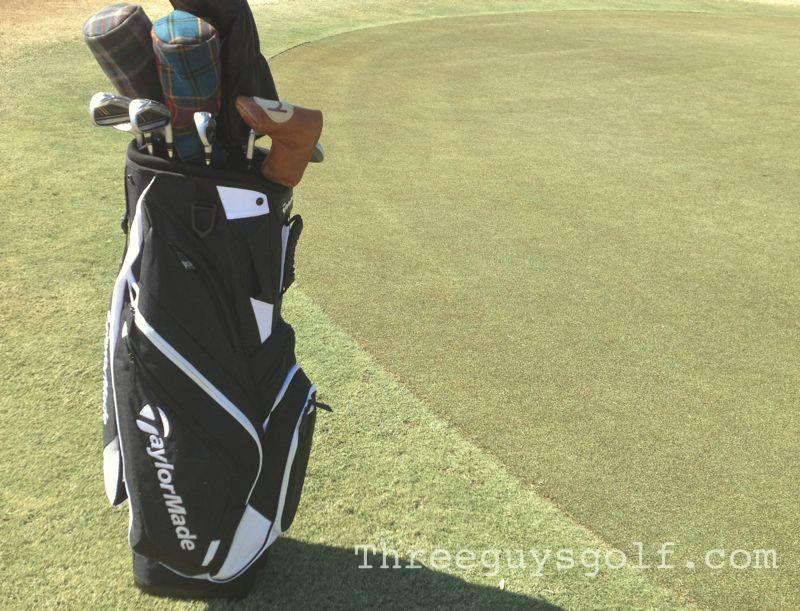 Being self employed, I end up playing a lot of mid-week golf with random guys I run into at the course. One day last summer I was just about to tee off when a big athletic young guy rolled up and asked if he could join me. Now the reason I recall this particular person is because he was dressed head to toe in TaylorMade gear including the latest polo, shorts, hat, driver and irons (he may have literally rolled out of a TMAG advertisement).
Prepared to be awed, I was a little shocked to realize that while he was a super nice guy and very well dressed, he was a gawd awful golfer. Now I respect the brandwhore as much as the next guy but it was slightly amusing to see someone go full Monty. The point is TaylorMade makes everything related to golf including ….ta-da, Golf Bags.
After years of buying the wrong bag, I have finally figured out exactly what are the most important features. Unfortunately, most bags only have about 70% of my requirements. Now I am not saying my list should be your list, but I submit that my list is pretty darn solid and if any bag can meet these standards it is a winner. With that gauntlet thrown down, lets meet today's contestant: the new 2014 TaylorMade Catalina cart bag.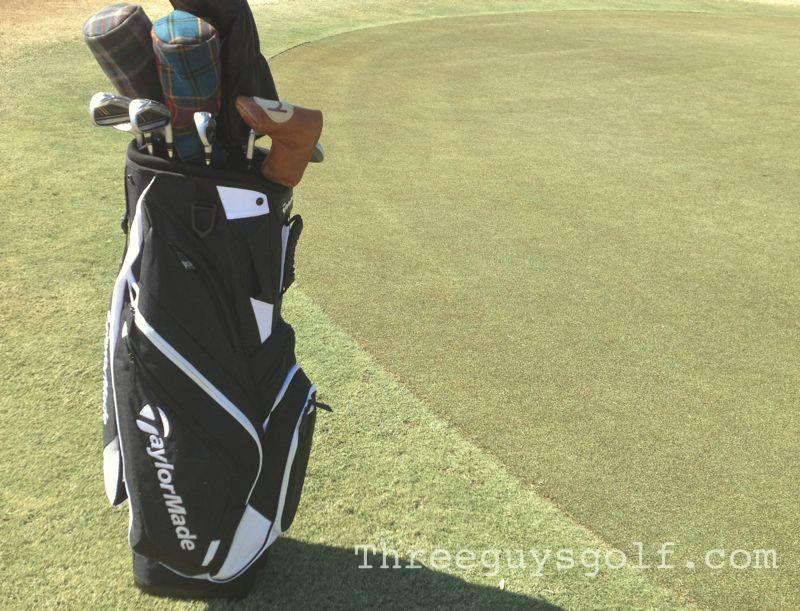 As a general statement, cart bags can be categorized as regular, large and tour sized. From a personal preference standpoint, I like a regular sized bag as the others are all a bit overkill. The TaylorMade Catalina is by no means small but clearly not oversized or tour. Basically, I want to be able to store all the basics plus a jacket and maybe a six pack of beer.
So the obvious low bar any bag needs to hit is having enough pockets. However, the strategic placement of said pockets is just as important. The TaylorMade Catalina has 9 pockets including three on the front for easy access. There are two generous side pockets, two garment pockets, a top pocket, a soft-sided valuables pocket and a cooler that will hold 5 beers. All in all, enough storage room for even a packrat like myself.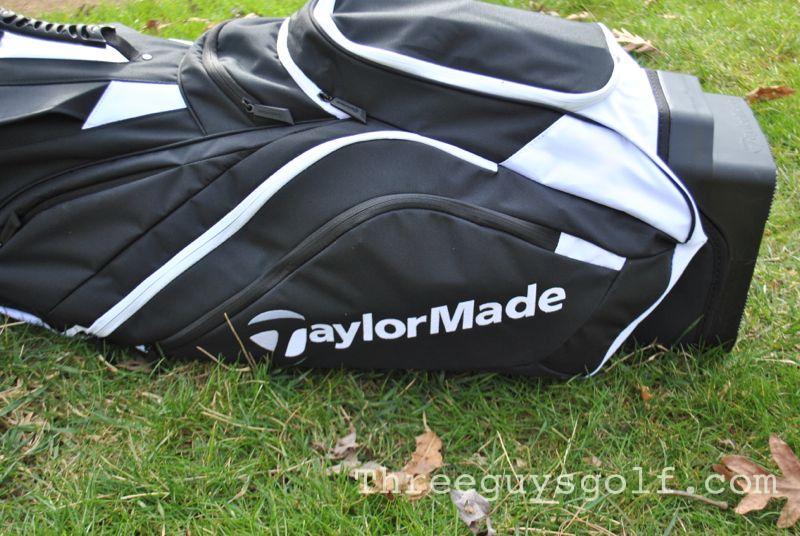 Not that you should care, but as a reference here is how I organize the Catalina: bottom front pocket is for balls, tees in pocket just above that, and ball markers/range finder/other essentials in top front pocket.  This way all the things I need during the round are easily accessible.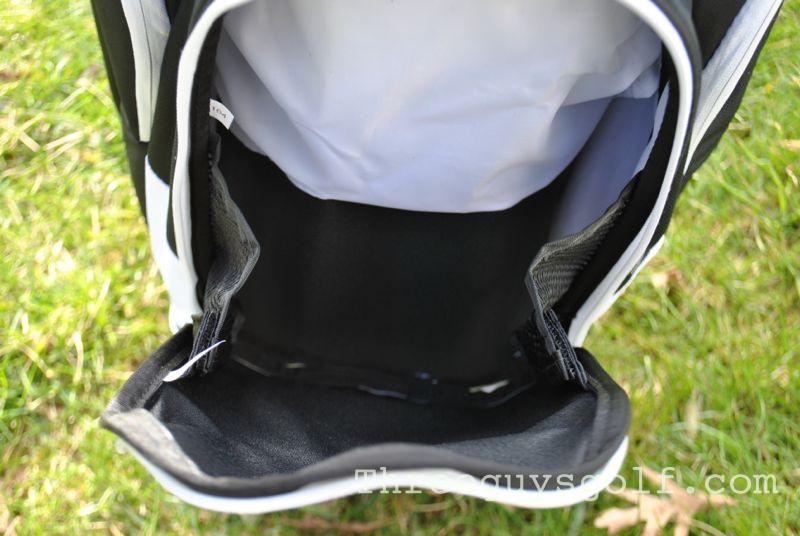 In the valuable pouch, which is located on the top side, I put my wallet and keys or anything else I don't want to touch and definitely don't want to lose. Lower side pockets are where I put my gloves and yardage book. Beers go in the side cooler pocket, and finally, there's the long side pocket are where I can stuff a sweater or jacket. This still leaves me with extra room if need be.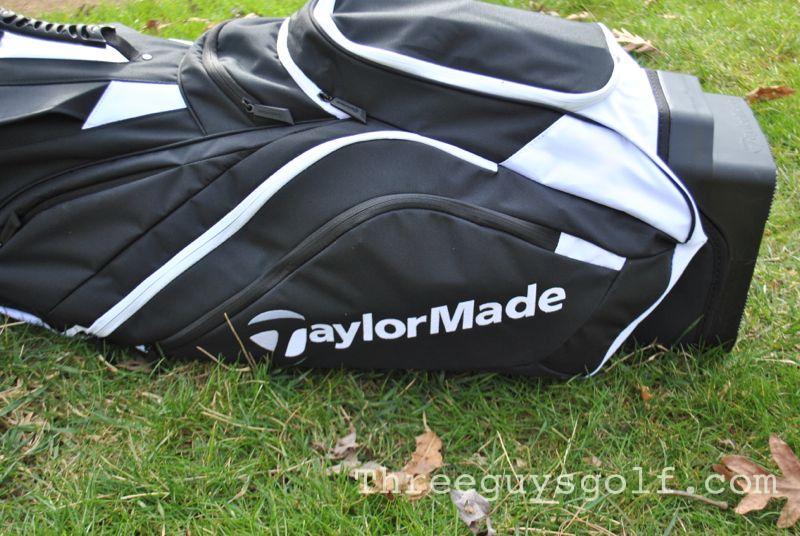 Zippers are all well constructed and easy to use. One nice feature I rarely see is that they made the ball pocket (bottom front) fully removable so that it can be taken off for easy embroidery. All pockets are lined with a slick material except the valuables pocket which has a soft interior.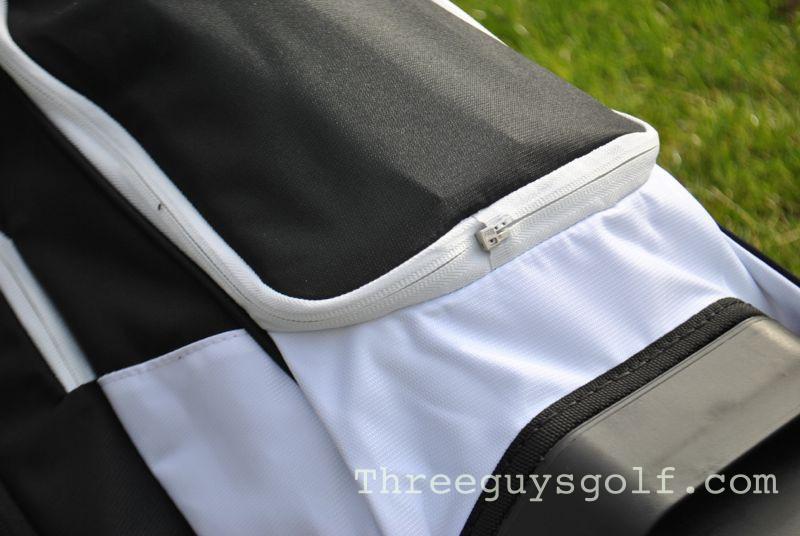 Overall, I give the TaylorMade Catalina pockets an A- only because they do not have a world class feel that I have seen in other comparably priced bags.
Next up, club organization. First off, I really like having 14 individual club slots because it not only helps organize your bag but can also help reduce the chances you will forget a club. The Catalina cart bag's club grid puts four clubs on each side, three in a middle row, two near the back and a putter slot in the front. I ended up putting woods in the middle row with my primary clubs on the sides, keeping my least used clubs in the back. If you are considering the bag for a push cart, I can tell you it sets up very well for a Sun Mountain.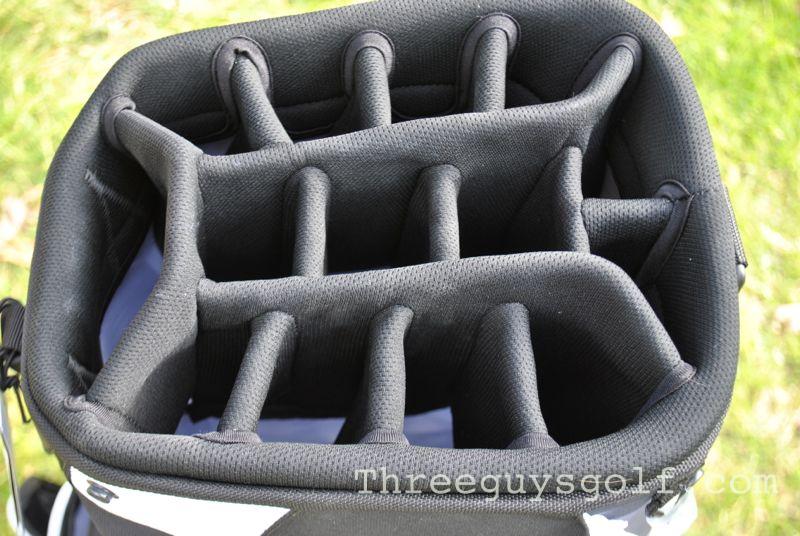 My only issue is that the club dividers do not go all the way down the bag. Instead, there is one divider for each grouping of clubs (except the putter which has its own). In other words, 5 slots for 14 clubs. For some people this is a big deal because grips will end up touching each other and sometimes you will have to jiggle the club to get it all the way into the bag. For other folks, this is no big deal at all. Once again, there are 14 club dividers but there are only 5 dividers that go all the way down to the bottom of the bag.
Other features to note is the lift grip at the bottom of the bag, which is handy for taking the bag out of the car. There are also two complementing grips on the top of the bag, which makes taking the bag in and out of the trunk much easier than just using a handle.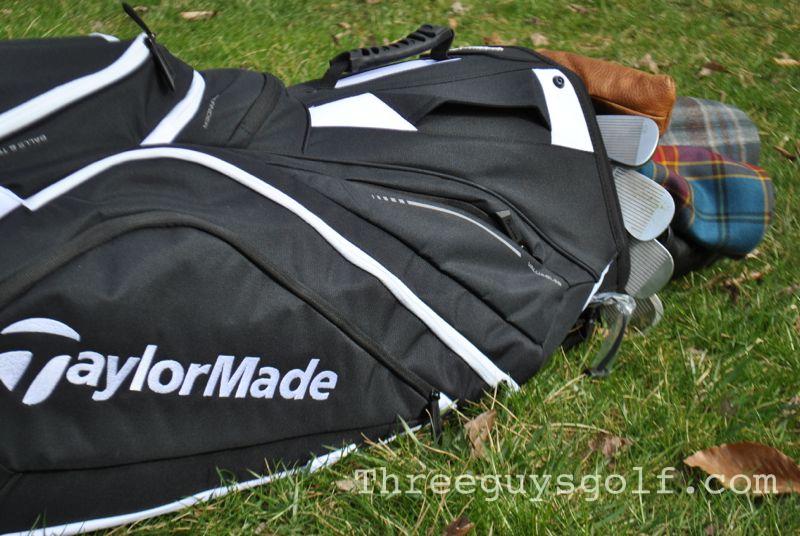 The base of the Catalina bag is square and extremely solid. It sits down easily and does not tip over, even when standing next to a putting green. Finally, it has one towel clip and external umbrella holder.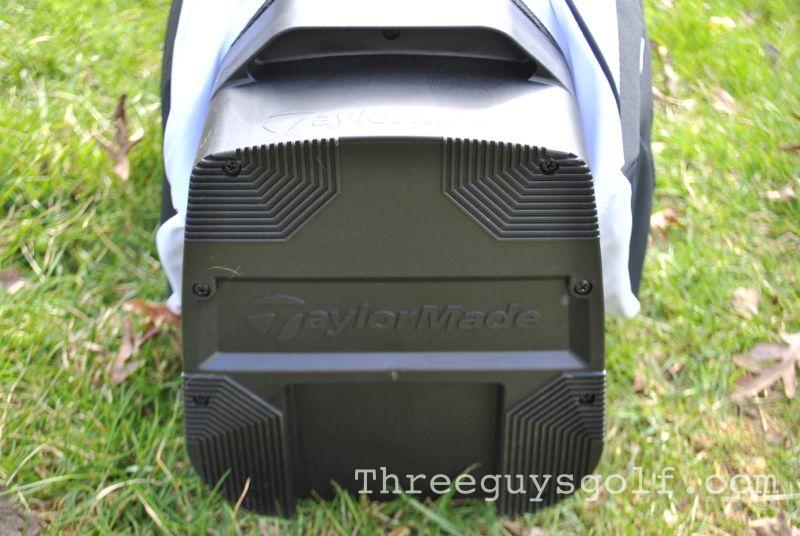 The final verdict: Solid cart bag that is well thought out and hits nearly all of major feature requirements. The Taylormade Catalina runs about $199 and can be purchased on the TaylorMade website.