TaylorMade M1 vs M2 Driver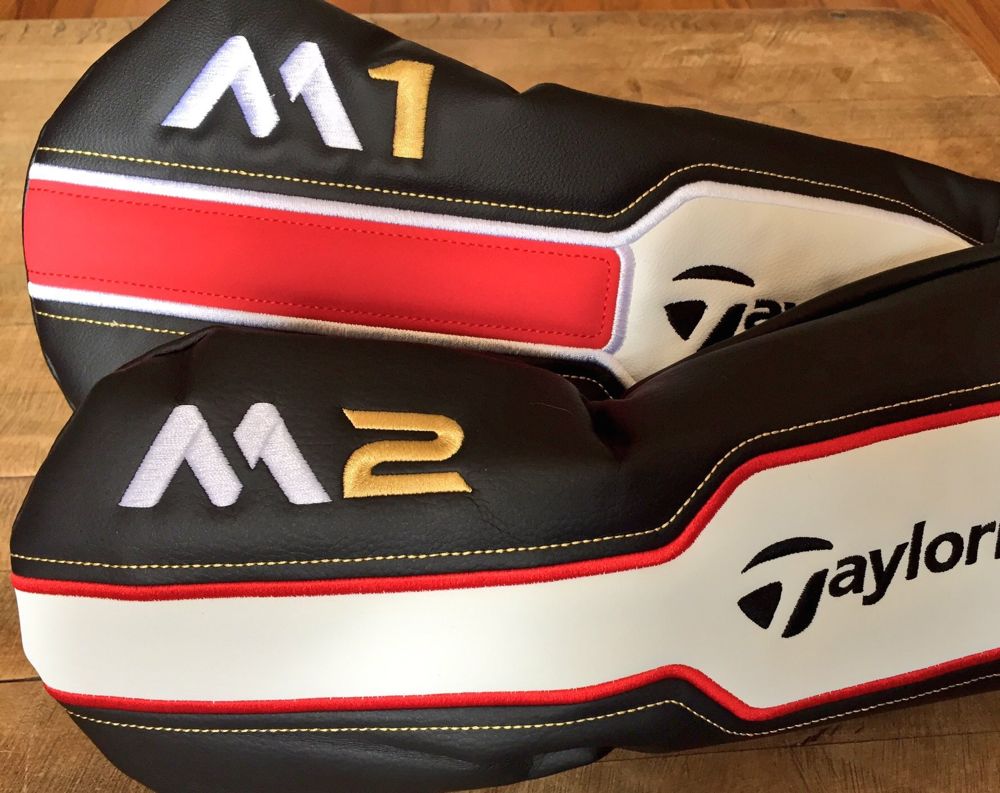 TaylorMade has caught its fair share of heat over the years for promises such as "17 yards longer". I guess all the jokes left a little sting because you won't find any such claims for the new M1 and M2 drivers, yet this may be the first driver that I actually think goes farther than most.
I have hit enough drivers over the years to feel inclined to state that they all basically go the same distance –  it just comes down to personal preference or some good mojo you attach to your big stick. For the past year I have pretty much been playing with the PING G25, as I decided it goes about the same distance as any other driver but was more forgiving than most. In fact, I was so comfortable with the PING G25 that I was even hesitant to review the M1 and M2.
However, I have a long history with TaylorMade and have always liked their equipment. Currently, I have the RSi2 irons in my bag along with the Rocketballz 3 wood, so adding another wood at least made the set more uniform.
M1 versus M2: The Basics
Looking over both of these drivers you would be hard pressed to tell which is which, as they are virtually look the same from above. Speaking of which, these drivers look awesome and make setting up to the ball very easy.
Ok you tell me which is which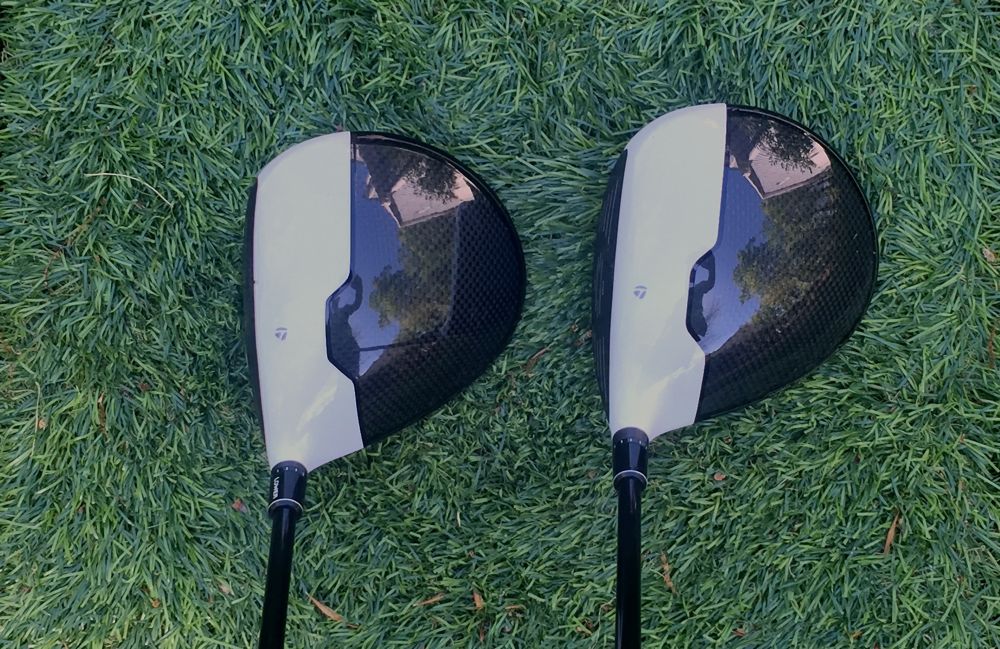 Flip the M Series drivers over and that's where you will notice that the M1 has more adjustability. With the TaylorMade M1, they added a T-Track system so you can change the loft, fade/draw, and forward/backward weight. With the M2, on the other hand, you can only adjust the loft. There are other more technical differences, like how the weighting is set up, MOI and sweet spot, but for most people, the T-Track adjustability is the differentiator.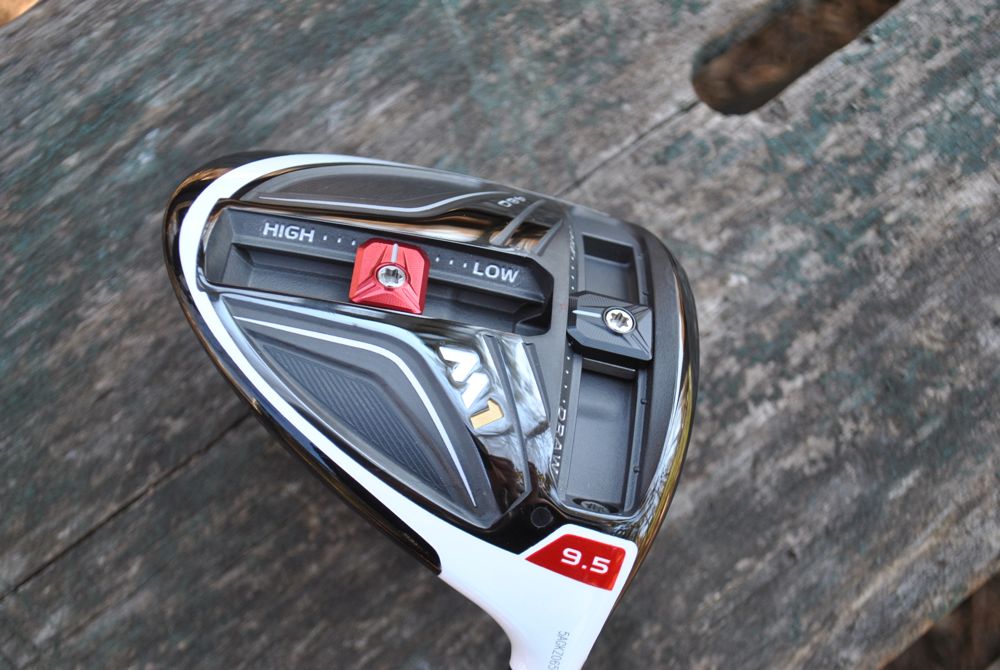 Testing Methodology:
Testing drivers is harder than you think. There are two schools of thought. 1) testing needs to be done in a simulator in order to get real data and 2) testing should be done on the course to get real life data.
As a reader, I think gathering information from both schools of thought is the best idea and I would point you in the direction of MyGolfSpy to get the heavy data version. With that said, I think there is a great deal to learn from experience on the course where you tend not to swing with all your might and also have to deal with the mental aspect of the game.
Initial Thoughts:
Before I ever hit a ball with the TaylorMade M1 or M2 I noticed that the shaft felt stiffer than most regular flex shafts. Now the whole shaft technology is a real confusing subject to me (and lots of other people too) but I do know that it has a big impact on performance. The smart guy would absolutely get fitted for the correct shaft… I am not that guy. Still, I was curious enough to reach out to TaylorMade to get the lowdown on the shaft. Apparently, they have upgraded the shaft such that the Fujikura Pro 60 comes standard (there are three shafts to choose from).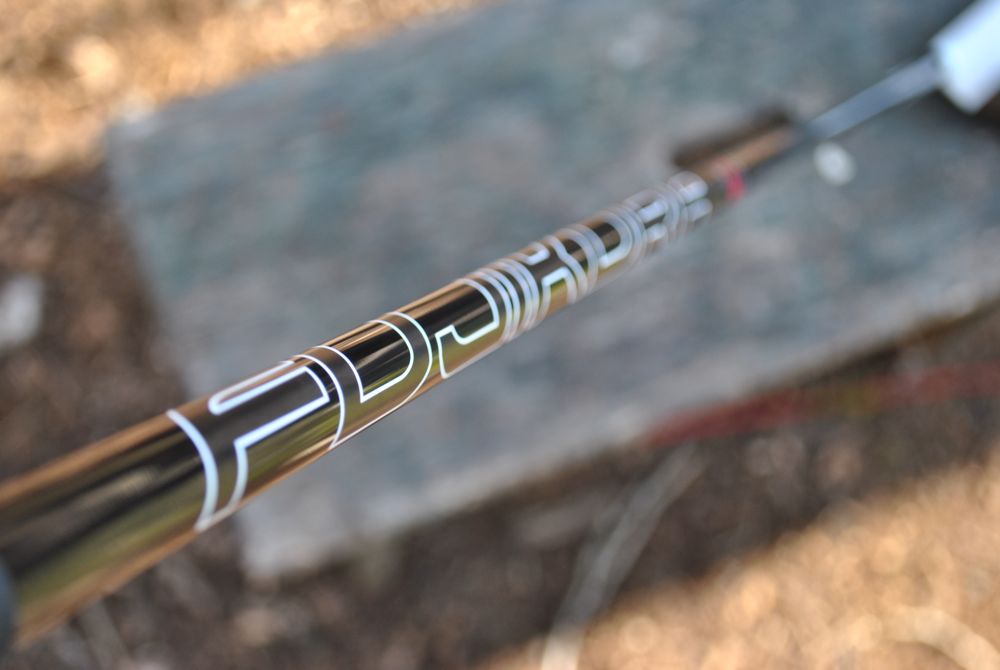 Prior to putting either driver into play I took them out to the driving range just to get a feel for how they hit and to see if I could sense of any real difference. Initially, I did not love either one and felt like I was losing the ball a little to the right with both models.
In the past, I have resisted the urge to tweak driver settings, but given the fact I had time to kill and a driver with that option, I decided to move the draw settings a touch then move the weight towards the back on the M1. My hope was to straighten the ball flight and get a little more height from the 9.5 loft.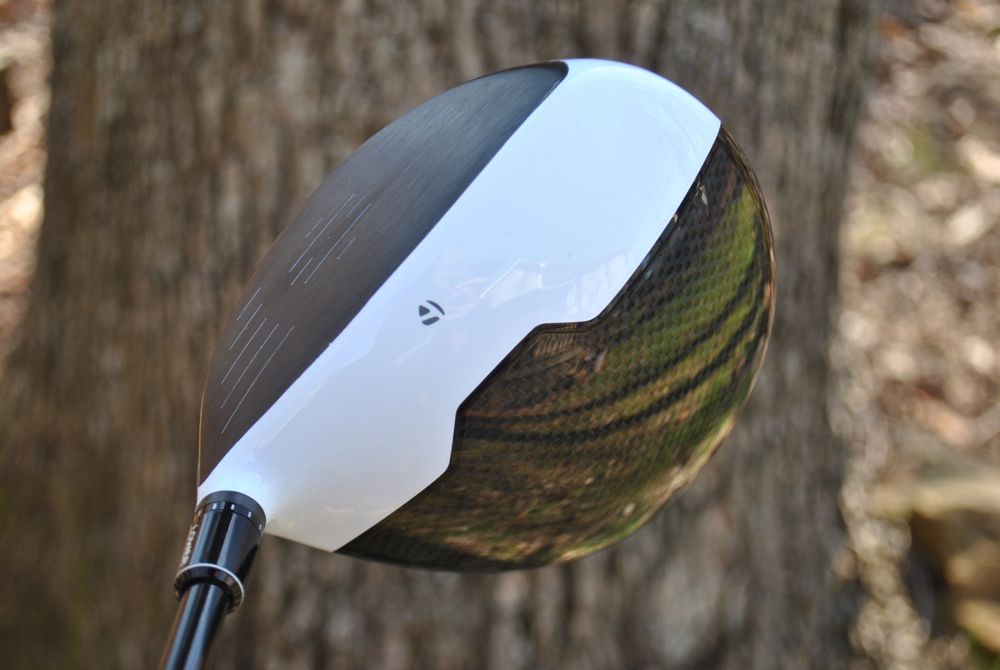 Tweaking the settings on the TaylorMade M1 is easy to do mechanically, but actually doing it right can be a bit of a challenge. My strategy was to start by moving the sliders all the one to one side then backing them down until I thought I had maxed out on performance. This gets a little tricky when you have 3 proverbial levers to pull (loft, fade and weight). Historically, this is why I tend to leave things on the factory default as I end up making things worse. However, in this case the changes I made to the M1 definitely improved my ball flight.
TaylorMade M1 On-Course Results:
Since I would be testing two drivers, my plan was to start with the M1 for a few rounds then move to the M2 and maybe mix up a few holes where I would hit both drivers. As a baseline, my driver swing speed is about 97 mph and I hit a fairly straight ball – my distance maxes out at around 265 yards.
The other reason I don't worry about using a simulator is because I have played my home course about 1,000 times and I know exactly how far I drive the ball on any hole. For my first round with the M1 I actually played an away course so I could not be sure about the distance, but I felt like I was hitting it well… although I also felt like I was farther offline than normal.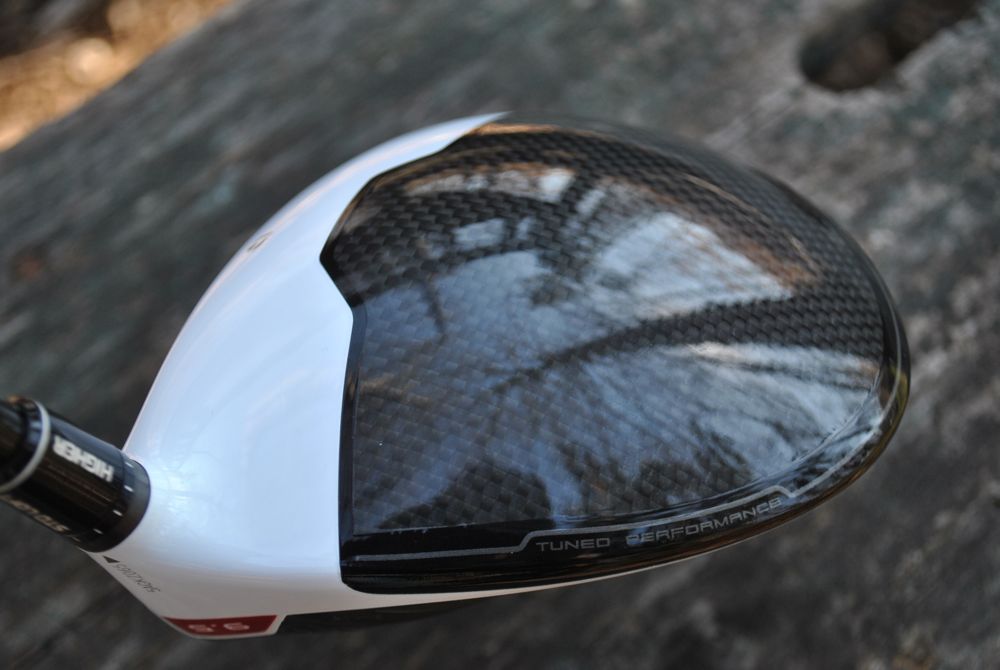 Bringing the club back to my home course is when I realized something was different. On 3 specific holes I was farther down the fairway than I have ever been. With golf there are so many variables, wind, ground, the ball, your mojo that day, so it is dicey to make proclamations about what effect just the driver has on your game. Again, this is why I rely on my home course experience. Over the next 4 or 5 rounds I had similar experiences being in places I had never been. So much so that I had people comment about never seeing me hit the ball that far.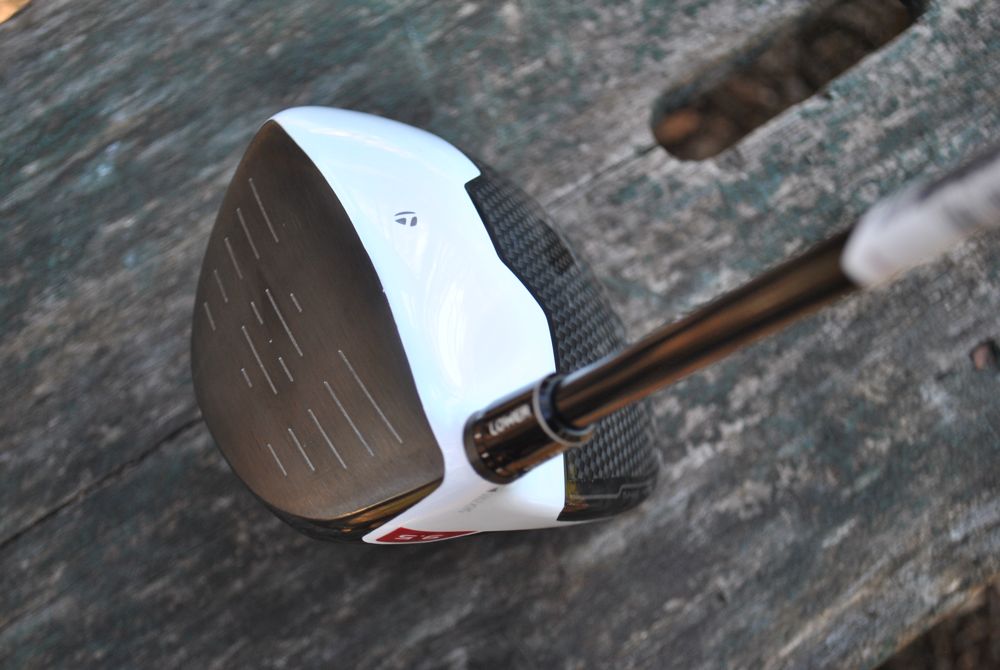 Making the situation even more curious is the fact I am coming off of two surgeries and have played very little golf leading up to this review. Without breaking any HIPAA laws, you will have to trust me in that my body should not have the strength to set any personal driving records, yet that is exactly what I was doing.
Is the M1 longer than most drivers?
Certainly, my testing says the TaylorMade M1 driver will give you added yardage, but is it the driver or the fact that I finally got around to customizing the setting? This question is not super easy to answer; I definitely believe that changing the setting improved my ball fight and maybe my stubbornness against ever tweaking the settings was keeping me from optimizing my drivers of yore. Still, the results over 7 rounds were pretty clear to me –  the M1 driver was longer than any driver I have played. Yikes, I hate to make that proclamation because my basic belief is that all drivers go essentially the same and it's all about how well you are swinging. Yet, I cannot ignore that I was hitting the M1 farther. The flip side is that I also was not hitting as many fairways. Nothing crazy, but the M1 is less forgiving than my PING G25.



Taylormade M2 On-Course Results:
Having fallen in love with the TaylorMade M1, I did not have any real desire to play even a full round the the M2. I mean, I am playing my course with less club in my approach shots so why would I want to mess with that? The readers, that's why… it's all about the readers. Now remember, outside of adjustability, there is not that much of a difference between the M1 and M2. Without explicitly stating it, my takeaway is that TaylorMade is trying to pitch that the M1 is a bit longer and the M2 is more forgiving. Finally, the M2 also has what is called a "Speed Pocket" which is suppose to deliver distance and forgiveness.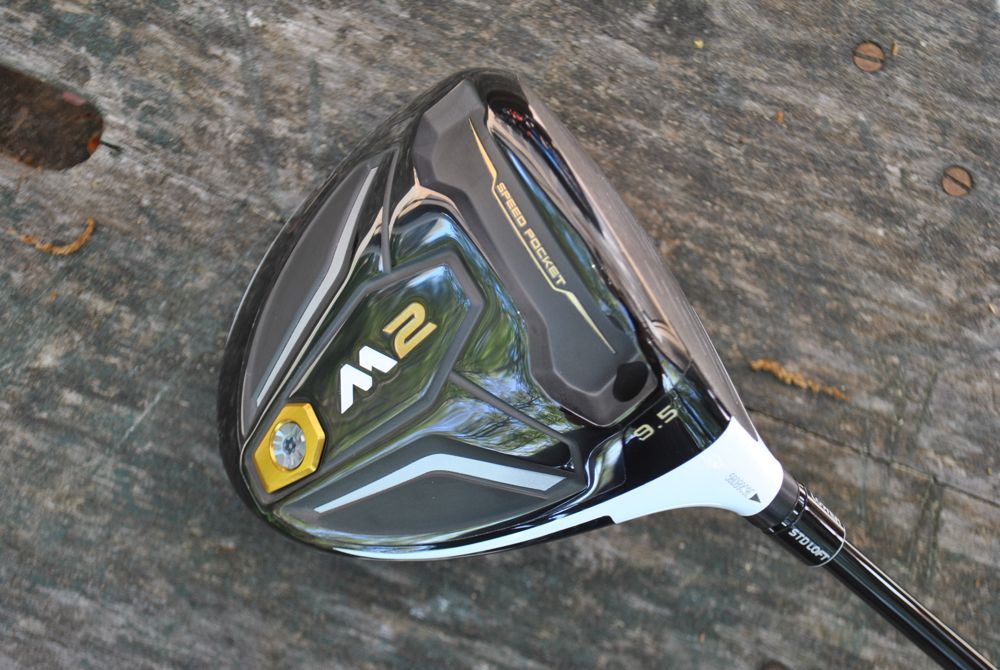 Testing for the M2 was not as long as the M1 but I did play two full rounds with it and mixed in M1 drives on a number of holes. I wanted to prove the M1 was longer but alas my testing did not bear that out. In nearly every side by side case when I had similar ball flight, both drives landed within 5-10 yards of each other with no clear winner.
Still, I am convinced that the M1 is indeed longer as I did not hit any record setting drives with the M2. Unlike the M1, the drives I hit with the M2 landed in very familiar places. In terms of forgiveness, I would be hard-pressed to say the M2 is more forgiving than most drivers. Maybe more forgiving than the M1 but even that is hard for me to say.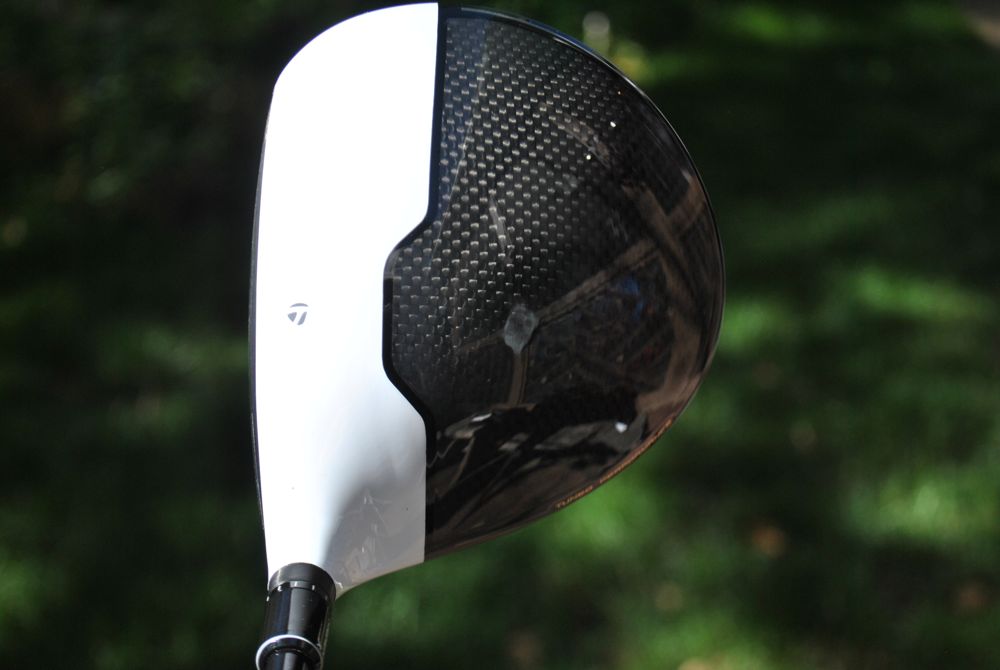 TaylorMade M1 Conclusion:
For me, and that is important because everyone has a different swing, the M1 tweaked to my settings is the longest driver I have ever hit. Now, that does not mean I hit every drive super far, but my best drives are farther than my best drives with other clubs I have hit. The sound and feel is also fantastic when you catch it right. I would say it has a hot face but is more pure feeling where you just know it was smoked. So whether it is the improved shaft, optimized setting or the driver itself, the TaylorMade M1 has found a place in my bag for the 2016 season.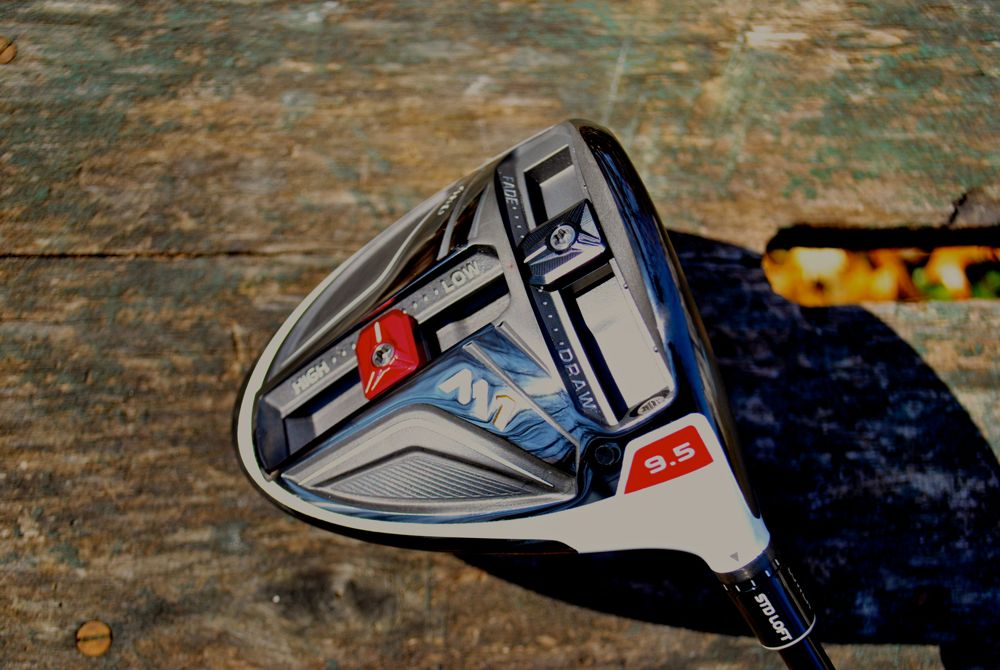 TaylorMade M2 Conclusion:
My gut is that over time I would like the M2 as much as the M1, but because I played so well with the M1, the M2 kinda never had a chance. Understand, I was given both drivers to test and since the M1 is $100 more expensive, guess which one I played first and most? In the case that I was trying to decide which one I would purchase and money actually matters, I think my decision may have been different. As I noted, when I did side-by-side testing on about 8 holes, I could not prove to myself that the M1 was longer than the M2, so it absolutely makes sense to try both drivers out. I know TaylorMade says there are technical differences between the two, but generally speaking the M2 is just the M1 with the neutral setting built in. Therefore, if you like the neutral settings and don't want to mess with the weights, then you can save yourself $100 with the M2.
Odds and Ends:
Regular readers know that I love headcovers and I continually bash the ones that come with a driver. In the case of the TaylorMade M1 and M2, the headcovers look and work better than most. TaylorMade attempted to give the headcovers an old school boutique look and somewhat pulled it off. Unfortunately they are still pleather head covers that are a far cry away from other headcover brands I have reviewed. Just once I would like to see a real quality headcover on a $400 driver. The good news is that even if it was made from leather it would still end up in the recycle bin. For me, I just prefer adding a boutique head over like Seamus, Cru, Jan Craig, or Rose and Fire.