The TPC Sawgrass Experience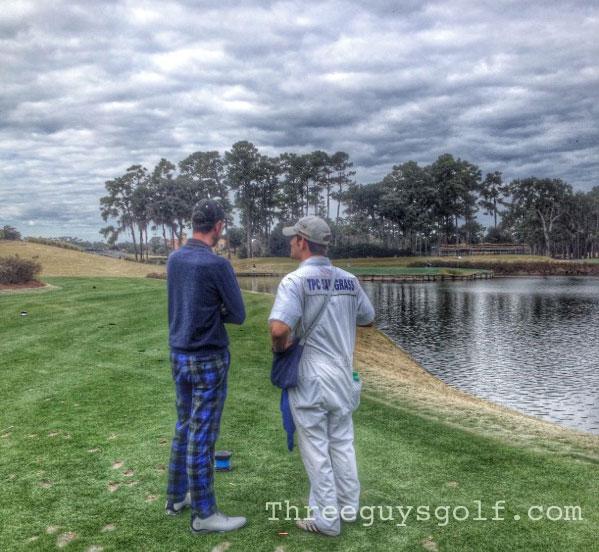 Cheap by nature, I am not one to think shelling out $350 for a round of golf is very prudent. In my opinion there are only a few courses that truly fit that bill. Pebble Beach is certainly on the list given its history and stunning views (or so I have been told), Pinehurst #2 would probably be another one. For my 40th, I played Pinehurst #2 and my caddie telling me "don't worry, Tiger missed that same putt" alone justified the $340 I paid. With the rare opportunity to play TPC Sawgrass, I was going to get a first-hand look at another one of the famed courses that is a potential "bucket list" track.
Full disclosure, I did not pay for this round of golf, but you are gonna have to trust me on the value. Right off the bat, driving up the the clubhouse, you know it is big time. 'Enormous' is just about as accurate as I can be. The lobbies are well decorated with equally expansive paintings of timeless moments from past Player Championships. As I strolled around taking in the sights, I let myself become aware of the fact that these are the same floors PGA Pros will be walking in less than six months. Little did I know, I would soon be getting an even more intimate view into these sacred rooms the following day.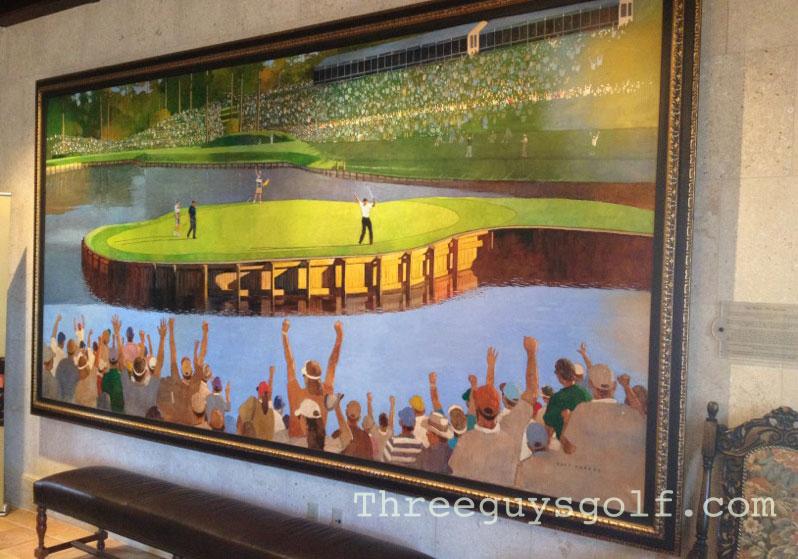 My visit to TPC Sawgrass would begin on Friday afternoon when fellow Three Guys blogger Matt Murley and I played the Dye Valley Course. From the first moment you reach the bag drop the service is top notch. In fact, Matt noted to me that the guy working the driving range may have been the funniest Marshall he ever met (ok maybe that is a low bar but still). After plowing through 40 balls, we set off to take on the course. We passed on the forecaddie as we were just a twosome and knew were gonna be playing slightly jack-ass golf. Since this post is about Sawgrass and not the Dye Course, I will give you only a few headlines on the course.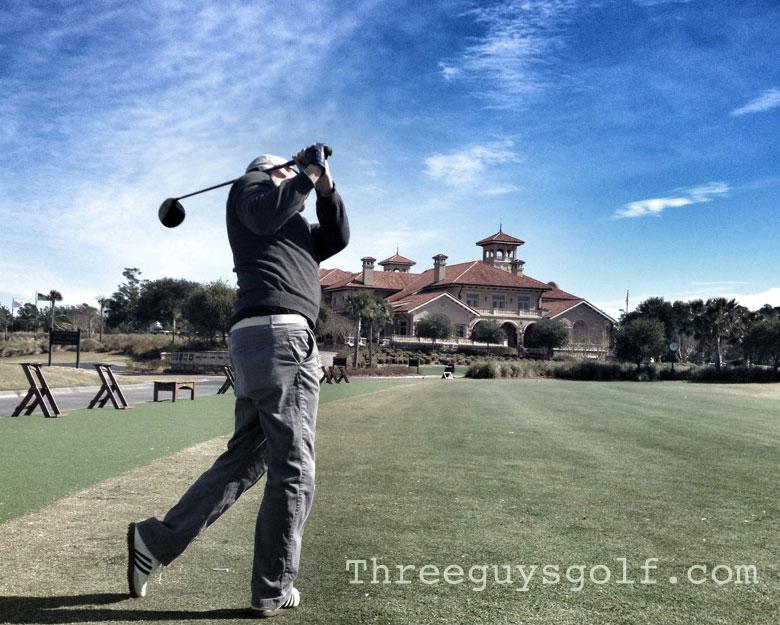 First, the Dye Valley Course is going to be renovated in March so the conditions were not awesome, but it was clear that in peak times, it is a stunning layout. The greens were super fast and the holes thoughtful and varied. As I mentioned, we did not bring a forecaddie but we soon regretted that decision (well, if we cared about our score we would have). There are a number of holes that are tricky and without proper advice you can get yourself in a bad position without realizing it. Bottom line, great course, spring for the caddie.
Onto the main event…TPC Sawgrass Stadium Course. As I made my way down to the lobby of the Marriott, which by the way is also top notch, we headed out to the clubhouse. Despite being about 1/2 mile from the course, we were able to take carts through a back woods path that offers gorgeous views of the property. Once we arrived, I could not believe how many people were there. A chilly January morning and the course was packed. Still, our bags were stowed, rental clubs provided for those in need, waters and this awesome bag tag were all handed out….all at a dizzying rate I might add.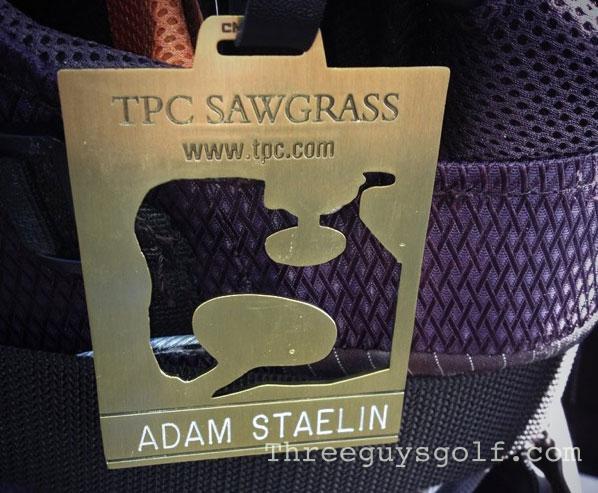 My only thought was that this was a serious cluster and there is no way this thing is gonna be pulled off. Fortunately, even though my brain (still foggy from the night before) could not grapple with all of the confusion, the TPC Staff was on top of the situation. After hitting the range for a short time we headed to the first tee with my foursome and caddie (John). Looking back at the round, it is truly a wonder that John was able to manage his job. He was in charge of four golfers, all of who were in the media and frantically tweeting for the #BBBatTPC while also trying to not embarrass themselves on a world class golf course. After telling us where to aim our drives, he would head off to help spot errant "bombs". In between spotting balls, giving yardage, fixing divots, and grabbing wedges he also had to endure my endless yakking and request for photo ops. (just look natural)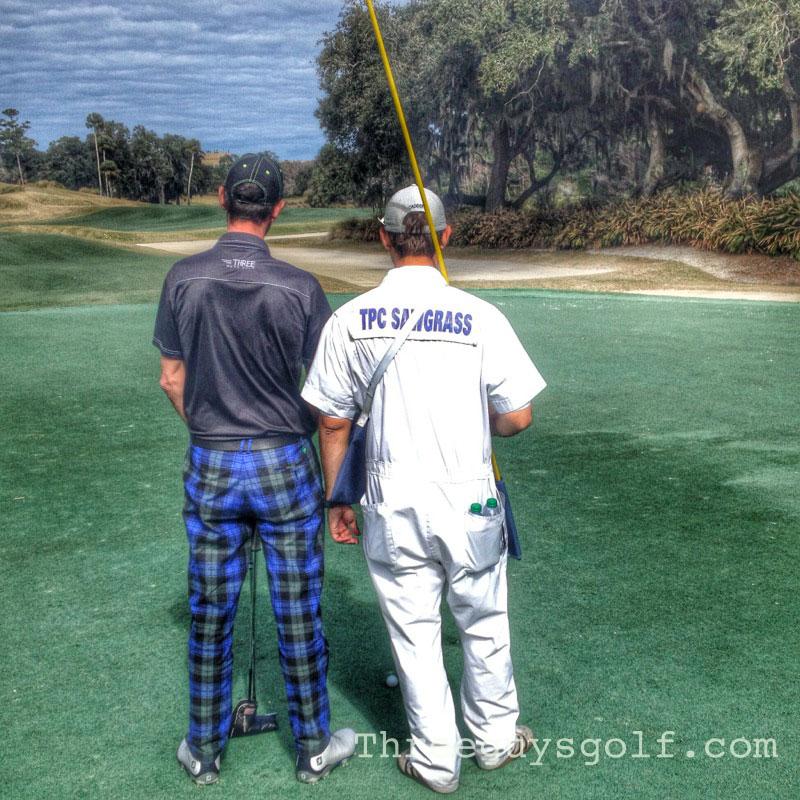 While I would love to give you a play by play of each hole, the fact of the matter is, I am not one of those people who can remember golf courses, let alone do so when I was trying to manage my game, camera and alcohol quota. However, universally speaking, the course is in amazing shape. Not Augusta manicured, but pretty darn close. Bunkers line many of the holes, water is in play, and trees line almost all of the fairways.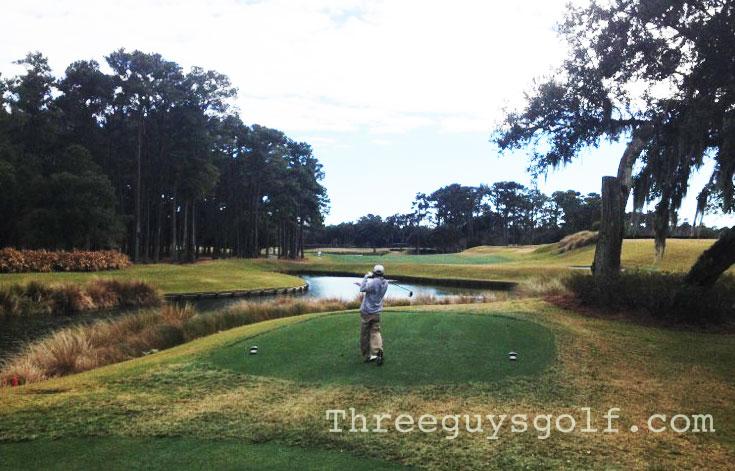 From a playability standpoint, it is challenging but scoreable. While I personally did not play well, one of my partner DJ (pictured above and below) had one of his best rounds and shot 79 with an 8 on #17 (he had four birdies). What did strike me was the multitude of obstacles. There were plenty of fairway bunkers, water shots and tricky approaches. None of which were devilish, but certainly tough enough to require your full attention. Something I was a little short of especially after I was greeted by a much needed Bloody Mary on the third hole.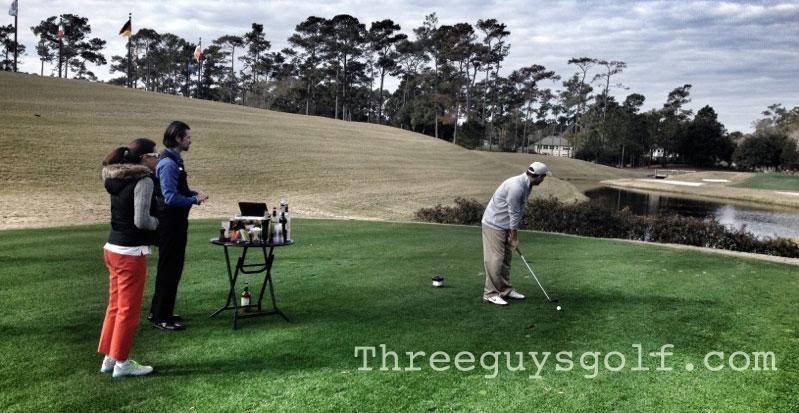 Speaking of #17 (I mentioned it like four sentences ago . .. cut me some slack) – the money hole. My first impression of it came from walking up to the green on #16. Because of the TV coverage, I don't think I had ever seen this particular view which is unfortunate because the large tree centered between the green and tee box on #17 is really stunning.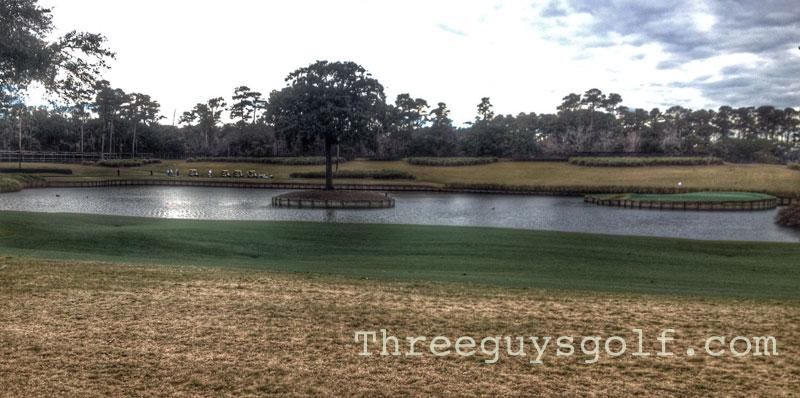 At this point in the round however, I was trying to navigate this shot, which by the way hit the green but had too much steam and rolled of the back into the water…dang another bogie.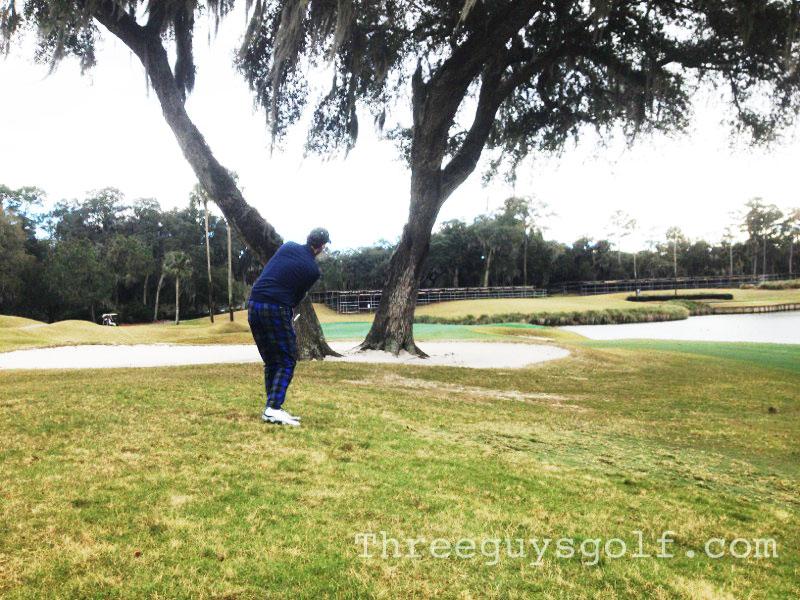 As we reached the 17th tee box, our caddie told us it was playing about 135. I quickly asked how long can I play it as I had no intention of going for the pin, which was at the lower right hand side. After being informed not to play it any longer than 145, I took out my 150 club. Adding to the pressure was the fact we watched the foursome ahead of us make three birdies (easy hole right).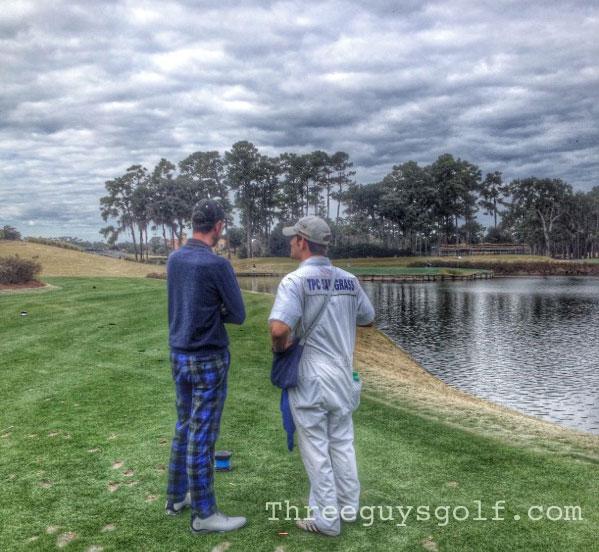 I think I hit first, but honesty, I have no idea, all I remember was trying to make one good swing (which is about how many I had made the previous 16 holes). Boom, solid contact that ended up about 5 feet next to the walking path and short of going long in the water (club selection baby). It was dry but I was going to have a long putt down the hill. Without boring the readers who are still with me, I made a nice lag putt that left me about a 5 footer for par. John assured me it was right center and I drained the only putt I cared about. CHECK THAT BOX!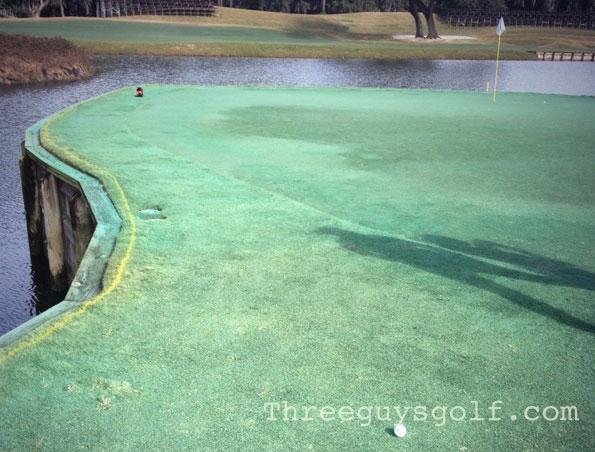 After taking the par on 17, we headed to #18, which is truly stunning. Below is a picture of my cart partner Stephen Zinger from My Golf Spy. Just about as pretty a hole as you are going to find with the Clubhouse in the background. After the round, clubs, bags and the sort were all whisked away without me noticing. Again, the staff is amazing. Without them, we would have been a disaster.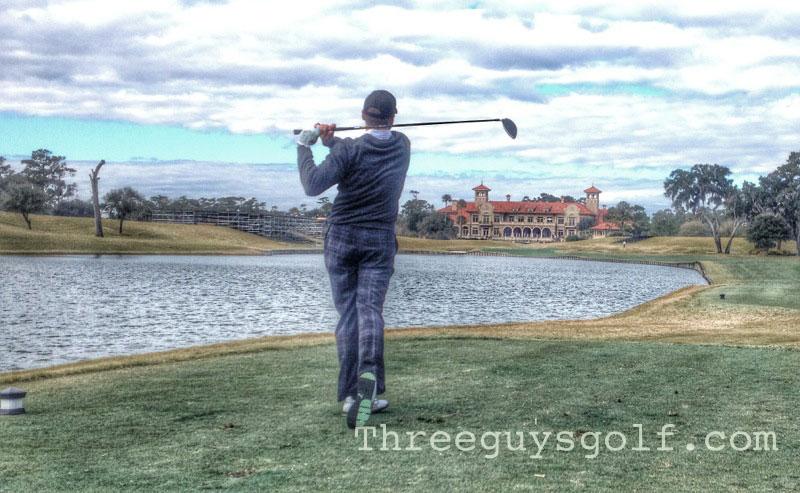 As unforgettable a round as it was, the real memories would actually be made later that evening. While much of what I am going to recount cannot be done by the general public, everything we ate and drank is exactly the same as what is served in the restaurant. Which by the way is 100% public. Yes, you can drive up and have breakfast, lunch or dinner at TPC Sawgrass and never play a round of golf. Duh, that's a no brainer. Coffee and eggs on the veranda at Sawgrass – count me in.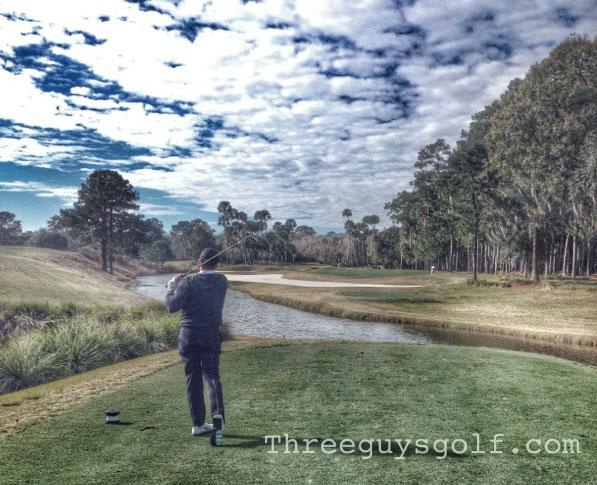 Our dinner that night would not be in the restaurant however. Instead we were treated to our three course meal in the Tour Players Game Room. In fact, the table cloth was draped over the exact ping pong table used by guys like Matt Kuchar and Phil Mickleson (doubtful there was any money being bet on that game.) Beyond the food, which was world class, we were further lubricated by the mixology of one Simon Muldoon. From his descriptions, these concoctions likely took a PhD and 3 hours to make, but only a few moments to consume.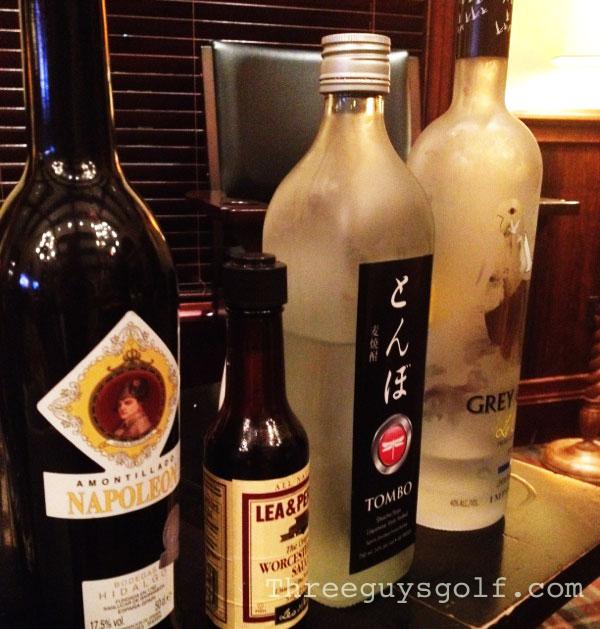 Additional crazy cool things I saw that night were the players' locker room (with my name on one of them). Seriously? I am not sure why putting a $2 name plate onto a locker with double sided tape should give you a full on….well you get the idea, but yea, it was money!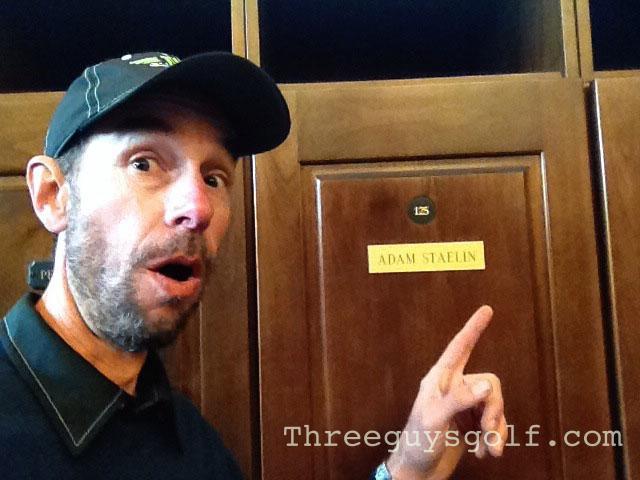 I also got to see the barber chair which is meant to host the player who had the worst round. I am not saying I had the worst round, but the chair was very comfortable and welcoming. Finally, I would be remiss not to mention the sparkling clean facilities. I even made sure to wash my hands in every sink hoping that a little "Player's Magic" might stick with me.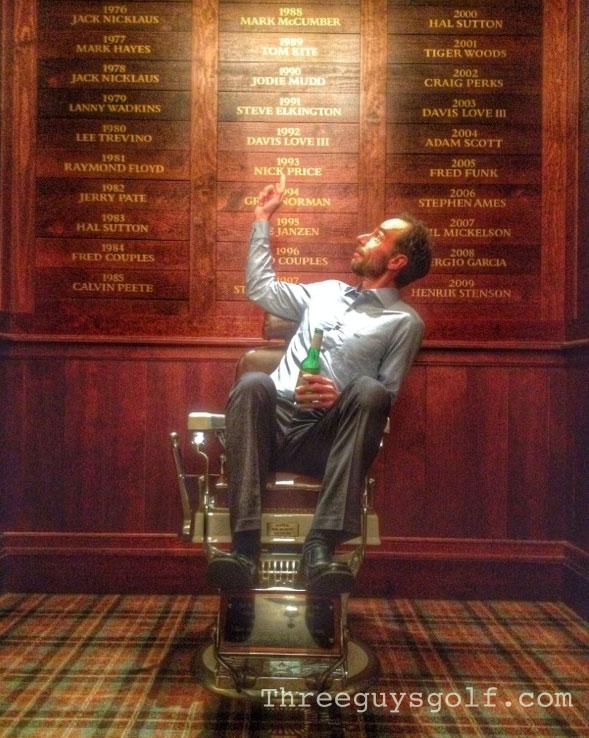 All in all, TPC Sawgrass in an absolute Bucket List experience. I say experience and not round because that is what it is. Sawgrass is more than 4 1/2 hours of golf. It is a vibe, a walk through time and a lifetime memory. This is mine.