Mantis Putter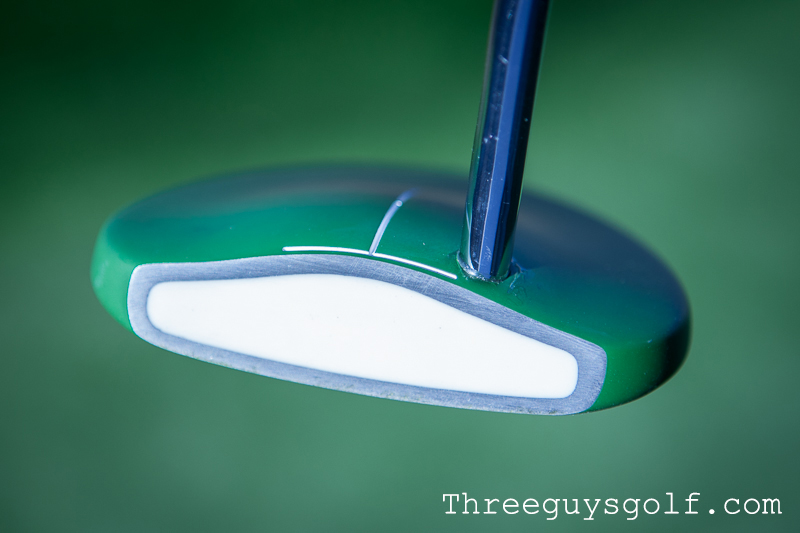 At what length are you willing to go to improve your putting? For me it's simple: if I could get a consistent roll from a tattered piece of driftwood that's duct taped to a PVC pipe I'd throw it in my bag. That certainly wouldn't be as cool as wielding one of the fancy $400 milled putters, but at the risk of tarnishing my highly touted reputation as a golf purist I'd have to consider it, right?
The people behind the Mantis Golf Company have taken a different approach to help you with your flat-stick issues by creating a very unique and uncharacteristic putter that might surprise you. We as golfers are so often consumed with the material makeup of a putter, or how it was created, or the alignment aspects . . . the list goes on and on. Mantis, however, took it back to the basics and from there made just one big change: Color.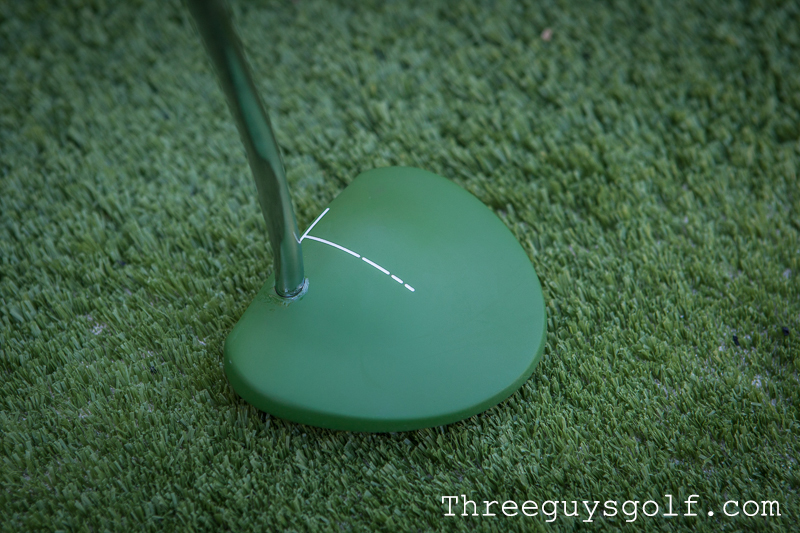 OK, let's first address the 300lb Jolly Green Giant in the room. Yes, the putter is green. Yes, the putter resembles the head of a praying mantis and yes, your friends will more inclined to think you're parading around the streets at night in a mask with some magical ring rather than thinking you're on to something when it comes to improving your putting skills.
I'll admit it, the first time I came across the Mantis as the Vegas PGA show my thoughts were a bit scattered. There's been white, black, silver and even Nike Golf has dabbled in the trendy Red with their concept putter, but green? After spending a little time with the people from Mantis though, my inner Kermit the Frog started to show itself and I became much more interested in the science behind the Mantis, which ideally is what it is all about.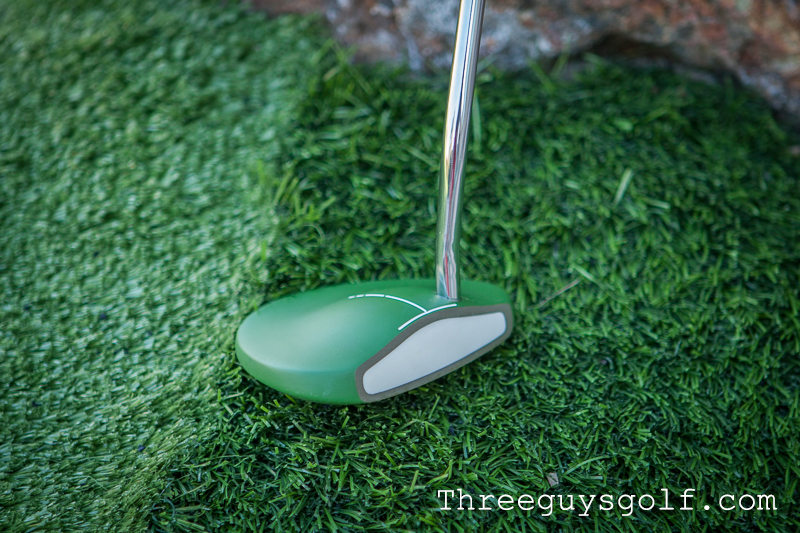 My scientific background doesn't travel beyond the understanding that when water gets cold it turns to ice so bear with me.
Everyone is aware that maintaining eye contact with the ball is key to striking a putt well. With your eyes not completely locked into the ball it is easy to get distracted by things such as a shiny white putter head or some overly dramatic alignment aids. What the Mantis did with its patented putter head color – that's right, it has a patent – allows your eyes to lock in more on the ball and not be so easily distracted by the putter head moving away and coming back to the ball. It's a very simple theory.
The design elements of the Mantis putter combine to instill confidence, facilitating a golfer's ability to watch the ball, not the putter – leading to greater focus, concentration and putting results.
             – Mantis Website
The smart people in white coats (or maybe green coats) at Mantis Golf Company have figures that show an impressive decrease in eye movement when using their putter. It was this science that intrigued me the most, and when I thought about it, it really made sense.
Science is cool but how does it putt?
On the Mantis you'll find a soft polyurethane face that puts a real nice roll on the ball. The overall sound of the ball coming of the face is a little too "pingy" for my liking but it's nothing you've never heard before in other putters. Mantis ships their putters with an extremely comfortable Winn Grip that is in the company colors and also includes a head cover that's kept in place via the very popular magnet method.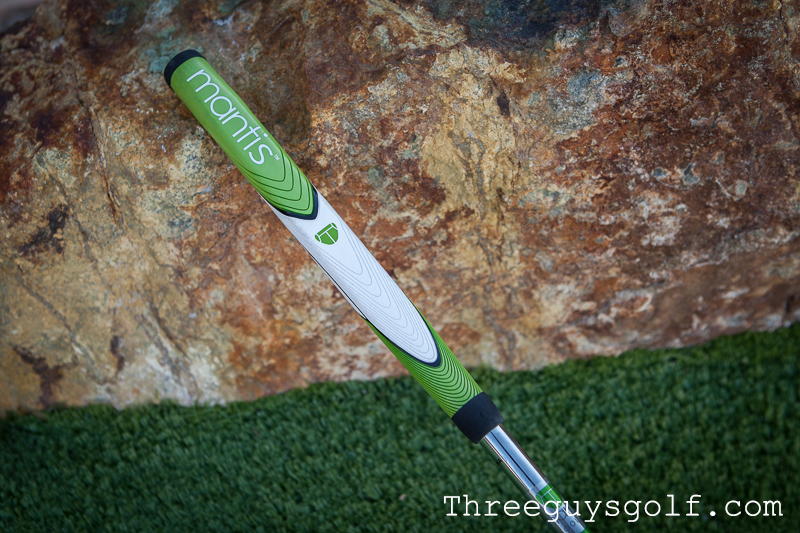 What I like about the Mantis is you know you're holding it. What I mean by that is the weighting is top notch. Being a mallet it is of course face-balanced and very easy to swing and it didn't feel out of the ordinary when I compared to other mallets I've played with in the past. My putting stroke has a very strong arc and for that reason I use a blade style putter, so making the switch back to a mallet was a bit nerve-racking at first, but after taking it out for a few sessions on my practice green at home I really started getting a feel for how it putts and how this green head of the Mantis could really be of some assistance.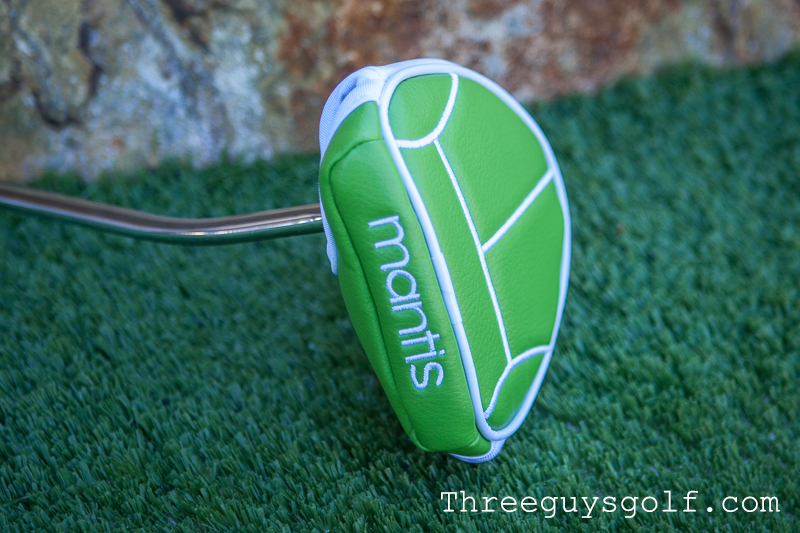 Practice green stats aside, what really mattered was how it performed on the course, so I took the Mantis for a couple of spins around one of my local tracks to see how well it stood up under real game condtions. At home on my indoor green I was really pleased with the outcome, but a straight 6′ putt indoors on simulated carpet is more for technique work. But I found on the course the Mantis to be much like it was on my indoor green.
The ball really "pops" off the face and I remember saying a few times "WOW, this thing is hot!" I had zero problems with my lag putts, with that pop I spoke of the ball almost runs to cup off the face and there were no issues getting the ball close on those long nerve-racking putts. Not being able to go beyond six feet at home, my stroke during those sessions wasn't exactly powerful, so the first time I had a lengthy putt I was really surprised at how fast the ball came off the face and started trucking towards the hole.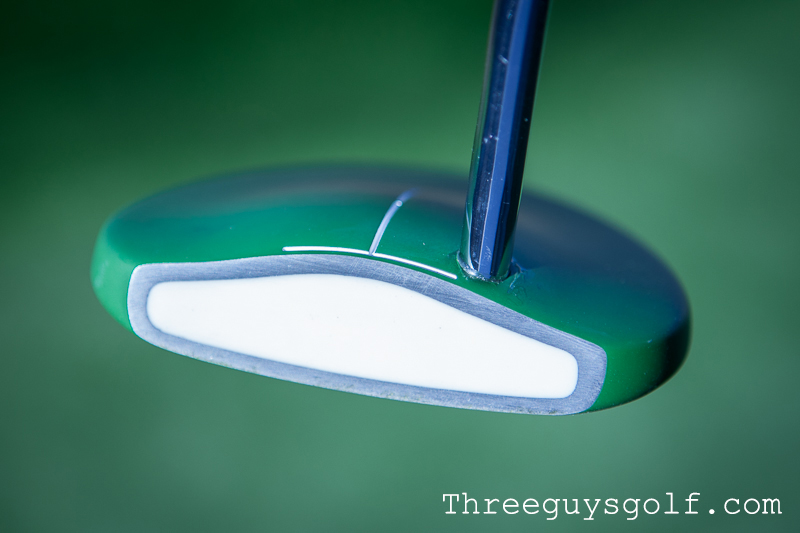 I must admit that the Mantis, being a mallet, really had me stressing when the closer putts were not dropping like I'm used to. My strong arc path wasn't a very good fit for the Mantis and its Mallet head, but lucky for me one of my friends that joined me the day I played was willing to give the Mantis a go for our second round. Dan, being a fan of the mallet style putter, instantly feel in love with the Green Machine. So much in fact he was willing to throw me some cash right there on the 18th green for it!  Yeah, he was a beast with the Mantis, probably the best I've ever seen him putt.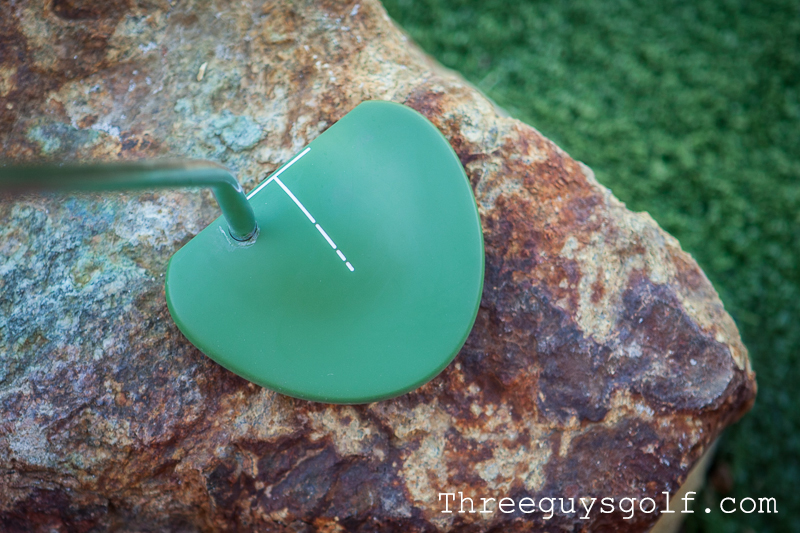 Even though my love affair with Mantis was limited to lag putts and my home indoor green, I still found the science behind the Mantis putter to the most interesting aspect. The putter did blend in very well with the greens we played on and my practice green at home. I can easily see how it could calm the nerves of players that might be more yippy than confident. It sure helped Dan with his yips.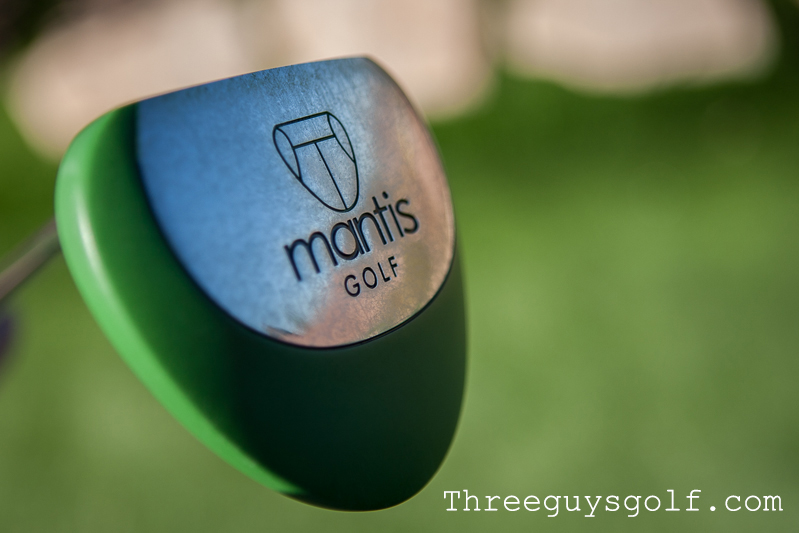 The Mantis comes in either left or right configurations and is available in 33″, 34″, 35″ lengths or you can order it uncut.  The Mantis retails for $159.99 and you can purchase it directly from the Mantis Golf Companies website.

UPDATE: I just spoke with Sally Sportman who is the director of Media & Public Relations for Mantis and she informed me that Mantis has a new "Blade" style putter in the works and will be debuting it at the PGA Show later this month.
 For the Techie:
Putter Weight: 350g

MOI: 5000 cubic g/cm

Material: 431 Stainless Steel

Construction: Perimeter weighted

Face Insert: Polyurethane

Grip: Custom Winn Grip