Bunker Mentality-Bold Looks from Across the Pond
Finding the right mix of colors to create bold patterns is not an easy task. Too often brands end up looking unprofessional or even clownish. In other words, not appropriate for serious golfers. Fortunately, Bunker Mentality pulls off a fun look while staying within the accepted golf boundaries.
With their roots in the UK, Bunker Mentality prides itself on their line of jackets and knitwear which makes sense given the typically miserable weather they must endure. Fortunately, I only have to play golf in sub 50 degree weather for about 3 months a year. Still, as a hard core golfer, solid cold weather gear is a must have.
For me there are a few critical things cold weather gear must have. Specifically, I demand the apparel be 1) warm 2) non-constricting 3) stylish.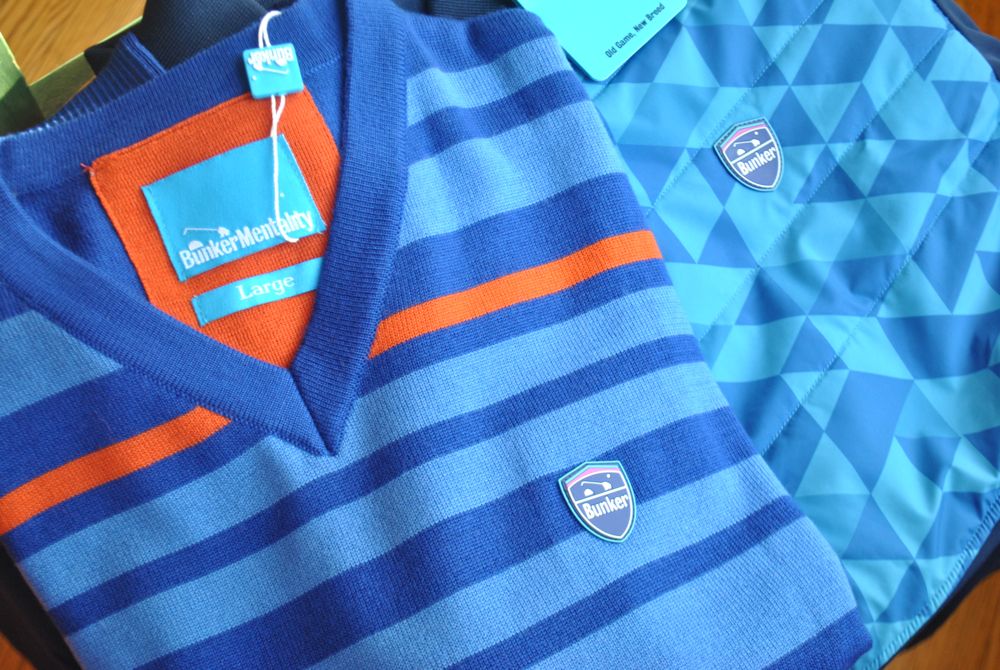 If you play any amount of fall or winter golf you know the temperature tends to change over the course of the round so layering is a must. For me, I prefer a sweater (or jumper as they are called in the UK) as the base layer. Primarily, my reasons are flexibility as you get very little constriction in a sweater (the days of a big floppy FJ wind-breaker must end). Additionally, sweaters provide a designers an easy pallet to be creative. Sure a dark blue sweater is easy to pair with nearly anything, but adding stripes or patterns is way more fun. Just because there are no leaves on the trees and the grass is brown does not mean you have to dress in boring colors.
Ceelo Stripe V Neck Merino Wool Golf Jumper
A number of years ago I had a similar sweater but alas it was lost which was very unfortunate as it was one of my favorites. Made from 100% Merino wool, this sweater is super soft and warm. Like most Bunker Mentality gear you will need to size up. For example, I wear a medium in nearly every brand but I take a large for Bunker Mentality.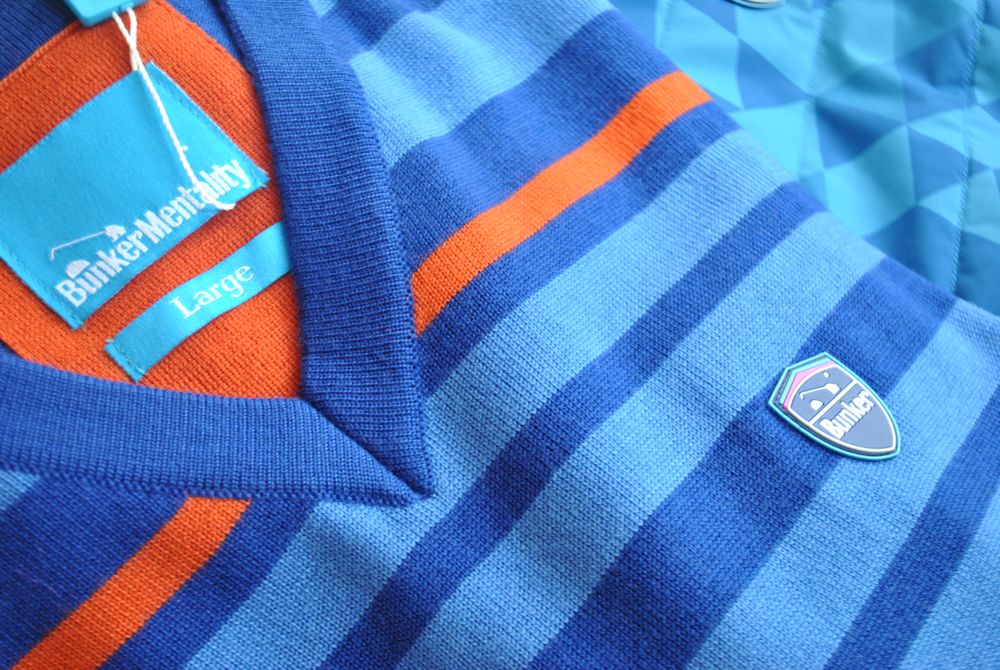 Style wise, the Stripe V Neck Jumper despite having a number of colors is quite easy to pair with any polo. Most simply, just go with nearly any blue shirt and you will be fine. This feature is actually really important as you don't won't to be restricted on what pants or shirt you can wear with your new favorite sweater. The fact that the primary colors are blue make it compatible with almost anything.
In addition to the stripes on the front, there are a few other small details that give the jumper a little extra pop including an arm patch and logo on the back.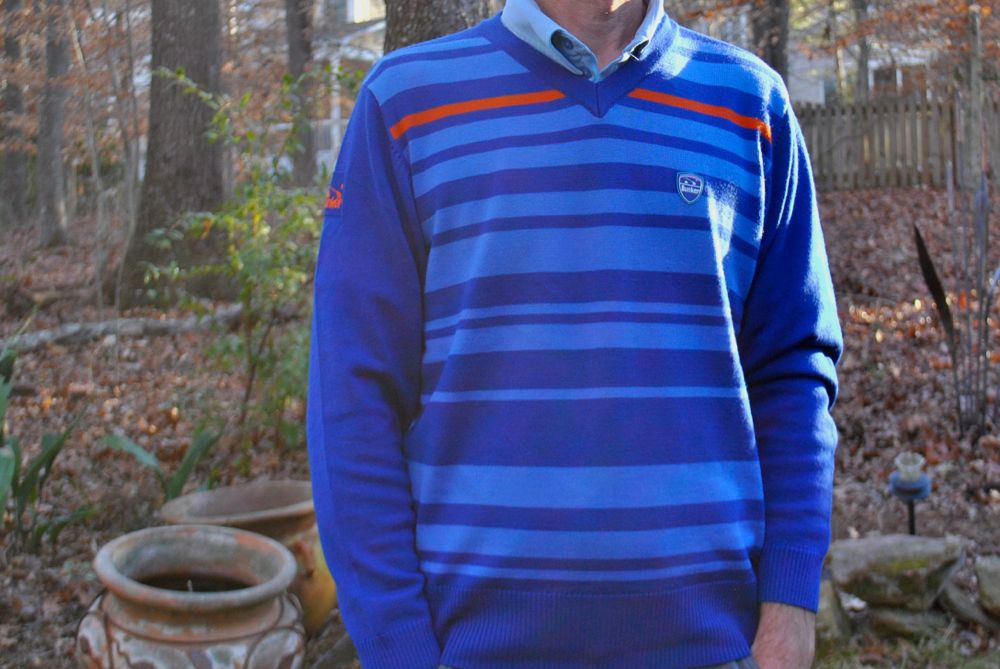 Finally, Bunker Mentality does a nice job with the cuffs and bottom of the sweater which keeps it in place as well as giving it a lasting structure. While I have only had this jumper for a few weeks, my older Bunker Sweater lasted a years and held up incredibly well. Value wise, finding a Merino wool sweater for under $100 is not easy making this a great option.
SAMNITE FULL ZIP MID WEIGHT GOLF JACKET
Along with jumpers, Bunker Mentality prides itself on jackets. Again, this is not my 1st Bunker Mentality jacket so I can speak to its durability. Frankly, they last forever and can take a beating. What makes them really great though is their flexibility. Everyone knows, playing golf in a jacket in inherently worse. No matter what, you are going to lose some range of movement so minimizing this effect is critical.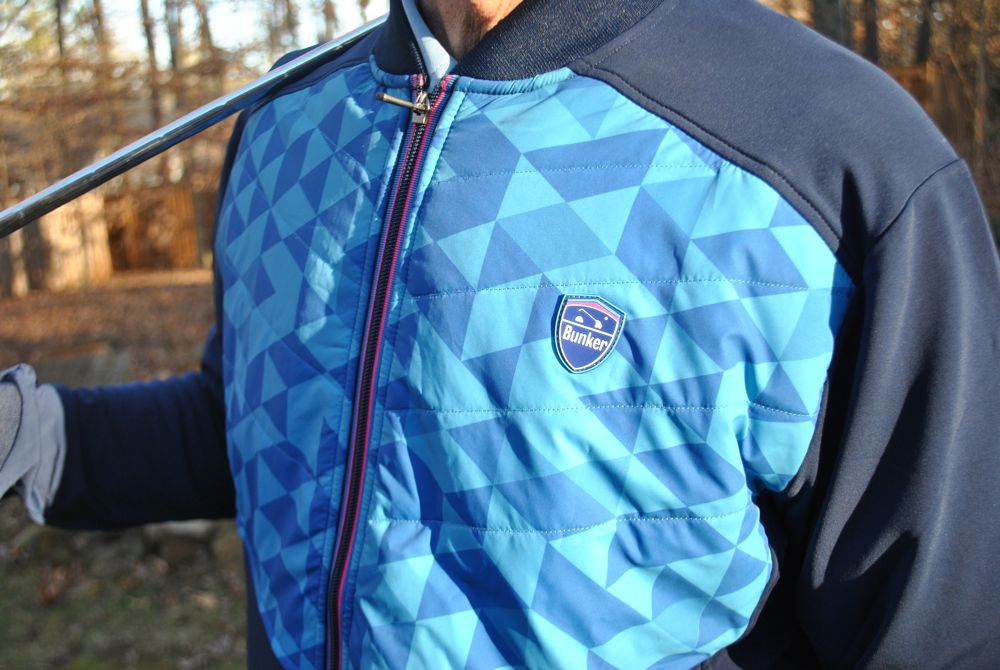 Bunker Mentality does a fantastic job of creating a warm outer that has minimal constriction. Part of this is due to the cut. For example, I just got a jacket to review by another brand and I literally cannot swing a club in it. Why? Because it is cut wrong. On the other hand, the Bunker Mentality Samnite full zip jacket is tight enough to keep all of the material close to your body for maximum warmth but also properly fit to allow a full range of motion.
One new feature in this jacket is added insolation on the chest where you don't need the flexibility. The arms, on the other hand, are made from stretch poly that moves well during the swing. The only disadvantage is that this jacket is not fully windproof. Still, I played in 43 degrees with wind and was plenty warm with a sweater underneath. Again, Bunker Mentality does a nice job with elastic cuffs and the bottom to reduce slippage.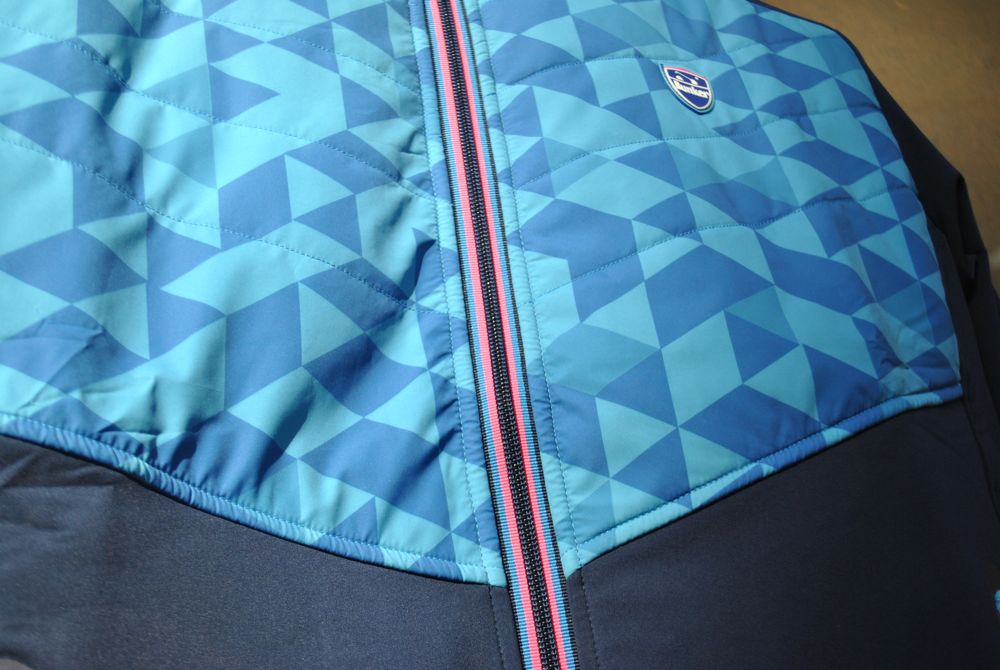 Beyond functionality, this jacket will also make a statement (in a good way). Normally, I am not a big fan of geometric shapes but the design works well on this jacket as it is not too over powering.
The net result is a jacket that is perfect for temperatures in the 50's or when paired with a sweater can keep you warm even when the mercury drops to the 40's.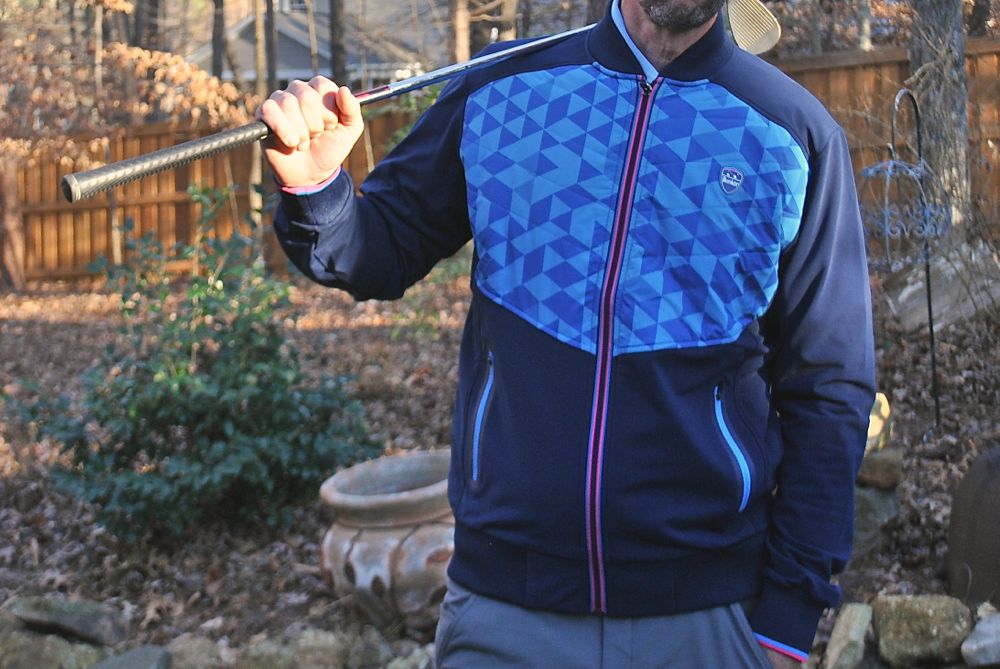 CMAX T BLAST Polo
Admittedly, I am a bit out of the target market for Bunker Mentality polos which are definitely bold and European cut. Arms are short and they are tailored thin (again, you should size up). However, for the younger more athletic build, these polos are very sharp. From a distance the pattern is unrecognizable but up close you realize it has been created with golf tees which is kinda cool.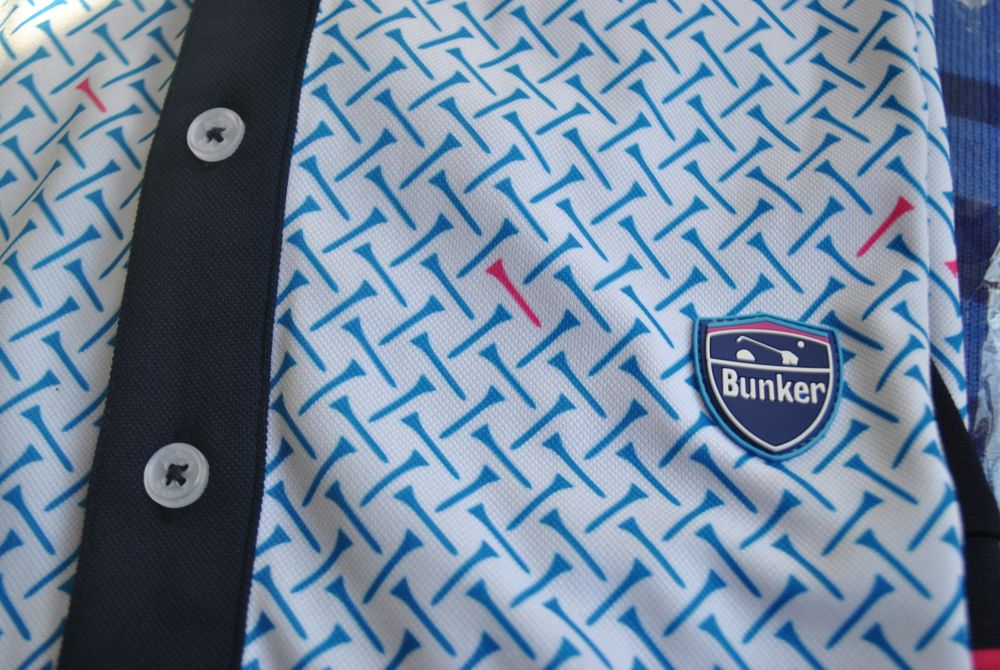 The other detail to note is the extraordinary long placket that also distinguishes this shirt from most others. While unusual, I do like the look. Finally, there is the Bunker Mentality badge on the chest and logo on the back. Perhaps a bit of logo overkill, but at this point I figure you are ok with people looking at you.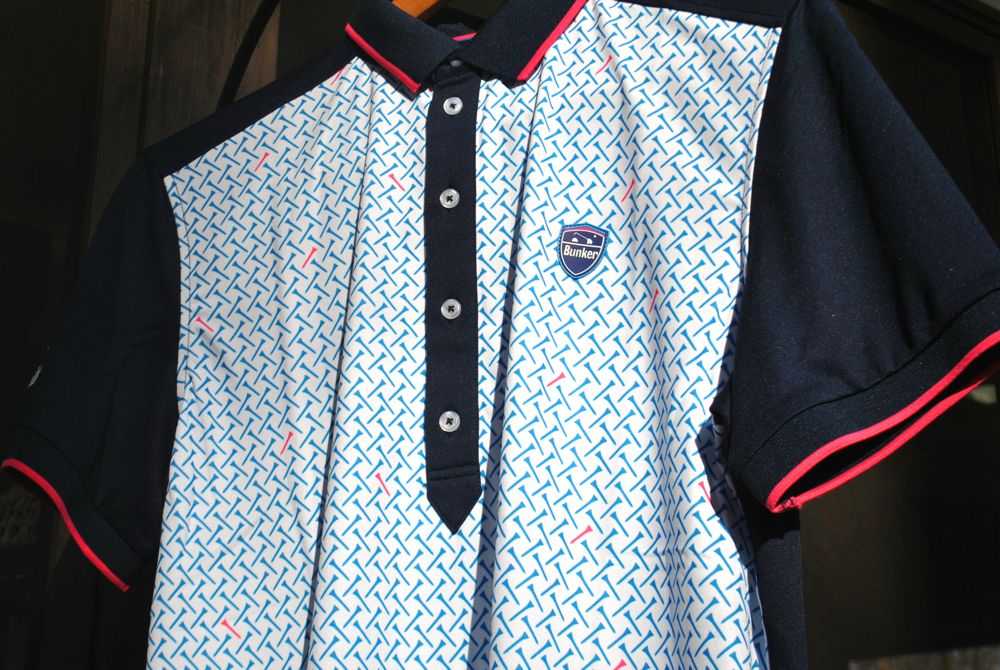 This particular polo is 100% poly. Since it is winter, I have not had time to play in the heat, but I do like the material. Compared to older versions of Bunker polos, this is much softer and seems to be of higher quality.
Bottom Line:
While Bunker Mentality has only a small presence in the United States, expect to see a lot more of them in 2017. Having worn this brand for over three years, I remain very impressed with the design, quality and price points of their gear. Specifically, I am a huge fan of their sweaters, jackets and pants. Despite being a bit bolder than most US brands, do not be afraid. I regularly get compliments on their stuff and literally today my buddy went online to get a jacket and jumper after seeing the new gear I was wearing.
Visit the Bunker Mentality website to see all of their gear.