Queen of the Green, the Newest British Invasion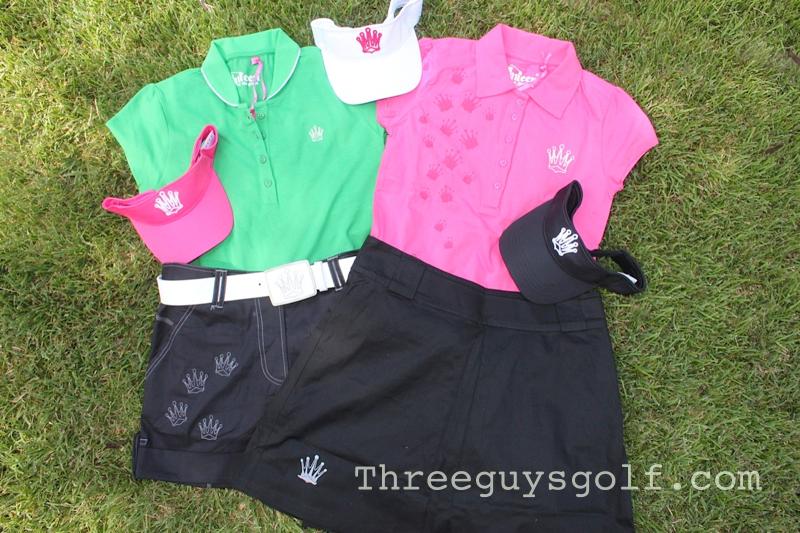 Are you ready for the latest "British Invasion?" If you are a golfer with style, flare and have a taste for modern fashions in the golf world, start waving your Union Jack friends, because Queen of the Green is making its way to this side of the pond. It is a line of golf wear like no other I have seen. It is innovative and daring in a fashion world where same old same old is par for the course. (Pun fully intended here!)
I tried the Club House Short and Crown Polo. Here we go again, how can a polo be different? Well, this one has a shorter sleeve with puckers at the shoulder seam. The collar is rounded instead of the traditional pointed collar and has a silver tipping along the edge. All of these features make this polo a far more feminine golf shirt than average. The shorts are in a league of their own. Gone are your average khaki bermudas and in are these adorable shorts with button pockets, embellished with felt queen-embroidered badges. These really leave traditional golf shorts in the dark ages and bring to light a fun sense of style and individualism for you to take on the course.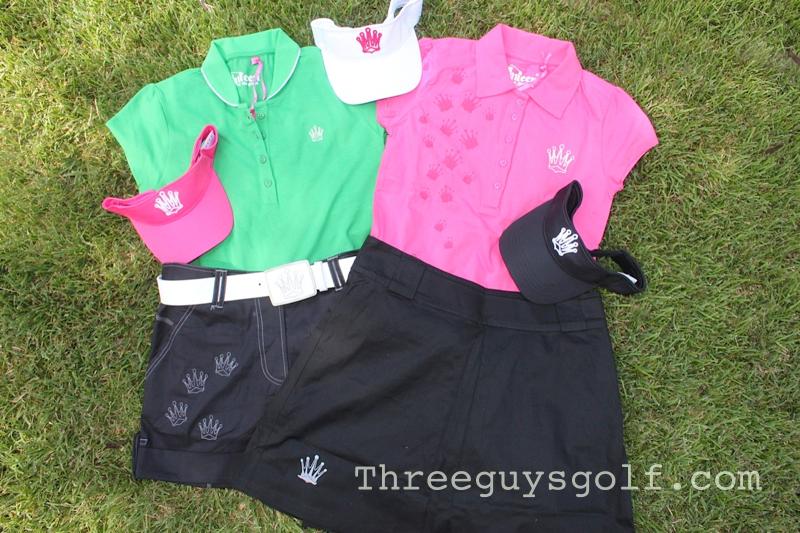 Sue tried the Crown Skort and Tumbling Crown Polo. Again, the polo has shorter sleeves with a slight pucker and the seam for a feminine feel and look. This polo has the crown logo "tumbling" down the front and back of the shirt from the right shoulder to add another stylish distinction to set it apart from your average polo. The Crown Skirt has a plain front with inverted kick pleats on the back. It is simple and stylish and perfect to pair with a more daring top if you just can't see yourself going full out rebel golfer all at once.
We are now big fans of Queen of the Green golf wear, but our favorite part just might be the accessories. We got Crown Visors in pink, white and black. Visors are not for everyone, but as an avid golfer and tennis player, I never leave home without mine. I like the simple velcro strap, not the wrap around strap that makes it difficult to readjust when you wear a ponytail. To my relief, these visors fit the bill, and my head, perfectly! Also, the front was just the right height. I absolutely hate a visor with a tall front, they're just plain awkward looking. Here is my favorite jewel in the crown, so to speak, the crown logo is stitched front and center. I love it! I feel like I am Queen of the Greens every time I put on one of my visors! What girl wouldn't like a crown on her head right?
And finally, the Crown Belt. As a woman golfer, I have found it very difficult to find a golf belt for myself. Seriously, all belts either are one extreme or the other, way too masculine or trying so hard to be feminine that they look like your crazy aunt broke out her craft box and made you a belt for your Christmas present. Why is a belt so difficult? I can't explain it, but Queen of the Green definitely got it right. The combo of a simple white leather strap and chrome effect buckle with white enamel fill and the crown logo dead center is absolutely perfect! Seriously, how hard was that? I have gone from never wearing a belt, to only pulling out items that I can wear this belt with.
If you are ready to break out of the same old dull golf fashions, Queen of the Green may be just what the doctor ordered. Keep in mind these are sized in European sizes and you'll need to take a few extra moments to convert to US sizes. Also, if you usually golf at a club with strict rules on the length of shorts, some of the shorts are shorter than average golf shorts, so please keep this in mind. Queen of the Green is modern and fashion forward and designed for lovers of golf with an individual spirit.
You can see the whole line of Queen of the Green on their website. NOTE that Queen of the Green is the sister company of Bunker Mentality which was also reviewed by  Three Guys Golf.