Bunker Mentality Golf Apparel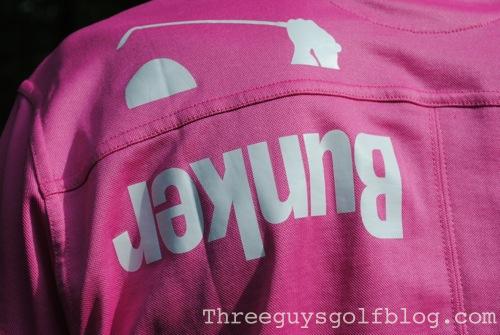 Bunker Mentality Golf Apparel: Ah, jolly old England – land of Wimbledon, the English gentleman, and Pippa herself. Part of golf's old country, Great Britain is often known for its royal family, afternoon tea, and generally refined culture. So who would have guessed that one of the loudest voices in the punk-rock golf movement would be coming from Old Blighty herself?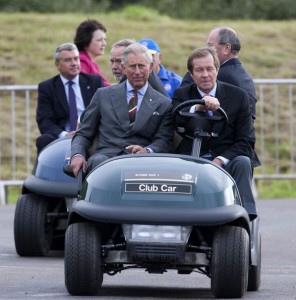 Enter Bunker Mentality, a British company that designs apparel "without compromise for a 'Playa' who has an individual personality and lifestyle and is looking for a new level of taste and substance in golf apparel". To my simple mind, this means that they are tired of the old standard golf outfit, and they have set out to add some spice to the game's fashion. A noble cause for sure, and one that's been taken up by many companies over the last few years. It seems as though the 2010 decade, or whatever you're supposed to call it, will witness the Woodstock moment of the golfing world – retirement homes illuminated by the blaze of Dockers burned in protest, standard saddle shoes hanging over telephone wires, and private courses everywhere looking like it's Caddy Day 365 days out of the year. I digress – on to the clothes! A first glance at Bunker Mentality's clothing line makes you wonder if their true slogan should be "leave your man boobs at home", as the shirts look like they were made during the Great Thread Famine of 2009. You know the type – these shirts have that tight, athletic minus-the-last-two-letters Euro cut that you'll see on Ricky Barnes or Adam Scott – great for the sculpted man but a bit scary for the donut lovers among us. And Bunker Mentality pulls no punches with the colors and designs either – every shirt, jacket, pant, belt buckle, hat, ball repair marker, and golf bag (yes, they make all of these) has something that will catch your eye, whether it be the number 9 sewn into a sleeve, a bikini-d vixen logoed onto the chest, or the words "Bunker Mentality" stamped across the back. The clothes have attitude, and that's how Bunker Mentality likes it.
Like all of the new clothing we've test-driven in the past few months, the shirts are very well made. Technically speaking they are 55% Polyester 45% Cotton which means they feel good but also are a performance blend that does well in the heat. You will notice that there are a number of raised rubberish features or decals on the shirt but we have not had any issues after multiple washes.
So you get the point, this stuff is cooler than your average golf attire, up to snuff when it comes to performance, and plenty funky. And while I am game for this type of fashion statement in spirit, I continue to struggle with a deep-seated tendency to want to dress worse than my golf game, not better. For this reason I was a bit anxious about donning the Bunker Mentality gear for an official round, for fear that my new "marked man" status would expose the weaknesses in my game even further (Adam, on the other hand, has already developed a thicker British accent than Madonna). But when the time came for the Three Guys to step out onto the course with our new duds, the truth is, I was excited to give "looking sharp" a try. Just to be on the safe side, I stayed with my good ol' cargo shorts for the bottom half – no need to go from zero to Liberace in one day, right?
And look sharp we did! Cart girls swooned in the distance as we strolled from the clubhouse to our pull-carts and sauntered towards the first tee. The starter mercifully skipped the entire 90 degree rule speech – clearly a respectul nod to our newfound bad-assery. And on the first tee, feeling my biceps bulge out of my sleeves, I suddenly felt as though I was a shoe-in for next year's long drive championship when I ripped my drive. But more than anything, we discovered that our approach to the game was taking on a decidely different tone . . . a bit more British perhaps . . .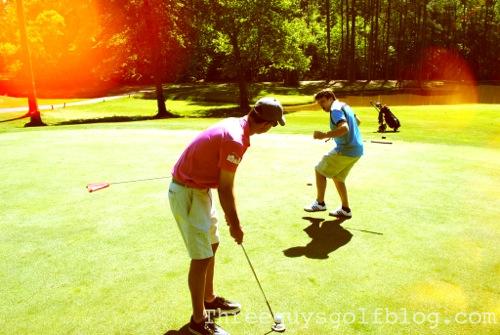 As you can see, on this day, the course didn't know what hit 'em. We had a blast with our new "mentality" and I think this line will do well stateside, provided we can all lay off the fast food a bit.
Footnote: If you are wondering why Bunker Mentality features a bikini clad beauty on some of their gear well here is what they tell me:
"Our brand Bunker Mentality came around because of a now defunked golf magazine called Bogey. This was a very cool magazine similar in many ways to lots of the golf blogs we see around now. In one issue they had an article about how golf needed to change and become much more open and 21st Century. The article had a picture of a girl in a bikini, high heels and her golf club in hand standing next to a large alsatian dog. The sign on the green read 'No women or dogs allowed on the course'. We thought this was a very thought provoking image and support the idea of getting its act together and entering the 21st Century. So we decided that if a woman wants to play golf in her high heels and bikini why shouldn't she so we created the Stella logo and put her on our shirts."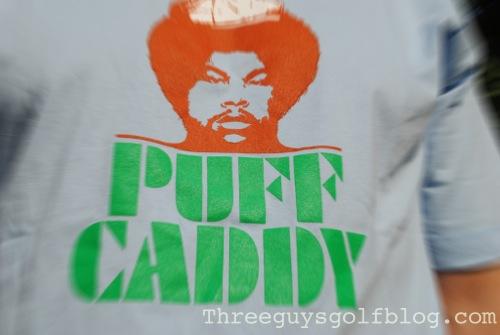 There you have it folks . . . Puff Caddy says "peace out!"
You can see the full line of Bunker Mentality on their website and more pictures on our Facebook Gallery.