Rickie Fowler Takes Wells Fargo Championship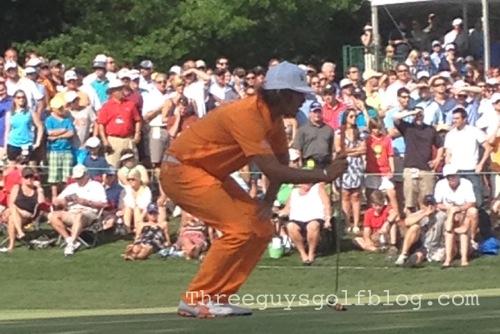 Sunday at 10am: loaded up with a few buddies and headed to Charlotte to see the final round of the Wells Fargo Championship. 2 1/2 hours later we arrived just in time to see Rory McIlroy pound a few balls on the range, which was super cool since I had yet to see him in person. The first thing I noticed was that Rory is a lot bigger than I thought. Not Dustin Johnson big, but definitely thick. Plus he has so much leg and hip drive. The result is a club speed that surpasses anything I can relate to.
So after a quick buzz through the beer line we headed over to #7 just in time to see Rickie Fowler and Nick Watney reach the middle of the fairway. Actually, Watney had gone right, right into the stream, and had to take a drop. The following shot hit the rocks and landed in a back yard on the far side of the stream. After a 10 minute investigation, Watney realized he had gone OB and not into the hazard so he had to walk back to his original spot to replay his next shot (the PGA version of the walk of shame). Somewhat surprisingly, he decided to lay up rather than go for the green on what was his fifth shot (I must assume he had a harder shot than it looked like from my vantage point). A quadruple bogey later, Watney was essentially out of the tournament. Guess Three Guys did not exactly bring the good karma.
Next on the docket was to dash up to #9 to see a few other groups play then wait for the leaders to catch up. In the meantime, I did spot what I thought were the coolest shoes ever, worn by a lady no younger than 80 years old.
A side note for those who have never attended a PGA Event: One thing you quickly realize is that it is really hard to get a sense of the overall picture while you are dashing from hole to hole. So for me, my goal is to get a couple of close encounters with the leaders or my favorite players then hope to catch the final drama on 18. That in mind, our plan was to head to the green on 16 and stake out a good spot.
Loading up with a few more cold ones, we found a place right next to the rope on the far side of 16 green.  From there we watched about 4 groups go through number 16 and I believe about 1/2 of the guys made bogey on the hole. Considering most had about a 220 yard approach shots, I guess that should not be too surprising. However, I was surprised to see Rickie Fowler leave his bunker shot about 7 feet from the pin then miss his par putt badly. Had McIlroy not carded a bogey on 17 and DA Points on 18, the man in orange may have regretted that bunker shot for a long time.
After watching Rory come through 16 we dashed to 18 but not before I got to meet Stephanie Wei (who is fortunate enough to cover the event from inside the ropes). For those of you who do not know, Stephanie writes a blog called Weiunderpar which is an excellent source for you PGA news. P.S. – how cool is it to walk inside the ropes? One day hopefully I will have an answer for you.
You may have noticed that I have yet to mention Webb Simpson which is because we did not see a single shot of his (in part because I cannot root for anyone using a belly putter). Plus, I just felt like it was going to be Fowler's day, unless Rory stole it from him.
So onto 18 where we sat about 20 yards below the green. From our vantage point it looked like there was only a small section of green you could possibly land the ball and keep it withen 8 feet. As it turns out, I think there were only about 4 birdies on 18 all day. Rickie actually had a pretty good look at a birdie and probably thought he needed to make it to force a playoff. Fortunately for him, he was wrong as DA Points would end up in the bunker and take a bogey.
So back to 18 went Fowler, Points and McIroy. Now the fairway on 18 is insanely thin with a stream on the left but all three players put their ball dead in the middle. Points played first and ended up way above the hole with a nightmare putt. Fowler hit next to what I thought was about 7 feet away (as it turns out, it was like 2 feet but you just cannot see from below the green). Rory, must have known better and surely knew he had to stuff one in close but was unable to get inside of 15 feet. A couple of putts later, Rickie Fowler got his 1st PGA tour win.
Judging from the crowd around me, everyone was thrilled, especially all of the kids dressed in orange and the hotties in sun dresses. While Rory is a great player and a crowd favorite, Fowler is an American and last time I checked Charlotte is in the United States of America. In the end, we were rooting for our countryman and one of the guys who was supposed to be the next you know who.
Speaking of which, these young guys are starting to put up some victories. Without counting, Dustin Johnson, Bubba Watson, Rory McIroy and now Rickie Fowler are looking like the real deal. If you read any of our blog, you know we are huge Tiger fans, but I am coming around to these guys. They are fun, outgoing, long-driving and proving they can compete on a regular basis.
So congratulation to Rickie Fowler who is now the 2012 Wells Fargo Champion. Not only have you gotten your first win, but you have finally done what most experts have been predicting for the last few years – play like a champion.