How to Make Golf Fun for Kids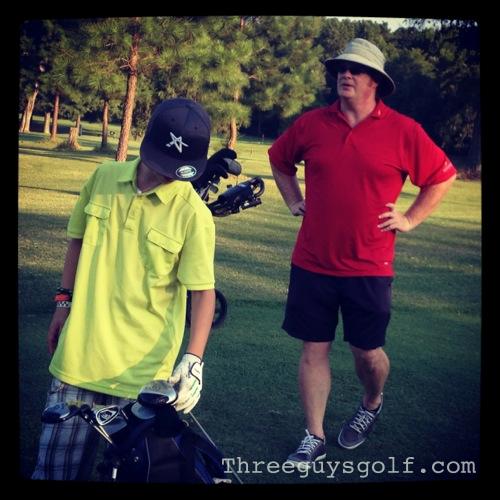 For the past year or so I have been trying to get my son into golf which has turned out to be harder than expected. I think the root of the problem is that unlike nearly every other sport, you can't just go play golf. Nope, you have to learn to hit the ball, chip, and putt before you ever set foot on a real course. Since kids (and Allen Iverson) are not exactly into practice, this can make breaking into the sport even more difficult. So the question becomes: How to make golf fun for kids?
Although my son has enjoyed hitting balls with me and playing an occasional nine holes, he was just never that into it. I sensed part of the problem was the game was just too darn hard. While discussing this matter with my fellow blogger Wade, we were reminded of a story in which Earl Woods would have young Tiger tee off from yardages far shorter than any of the standard boxes. He would then make up a new stoke count for par. In other words, Tiger might play a 140 yard par 6. The result was that Tiger got used to breaking par from a very young age. I don't know about you but I have never broken par which is why I am completely unfamiliar with that level of excitement.
"Birdies and eagles, that's what I am talking about!" The kid was straight up jacked.
So it was decided, the three of us, Wade, my son Jackson and I would put Earl's plan into action. Jackson was a bit confused as we strolled passed the blue, white, gold then red tee boxes and headed right to the 150 yard marker. This is where Wade came in very handy since as parents know, ideas from others are far better than ideas from your dad. After accepting that this was a par 6 he proceeded to tee off and despite slicing it a bit, he was still only 30 yards from the green. After a few chunks, he was on the green and ended up making a 6 foot par putt – Boom!
The next hole, he played even better and took a birdie. Fast forward to the 6th hole. Par 6, 170 yards. Jackson tags his driver, carries the green. He fist pumps and exclaims "Bam! I hammered that". Let me tell you, he would never, ever, ever be as excited about the same drive if he teed off from the red tees. In his mind he just drove a green. He then proceed to eagle the hole. Walking off the 6th green his comment was "Birdies and eagles, that's what I am talking about!" The kid was straight up jacked.
As we moved to the 9th hole he remained 2 under par. He hit a good drive but chunked his next shot. He was totally bummed and wanted to take a mulligan. I explained that it was a par 6 and he still had 4 shots to make par. Not satisfied with par, he said he wanted to make birdie to which I said," well, chip it on and two putt ". You know what . . . he proceeded to chip it on, and then make an 8 foot come-backer for birdie. Cut to the fist pump and we walk off with a kid who is ear to ear smiles.
Note that during our round, Wade and I also played our own ball since it was a great opportunity for us to practice our irons, wedges and putter.
Story aside, let's talk about why this format works.
Creates Attainable Goals: Let's face it, we like to measure ourself and golf is set up to measure against par. Setting up the course so there is a chance to make par may require you to start from a place other than even the red tees.
Encourages Concentration: Making a 14 on a hole is no fun for anyone so it is not realistic to ask a player to concentrate on each shot when they know it will be one too many. By reducing the number of shots it will take to complete the hole you promote the player's willingness to take each shot seriously.
Provides Excitement: When is the last time you fist pumped a 6? Well when that 6 is on a 180 yard par 7 you would because it is a birdie. Once you buy into alternate pars you bring in a whole new level of excitement. This was the biggest "aha" moment for both Wade and I as we watched Jackson celebrate each birdie or eagle.
Allows for Competition: Fathers and sons have been competing against each other since the dawn of time. By altering the pars such that each player has the same difficulty level you can set up matches that are fair. In our case, teeing off from 150 is a par 3 for me but a par 6 for Jackson. The reality is I have to play my butt off to beat him which will make me try that much harder and improve my game as well. Plus we all know our kids enjoy nothing more than whipping their old man so they too will be grinding to make their pars and birdies.
Valuable for Adults: Really the only thing adults give up with this format is the driver so in terms of practice the format is wonderful. And since you are not watching them struggle just to get to the 150 you will both be green side in no time. This allows me to actually work on my game rather than wandering the fairway watching him hack it around for 10 minutes.
Promotes Shooting Par: The knock on Michelle Wie was that she never experienced winning like Tiger did. The same holds true for shooting par. Imagine if all you knew was breaking par. Well this is exactly what this format promotes. Ultimately the player has to get better but, properly managed, you can gradually move the tees back so shooting 110 never happens.
Flexible as Skills Improve: Rather than just moving between red to gold to white tees, now you can move from 100 to 125 to 150 to 180 to 220 yard markers. This way you can adjust the course as driving distance increases.
Promotes Faster Play: Simple math says that less strokes equals faster play. In no form of golf is 12 strokes per hole relevant. We don't play 600 yard par 4's so don't ask kids to play 250 yard par 4's either. I think a good rule of thumb is set the tees such that an average drives puts them inside of 30 yards (or nine iron distance). Another way to think about it is make is such that they can be on the green in 3 or 4 strokes (assuming they will chunk one or two). Note this may mean you tee off at the 100 yard marker or even closer.
Reduces Frustration: You know how frustrated we get when we slice a drive then chunk our next shot. Imagine if it took you 14 strokes just to reach the green. Setting new players back where they have no chance to get in the green in less than 4 strokes is just cruel.
Consistent with Pro Game: Driver, short iron-that's how the pros play and that is the whole idea behind the tee it forward movement. This is doubly true for new players and the only way you accomplish it is to tee it up in the middle of the fairway.
Someone once said, perception is reality. I think this is the root of why altering pars and moving tee boxes to fit ability ultimately is such a good idea. We have become so used to being average or bad golfers that we never consider a game in which breaking par is the norm. If our experiment or Tiger's experience is any indication of its value, it's a winning formula.
NOTE: while this post is primarily directed toward kids, this same approach is also perfect for anyone just learning the game. So next time you tee it up with a beginner, give this a try and let us know how it works out.