Mobitee GPS Golf App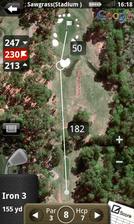 Mobitee GPS Mobile Golf Assistant App: Even though I have never been much of a GPS guy, I've really enjoyed having the Mobitee GPS on my droid. Part of the reason I have not had a GPS is because I play 90% of my golf on the same course. I guess I was of the mindset that there is not much use for a GPS app on a course that I have played a few thousand times, but I was wrong. In terms of ease, it loaded quickly and without hassle on my phone. Here is a quick look at the features taken from the Mobitee website.
FEATURES
Complete golf guide for each of 30,000+ courses
(Nearby courses, addresses, reservations, rates, route guidance…)
Precise GPS tool with moveable target to calculate distances on the course 
(Distances for back, middle, and front of green; obstacles, doglegs, distance traveled…
Satellite, aerial view of each hole
Virtual coach 
(Club advice for each hole)
Interactive, automatic scorecard for up to 4 players 
(Net scores, Stableford, index simulation)
Scorecards can be shared via email  
Simple, truly spectacular interface
It was a snap to find my course given all the courses that are included, and the way they use your location to help y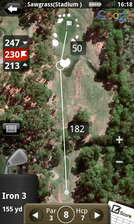 ou know where you are is excellent. One quick warning: there is an app rating query that comes up immediately and you need to close it prior to moving to the next hole. Once I got rid of the question about rating the app, by simply closing it, my world began to get a lot clearer with this app in my hands.
The fly-by is a really helpful feature and well done, even at my humble course in North Carolina and would be particularly helpful for someone who is unfamiliar with the course. The Mobitee uses satellite images which are excellent and the GPS yardage is within a yard or so of other apps that we tried from big name companies. For me, the best part is that you have quick access to yardages for the front, middle and back of the greens. You can also touch any spot on the map of the hole and get instant yardages to that point from where you are standing, and then the yardage (or meters) from that point to the green. This is really great if you get a little out of position, and you really want to know exactly how many yards you have to hit it to carry that pond in front of the green from the trees you're skulking around —I mean, that's what happened to my friend one time… or so he told me.
With Mobitee you can also enter the distances that you hit your clubs, and Mobitee will suggest what club to hit from the yardage that you are standing from. Again, what I really use the most is the yardage to the front, middle and back of the greens because greens are deceptive from the fairway, and a middle doesn't really tell you all you need to know. For instance, a downhill shot with a middle pin is a lot less scary if you know the back yardage, and the distance that you absolutely don't want to go past; or if there's water in front of that green, but you again know that back yardage, you'll play the odds, and stick the ball behind the pin long, rather than flirt with that front yardage at all. Mobitee GPS app sells for around $25, they will add courses for you, and have tons of course included in the price from the getgo. You can keep up with the scores and rounds of your whole foursome, updates are free, and so is customer support. I'm impressed, and I think this is a very cool piece of kit.
Mobitee GPS App is available for the iPhone and Android phones. You can learn more on the Mobitee Website