Gary McCord on Feherty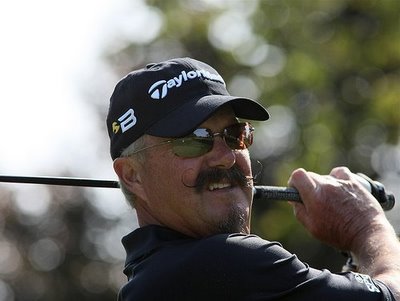 Gary McCord on the Feherty Show: What could be better than listening to two of my favorite golf announcers banter on for an hour without a golf tournament to get in the way? Lets face it, for the casual fan, golf on TV can be, how you say . . . boring. Personally, I don't remember watching a lot of golf when I was a kid but that was probably because 15 minutes into the broadcast I was sawing logs on the couch. Thankfully, Gary McCord has added a much needed spice to the viewing experience.
The crazy thing is how these guys actually got into the business. McCord literally won zero times on the tour (albeit twice on the senior tour) and was basically living out of a storage unit prior to getting a lucky break with CBS. To be fair, McCord made his luck when he invented an excuse to be in a TV truck one Sunday afternoon. But it was his insightful and witty explanation of how the greens were akin to chipping on your driveway and asking the ball to bite that got him the gig. Further proof that getting your foot in the door is often the biggest hurdle to success.
So let's hit the highlights of the show, which by the way is a must-see episode. My favorite part was watching McCord and Feherty give swing tips to Aaron Baddeley. Despite the fact that you know Baddeley is in on the joke, they still manage to keep him completely off guard. I suspect it was not the actual swing tips that threw Baddeley for a loop but rather the irony.
The other two stories which were told that I was previously unaware of were: 1) the tale of McCord ripping his trousers in a tournament while bending down to plumb-bob (going commando no less) but finishing the final 14 holes using a make-shift diaper. (Feherty counters with a priceless plumb and bob joke), and 2) learning that 85% of Tin Cup was a rip-off of Gary McCords life (now I know why I love that movie despite the fact it starred The Postman himself).
Part of the reason I am such a big Feherty fan is because I admire how he has re-invented his career. While Feherty may not have a green jacket, he was on the freaking Ryder Cup team so the fact that he will be remembered more as a commentator is pretty darn amazing. To that end, Gary McCord is much the same way (or more so). Being of middle age, I have a soft spot in my heart for mid-life career change success stories as I think we all want to believe our second act can be better than our first. So my hat's off to both of these gentlemen (now if they would both do us a favor and take off their matching vests).