Bubba Watson on Feherty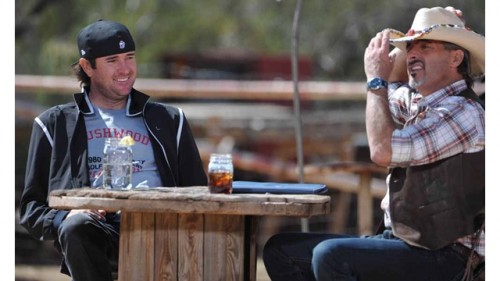 So after watching the Kentucky Wildcats hold off Kansas in the National Championship game, I just had to catch the Feherty show since I knew it was to feature Bubba Watson. God forbid I actually get some sleep . . .
While Bubba Watson may not be in my top 5 favorite golfers, he is definitely in my Top 10. I think part of the reason he does not crack my top 5 is because I just cannot put my finger on what he is all about. Feherty hints at this issue when at one point calls Bubba an enigma. It's not that we don't know Bubba, it's just that we don't understand him. For the past few years Bubba has become one of the big names in golf and has perhaps single handedly put Travis Mathew on the map. On top of that, he is one of the more active social media users (most noted for his Golf Boys Video to which Three Guys Golf Blogger Matt dedicated a whole post).
So let's start with a few things we did learn about Bubba. First, we find that he has been buttoning his top button since at least his high school yearbook picture (seriously). However, this is just the tip of the iceberg when it comes to figuring out why it is so hard to get a read on Bubba. I mean he is a good ol' boy who owns the General Lee, but wears pink Kentwool Socks, has a pink driver shaft, a $500,000 watch and wears a visor. Speaking of which, the visor is definitely one of the reasons he does not make my top 5 (but I guess I am just jealous since my hairline no longer makes it a viable alternative for me).
Other items of historical note that popped out for me was Bubba's clear devotion to his parents and his wife. Having followed Bubba on twitter for a while now, I know of his faith, but it is his tearful post Travellers interview and the clear passion for his wife that truely reveals his priorities. This would be one guy who I would be shocked to see go off the rails.
Back to golf, am I the only person who is annoyed to find out these PGA guys were insanely good at such a young age? I know they practiced more than most people, but there is no doubt guys like Bubba Watson were just born better athletes than 99% of us, giving further proof (if you need any) that the top PGA players are also world-class athletes.
In terms of childhood, we find out he hung out with young Boo Weekly and Heath Slocum and that his parents were instrumental in his sporting success. This combination or supportive families and chance interactions with future greats seems to be a very common ingredient that, while not a requirement for success, sure helps with the recipe.
Even though I may not have quite figured out the mystery behind Bubba's crazy eyes, I am absolutely convinced he is not a flash in the pan. He has won numerous time on Tour and figures to be a contender in this week's Masters. Whether his resistance to coaching or his occasional mental lapses will ultimately keep him from true greatness is yet to be seen, but his sheer ability and determination will certainly keep him in the game.
Moreover, I think episodes like his French Open media debacle and his not quite so perfect English (Matt will laugh at this since my grammar is horrendous prior to proofreading) help to give Bubba the "Every Man" charm that has served John Daly so well (just without the booze and cigarettes). The fact that he is not easily labeled keeps me interested in both his career and his personality – something that I cannot say about most of the "plain Jane" PGA players.
Perhaps one day I will get a handle on what makes Bubba tick but for now I am content to keep admiring his mind boggling drives, recognizable swagger and oh, that horrible visor!