Thoughts on the 2011 US Open
1)  I would bet that NBC is currently negotiating how to get out of their contract with the PGA so they can begin broadcasting the European Tour.
2) Mr. Turtle's Putt Putt golf course has named Robert Garrigus in conjunction with a 28″ stolen putter.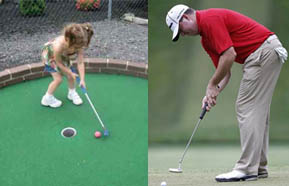 Coincidences….I think not.
3) I am uncomfortable with all of the tight camera slow motion shots of Rory's hips.
4) It's good to see Sergio look like he is having just a little fun.
5) Rickie Fowler, Bubba Watson, Hunter Mahan and Ben Crane are thinking they should have spent more time on the range and less time making a music video.
6)  Johnny Miller is still fun to listen to, but you need to check out Hank Haney's tweeter account. He does a great job and answers tons of questions.
7) Fredrik Jacobson is just one silly hat away from looking like a milk man.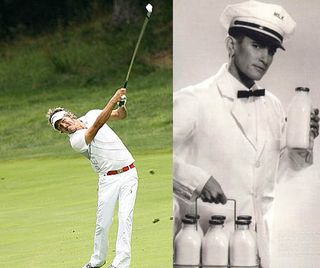 If it goes bad, Fredrik can always get in the milk biz.
8) Jason Day is for real.
9) Somewhere, Tiger is thinking, I am definitely F*#@ed.