Dagwood Canvas Golf Shoes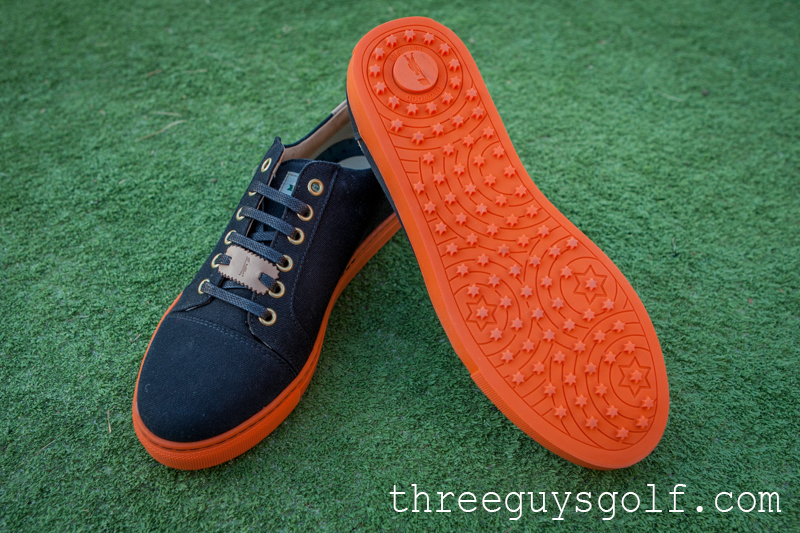 One of the benefits of writing for Three Guys Golf is that I get to try out gear I would have otherwise never have the chance to see, let alone review. In this case I was given a pair of the new Dagwood James Black canvas shoes. I can honestly say that I would have never stumbled upon the Dagwood brand had it not been for Three Guys Golf, so don't feel like you are "out of the loop" if you're in the same boat as me.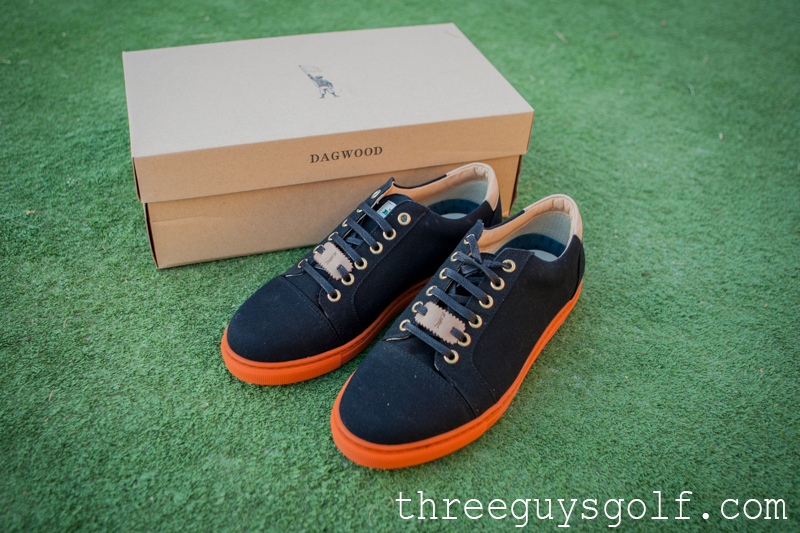 Hailing from Berlin Germany and made in Portugal, Dagwood is bringing a rather unique look and style to the game of golf and it's my pleasure to showcase for you what I believe to be a well-made, very playable, and certainly stylish golf brand.
It didn't take long for me to realize the Dagwood makes an outstanding shoe. The first thing that stood out to me was the fact that they look very different than nearly every other golf shoe on the market.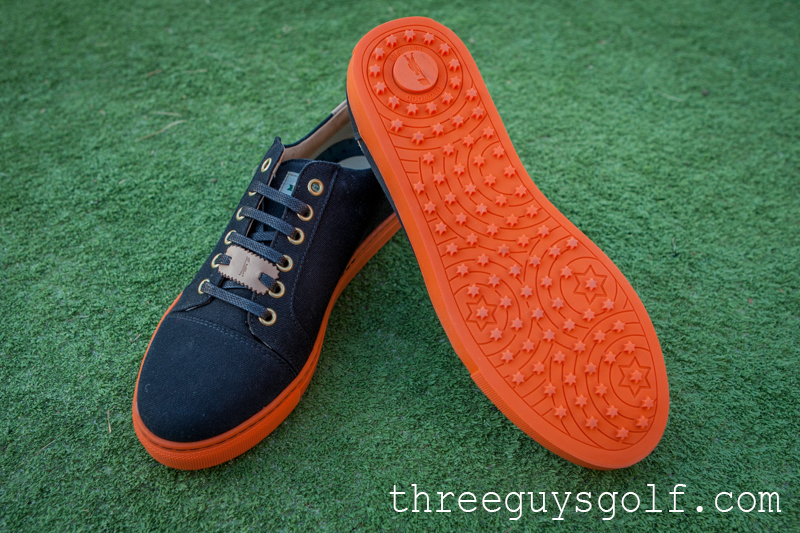 Made from a waterproof canvas, that's right canvas, the James line of shoes comes in a variety of colors such as Khaki, Camel, Black, Navy, Beige and Red; all colors feature the characteristic orange rubber outsole. Ok, if you are still stuck on the thoughts of a golf shoes being made from canvas, I can understand. I too was a little worried myself when I first read the shoes were made from a material more known for painting than playing golf in. As a child of the 70's-80's there were not too many days when my feet weren't covered in either a pair of VANS or some "Chucks", so almost out of pure recollection of my childhood I was eager to get them on my feet and see how they felt.
The leather lining of the shoes makes it much more comfortable than I initial thought it would be, I mean it is canvas after all. Once I slipped it on though and tightened up the laces it was "flash back city" as I looked down at my feet. I can only imagine had Paul and James Van Doren been raised in a golfing family that this is what the VANS "golf" shoes could have evolved into.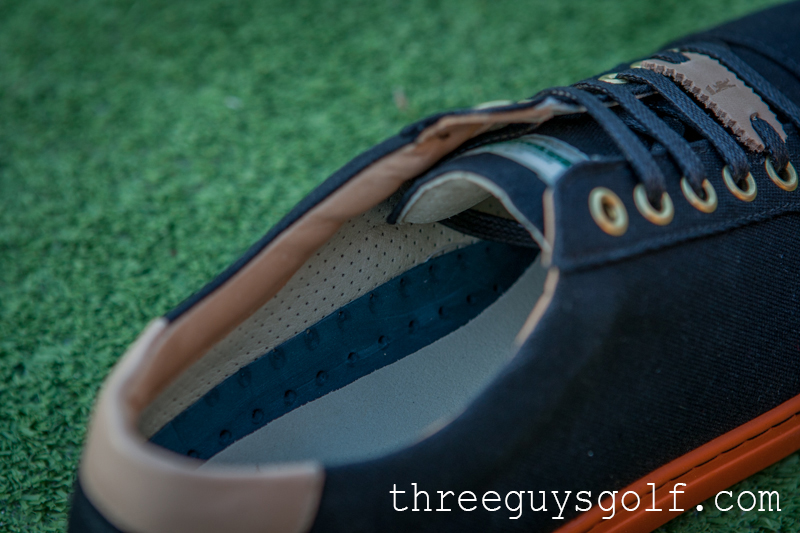 While the golf shoe market has come a long way in the past 5 years, uniqueness is still a relatively rare quality. Sure, Dagwood is not the only canvas golf shoe on the market, but I have yet to see a canvas shoe that is of this quality. For me, it is the attention to detail that makes the Dagwoods distinguish themselves from the rest. From the brass eyelets for the laces, to the embossed logo on the insert and the perforated leather lining, the quality is beyond remarkable.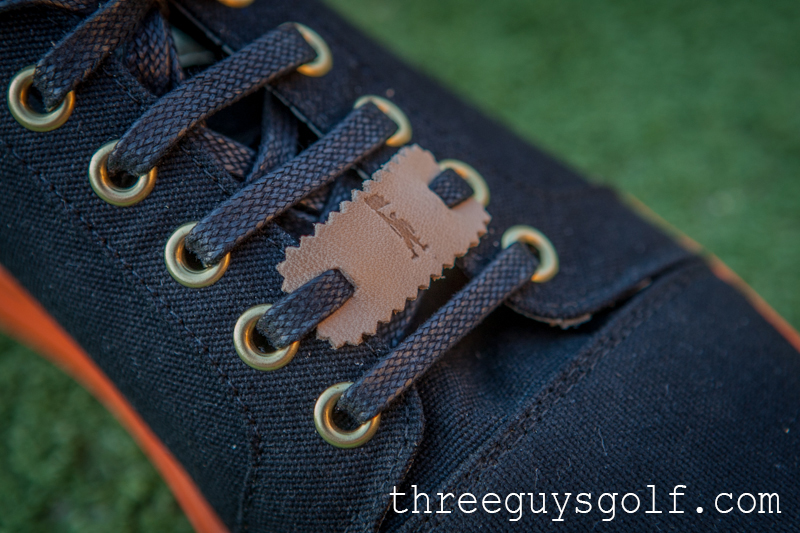 Style and uniqueness unfortunately don't make up all the concerning factors when deciding on a shoe to play your golf in. The fact is the shoes have to perform or they'll end up on a return shelf or meet their fate at a yard sale or Goodwill.
Before I took the Dagwoods out on the course I wanted to break them in a bit. I was hoping that the phenomenon I encountered with my VANS (the more you wear them the more comfortable they get) would equate well with the Dagwood James. The good news was that seemed to be the case. As the shoes learned from my foot motion they seamlessly adapted. After just a few days of slumming around the house and outings in the neighborhood, the shoes and my feet acclimated to each other very well.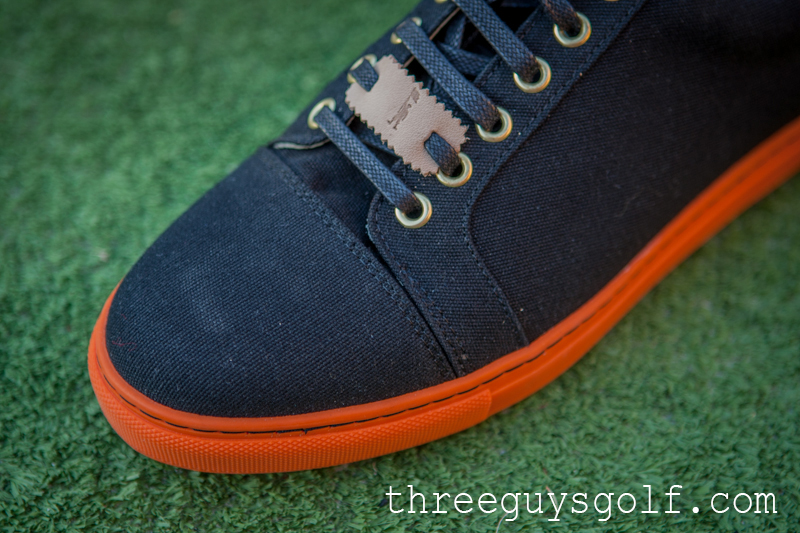 After a few successful break-in days, it was off to the course to see how they would hold up. This is where another unique quality of the Dagwoods showed up ; the fact that the tread of the shoes is the now common spike-less rubber knob design makes it a golf shoe, but honestly I could never just wear these only on a golf course.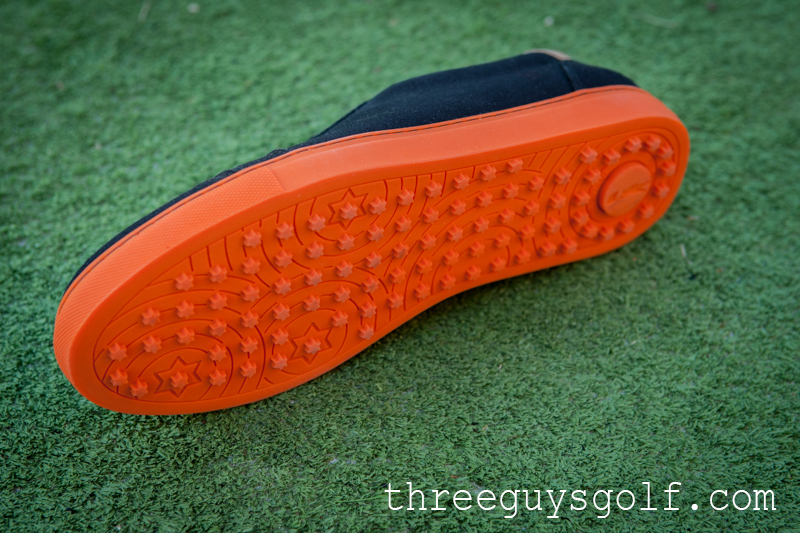 I'm no stranger to wearing my golf shoes when I'm not playing. I have a few pairs of shoes that are so comfortable I'll wear them to my real job occasionally. Everyone knows I'm wearing golf shoes though and that's where Dagwood passion for Streetwear combined with their love of golf has elevated the stature of the golf shoes as we know it.
As I said earlier I broke the shoes in for a few days prior to my first outing in them. It was a BBQ at a neighbor's house (who is a big fan of the game much like I am). He, along with a few of my neighbors, were quite surprised when I showed them the sole of the shoe and revealed the soft rubber spikes. Some came with mixed reactions due to the canvas, mainly because living in Vegas the idea of wrapping your feet in a material that isn't particularly known for keeping things cool is something you try to avoid out here.
There was no question though when it came to the craftsmanship of the shoe. Everyone was just as impressed as I was with how well they're made. The funny part was when one guest of the party asked what we were clamoring on about, and they were taken back when it was about golf shoes. Then, when they saw the kicks in question, it was less than 10 minutes before they were asking me for the website address.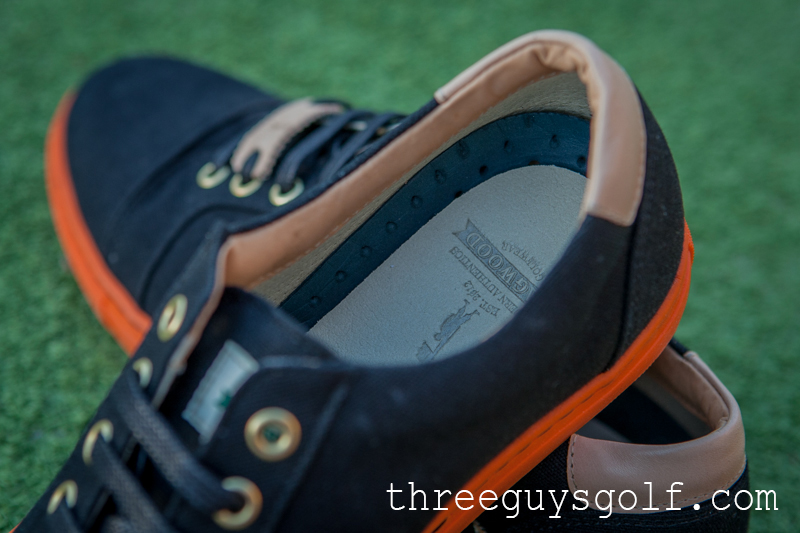 The next weekend I strapped on the Dagwoods and ventured out to Wolf Creek where I put them through a tough challenge on a ridiculously hilly desert course. The only issue I ever came across was about 10 holes into the round. The high desert sun was beaming down on us and I started to understand my neighbors concerns. Maybe black wasn't the right color to be wearing out in the heat with sun blasting us, but it didn't surprise me that my feet felt great, no discomfort and without a doubt they were performing up to expectations.
The grip you get from the sole of the shoe is outstanding. I found it hard to believe that same shoe I wore to the grocery store and my neighbors BBQ was now keeping my lower body in place on an absurdly tough downhill lie. Again and again as I stood over the ball I was quite surprised with how well the shoes were doing their job. How well the little knobs will hold up over time will be an interesting factor in the durability of the shoe. I know the canvas shell will probably last longer than I'll ever need it too, so if the sole holds up anywhere near that I'll be strutting around in the Dagwoods for many, many rounds.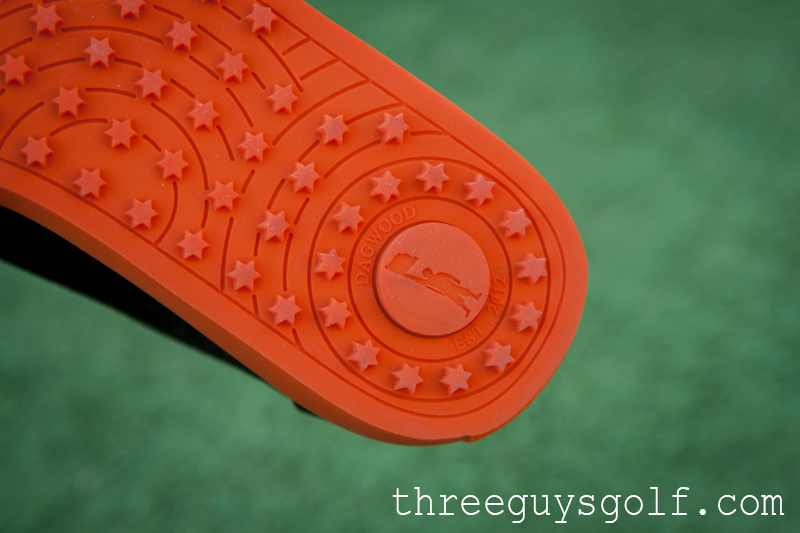 Since that initial outing I've worn the Dagwoods a few more times out to the range and for a few practice rounds and they were also on my feet when I caddied for my daughter during her first US Kids Golf tournament a few weeks ago. The heat index is probably going to keep them in the closet until the fall at least as far as the golf goes, but there's no doubt that I'll be wearing them for other outings unrelated to the game.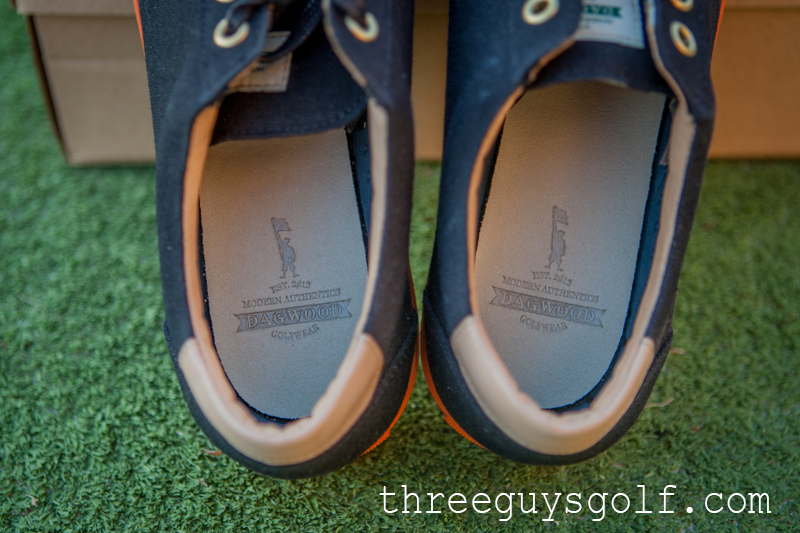 Dagwood doesn't just limit their products to shoes. On their site you'll find items like golf bags, handcrafted club head covers, hats, gloves, keychains, luggage, bag tags and much more. Their variety is excellent and if you're a fan of the James shoes you'll certainly like their other offerings as well.
If there is one downside to the whole Dagwood experience it has to be how long we here in the States have to wait for the packages to arrive. The lengthy journey from Germany to Vegas took a little over 3 weeks to transpire. International shipping isn't as easy as point, click, ship. With customs and just a few miles to cover it takes some time to get here.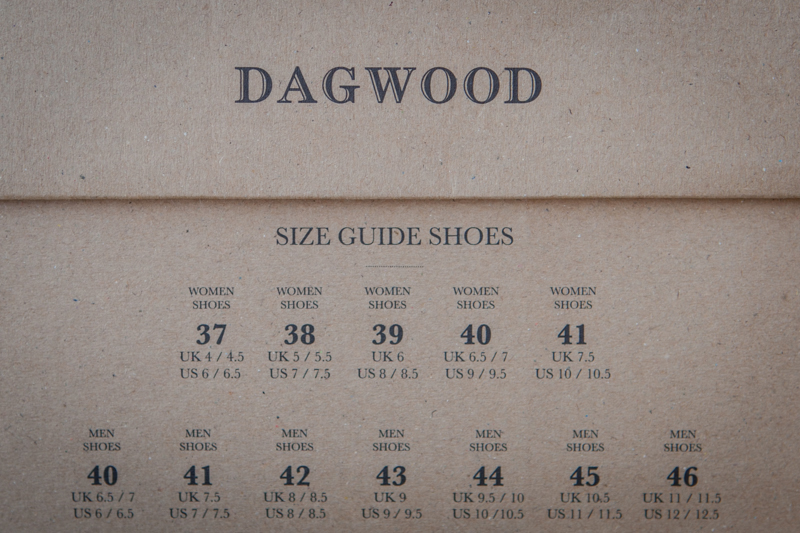 I think Dagwood has done a superior job at not only handcrafting some amazing golf products, but with the creation of their line of golf accessories they are establishing themselves nicely as a unique and fashionable alternative.
The James Black shoes from Dagwood retail for €159.00 which if my (google) math is correct comes out to $216.14 The $216.14 does include the tax but be prepared to pay the shipping rate of €35.00 which is just under $50.00
You can see all that Dagwood has to offer on their site.