Jan Craig Headcovers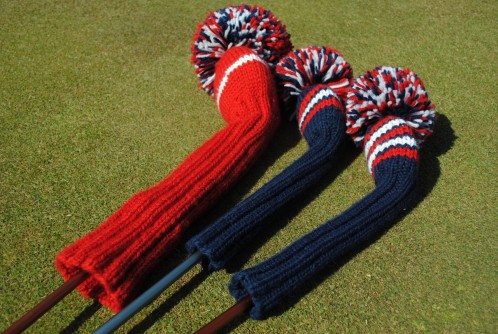 Jan Craig Headcover Review:
Is it me or is "classic" the new black? Now some classic things I am all for, (e.g. the Arniewear line), but much of the classic stuff . . . well, not so much (and don't get Matt started on the Classic Driver).
While Jan Craig headcovers could be called classic, I am not sure if that is the right term since they have been making them the same way for over 40 years. That's right, over 40 years of doing one thing – making handmade wool headcovers. And when I say handmade, I mean hand-knit by a real live human using real wool yarn and knitting sticks.
Perhaps not a household name, Jan Craig headcovers have been in the bags of men like Nicklaus, Norman and most recently Tom Watson during his famous 2009 British Open. With timeless looks and signature pom-pom, Jan Craig is sure to remain stylish for years to come.
One of the cool things about getting to go to the PGA show is that you get to actually speak with the owners of companies and learn a bit of their behind the scenes story. During my 2012 PGA Show visit I was fortunate enough to spend some time with Barry Craig who, against the grain of most sales-pitch guidelines, showed me an old Jan Craig headcover that was partially falling apart.
What I did not know was that the headcover was actually over 20 years old but the owner (who remained nameless) had a particular affinity to the headcover and was hoping to have it repaired. While Barry would not give up the name of the headcover's owner (my mind was racing), he did assure me that Jan Craig stands behind their product until virtually the end of time. Not exactly a "30 days with sales receipt" return policy.
In terms of styles, the Jan Craig website makes it simple to design your own wool headcovers by choosing from a ton of color combinations and pom-pom styles. Seeing that I can barely match my shirts and shorts, I went with the classic Ryder Cup version. While I have owned knit headcovers before, none of them compare to the Jan Craig headcovers, or even come close for that matter. Specifically, when you pick them up, you feel like you are holding a sweater.
I mean the thing must weigh 5 pounds. It is so freaking thick, you could cut it down and wear it if you ever had a castaway situation. Not to mention the pom-pom which is about as big as a child's head.  I am not sure how much yarn goes into the pom-pom, but I can tell you they are absolutely super-sizing it! And finally, if you can direct me to a better word than "pom-pom", it wouldn't be soon enough.
At around $50 per headcover, Jan Craig is clearly not the cheapest option. However, from a durability standpoint, I don't see them ever wearing out or fading which actually makes them a bargain in the long run. So when you tire of your stock headcover that came with the club, check out Jan Craig headcovers – because while club technology changes every year, style does not.
You can learn more about Jan Craig headcovers on their website and see more pictures on our Facebook Gallery