Straight Down Apparel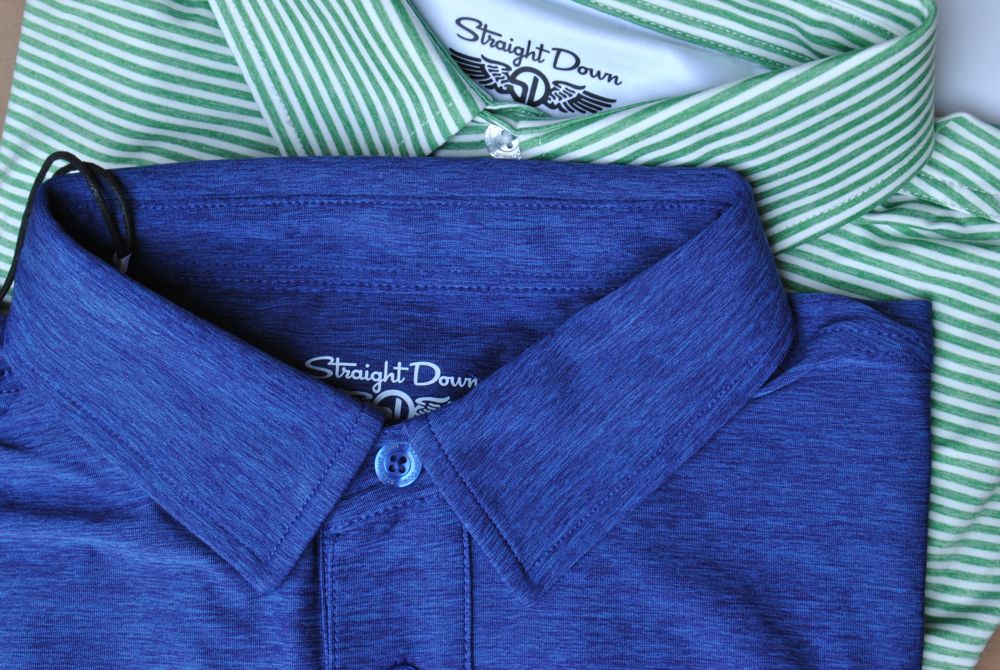 20 years ago I bought my first house. It was a nice house, great location, big yard. But the best part is that it came with the previous owners' satellite dish and receiver. I promptly signed up for the biggest package available, and drooled over all of the sports and movies I was going to watch. 5 ESPNs, Sports South, MSG, HBO, Skinimax, the works. That may not seem like a big deal in a world where you can watch Game of Thrones any time you want on your phone, but back in the day none of this stuff was even available on cable. It was going to be sports and movies, 24×7 baby!
Then something happened. Sprinkled in with my movie and sports extravaganza package were channels like the Food Network, Discovery Channel, and the History Channel. I found myself turning off the Lakers/Pacers game, or skipping Friday the Thirteenth, part n+1 to watch Shark Week, Good Eats, and documentaries (for our younger readers, The History Channel used to feature shows describing, expanding on, and explaining significant events from history). Sports and movies were cool, but there were a lot of cool things about satellite TV that I had never thought of.
Which is why getting satellite TV is just like becoming a golf blogger.
Didn't see that coming, did  you? Neither did I. When I first signed on at Three Guys, I was champing at the bit to get hold of the latest and greatest gear: rocket launching drivers, artisanal putters, and sweet, sweet irons. And I did, and make no mistake, it's a lot of fun. But on the way to the gear party, something strange happened. I started reviewing clothes. At first I figured it was a lark – let me review some clothes and you'll get a review about the technical aspects, because I have the kind of fashion impairment that's usually only found in people who own more than one pocket protector. My wife has had to stop me more than once from leaving the house in a striped shirt and a pair of plaid shorts. I mean, I knew I shouldn't do it, but I figured that at least I wasn't naked, and isn't that the point of clothes?
Then I got introduced to some of the finer points I'd been missing in golf, like Straight Down apparel.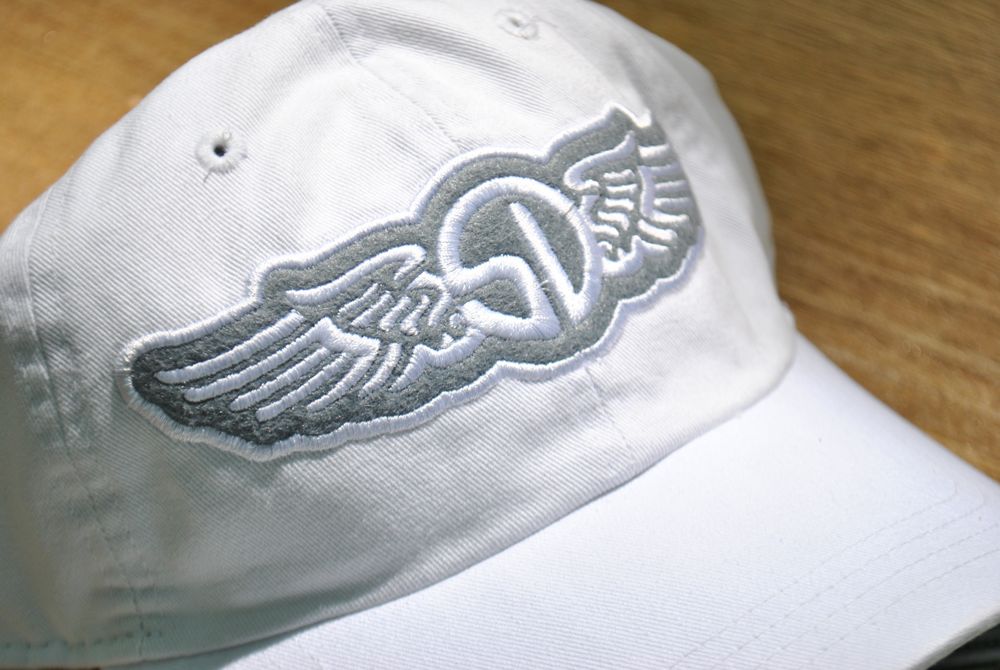 Founded in 1988 as a sportswear company, Straight Down refined their mission in 1993, focusing on golf and lifestyle clothing and accessories that combine classic styling with modern performance fabrics. Unlike many sportswear makers, Straight Down's designs remains squarely in the "classic" camp, but don't let the timeless styling fool you, the fabrics are as up-to-date as anything you'll find from the "cutting edge" companies. I've been enjoying mine both on the course and in a variety of dressier settings, and they've performed admirably everywhere.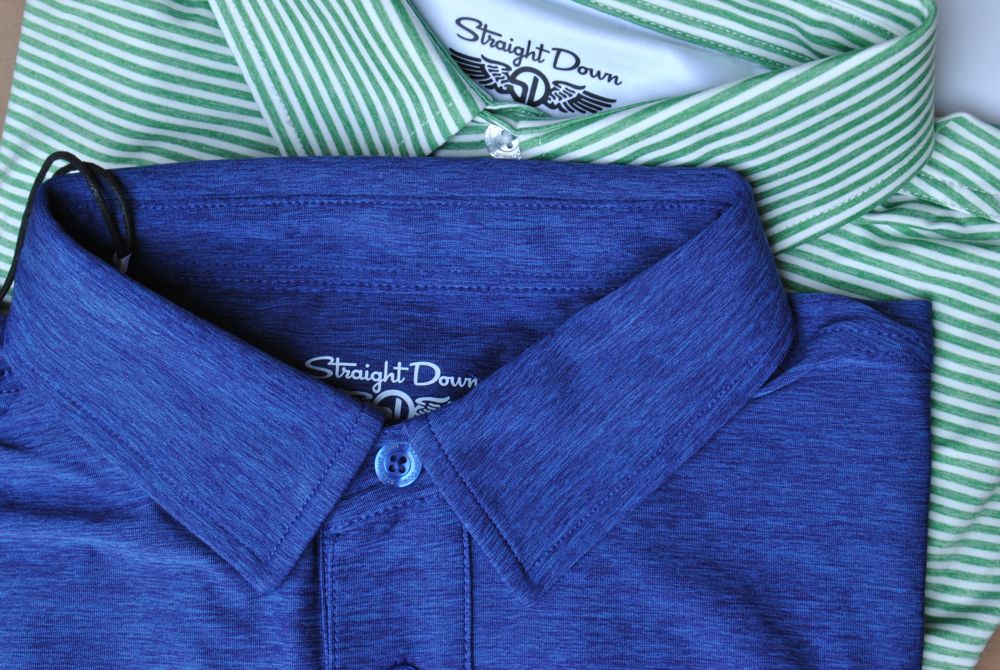 Taking it from the top, Straight Down sent their Wings hat. This is a classic cut ball cap in heavy cotton duck fabric. The brim is long enough to be useful and solid enough to hold a good curve. The Straight Down logo is appliqued on the front, giving it a bit of structure without making it as tall as a trucker hat. The heavy fabric makes it a daring choice in hot weather, but the solid construction will likely put it in heavy rotation when temperatures dip back toward the simply warm. Because the life of a golf blogger is one of constant hardship and toil, I wore mine for many rounds of sunny and 95 degree golf, and I can tell you that it's comfortable, durable, and has stood up well to washing.
The first item out of the box was the O'Ryan polo. The traditional design features a longer placket and sleeves, and a structured collar that stands up bit, which makes it dressier than the sport or knit collars that are more common on golf shirts. The Nylon-heavy Nylon/Polyester/Spandex construction gives it a very luxurious feel, while doing a good job of wicking moisture and helping you stay cool while you play. In really hot weather it's not quite as cool as some sportier golf shirts, but I think this is more than an acceptable trade off in exchange for the classic styling and dressier, more luxurious look.
My sample is in my usual Medium, and is cut to flatter a variety of shapes. My shape tends enough toward "round" that I usually avoid horizontal stripes, but the traditional cut of the O'Ryan combined with the fine stripe size to make me look good in them. If you're frequently caught between sizes you can probably safely go down a size with the O'Ryan. The cut of the shoulders is perfect, the arm openings are roomy enough to comfortably play golf, but don't make the shirt (or the wearer) look bulky. The classic full-length short sleeves sit perfectly just above my elbows. The tail is cut long enough that unless you regularly shop in big and tall stores (and entertain offers to play small forward) you should have no trouble at all with your shirt tail pulling out on the course. My O'Ryan has seen a lot of wear, not only on the course but in the dining room. This is a go-to shirt for guys who want their golf apparel to do double-duty as "out to dinner" clothes. The traditional cut and styling also make it a natural for the business casual office, where it won't scream "golf shirt!"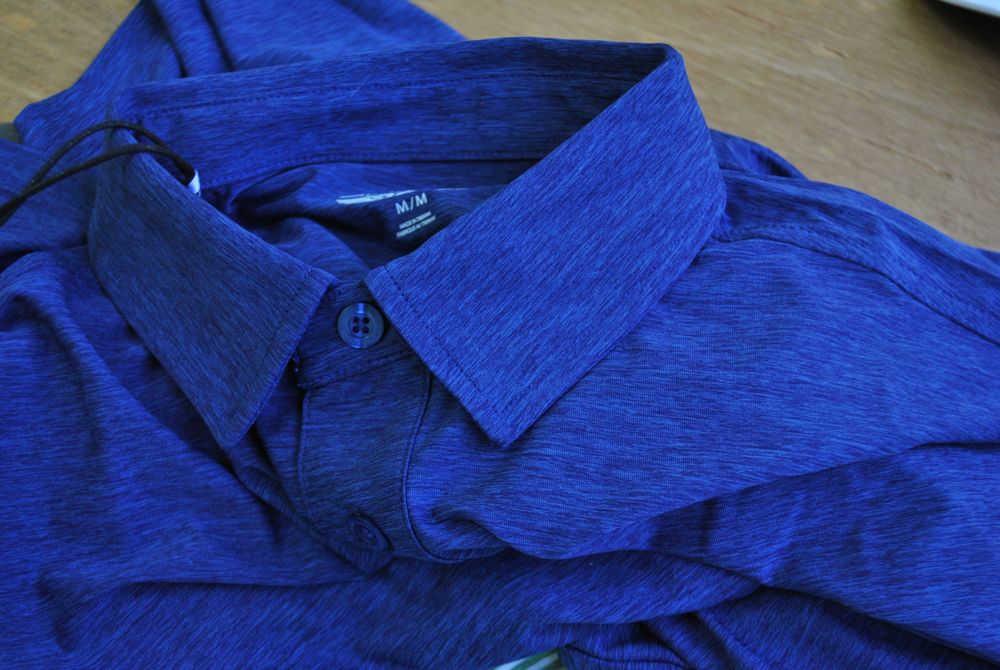 Also in my usual Medium is the Dodge performance polo. The styling is a bit more modern, and the fabric omits the Nylon used in the O'Ryan in favor of a mostly-Polyester blend with just enough Spandex to keep it forgiving. In keeping with the Straight Down look, this is still a shirt that looks completely at home in polite company, but in a nod to modern performance, the styling is a bit more athletic, with a slightly more casual fitted collar and a bit more athletic cut in the shoulders and chest. The heathered material drapes well and is lighter weight than the O'Ryan, which has made it my go-to shirt for playing nicer courses in our current 95 degree weather.
The Dodge is up to the challenge, with a light touch and good ventilation. The slightly more fitted cut doesn't limit your movement, and it pairs nicely with a pair of chinos for a drink in the bar or a dinner in a nice restaurant. Sizing is accurate, Medium is roomy, but I'd be reluctant to go to Small. If your BMI is below 23 you could probaby wear a small without much trouble (but if my BMI were below 23 you'd have to fight me to get a shirt on me).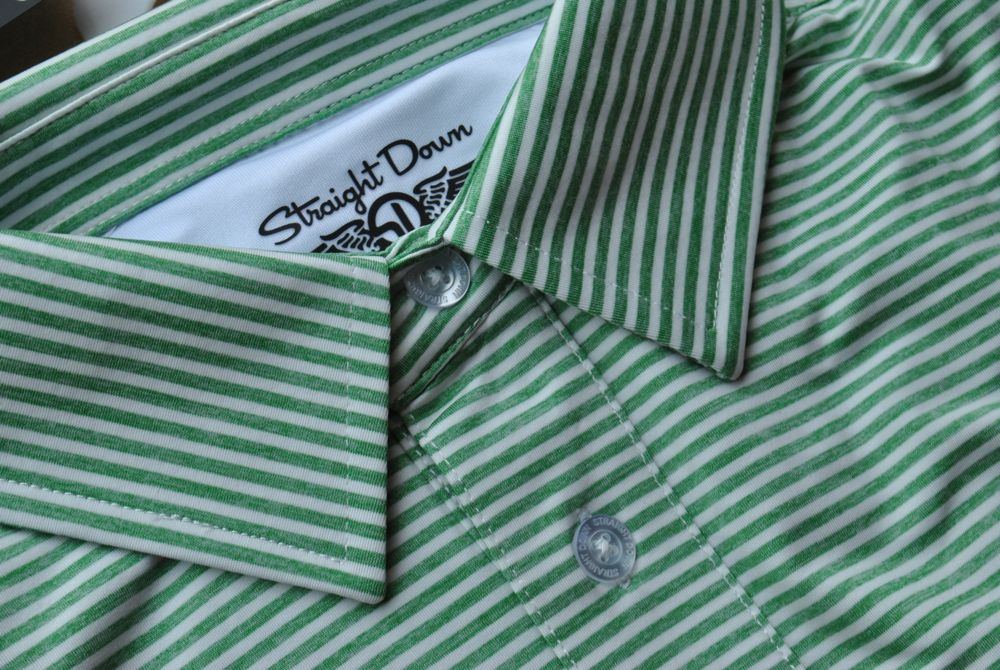 Both polos paired beautifully with the Strut shorts, which is good because the Strut shorts are my new favorites. The relaxed fit means that I could probably have dropped a size from my usual 32 waist, but the stretch performance woven fabric is forgiving enough in either direction that unless I do finally manage to drop the last stubborn 10 pounds the 32s will work just fine (and let's face it – with the boom in craft beers these days the chances of my losing those last 10 is, pardon the pun, pretty slim). In another triumph of forgiveness, Straight Down wisely treated the Poly/Spandex fabric with DuPont Teflon fabric protector, which makes the Strut quick to dry and resistant to oil- and water-based stains. My own Struts have successfully repelled both beer and chili dog-based stains and look like new.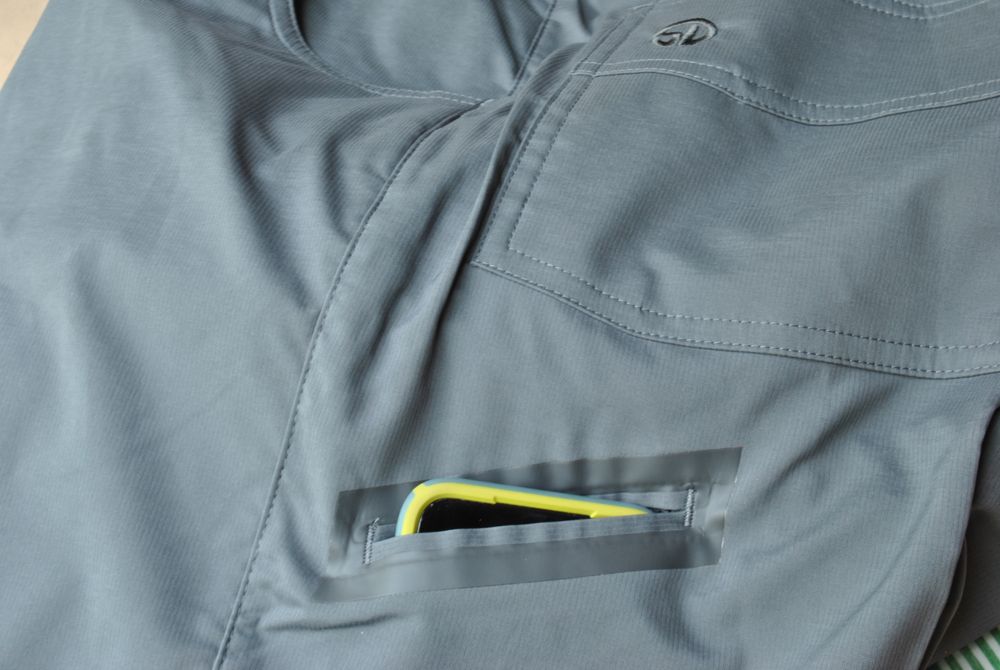 The 10 inch inseam means that these aren't for everyone, but the athletic cut means that the drop is short enough to allow some tailoring. I had mine shortened by a bit over an inch and they still look proportional. The 6 pocket design includes a watch/coin pocket on the front and a cell phone pocket at the back, with the Straight Down logo attractively detailed on the back pockets. Best of all, the front pockets are genuine front saddle pockets instead of the ubiquitous on-seam slash pockets that are the norm in golf shorts. For all of you who just shrugged your shoulders and discounted that as some kind of thing that only fashion-obsessed golf bloggers care about, you should know that front saddle pockets, because they're on the actual front of your shorts and shaped like half a U, don't dump everything out of your pockets when you sit down. If you've ever dumped a ball marker, repair tool, 2 tees, and $9.31 in singles and change into the abyss behind the seat of a golf cart, front saddle pockets will change your life. The Straight Down Strut has them.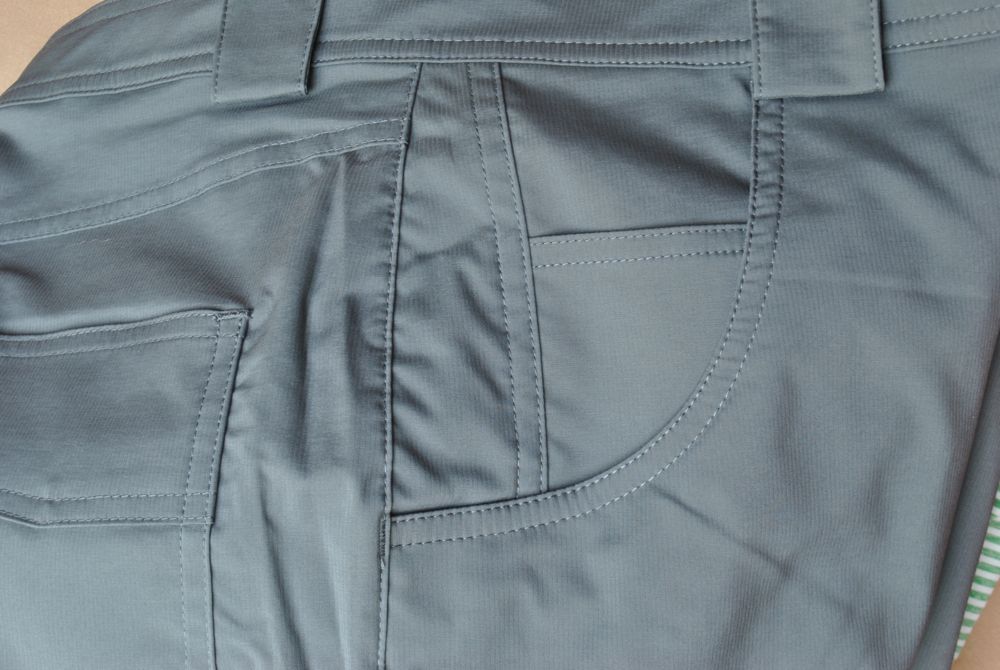 I'm very impressed by both the styling and construction of my Straight Down apparel. As I've become acquainted with brands like Straight Down I've come to appreciate the old Billy Crystal line that "It is better to look good, than to feel good." Golf is a mental game, and it's easy to understand how distractions like ill-fitting or uncomfortable clothes can add strokes to your score. But golf is also a social game: if you feel like a player, it's easier to play like a player, and my Straight Down apparel helps me feel comfortable, whether the challenge is a nasty par 4 in 100 degree heat or golfing with the boss.
You can see the whole line on the Straight Down website.