Antigua 2015 Desert Dry Apparel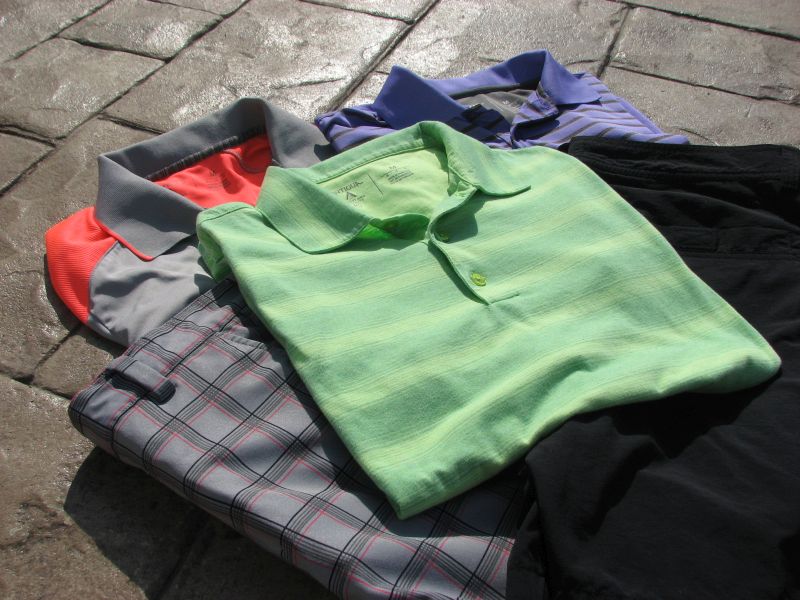 To everything there is a season – Ecclesiastes 3:1
The last time I got the chance to review some golf apparel I had to fight snow, sleet, and assorted unpleasantness to trudge through enough rounds to give you, our loyal reader, the low-down. But the third stone from the sun has continued its trip, the seasons have turned, and summer has returned to Three Guys World Headquarters and Golf Club. And as if to compensate us for suffering through 8 inches of snow, the North Carolina Piedmont has been "rewarded" with temperatures approaching triple-digits earlier in the season than any time in recent memory.
In recent years the sunny south has been a popular destination for folks from other regions, and our unique climate often leaves them asking "How the hell do you live with the heat?" In the past I would point out that air conditioning is nearly ubiquitous south of the Mason/Dixon line, but now that I have the kind of golf addiction that you couldn't break with a 12-step program and shock collar, I've been forced to take that question a bit more seriously.
The last time the mercury was nearing three digits, the fine folks at Antigua Apparel came to my rescue with their Desert Dry performance golf shirts, so I was excited when another package from Antigua (the company, not the island) showed up in the mail (although I would also be excited to receive a package from the island nation, if you're listening, Antigua and Barbuda). Now that I've had a chance to play multiple rounds in Antigua's new Desert Dry Xtra-Lite golf shirts and shorts, the heat doesn't seem so bad.

Unlike me, the folks at Antigua Apparel didn't spend their off season eating carbs and complaining about the weather. Instead they took a look at their Desert Dry moisture-wicking technology and found ways to improve it. They combined the moisture management of the original Desert Dry with a line of newer, lighter fabrics, resulting in the new Desert Dry Xtra-Lite line (okay, perhaps the guy in charge of names might have hibernated a little, but let's be honest – when it's 100 degrees, do you really care about the branding?) Just improving the performance of their apparel wasn't enough for the folks at Antigua either, as the 2015 Desert Dry Xtra-Lite lineup features contemporary design updates that will make you look nearly as cool as you feel.
Case in point is the Zone polo that was first out of the box. Made of an extremely well-ventilated polyester, the jersey and pointelle knit polo features open cuffs and a flat-knit collar. If, like me, you're built more for comfort than for speed, you'll appreciate the solid pointelle side insert that gives a slimming effect to offset the horizontal stripes on the rest of the shirt. As usual for Antigua, the cut is generous and comfortable without being baggy. I sometimes have trouble finding shirts that fit both my small-medium shoulders and my solidly-medium midsection, but Antigua never fails to work well for me. I particularly appreciate the cut of the Zone and Blaze polos in this review for their roomy cut in the midsection while still keeping the arm openings small enough to avoid sagging and "bat wings." I think that folks in the normal to slim category could safely order a size smaller than their usual and be happy. The cut is also long enough that unless you're freakishly tall you should have nothing to worry about, a nice touch when you're playing a game that involves lots of bending and twisting at the waist.

I paired the Zone polo with a pair of black Dune shorts. Made of feather-light ripstop nylon that looks and even feels a bit like linen, these shorts are a real treat on the hottest days. They breathe extremely well, and the generous cut does an nice job of catching whatever breeze might be available. In fact the cut was a bit too generous for me, my usual 32 waist was quite wearable, but I think I could easily have worn these shorts in a 30. The on-seam slash front pockets are roomy, deep enough not to dump their contents every time you sit in the cart but without any nooks and crannies to hide tees or ball markers and leave you rummaging in your pants while your buddies wait.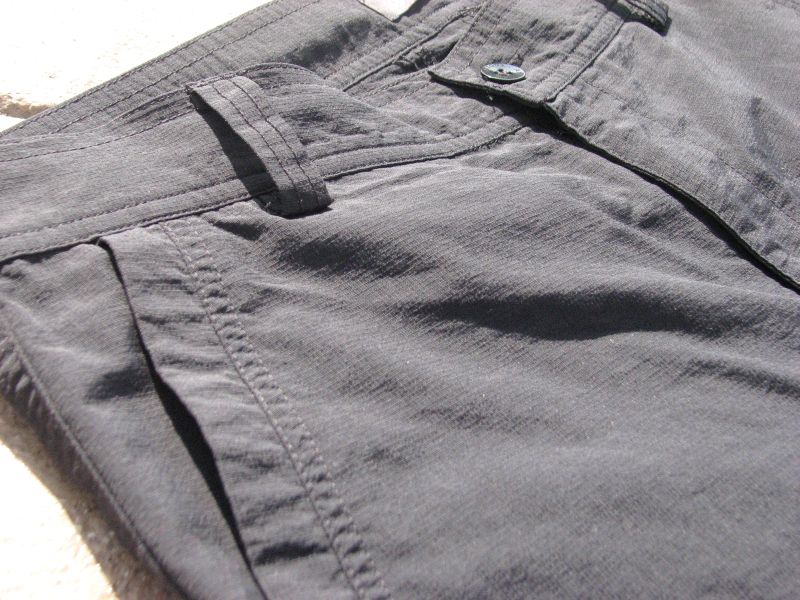 I'm a bit embarrassed to admit that the velcro closures on the back pockets threw me at first. I thought "why would you put velcro on the pockets where you keep your golf glove?" Then it occurred to me that my golf gloves have velcro on them as well. Rather than stuff the entire glove in my back pocket I've taken to sticking my glove velcro to the outside velcro on my shorts. That makes it easy to keep my scorecard holder and my glove in the same pocket.
I never thought of myself as a guy who would wear anything in "Papaya," but I have to confess that I was champing at the bit to wear the Radar polo from Antigua in Limestone/Papaya (for those of you playing at home without a color wheel, that's grey and orange, more or less).  Another 100% polyester moisture-wicking polo with the pretty standard flat collar, the Radar has the most generous shoulder cut in the Antigua Performance Golf lineup, lacking the traditional top-seamed shoulder opening. If you need maximum room in the shoulder area, you want the Radar. The colorful shoulders combine with the striped side inserts to make this shirt quite slimming, and the Desert Dry Xtra-Lite does a great job of keeping you cool.

I paired the Radar with a pair of Fiji shorts in the same Limestone/Papaya color scheme. The polyester/spandex fabric is stretchy enough to give plenty of leeway in sizing, and has what's called a dobby back that improves airflow. The Fiji has the same very workable pocket arrangement as the Dune in a more finished fabric for those who like to liven things up with a bit of color, and works just as well when the heat and humidity are up.

Best match since they took my Garanimals
The big star of the new 2015 Desert Dry lineup from Antigua was the Blaze polo. The Blaze is part of Antigua's new Desert Dry Performance Cotton line. Yes, cotton. Cotton fell out of favor with athletes in favor of newer artificial performance fabrics, but artificial fabrics just seem so, well, artificial. Cotton gives a classier, more upscale look and feel than even most of the top-notch performance fabrics, and the Blaze takes full advantage. With a heathered finish that gives it a luxe look and feel, the Blaze combines Antigua's Desert Dry technology with an ultralight cotton fabric, but one that lacks the visible ventilation of the Zone and Radar. The Blaze looks quite at home in environments where artificial performance fabrics might stand out, thanks to the look and feel of cotton.

Because you can't wear a shiny shirt everywhere
Of course that's not much comfort if that same cotton absorbs perspiration and sticks to you when you're trying to play golf, but the Blaze performs admirably on the course as well. Thanks to the Desert Dry tech, the cotton fabric seems a bit less likely than some of the artificial ones to cling, making for less tugging at the shoulders before a swing. The Blaze is also tailored a bit closer than the other shirts in this review, taking advantage of and adding to the classier look of the cotton fabric. It fit me quite well and ran true to size, making it one of the few Antigua shirts that I don't think could work if you sized down.
It's shaping up to be a long, hot summer, but you don't have to choose between being miserable because of the heat or being miserable because you can't play golf. Antigua's Desert Dry performance offerings will help you keep your cool, and look good doing it. Antigua apparel is available from many resort and pro shops thanks to the their event services and custom embroidery offerings for corporate partners, or you can see their complete line on the Antiqua website.