Devereux Spring Christina O Collection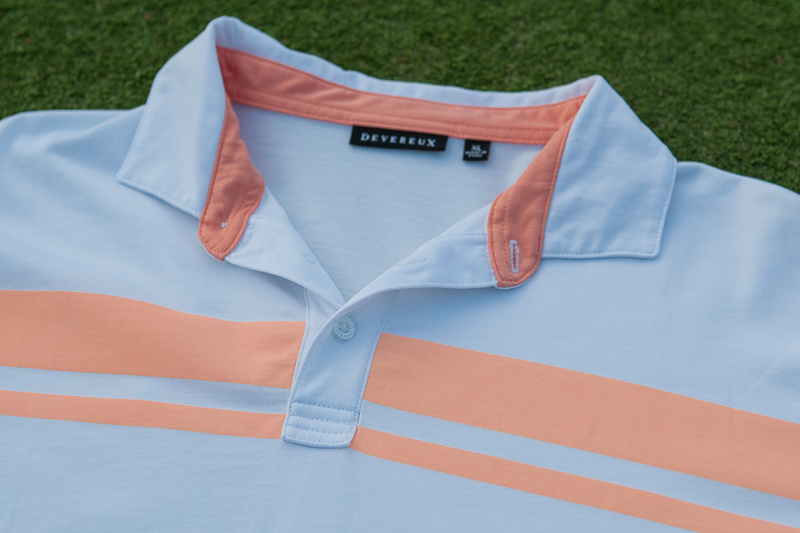 Finally, spring is upon us and that means there's much golf to be played. Aside from the obvious reasons to get out and play, the other awesome perk of the new season is all the fresh spring apparel hitting the shelves.
Devereux may not be a name you are familiar with, and you certainly won't find them flipping through the clothes rack at Golf Galaxy, but don't worry we have your questions covered. The latest Devereux spring line, called The Christina O Collection, offers a wide variety of stylish colors and unique looks that distinctively separates them from the typical "golfing polo".
For this review Devereux sent a pair of shirts, meaning two… two shirts… got it? My expectations were high based on Matt's review of their 1st collection so when the package arrived in a very unique box I had a feeling I was not going to be disappointed.
With so many apparel companies it is tough to stand out from the crowd. Devereux is betting that the industry is moving away from bright colors and loud prints, and so they are instead focused on a clean, refreshing look that borrows a page from history when it was fashionable to dress like a gentleman.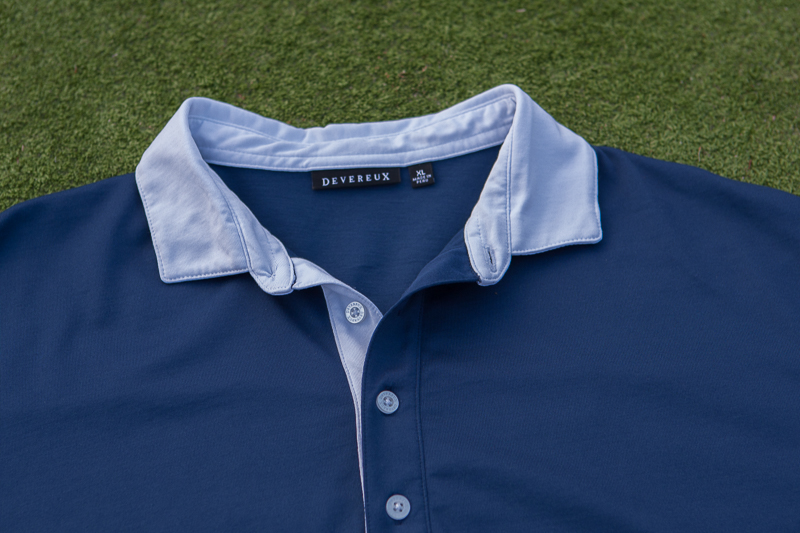 Paying higher attention to the details and fit, the polo's from Devereux have been a welcomed addition to my wardrobe. For example, the EOS polo in white with apricot stripes is slightly nautical but is absolutely off-course appropriate. The addition of matching accent colors in the collar are just another example of the attention to detail seen amongst the entire line.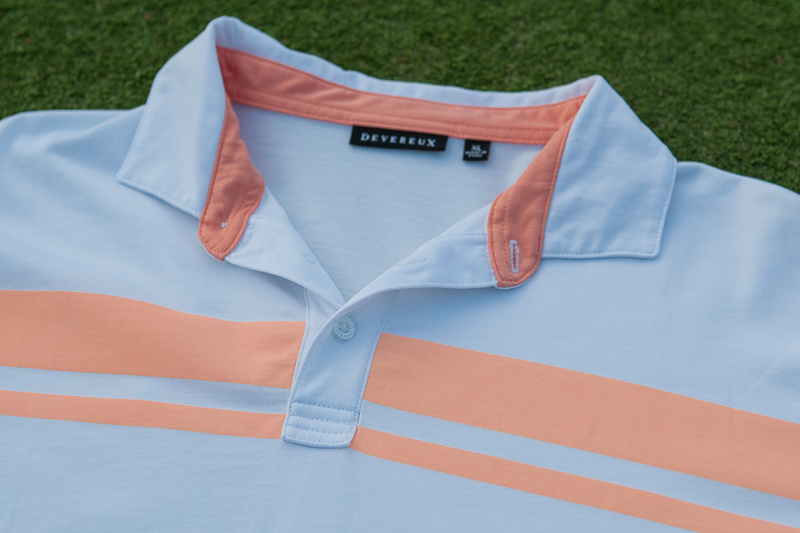 In terms of fit, the collar is very soft so you do not feel like your head is resting between two over-starched table napkins. Again, we see small details like the embroidered Devereux logo on the back side of the collar. Importantly, I found the shirts to hold up quite well even after a cycle through my washing machine with no fading or destruction of the collar.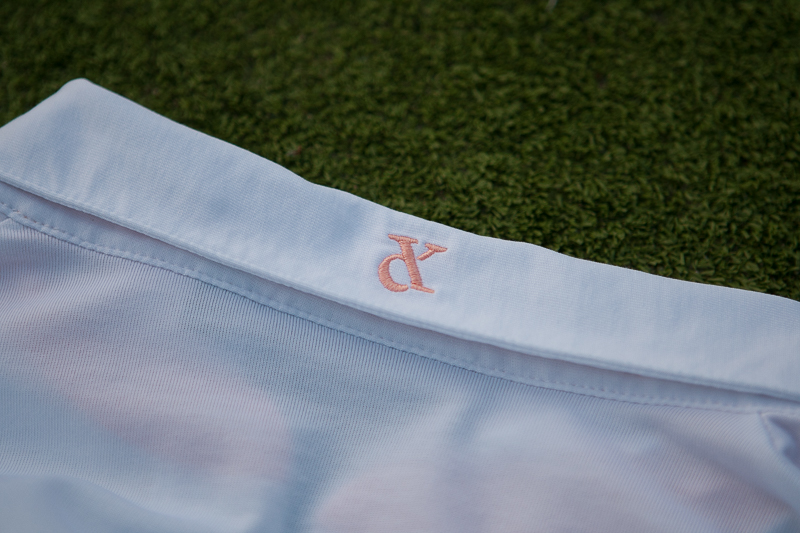 While Devereux is in the golf industry, they are really just in the fashion business as their clothes are suitable for more than just 18 holes and a car ride home. Still, their style oozes golf, and with golf being my go-to extracurricular activity of choice, I love the fact they kept the golfer in mind when they designed the the line.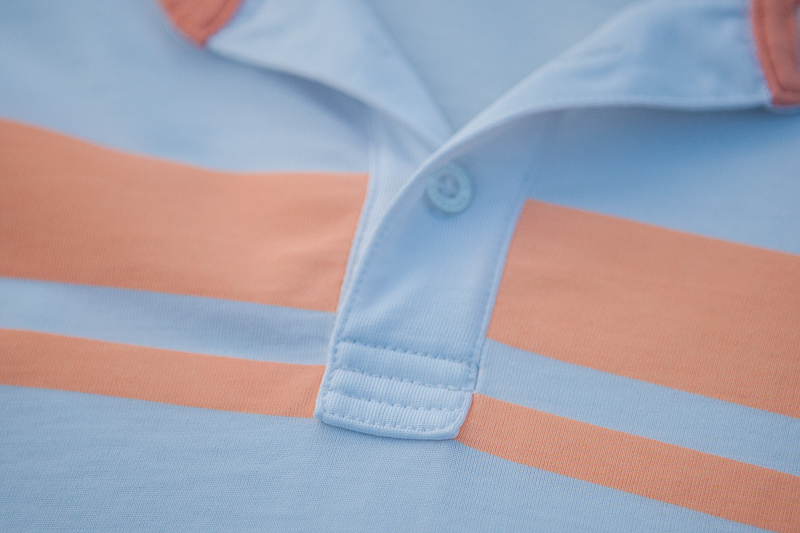 Touch and feel:
The polos are incredibly comfortable and have just the right amount of give where needed during a full swing. The Devereux shirts are made from a combination of Pima Cotton (65%) and Polyester (35%). This blend of fabrics makes the polo very comfortable but also flexible, lightweight and breathable.
The second polo we received is dramatically different from the EOS. Even though the ARGO features the same 3 button front panel as the EOS and is made from the same material, its appearance is changed quite a bit. Solid navy with an accented collar in white, this shirt is classic and utterly appropriate. I know some people prefer lighter colors in the heat of the summer, but for me, I will take that trade for the fact a solid dark color does wonders for hiding my girthy flaws. The Navy ARGO colors are as true blue as any polo I've ever seen, very rich and vibrant. The same incredible feel from the EOS is present in the ARGO, that's no surprise, and I love the look it when I wear it. Devereux calls it "Timeless" and says it's the collection's most detailed shirt.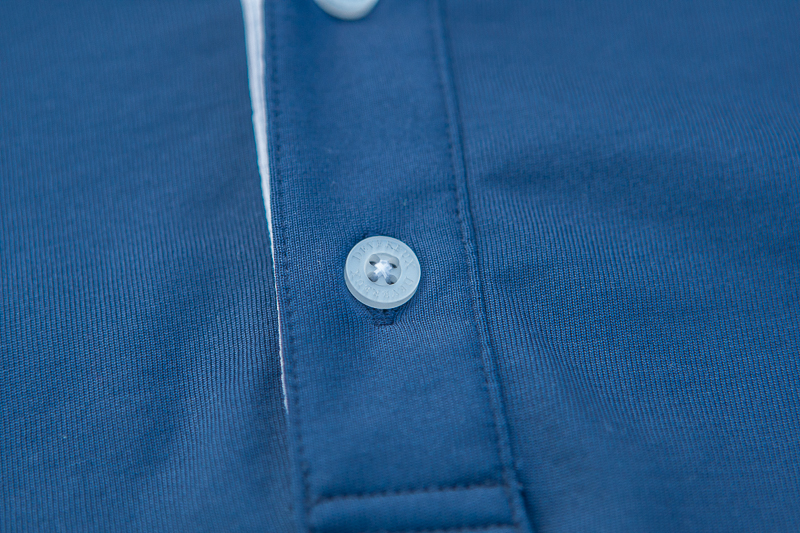 While I'm extremely far from being "Mr. Style" when it comes to fashion advice, I have come a long way from my days of strolling the golf course in cargo pants, an abused and tattered cotton polo, and 15 year old Nikes. With a lot of help from Adam here at Three Guys Golf I'm starting to get some "Fashion Sense" when it comes to scripting my outfits for my rounds. Pairing the polo's with my current pants and shorts hasn't been challenging at all. Even with my lacking skills I've been able to piece together several different outfit combinations and I'm quite pleased with the outcome.
Aside from looking fantastic, one aspect of the apparel line that Devereux prides themselves on is the details in their work. Years ago when I began my work at Three Guys Golf I was oblivious to stitch patterns, fibers, the particulars on how buttons are sewn on and all the extras that go into making a high end golf polo. Needless to say I've learned a few things since then, and now when I receive a new piece of apparel to review I go over the entire product with a fine tooth comb looking over the intricacies of how it was made.
Devereux's attention to detail is outstanding – as I turned the polos inside out looking over the entire shirt I chuckled when I came across this priceless tidbit of humor.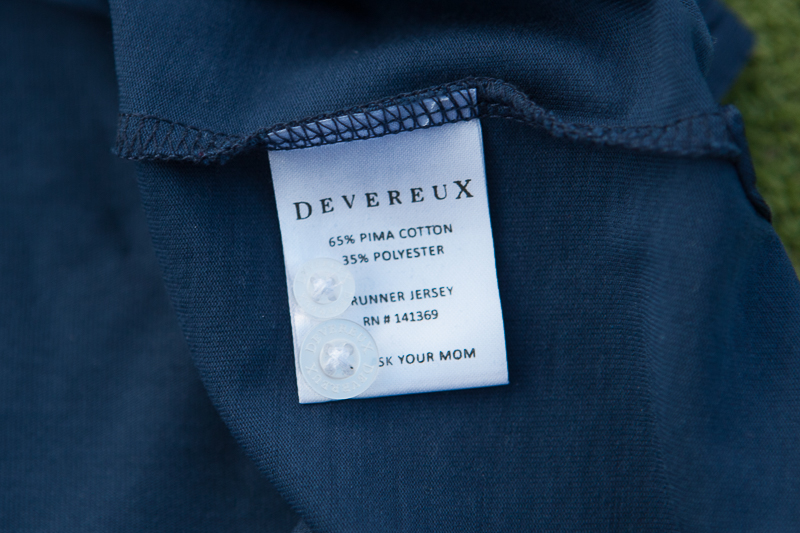 Devereux makes a high quality shirt, that's no lie. Their spring line is outstanding based on the few pieces we received, and when I browsed through the rest of the collection on their website I was thinking there are several more that need to be in my closet.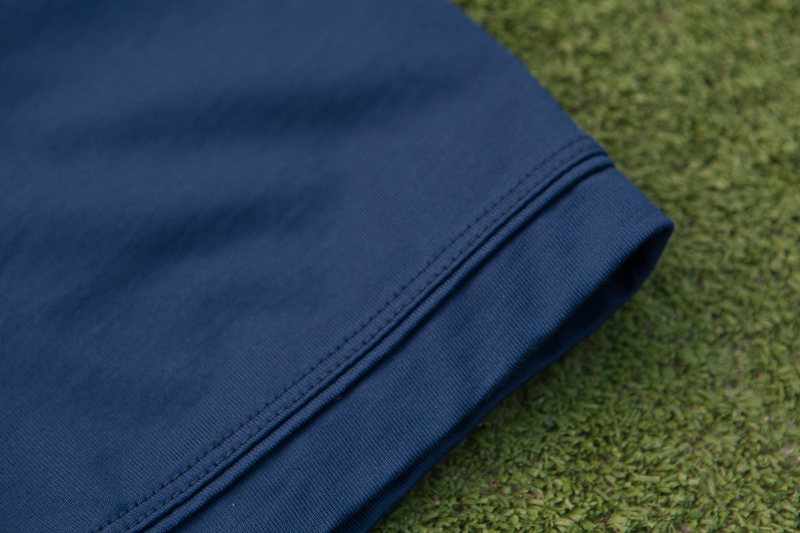 To go along with the EOS and ARGO styles there are four other choices, the ARISTOTLE, BRUNNER, DELPHINE and LUNA. The six distinct styles all offer a variety of looks and color choices making it easy to find one that compliments your style and can easily be paired with shorts and pants you already have.
With the addition of these fine pieces from Devereux I'm now armed with even more fashion bullets than I could have imagined. The fit is fantastic, the style is unique and refreshing, but most important to me, they perform on the course better than I had expected.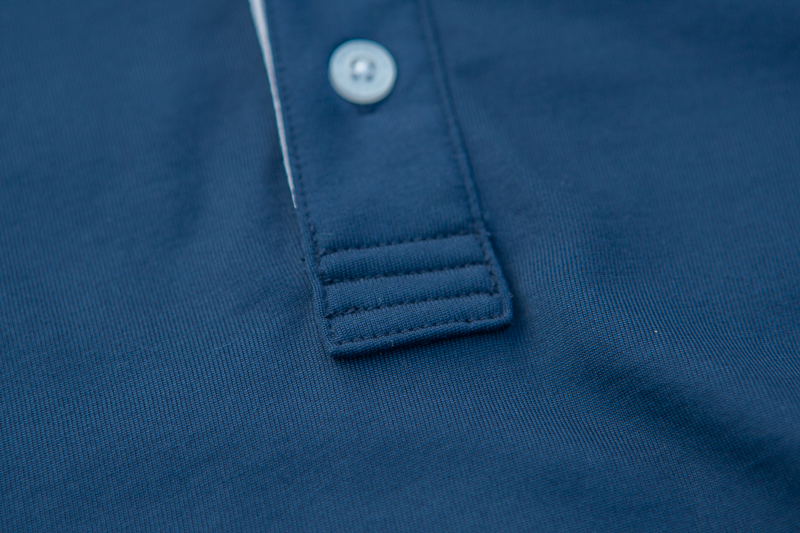 The EOS shirt sells for $90.00 and the ARGO retails for $95.00
I highly recommend checking out the at the Devereux Website where you can view the entire collection Christina O Collection and see for yourself what an incredible apparel