Devereux – "Proper Threads"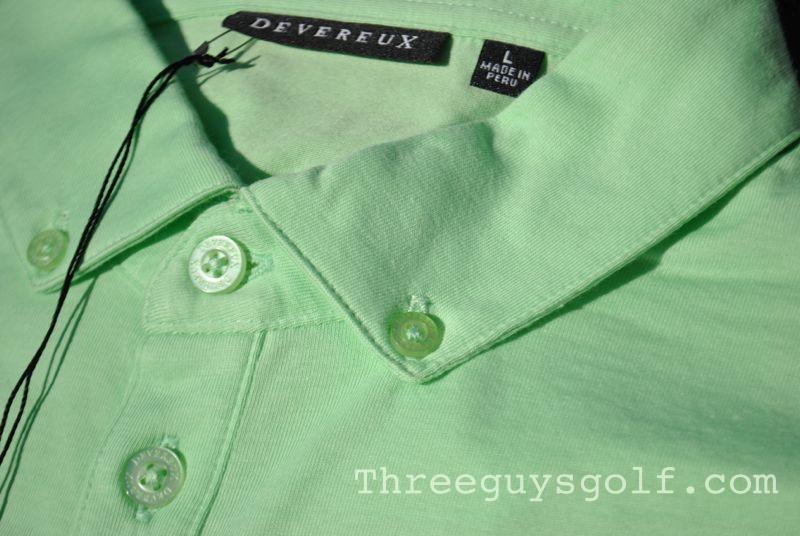 Here at Three Guys we love to discover smaller apparel brands that bring something cool to the table – brands that the average golfer may not be aware of unless we do our job. Most recently we have come across Devereux, tagline "Proper Threads". That tagline was enough to get our attention, so we tried out a few shirts to see if Devereux can back it up.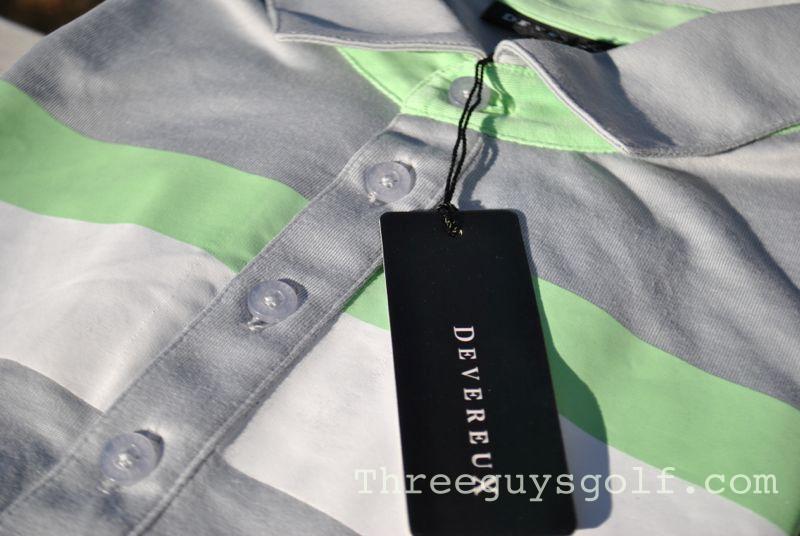 The Devereux website provides the following basic description: "a contemporary new line of men's apparel that gets it." Seems like a bold claim for sure, since any one of us could have a different idea of exactly what "it" is, but if you take a step back and look at their entire line as a whole, you see what they mean. The company offers polo shirts and sweaters geared for golf and lifestyle, each piece combining golf performance sensibility with a bit of timeless classic.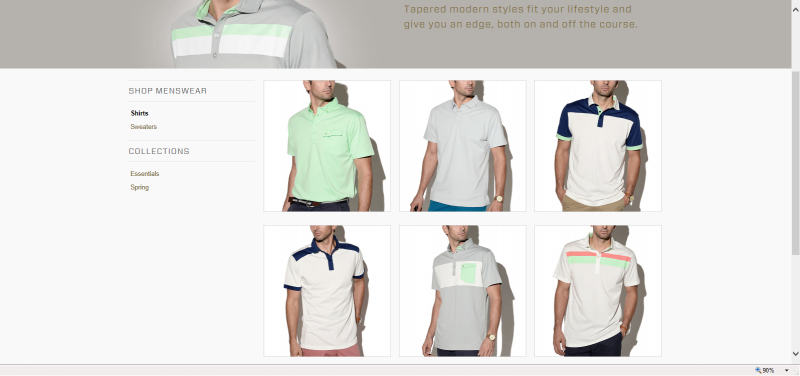 My apologies, but I want to quote their website one more time, as paraphrasing would not do it justice. Under the header "Here's What We Know":
You don't have to sacrifice your masculinity (aka dignity) to be considered trendy or fashionably hip. It's called a "trend" for a reason.
 A closet filled with big bright in-your-face colors and dizzying patterns that SCREAM will not transform you from dud to stud. Oftentimes, the reverse is true.
At the end of the day, men want proper threads that perform, provide effortless style, are as comfortable on the course as off – and fit their lifestyle to a tee.
If you've read any of my apparel reviews of yore, you will know that these guys are pretty much speaking my language. I have nothing against the guys who wear the trendy/screamy stuff, and in fact I think that look is often really cool; I just can't wear it myself. I have a deep-seated fear of overhyping my golf game with my attire and inevitably going down in flames as I shank my way down the first fairway in 1988 Andre Agassi duds. So really, Devereux was fighting a downhill battle, as I was already stoked about the shirts when I ordered them – the well-placed (slightly asymmetrical) chest pockets, the fact that the shirts are primarily cotton, and the color offerings were all right up my alley (no royal blue or bright red, for example).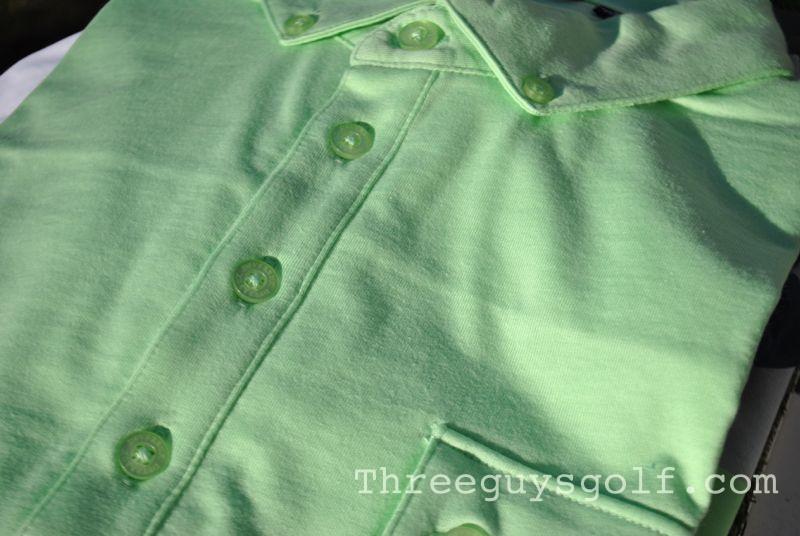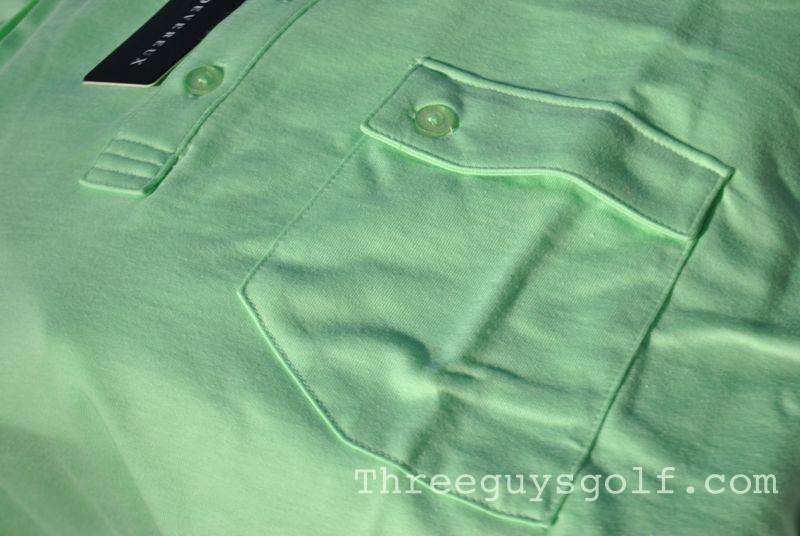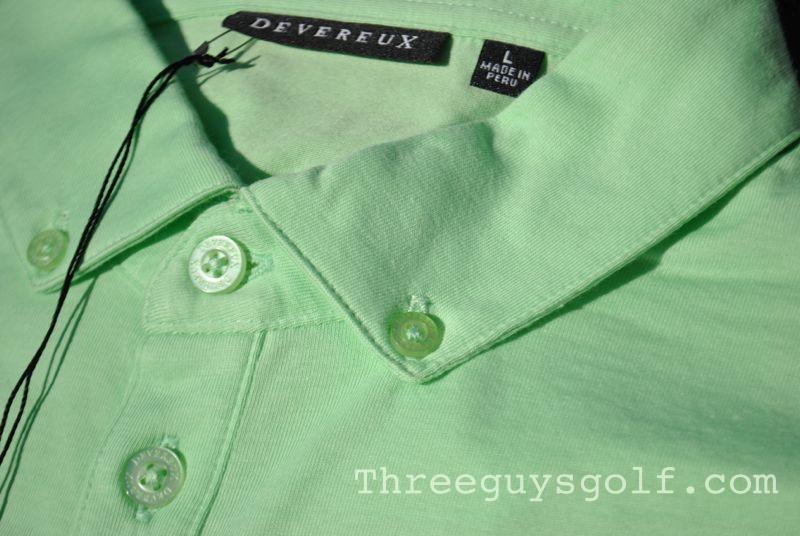 As we all know, the script can get flipped once you actually wear the clothing, but in the case of Devereux my fandom stayed intact. I ordered three polos: the Brunner in Sea Green (above) and the Windsor in Steel with See Green and White stripes, and the Oliver in White w/Navy. They all run in the $80 – $90 range, consistent with the rest of the line (sweaters are $145).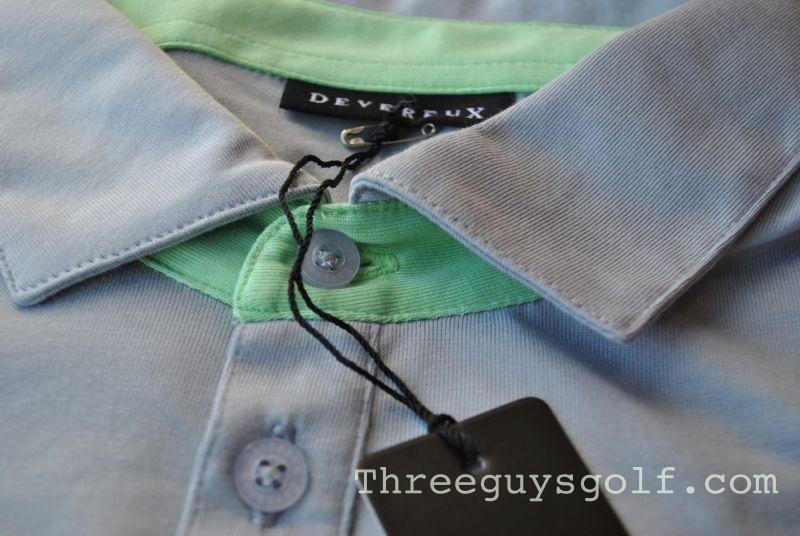 The Brunner is just a basic solid polo with a button down collar and a money little chest pocket, making the shirt 48 times cooler than one without. The fit and feel of the shirt is fantastic. You can feel a high quality shirt when you put it on, and this was certainly the case with the Brunner. I'm not much of a runway model, but my wife actually happened to glance over and catch me mid-mirror, and she immediately commented on how money it looked. It fits right, feels right, and the cut makes for the perfect hang off of the shoulders. Sizing seems standard –  I am typically a large, I ordered a large, and I looked insanely awesome in the large.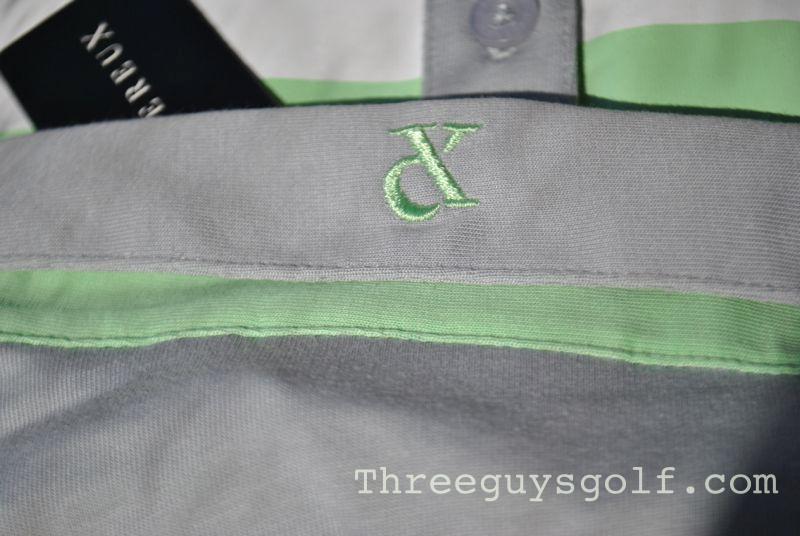 The Windsor was essentially more of the same, but with one small surprise that was initially a disappointment: the stripes are not just different colored cotton, they are actually made of a layer of plasticky material that sits atop the fabric. 'Plasticky" is not really a fair or accurate description . . . I don't know what you call it but it's the same stuff that they used for numbers on your basketball or soccer jersey back in the glory days. Doesn't sound so good, right? I thought the same thing, but my fears were put to rest when I wore the shirt and played 18 – no issue whatsoever, feels like a normal shirt and looks just fine.
I remained concerned, however, that this shirt wouldn't be an easy wash/dry deal like the others, but again my concerns were appeased after the first run. The stripes stayed intact and seemed plenty durable. Made from 65% Pima cotton, 35% polyester, the Devereux polos get the best of both worlds. The cotton allows for a nice drape that hides a little bit of middle age weight while the spandex keeps it light and breathable. Additionally, it makes for easy care – simply wash, dry and hang with no ironing required.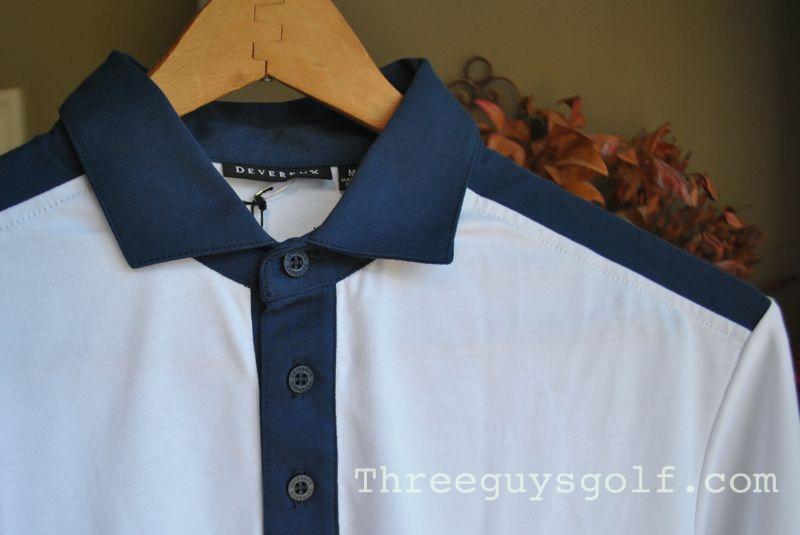 The bottom line on Devereux shirts – they are simple and awesome, just what I'm always looking for in a cotton polo. They have all the requisite finer points – the logo on the back of the collar, button-down collars on the shirts that call for it and cut-away collars on those that don't, and quality stitching and buttons all around. And don't forget about the cut – Devereux has nailed my idea of a perfect cut, staying classic but adding some athletic euro for a dash of cool.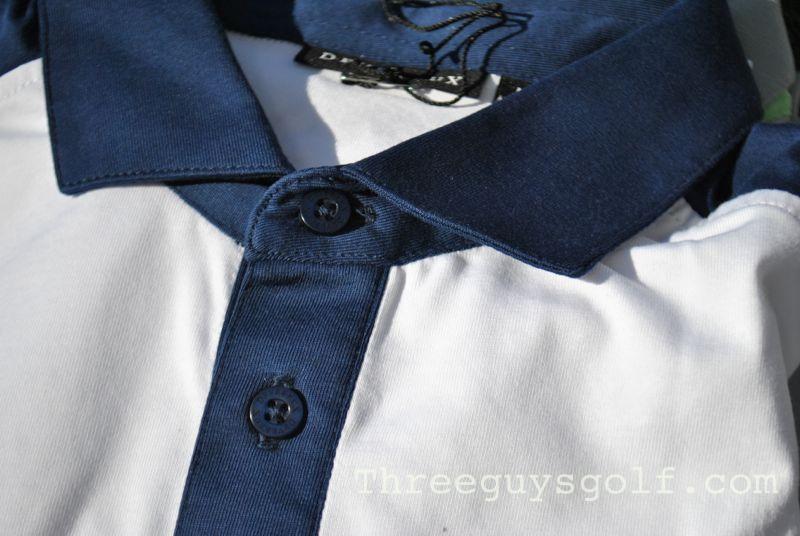 Cheesy but true: with the Devereux I felt like more of a stud than usual on the course and it provided a little extra hop in my step as I chased the ball around. These three shirts are at the top of the order in my sparse closet. No point in keeping any clunkers when I have these three money shirts ready to go every other week . . . man I wish I played more golf. But at least when I do, I'll be looking good.
Check out the whole line of apparel on the Devereux website.