Stitch Golf Head Covers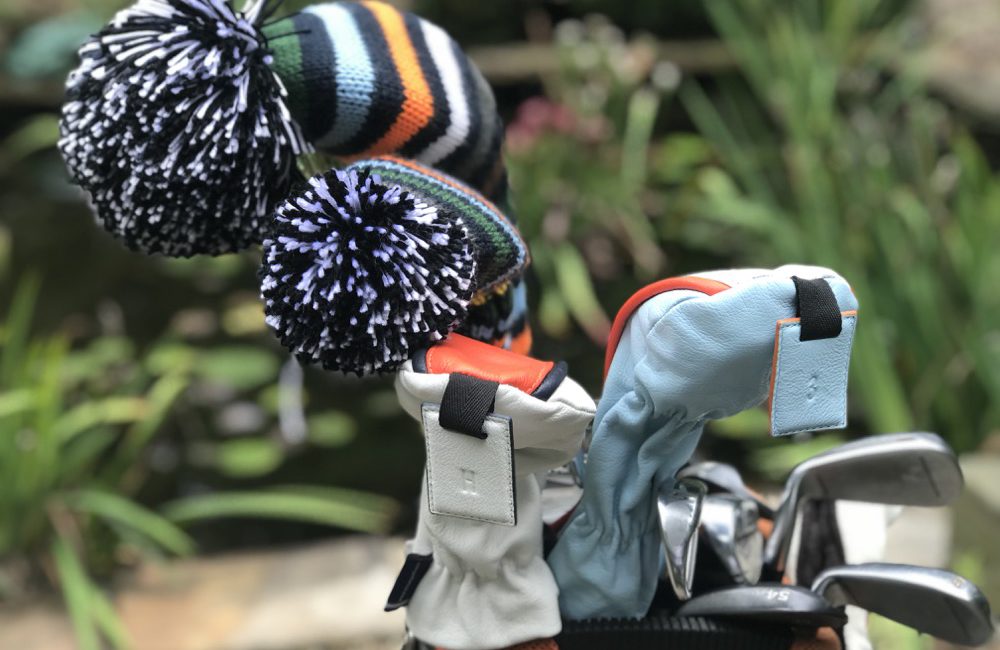 Last week my golfing buddy pulled the trigger on some new woods. I guess four years of me making fun of his 1982 clubs finally made an impact. While not new–new, he landed on Taylormade Aero Burners which he got for a steal on eBay. Unfortunately, the clubs arrived with no head covers. Actually, that was a blessing in disguise because stock head covers suck. Still, feeling the weight of caring for his new babies, Rod made due until a proper substitute could be found.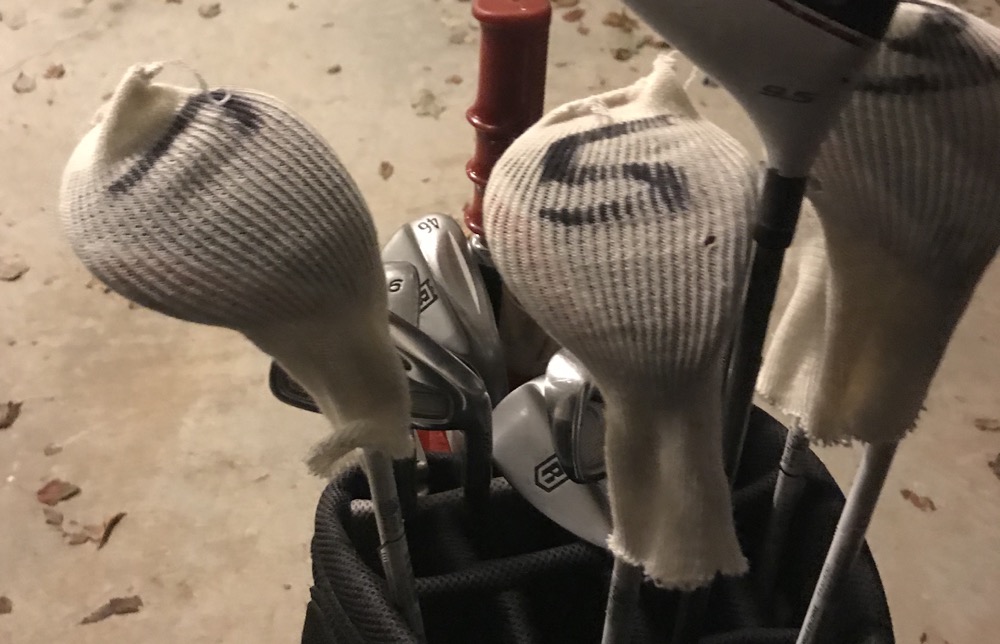 I know it is easy for me to say everyone should have a bag full of cool head covers since I get mine for free, but I still stand by that proclamation. Golf is a personal game. We each have a style that is as unique as our swing and head covers are an easy way to express that style.
Stitch Golf was founded by Charlie Burgwyn in 2012. Charlie has deep roots in the golf industry so it was no surprise that Stitch Golf made short work of becoming one of the leading headcover manufacturers. When I visited Charlie 5 years ago he was in a small office near my home in Chapel Hill NC. Today, the company has grown significantly and has expanded both their retail presence and product offering. Still, Stitch headquarters remain in Cary, NC where they manufacture all of their products… so yes… made in the USA!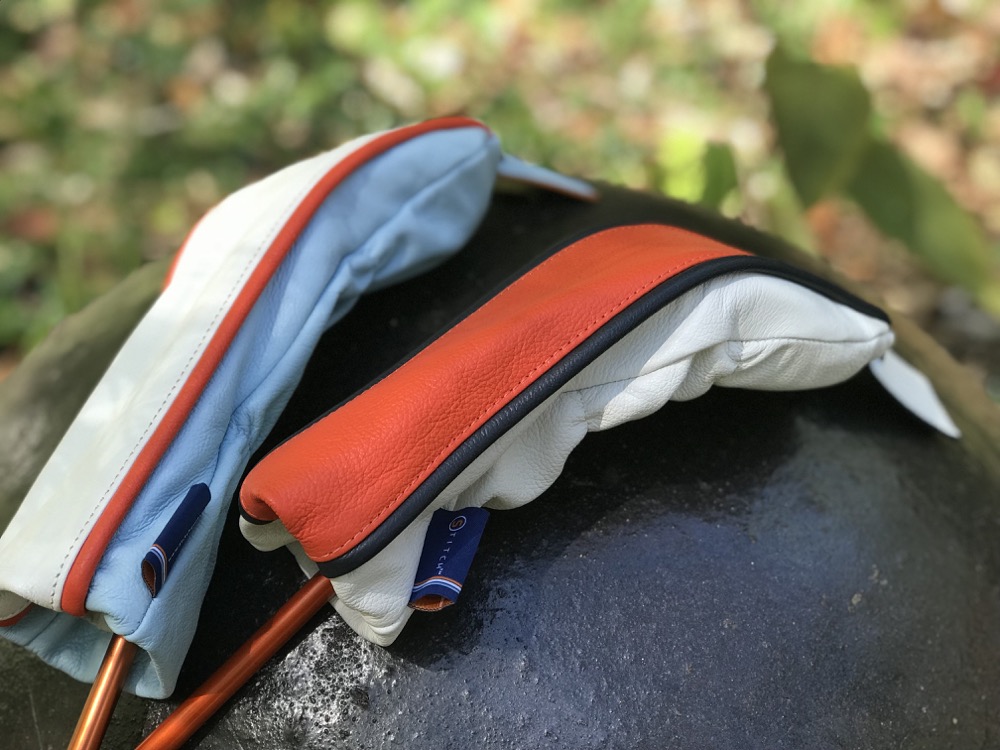 For those of you who have never met Charlie, he is the one who is impeccably dressed and has a smooth southern charm that reminds me why I live in North Carolina. Even as Stitch has grown, Charlie is a staple at the PGA show and will happily show you all of his new products while making note to ask about how you are doing. It is frankly no surprise to me that Stitch has become so popular with a founder who is such a genuinely nice guy.
Despite the product line growth, head covers remain the staple for Stitch Golf and they do it very well. While head covers now come in a tons of different fabrics, the mainstays are still leather and wool/acrylic. Both have a long history in golf for good reason, they function and hold up extremely well.
It seems like everyone and their brother is making leather head covers these days. I look back the 2017 PGA show where I must have talked to 15 head cover companies. The reality is that most are high quality so it becomes difficult to stand out from the crowd. Stitch Golf has been able to do this by being very successful in gaining green grass accounts, which has led to a strong brand name.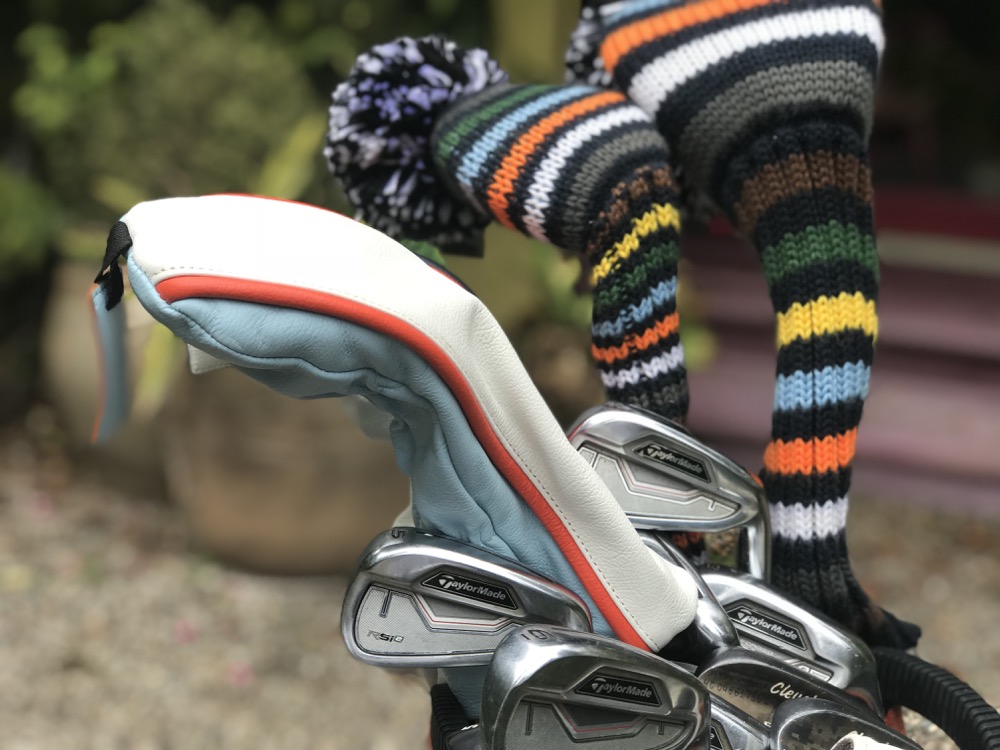 As I mentioned, I am lucky enough to get lots of free gear. However, that does not mean I am not cognizant of the retail cost. Most boutique head covers I review run between $89 and $115,which is not cheap. Contrast that to Stitch Golf, who offers premium head covers for $68-$98, or roughly $20 less than comparable models. Not too shabby.
For this Stitch Golf review I chose leather head covers from the F1 collection and matched them with the Lifesaver knits.
Stich Golf F1 Leather Head Covers
As I mentioned, head covers are a personal preference, so when I set out to choose a style that I wanted to review I looked for something classic but with some edge to it. The F1 series fit this bill for me perfectly. The F1 series comes in a number of color combination that all share a common racing vibe.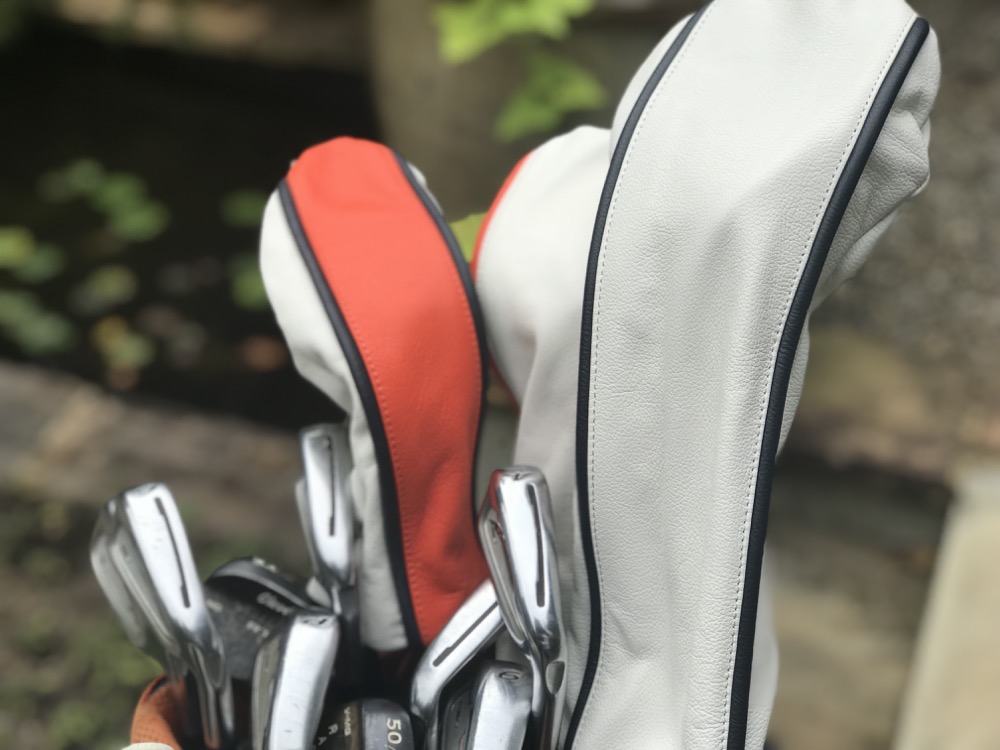 Key to this vibe is the contrasting ribbing that sets off the front color. Additionally, each of the color pallets in the F1 series tends to be a version of something you would see on a car in Monte Carlo.
As for the leather… lovely. The thing about leather is that when it is done right it feels great, looks great and lasts forever. Moreover, it gains character as it naturally weathers and ages.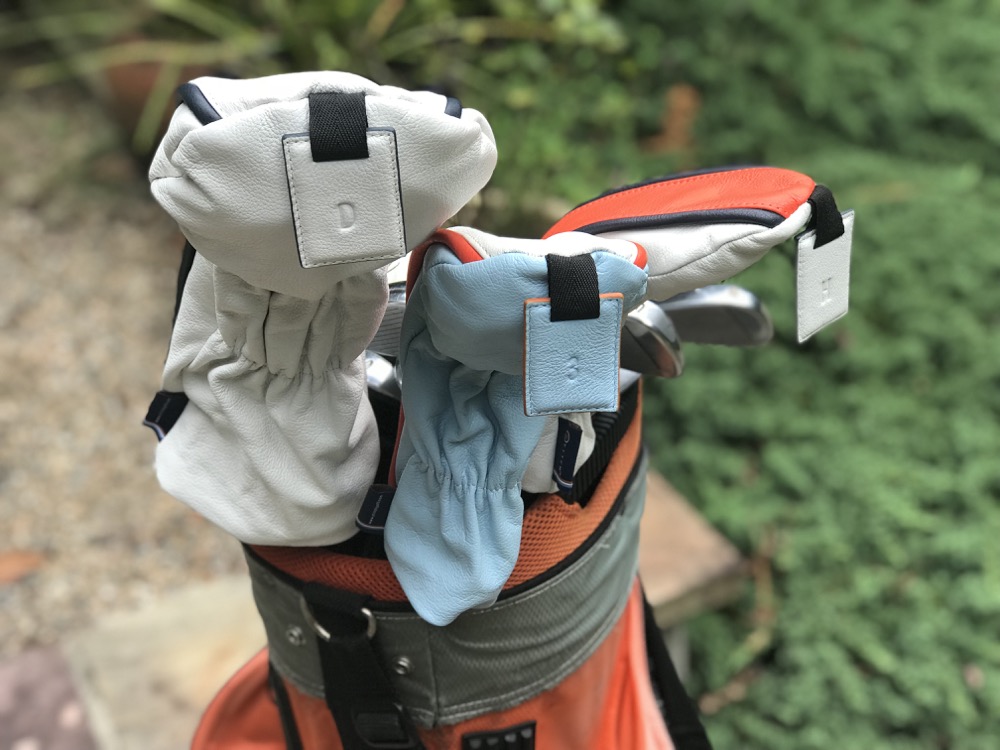 In the case of Stitch Golf, the leather is soft and smooth but with a touch of texture that can be seen on the darker colors. On the back of each head cover, Stitch engineered a gathering of the leather to make sure the head cover is easy to put on but will not slide off.  Additionally, each head cover is lined with a material that both protects the club and makes it easy to slide the club in and out. To date, I have found them very easy to use on all of my woods and have yet to experience any negative issues.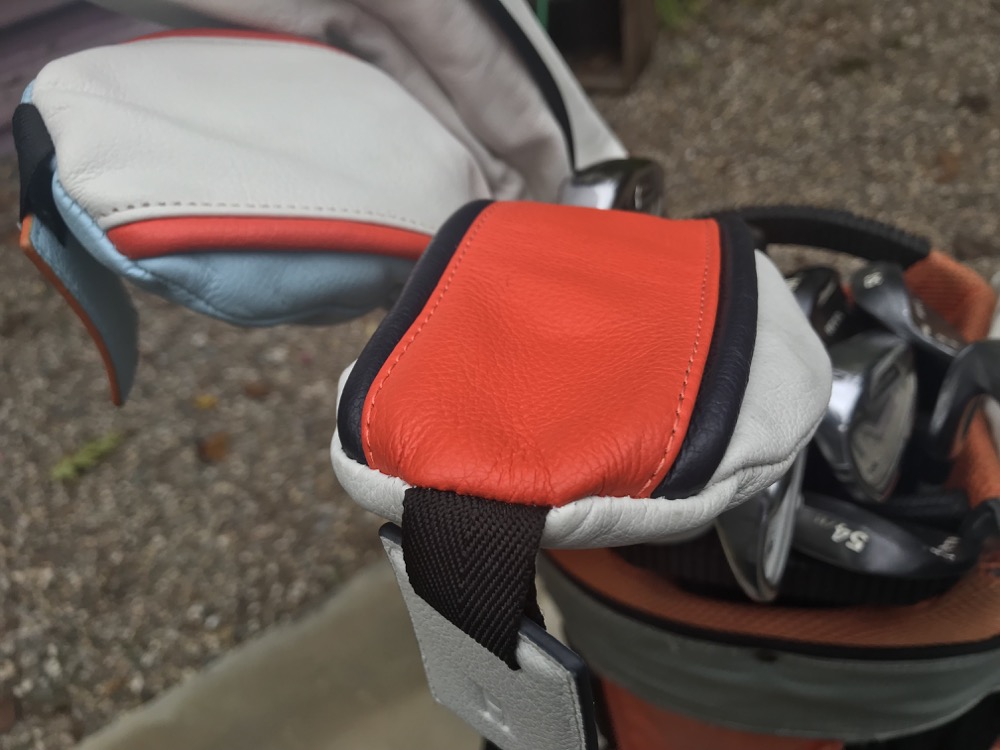 My bottom line on the Stitch leather head covers is a resounding YES. I have a bag full of head covers but these are going to be in heavy rotation. The F1 series has a unique look that is super classy and mixes and matches extremely well.
Stitch Golf Knit Head Covers
Long ago, most head covers were made with wool. Wool is great because it is very strong and can withstand harsh weather and rain. Case in point, I have some Jan Craig head covers that come with a lifetime warranty. With that said, wool head covers are expensive and because of the width of the yarn it can be difficult to create smaller patterns. Fortunately, acrylic yarn is a great substitute and comes with a much lower price tag and allows for a tighter weave.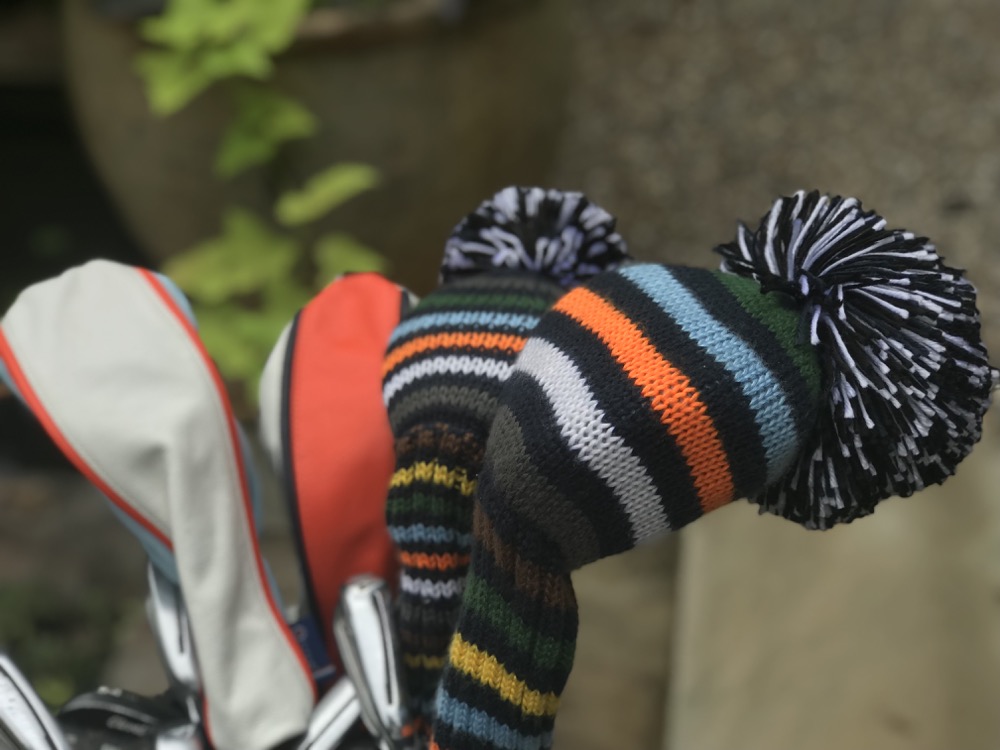 For this review, I chose the Stitch Golf Lifesaver head covers because they feature colors that I could pull from all of the leather covers. This gives you the chance to not only mix up colors but also material. While knit covers are inherently a little harder to put on and take off, I really dig the old school look. The classic pom pom will never go out of style and really puts some pop in your bag.
Like the leather head covers, the construction is excellent and will fit any driver or fairway wood. With that said, if you have a driver with adjustments on the bottom (like a Taylormade M1) you can sometimes snag the club on the knit. Still, I have not done any damage to the head cover, I just need to jiggle it a bit to slip it on.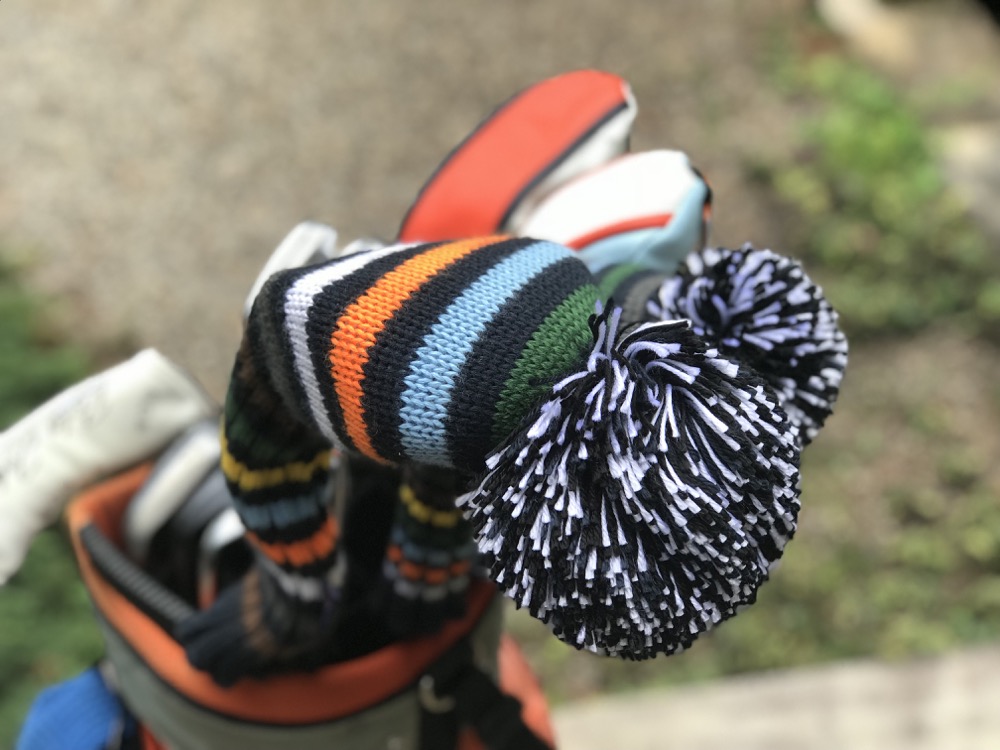 Dress Your Game:
Recently, Stitch Golf partnered with Marty Hackel, AKA Mr. Style. While those who know Marty may doubt his advice, I do think he brings some words of wisdom about how to choose a head cover set. As Marty says, "have fun with your head covers", which I think 90% of golfers miss out on. To aid in this task, Stitch Golf has put together 8 looks. These looks pull from the various styles and colors for a collection of covers that look like they belong together. For example, there is a collection of mostly blues. There is also a collection that revolves around a four leaf clover. Short story, even if you lack an eye for color, Stitch can help guide you toward a set of head covers to meet your personal style.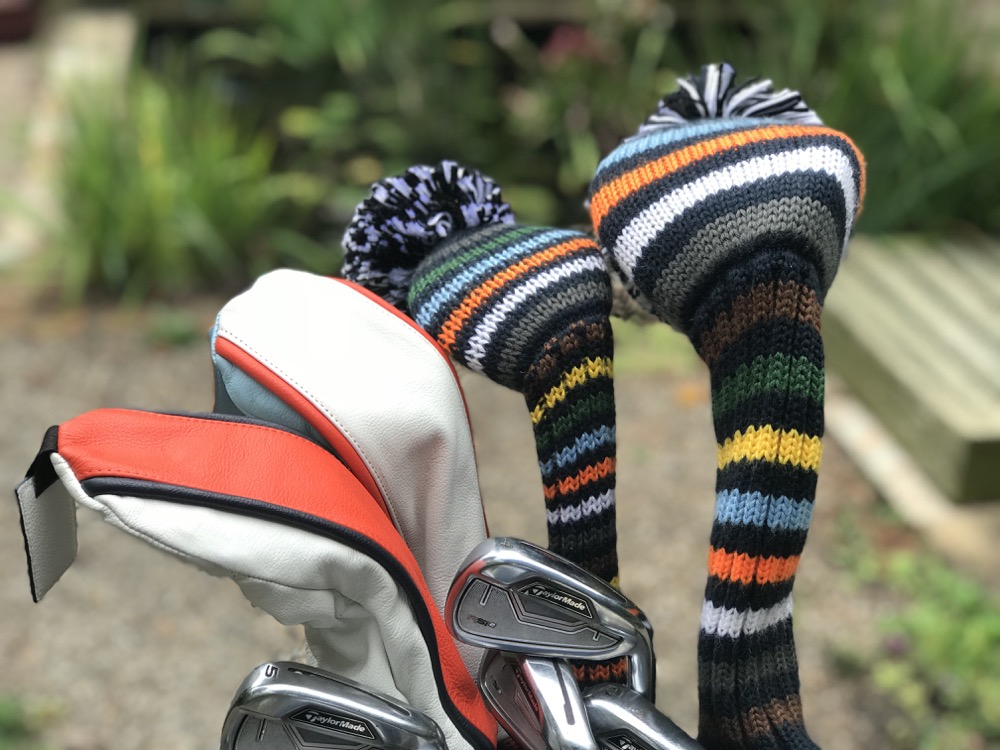 So, if you are still toting around gawd-awful, ugly golf company branded head covers, do yourself a favor and check out Stitch Golf website.