Eagle Eye Laser Rangefinder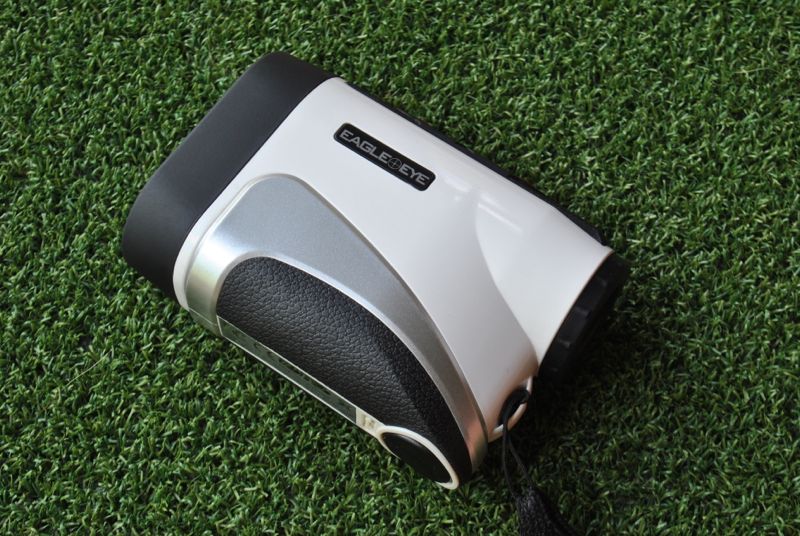 For years I have never felt the need to own a laser rangefinder for three primary reasons: 1) they are really expensive 2) they seem too clunky and time consuming and 3) they provide more accuracy than my game can handle.
Well, I have finally broken down for my review of the Eagle Eye Laser Rangefinder and I am happy to report that all three of my objections have been negated. The fact is, I will never play a round of golf without a rangefinder again.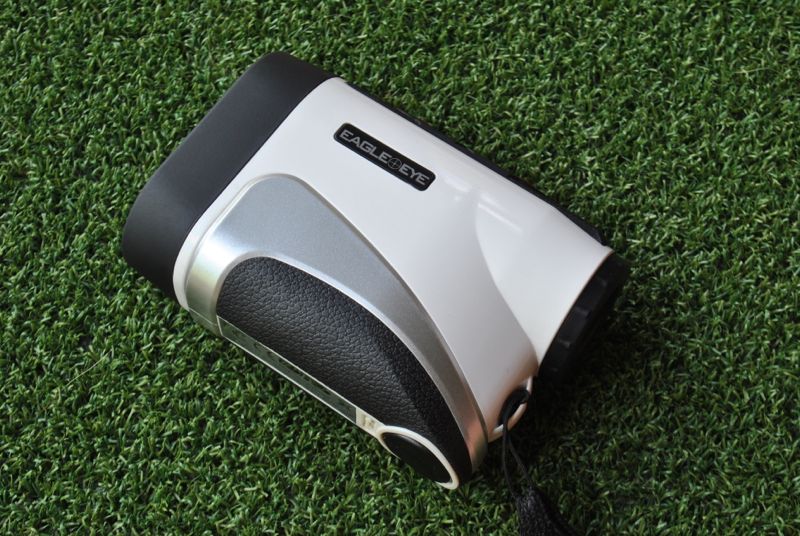 I will start with cost since that is an objection I think many people have, and rightly so. Do a search on rangefinders and you quickly realize they can set you back $300-$500 in a hurry. Man, that's a lot of cash compared to a GPS app or other yardage device. So, one huge advantage of the Eagle Eye Rangefinder is that it clocks in at a cool $199. Not a bad value even when compared to GPS watches or other handheld GPS devices. Why so low a price? Well, part of the reason is that they are sold direct to consumer without a huge marketing budget so they are able to keep the price modest while including quality optics and lasers. Which leads me to my next concern- lasers are clunky and time consuming.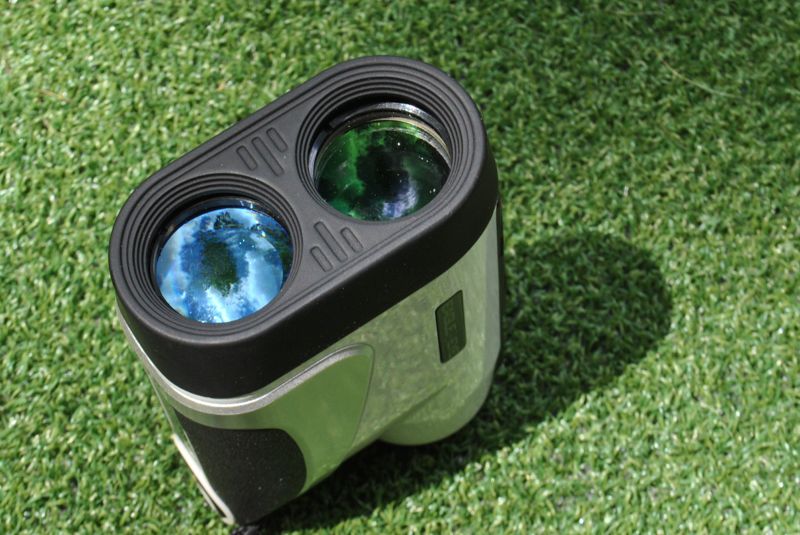 For the most part I play the same course and tend to play rather quickly. I am forever annoyed when guys are fussing with GPS or rangefinders, which is why I usually just wear a GPS watch. To my delight, the Eagle Eye is really easy to use and quick to get yardages.
There are two modes on the Eagle Eye. One for pin seeking and one for general yardage to a spot (like a bunker). You can easily toggle between the two using the mode button which is at the top of the unit. With that said, I find I can pick up bunker yardages in the pin seeking mode which negates the need to switch back and forth between modes. Ok, the burning question is: is it easy to get yardage and is that yardage correct?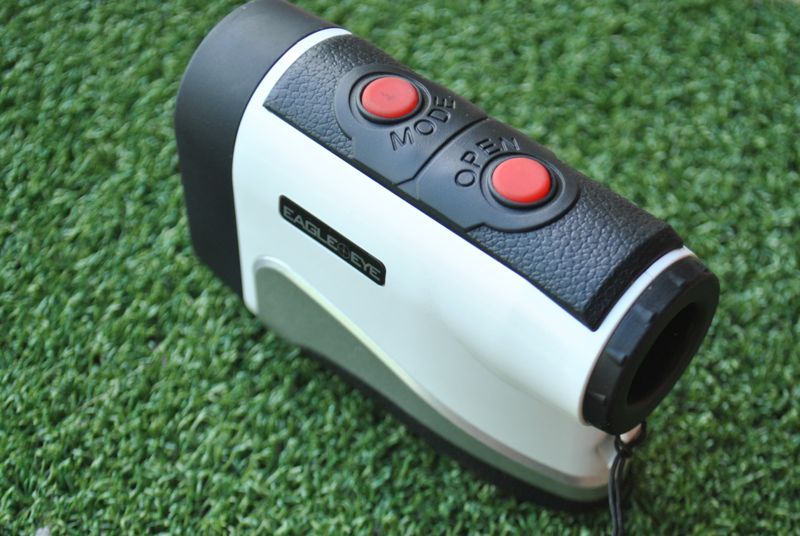 For the most part, the Eagle Eye rangefinder gets yardage to the pin very quickly. This is especially true when playing a course that has reflective flagsticks. In those cases I have little to no problem getting a yardage in a matter of seconds. Unfortunately, my home course does not have reflective flagsticks. Even so, I am able to pick up yardage from inside 200 yards with relative ease and the unit is capable of picking up a flag up to 300 yards. Helping with this task is the 6x zoom which is in fact higher than many big brand rangefinders. For those who wear glasses I can say that I had no problem using the rangefinder without removing my sunglasses. NOTE: you can also use the manual focus, if you think the view is blurry, with the focus adjustment on the eye piece.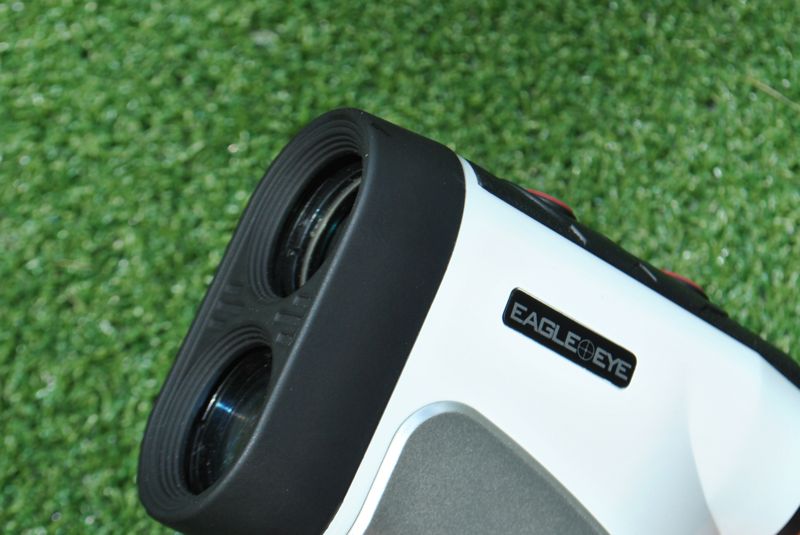 Trouble Spots:
There are a couple of instances when I do have trouble getting yardage. The most common problem I have is when the flag is in front of a lot of trees. Even using two hands to steady the device, there are times I just cannot get it to read the correct number. I know this can be a problem with all rangefinders but in some cases I have found the top-end, $400 laser finders do a better job than the Eagle Eye. Honestly, this should not come as a complete surprise or letdown. I, for one, would hope that a $400 laser finder works better than a $200 model. Is this a dealbreaker? Depends on your budget and your level of tolerance. In my 12+ rounds using the Eagle Eye Rangefinder, I have probably had difficulty with 6 yardages (there are a ton of trees around my home course greens). With that said, I have found the Eagle Eye to be more difficult to pick up a flag than premium range finders. If you play a course without reflective pins, you may get frustrated.
Despite having some trouble with pins in front of trees or pins that are only partially exposed (due to a hill for example), I think the Eagle Eye Rangefinder is a good for the money. Yes, front, middle and back yardages are usually good enough but I find that with large odd-shaped greens, getting the exact yardage is hugely valuable since I get a huge confidence boost just by knowing exactly how far you need to carry a ball.
I have also started to use the laser finder inside of 100 yards now that I carry a few more wedges. For me, I feel like I can more accurately select my club and try to dial in a shot where in the past it was more of a feel shot.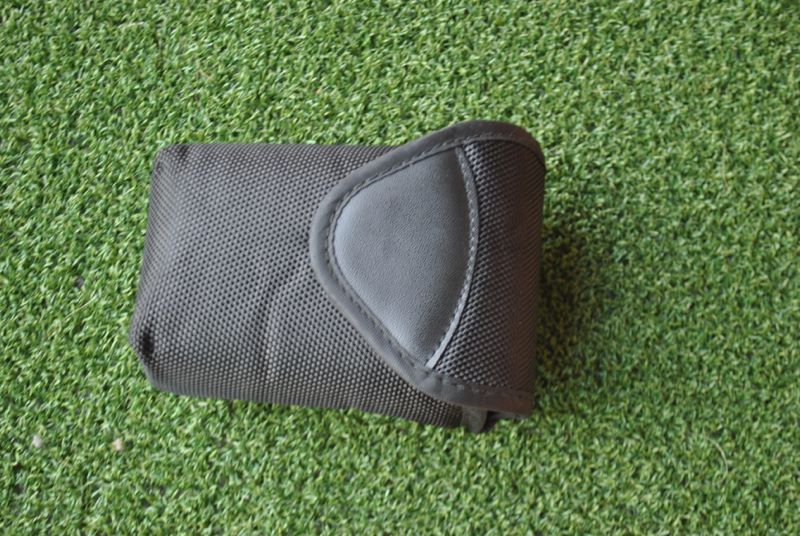 Style and ergonomics:
Not that style should be a huge consideration, but it is kind of nice that the Eagle Eye Rangefinder comes in 4 colors- white, silver, orange and pink. More importantly, the Eagle Eye is fairly small and easily fits in your hand. Rarely do I need to use two hands to steady the device. From a durability standpoint, it feels solid and is weatherproof.
Bottom Line:
The Eagle Eye Rangefinder is a great option for those who want the power and advantage a laser rangefinder has, but want to save $100-$200. During my testing of this device I spent a decent amount of time borrowing other models to compare yardages and ease of use. For the most part, I found the Eagle Eye to get the same yardage as other bigger name brands (plus or minus a yard or two). With that said, I do think some of the more expensive models did a better job picking up the flagstick when there were trees in the background.
Fortunately, Eagle Eye offers a 30 day money back guarantee for you to make sure it meets your needs. With 12 rounds to review the Eagle Eye, I for one have been very satisfied, especially considering the price. Is it the best rangefinder I have ever used? No, but again it is not really fair to compare a $200 rangefinder to a $400 rangefinder. Bottom line, Eagle Eye Rangefinder is easy to use, accurate, and very affordable.
You can purchase the Eagle Eye Rangefinder for $199 on their website.