Open Predictions from LJ, JD and Advice for IJP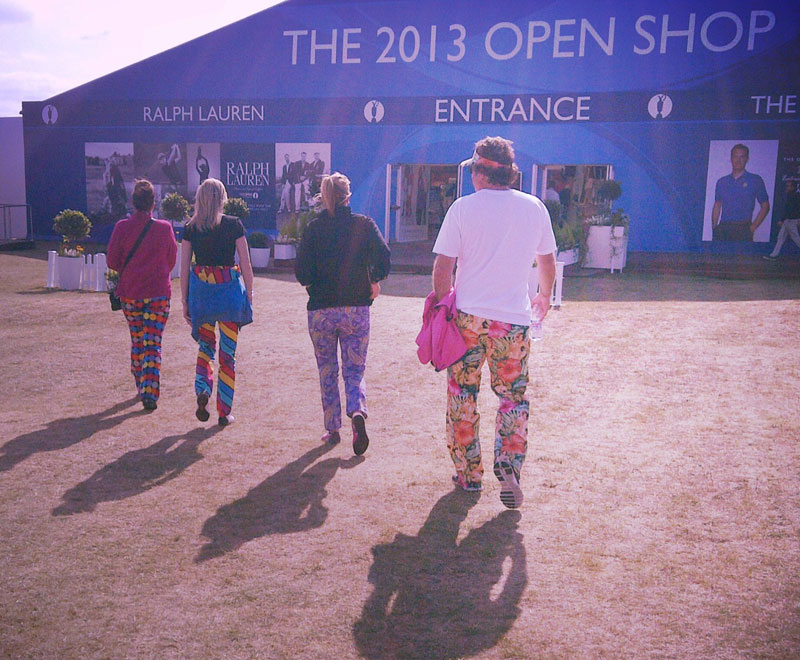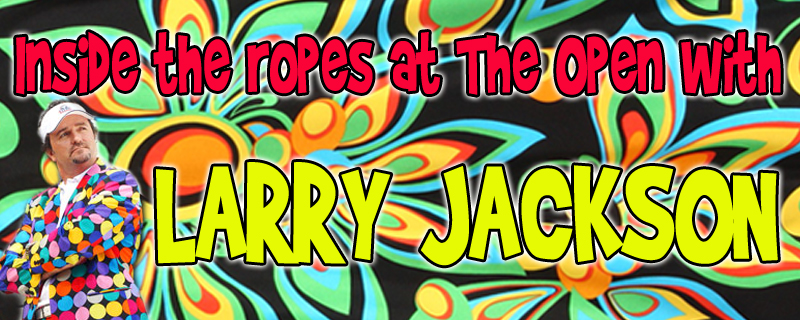 Like Reservoir Dogs the Loudmouth Krewe has hit The Open Championship at Muirfield Golf Club in Gullane, Scotland! A few Loudmouths sojourn to The Open every year (no one calls it the British Open on this side of the pond) because John Daly won The Open in 1995 at St Andrews and is grand fathered in for the rest of his competitive golfing career. It is a fantastic event and always great to catch up with the extended International Loudmouth Family.
But enough of that, let's talk about who is gonna WIN!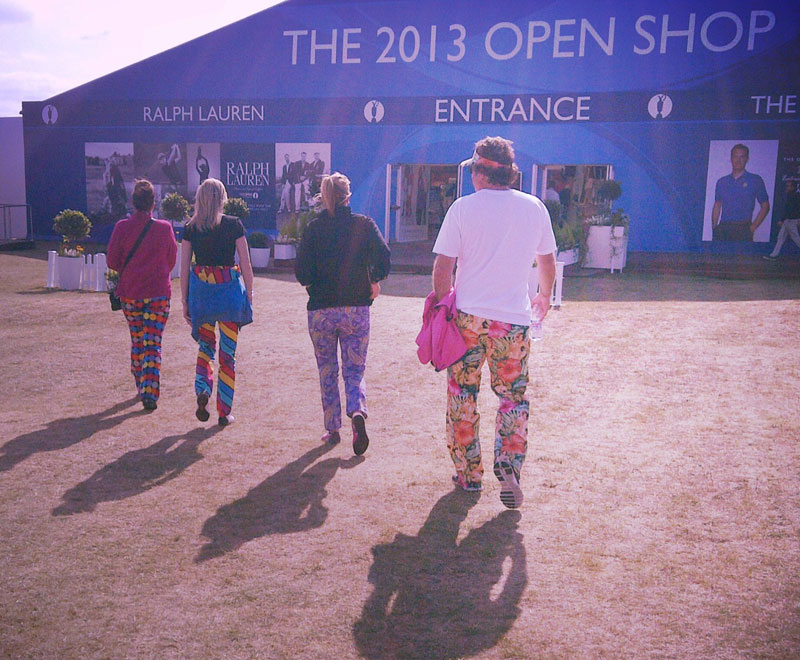 Before I tell you who is going to win …
Daly has had a sore elbow for years and has been staving off the inevitable elbow surgery as long as possible. As you may have heard less than 2 weeks ago during the back 9 of the Fri round at the Greenbrier he hit a shot just wrong and actually tore his elbow up pretty good. He has played in pain before (some of those stories are horrifying when he retells them) but he knew immediately that this injury was far too severe to keep playing. He shook his playing partners hands (left handed) and immediately pulled an Elvis and left the building. He had reconstructive surgery last Thur and as much as we are all crossing our fingers for a full recovery of the "Bionic Elbow", it is unfortunate not to have him here at Muirfield. He is always a great draw at the Open but alas, he is sitting at home in Dardenelle, Arkansas w a completely incapacitated immobile elbow for a month, then 2 more months of light stretching and physical therapy before he and the new BE (Bionic Elbow) are allowed to touch a club and start the greatest comeback in the history of golf!
Crap, I got sidetracked again. So as you may also know, JD is a prodigious gambler and since he hasnt done any drinking since 2008 when he got his lap band stomach surgery, he is actually pretty good at it! In April when we spoke at the Masters he picked Justin Rose to win saying that he was putting as well as anyone on the planet. Rose hung around at Augusta deep into the tourney and had a fine showing and then went on to win the US Open in spectacular fashion so Daly only missed Rose's win by 1 major so I asked him today who was the "Best Bet" at The Open since he cares about the best odds. JD's dark horse and prediction for making $$s is Nicolas Colsaerts and I picked Jason Day (though that isn't as much of a dark horse), we have $20 bet on who finishes higher.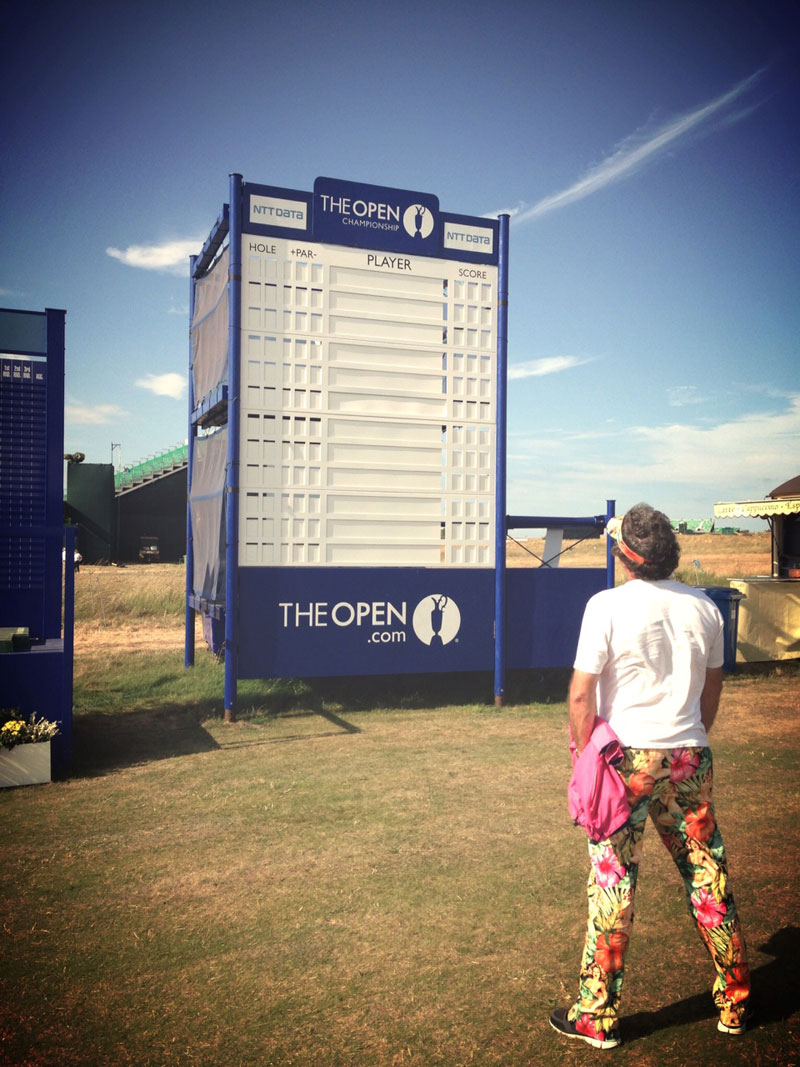 So as I sign off on this Tuesday evening the most interesting moment today happened on the driving range. Rory was at one end of the driving range, took a break, and strolled down the range talking to all his golfing buddies. He spent plenty of time chatting w Europeans but he had a bit of  time for anyone he knew from everywhere across the globe. He walked up to Ian Poulter, leaned on his bag, and said "Hi Ian".  Nothing. He quietly stood there as Ian waggled and waggled and waggled and finally hit his shot and then … Crickets. Ian didn't even acknowledge Rory at all so I was thinking, "Maybe he didn't hear Rory, but that is crap, I'm 20 feet away and I heard him!" Rory shrugged and just strolled away and many a jaw dropped in silence around that area of the range after witnessing a Royal diss'ing.
Note to Poulter: Ian – Sure, there is a lot of pressure for your attention, but don't be a Doosh! Be nice to your buddies. And if you would like some help getting your IJP clothing line out of the flat sales doldrums (especially your abysmal non-existent web sales) invite me to play Lake Nona this winter and I'll school you in online retail (where Loudmouth is a PowerHouse) while you school me in the art of the up and down …
[box]
By Larry Jackson "LJ"
Contributor
CEO of Loudmouth Golf. Bi-coastal resident. SF Giants fan. Private pilot for Loudmouth Air.
His dream foursome would be to play with John Daly, Bill Clinton, and Buster Posey. Larry claims he is the best golfer on the Loudmouth team.
[/box]
PS Stay Tuned golf fans for more from The Open Championship!!