Ladies Loudmouth Golf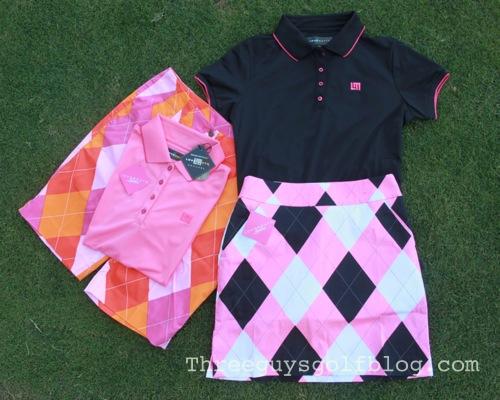 Ladies Loudmouth Golf: For the past few years, a good friend of ours has shown up at the annual Member Guest golf tournament in some rather eye catching golf pants. He plays with the same partner each year, and they never disappoint with their matching ensembles. With each passing year, they get better and better. This sharp twosome has been such a hit, they have actually started a new trend at this annual event. More and more partners are showing up in ensembles, each one trying to outdo another. None however, can compare with the originals, and their key ingredient every year: Loudmouth. Each year, we eagerly await the first round of the tournament so we can see their grand entrance and which pattern they will have this year. I have always been envious.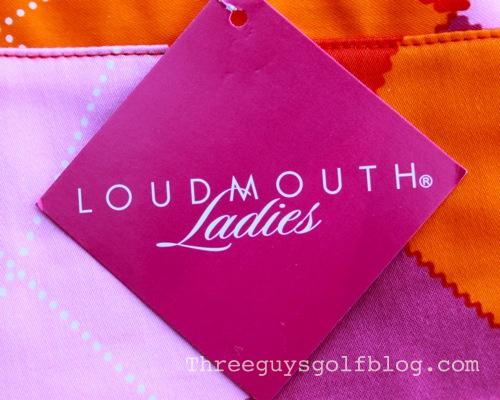 Imagine our delight when we found out Loudmouth Golf now has a ladies' division. Now, this is not your mama's golf wear. It is bright, colorful and screams for attention. No more khaki shorts and blue button down shirts. Not at all! Ladies Loudmouth golf is fresh and exciting. So while not all of us can break 90, at least we can all look good trying to. Right out of the box, we were sold on the look of Loudmouth but we were equally impressed with the quality and attention to detail.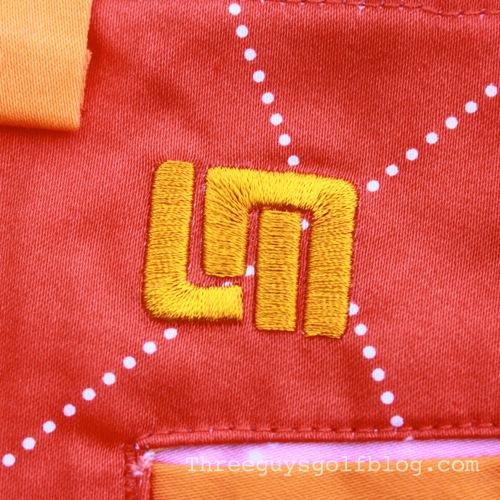 The first thing that caught our attention was the "hook and eye" at the top of the zipper of the skort. All you ladies can understand what a necessary nuisance this small hook is. You need it to keep your zipper up and create a smooth, buttonless line. But, the standard seems to be, loop a few strands of thread around it, and by the time it is washed twice, you're hoping it will just hang on until you can remember to sew it back on. Not the case with Loudmouth. This small hook has been sewn on in three places. This little sucker is NOT coming loose. Next, we noticed the waistband on the inside of both the skort and shorts. Both are reinforced for a nice, clean look and feel. The sturdiness of the waistband also contributes to the ease of a simple wash and wear without the hassle of the iron.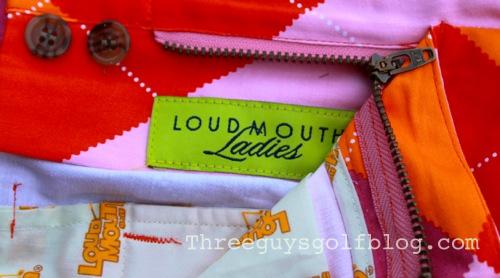 The shirts are made equally as well. First, there are four buttons at the collar, where more times than not, there are only three. In our opinion, this is a huge bonus. We have found that shirts with the traditional three buttons do not move with you as easily which for women who are chestier really makes a difference. In other words, we love the four buttons! Next, the collars and sleeves have a small line of contrasting color at the edge. This is a small detail that makes the shirts stand out. Finally, most women's shirts have vents on each side at the hipline. The vents promote freedom of movement and a sharp, finished look for an untucked shirt.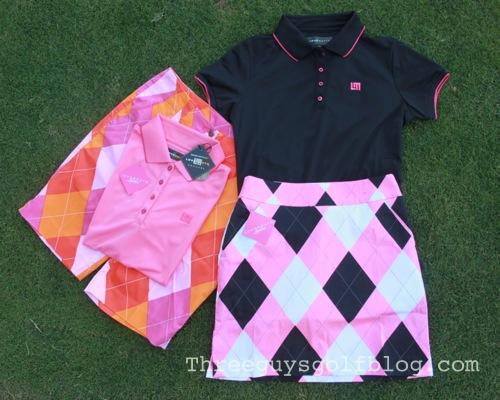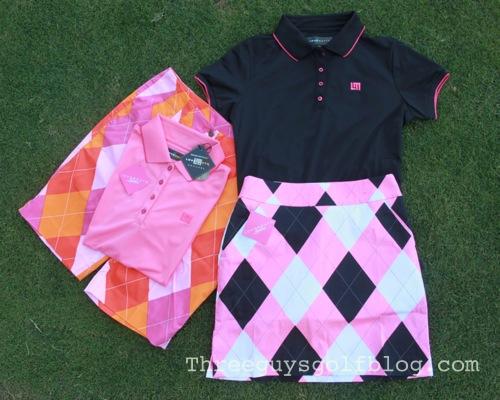 Now, let's talk logo. While Loudmouth's flashy patterns are sure to turn heads, the Loudmouth logo is just the right low key, yet distinct, embroidered finishing touch. The logo appears on the shirts, skorts and shorts in the traditional places. For an added bonus, Loudmouth appears across the shoulder blades of one of the shirts in bold outline, and we really like this.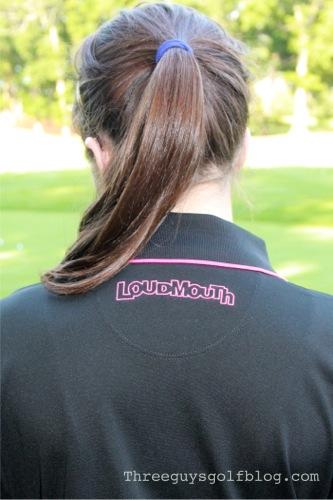 Finally, let's talk fit. When ordering our Loudmouth ladies, we went strictly by the inch measurements. I am typically an 8 and according to the inches, my order was a 6. Sue was a 2 according to the inches, but is typically a 4, and she got the skort and it was slightly snug, but wearable. I got the shorts, but typically wear skorts because they always seem to be cooler. The Loudmouth shorts were the first shorts in a very long time that I have worn and not gotten hot in, and it was in the 80's. I am not a fabric expert and don't know why, all I can tell you is that I wore something I am not accustomed to, and to my surprise, was extremely pleased. My shorts fit perfectly and they were cool! The added bonus was, it is one of the few size sixes I have in my closet and I love that. Therefore, we recommend that you order your typical US size. The shirts ran slightly small. They are a good fitted shirt, but if you are more comfortable with a slightly less fitted style, order a larger size. I ordered a medium, but might have been a little happier with a large and Sue got a small and it fit her to a tee, no pun intended.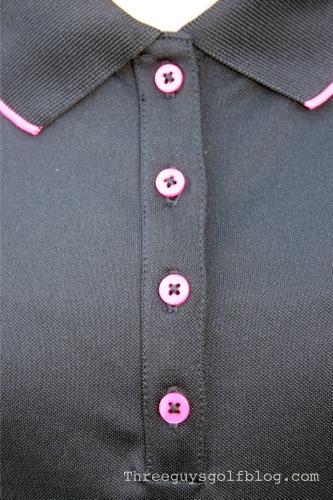 We wore our Loudmouth on a beautiful day with the sun on our faces and the breeze blowing in our hair. We actually got a few compliments about our look from other players who had no idea that we were testing the clothing. Bonus! We were comfortable and stylish, the way it should be. And, by the way, both Sues agree, we played LOUD!
You can see see all of the styles on the Loudmouth website.