Interview with Meaghan Francella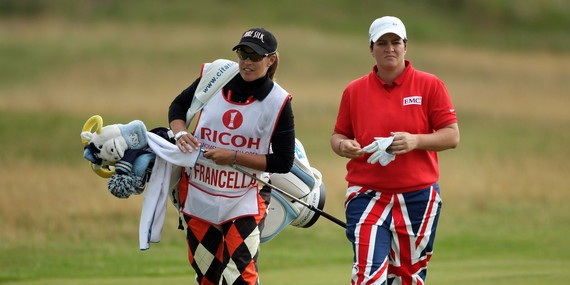 If you would have told me a year ago that I would get the opportunity to speak with an LPGA player, I would have been dubious at best. Well, the stars finally aligned and I was able to spend a bit of time talking with Meaghan Francella, a member of the LPGA Tour since 2006 and a former Tarheel at the University of North Carolina. By my calculations, there is a pretty good chance I nearly ran into her in the mid 2000's since the UNC golf course is my home practice course . . . mind you, I said 'practice course' as I rarely play there since the rates are a bit steep for this poorboy blogger. Anyway, Meaghan was twice the New York State Junior champion back in the day, was the 2003 ACC individual champion at UNC, and was a 1st team All-American in 2004. Badass? Check.
Much like the PGA, the women's tour is deep with talent. Interestingly, Meaghan voiced the same frustrations I have heard from some PGA Pros in that the networks only want to focus on just a few players, even though there are compelling stories beyond the top 10. So unfortunately, plenty of great players bask in relative obscurity despite playing in major golf tournaments and making a darn good living doing something most of us can only do once a week (and poorly I might add). That is of course until you win, and Meaghan has won twice on tour – the first time just 18 months after turning pro, in a four hole playoff against Annika Sorenstam no less. When I think about my own game and knowing how I struggle to finish a good round without giving it away on the 18th green, I sometimes wonder how anyone actually manages to win a golf tournament with anything better than a bogey, but I guess that is why Meaghan is on tour and I am not.
To back up a bit, the reason I was able to speak with Meaghan is because she is affiliated/sponsored by LoudMouth Golf, whose products we have reviewed (both on the men's and women's side). If you are curious, Meaghan's favorite LoudMouth patterns are the "Money" and "Carolina Blue Argyle". Not much of a surprise with either choice I think.
Ironically, the week we spoke was days after a bit of an LPGA controversy in which Morgan Pressel was assessed a penalty for slow play in a match (which clearly had an effect on her eventual loss of the match). Curiously, there were only 4 players on the entire course when the penalty was assessed. Still, the LPGA and PGA fight the slow play battle in both reality and perception. While the men just seem to waste time for no good reason, the women play slow in part because nearly every player utilizes their caddy to help line up putts. I asked Meaghan about this issue and why women tend to rely on their caddies. Her answer surprised me at first but then became obvious – "we are perfectionists" she stated. Duh. However, she did elaborate to say that she is very much in favor of eliminating caddies from the green reading equation. Now if we could just get the men to waggle a bit less and stop fretting over every gentle breeze.
In terms of the LPGA tour, I was interested in how much time she spent with the other players as it is hard to know how much time players spend with each other off of the course. I guess the fact that she was going to play an afternoon round with Morgan Pressel gives you some sense that, yes indeed, they do hang out.
Finally, I asked Meaghan which LPGA star is a serious "bad-ass". Possibly a dumb question, but I have always believed that Tiger in his heyday unnerved players whether they admitted it or not. Therefore, I wondered if Yani Tseng or anyone else commands that same fear down in the trenches. While the fan in me wanted to hear legends of awe, the pragmatist in me was prepared for her response: respect for her fellow competitors, but total confidence in her ability to win in any given week. (editor's note: Yani is still a bad-ass).
So that's it, the closest I have gotten to being inside the ropes – I am now an official Meaghan Francella fan who will be keeping an eye on the leaderboard as she tees it up this year.