Rife Two Bar Putter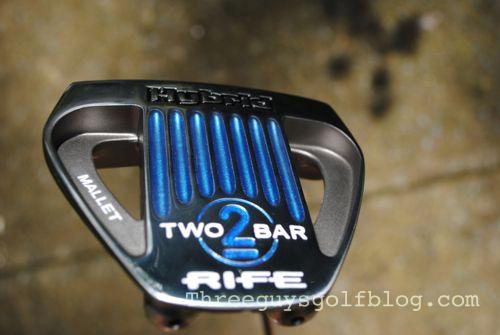 Rife Two Bar Hybrid Putter Review: Ever go to a golf tournament to watch the pros warm up? Guess what, they spend most of their time on the putting green. You know why? Because it's where they make their living. All those guys can hit the ball, but it's the ones who are making the putts that are at the top of the leaderboard week in and week out. I remember my father-in-law's caddy telling me that during a stretch of years when Hale Irwin was pound-for-pound the best golfer on the planet, it wasn't his ball striking, no it was his putting.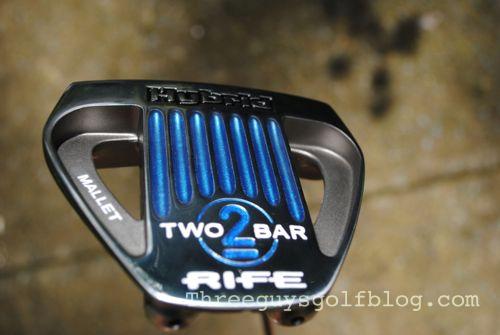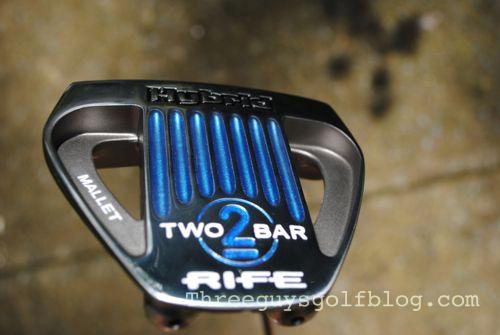 Despite the fact that Rife has only been around since 2004, they have become one of the fastest growing putter companies in the world. They now boast 100 tour players and 40% of the putters that are used on the Champions Tour. Most recently, Matt Kuchar used a Rife putter to win the Player's Championship and place 3rd at the Masters. So yea, Rife knows what they are doing.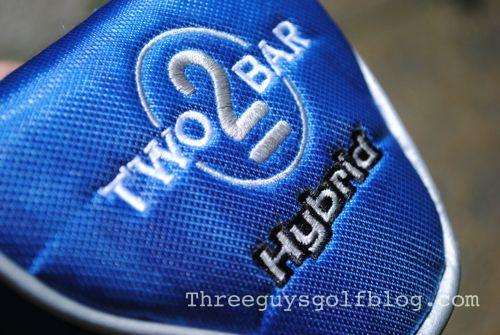 For the past six weeks I have been using the Rife Two Bar putter in various conditions and I can tell you that I have been quite impressed. Believe it or not, my very first putt was a center cup 8 foot birdie putt, so suffice it to say we got off on a good start. Since that time I've used the Rife Two Bar Hybrid Putter for roughly 16 rounds and in some friendly putting green competitions. To date, I remain very happy with the Rife and have gotten a number of positive comments from those who have tried it. Actual comments include:
"good looking putter"
"great balance and feel"
"putts come off the face as smooth and clean as anything I've ever seen"
"this thing putts really true"
"this thing is so easy to line up"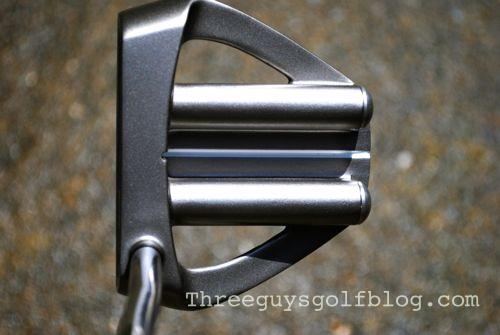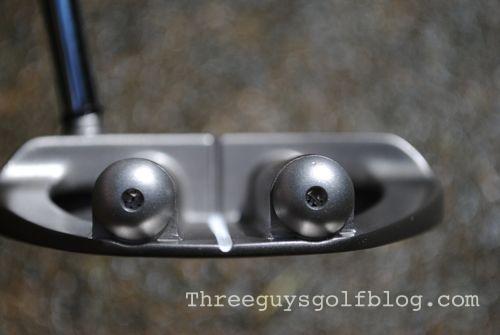 It's true, the Rife Two Bar Hybrid putter make getting your eyes over the line of the target a piece of cake with the sighting notch that's on the top of the putter, and with their LieAline Fitting System, it is a snap to quickly adjust the putter to your height so that the lie is perfect for you.
The other piece of science behind the Rife Two Bar Putter is their Twin In-Line Moment of Inertia (MOI), which basically means they have weighted the putter so that the head resists twisting when you hit offline putts, even on noticeably off-center hits. When you consider the fact that amateurs do not hit the sweet spot every time, this is a huge advantage because it will allow your putts to hold the line even on mis-hits. In other words, it's hard to hit a yippy putt with this putter; it's just begging to hit dead-online.
Okay, you are getting the point right? So before we tackle the more technical features, let me just say that I love the AVS Winn Custom grip they've put on the club. I would go so far as to say that it is my favorite putting grip that I've tried. It has a great, comfortable feel that still allows plenty of sensitivity to the putter head.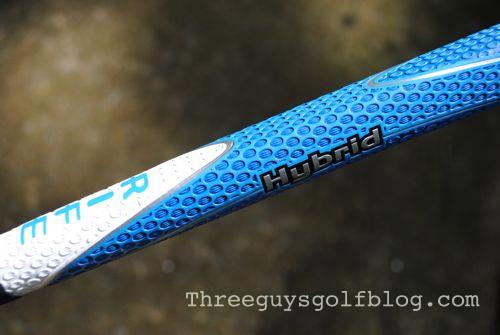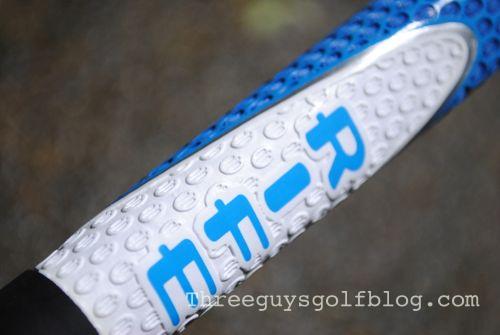 Back to the specs: Another great feature of this Rife Two Bar Hybrid putter is that Rife provides interchangeable weights (conveniently stored inside the putter cover). This means you can go from 360 grams for faster greens to 345 grams for slower greens. The logic here is that most pros use different putters for different green speeds… a heavier putter for fast, and a lighter putter for slow. One thing I did notice to that end – I enjoyed the putter immensely on medium and fast greens with their weighting system. During a few rounds on extremely slow greens, I was aware that it's hard to make a 'wristy' stroke, even if you want to… this putter wants you to make a nice smooth move at the ball, and so I might not be as inclined to use it if I was back in the era of the "Big Three" from Shell's Wonderful World of Golf. But thankfully, most of us don't have to play on shag carpets like that very often, and the interchangeable weights for this putter are a big plus in my book and make the putter very versatile for different conditions.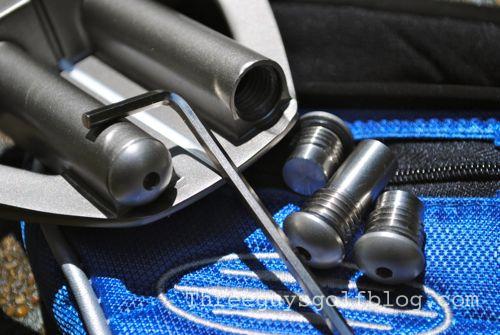 And along with it's sharp looks and clean manufacturing, I should mention that Rife's patented RollGroove insert made of milled anodized aluminum has a pleasing sound on impact, but most importantly gets the ball rolling right off the putter face without skidding or hopping. Many putters contact the ball and put a bit of a knuckle-ball kind of action on the putt after initial contact, that you can only see with a slow motion camera. Unfortunately, this skid creates putts that can move offline like a knuckle-ball, and as the skid transitions to rolling, the putt can lose speed from the friction involved. The grooves on this putter physically grab the ball, and get it rolling almost instantaneously. Practically speaking, this means that people will be remarking to you, as they have to me, about how beautifully you are rolling the ball across the green (and hopefully into the hole).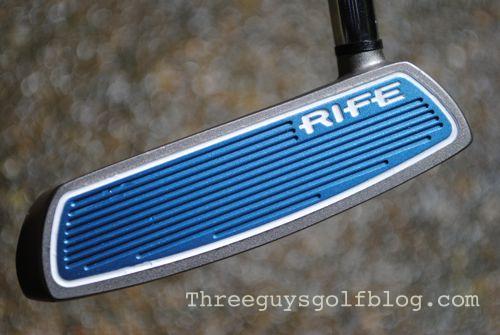 True story– one of the guys I putted against asked if the insert was legal, because he couldn't believe how smoothly the ball came off the putter face. I assured him, it is! I'm not going to lie, this putter can't read the greens for you; however, if you can do your part, this Rife Two Bar Hybrid putter will do it's part and then some.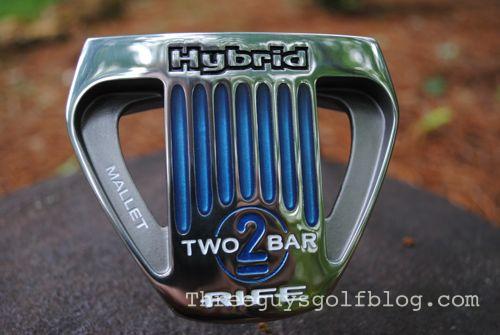 So, check out the Rife line on their website  and give a look at the new finish they're putting out in their tropical series- even more styling than before. Then give one a test on a green near you.
You can see all of the high res images in our Facebook Gallery.