Antigua Golf Shirts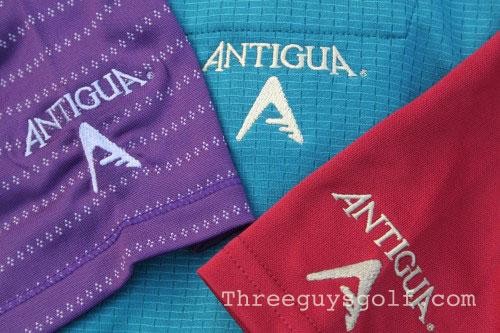 Antiqua Golf Shirts: Just before I embarked on my summer vacation to the outer banks of North Carolina, Three Guys Golf (hey, what about the girl?) received a package from Antigua. Antigua is a designer and marketer of men's, women's and children's lifestyle apparel and sportswear. As usual, my first thought was "ok, it just a shirt with a collar, buttons and needs to be tucked in. How can these shirts be different or better than any other?" Well, it was my duty to give it a try and see what I think.
In Georgia, every summer day feels as if global warming is beating down your door, and no type of shirt on the golf course is going to make a huge difference . . . we all wear some type of quick drying material to combat the heat as best we can. I set out for the course with my new Antigua golf shirt and hardly any expectations. How different can it be? Oh how little I knew. It was a relatively cool 93 degrees on that Friday with the humidity at about 70 percent. I do not profess to be an expert in the textile industry but I do know what I like and what I don't.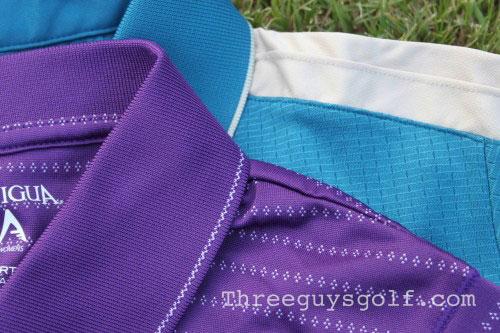 Being a mother of two very active kids, I am well versed in the moisture wicking materials and I can absoluetly say the Antigua shirts are top notch in that regard. It was an extremely busy day on the course and slow play is an understatement – I spent more than my fair share of time waiting at each tee box baking like a Georgia peach pie. However, the best way I can describe this shirt is tissue paper. If you could wear tissue paper without it ripping and getting soaking wet, this shirt would be it. Seriously, at times, I felt as if I didn't even have anything on. I was truly impressed.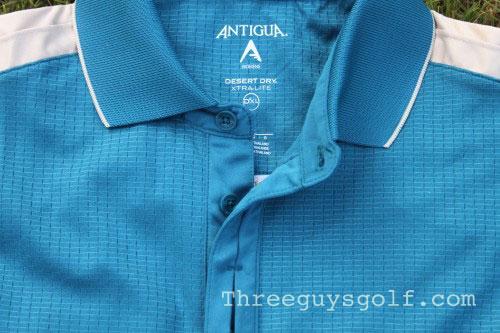 Fast forward to my vacation on the tiny island of Ocracoke, NC. I went into a shop one day with my sister and ran into another vacationer in a golf shirt. The shirt had an LGPA logo on the front and the Antigua brand on the sleeve. Well, there isn't a golf course within a two hour drive of this island where tanks and tees rule so this lady stood out. I approached her and started talking about her shirt. She was a golfer, and it was her favorite and coolest shirt, so she brought it with her to this island hot spot. There you go, it wasn't just me that thought so much of this shirt, she too had high praise for the brand.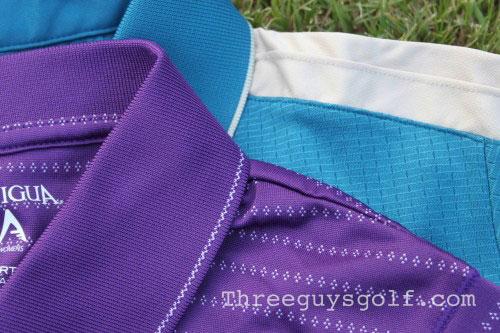 On the men's side the styling is also very pleasing. Like the women's, some of the Antigua golf shirts have sleeves that are longer than usual but we found it to be a nice change from the euro cut. Additionally, we dug the heavy contrasting over stitch on the shoulder and sleeve which is prominent on the Antigua Journey shirt.
The Antigua men's golf shirts also feature the Desert Dry technology. While the Journey material was a bit thicker, the Antiqua Relay was extremly light which of course is wonderful for those burning hot days. In short, we were very impressed with both the styling and material of all the samples we received. Moreover, the Antigua product line has a huge offering with many color combinations in each style so that you will have little fear of ever running into someone with the exact shirt as you (am I the only one who worries about this?)
Antigua started out as company with roots firmly in the golf market. It has since moved into the growing corporate market as well as other sports leagues. They currently hold licenses with the NBA, MLB, and NHL among others. Antigua clearly wouldn't be where it is if were not a good product. My endorsement might not be much, but having lived my entire life in the south and now almost half of it in "Hotlanta," I do know that beating the heat is never going to happen. But I also know I can do my best to try, and now Antigua is at the top of that list.
You can find the whole line of Antigua shirts on their website.