State Apparel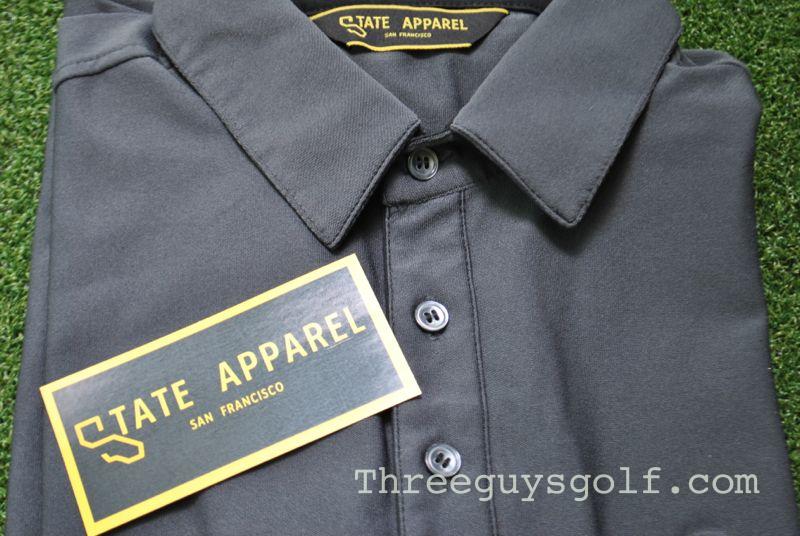 I was recently fortunate enough to review the goods at State Apparel, a California-based golf clothing company that puts an emphasis on the "equipment" side of clothing. If that didn't make sense right away, bear with me . . .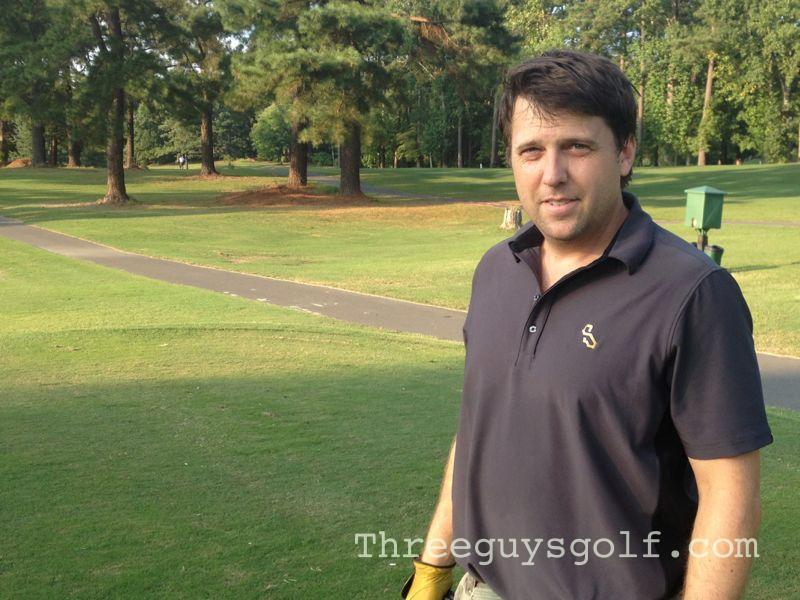 Wait, let me fix my hair . . .
State Apparel is focused on the real-life conditions that a golfer faces, and they have designed their apparel to include cleaning surfaces in strategic locations to enable a golfer to clean a clubface, a golf ball, or their hands without disrupting the flow of their game. When I say cleaning surfaces, think felt-y fabric like the kind that lines a valuables pocket in a golf bag. For example, their Competition Shirt (offered in two colors – charcoal and white) incorporates that towel-y fabric on the side panels of the shirt to allow for wiping away blades of grass, dirt, or moisture from your clubface, your ball, your hands, etc.
The Competition Pant, also offered in only two colors (khaki and charcoal) includes wiping elements in the pant cuffs, side pockets, and rear pockets.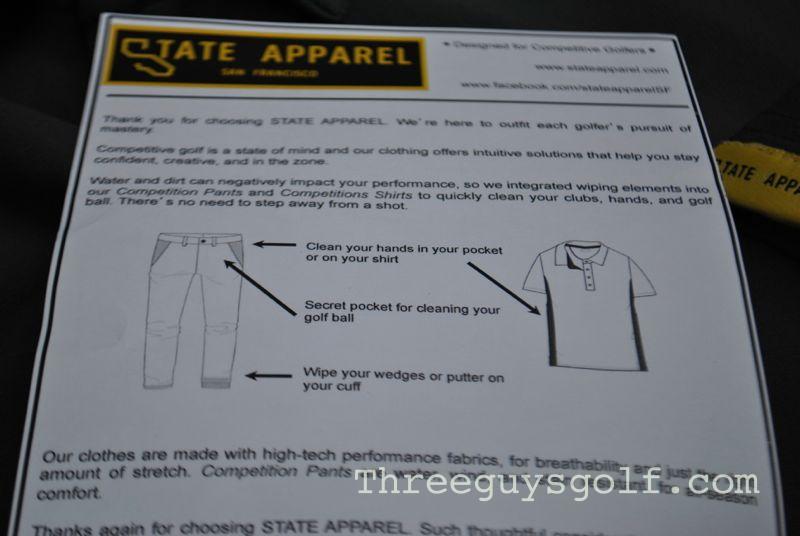 Instructions included
Overall, the brand stays true its San Francisco roots, as the clothing is designed with cooler conditions in mind. The fabrics are certainly a bit thicker than the typical performance wear available, with the pants having a decidedly warmer feel than most golf trousers.
Anyway I feel like this all sounds crazy, washing clubs on pant collars and stuff, cuz I know it did to me when I first looked into the State Apparel line. It reminded me of my new car: purchased out of necessity after my 2000 Acura met an untimely demise, my new whip had all these modern bells and whistles that I initially assumed to be superfluous, just dumb stuff for lazy people. Keyless entry and ignition? Oh jeez, people can't take their keys out of their pocket anymore . . . our nation is doomed! Turns out, on the rare occasions when I have to take my keys out of my pocket I feel like I deserve a nap afterwards.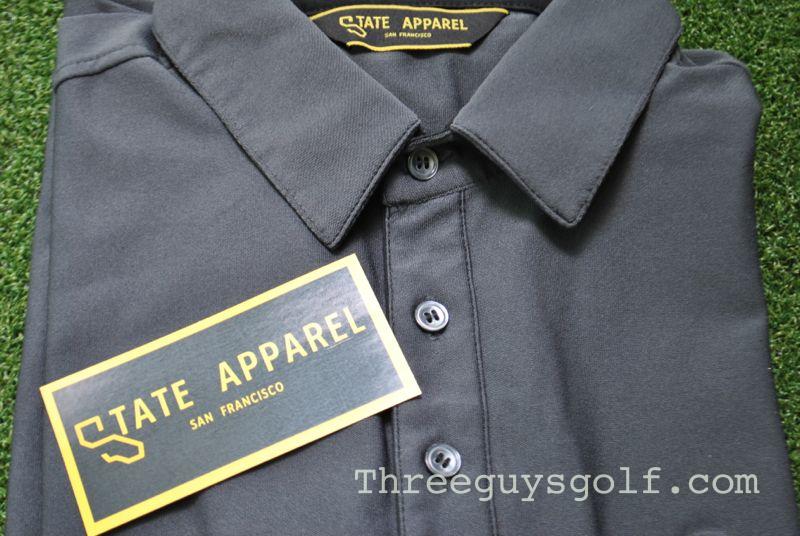 The thing is, I am the exact kind of meathead golfer that wipes his ball on his shirt before putting, his mustard on the pants before teeing off on 10, and the like. But I've been doing all these things for over 20 years now and I am quite happy with all of my procedures, so at first the Old Man Stubborn in me pegged State Apparel's cleaning panels as an unnecessary luxury. I also think State Apparel's noble aspirations put them on the razor's edge as far as looks go – is it possible to implement all of this gadgetry without ending up with some cheezy looking clothes?
I'll give you my two cents. First off, the answer to that last question is yes – the Competition Shirt and Competition Pant that I tested had a solid, classic look to them, and the wiping panels added a subtle flare that in no way made them tacky. Keeping things in perspective, let's be clear that State Apparel is only offering white and charcoal for the shirt and khaki and charcoal for the pants – this is no attempt at overtaking the Loudmouth Golf title, for sure.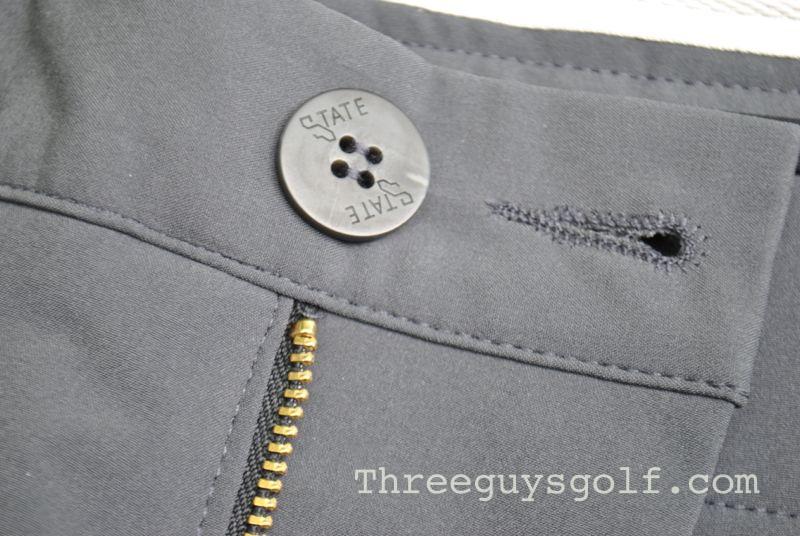 Because the shirt is only offered in solid colors, the side panels are almost mandatory to keep the Competition Shirt from looking like the first polo ever invented ("it's . . . gray").  With the side panels, however, the shirt looks good and modern enough for today's scene.
Same goes with the pants, but I would say the panels in the front pockets make for an even bigger improvement in looks, providing a cool little angled deal to the overall look that makes the pants pop a bit.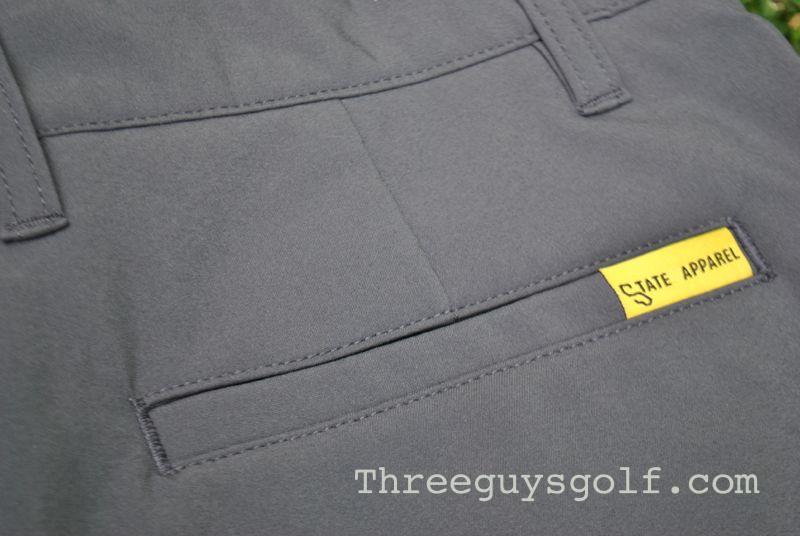 As far as performance goes, I think this is where State Apparel shines. Wiping panels aside, I found the Competition Shirt to be perfectly comfortable and playable, with a little hint of a "starchy" thing going on with the fabric that ensured there were no man-boob-curtain issues. To that end, I would classify the shirt as a big-boy favorite – they way it is cut can work with an average-sized golfer but will really shine on a larger dude. This is weird, but my brain always pictures a high school or college football coach wearing the shirt, talking about "the pro-grim". That could just be the logo that got me, which does kind of harken to STATE football.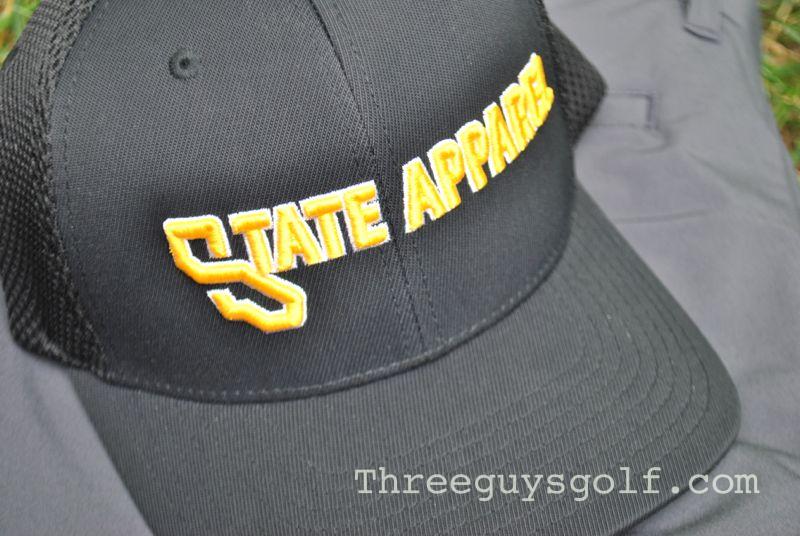 The pants had a bit more going on. As I mentioned up top, the fabric is heavier than a standard golf trouser, eliminating the need for longjohns unless you were really getting crazy and playing in some low temperatures.  The outer fabric is similar to a windbreaker, giving you a bit more protection from the elements as well as the respective noise that goes with it. But again, plenty comfortable and well-made.
Time to wipe! For the purposes of the review, I made a point to remember all of my wiping possibilities during my rounds. Of course old habits would kick in and I would go with the old thumb-lick/glove-wipe before a putt from time to time, but I eventually got pretty handy with the shirt's side panels. The felt material was perfect for drying hands, cleaning a bit of dirt or sand off of my hands, or cleaning a small amount of ballmark off of my ball after throwing one of my many* lawn darts (*1-2 per round).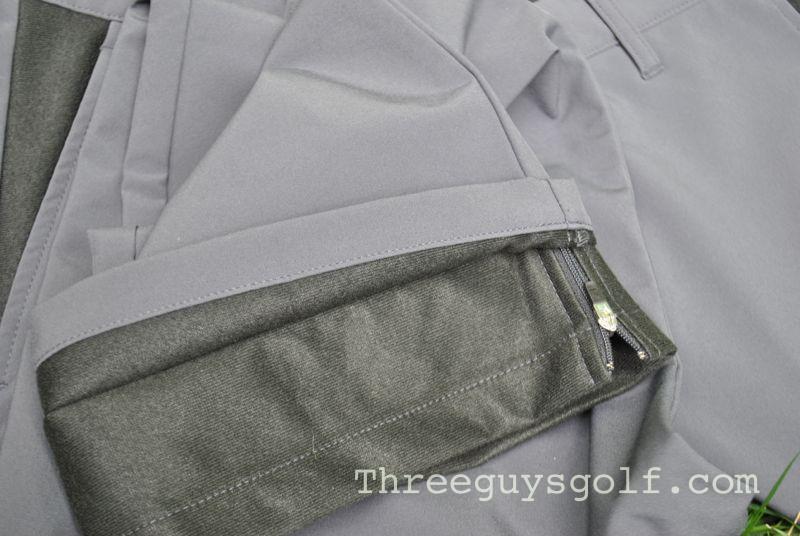 Pant cuffs can be rolled up during play, rolled back down after the round to hide the debris.
The pants were a different story for me. I just could not get myself to utilize the cuff panels. I think the idea behind them is that you can wipe off a clubface after a practice swing without disrupting the pre-shot routine/stance. I get it, but it doesn't work with me. Staying in one spot while doing anything other than actually swinging is just not in the cards for my ADD-addled self. I would much rather back off and keep things loose. Same goes for the pocket liners, they didn't really come into play for me in the "equipment" context.
They do, however, offer an undeniable upgrade to a basic pocket in that they are lined, soft, and will help clean any incidental debris anytime you go digging around for a tee or a scorecard. So in the end, the State Apparel pant does bring some heat, even though their specific design goals didn't really apply to my schtick.
All in all, I think State Apparel offers a compelling option for two types of golfers: 1) those looking to incorporate some "equipment" aspects into their apparel, and 2) those not so into the flashier, skinnier trends that seem to be dominating the marketplace these days. I picture State Apparel's line being a sight for sore eyes for some old-school guys that are serious about the game but not the fashion runway.
Now is the time to check out State Apparel because the perfect weather is already in play . . . this is fall and early spring apparel for sure. The Competition Shirt is priced at $105.00 and the Competition Pant is priced at $205.00 -not cheap by any means but you will know whether it is worth it just based on how appealing the cleaning panels are to you. Shirts run a size small, so order one size up from your usual.
Check out all the gear on the State Apparel website.