True Linkswear Isis for Ladies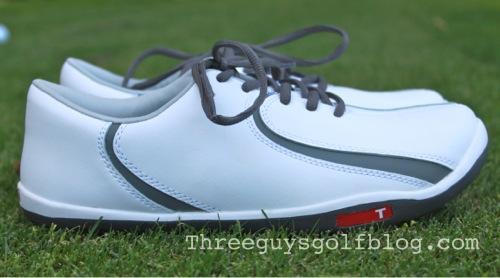 I have to be honest here, I was a little skeptical about the True Linkswear 'True Isis' ladies' golf shoe. First of all, I have always worn the traditional shoes with spikes. This shoe is very different, but, that is not a bad thing.
I am not your average golfer. I am a full time mom of two teenagers and my primary job is that of taxi driver. This being said, I am known to squeeze in a couple of hours for golf, but get sidetracked for errands around town in my golf attire. This is a true test of shoe comfort, playing golf then getting stuck in your golf shoes while driving to baseball practice, dance recitals, etc. You all know what I mean . . . I am not recommending that any athletic shoe be your "around town" shoe, but let's face it, it happens. So, if you have any foot issue, e.g. bunions, plantar fasciitis, hammertoes, etc., and you are comfortable in a golf shoe for 18 holes plus some, you have accomplished something. Enter, True Linkswear.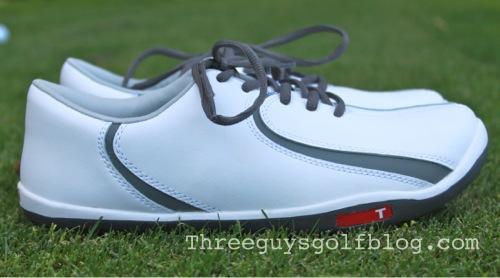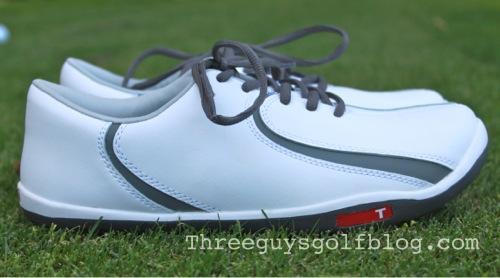 I admit that I wear orthotics with all of my shoes. I have the feet of an old woman! Therefore, when I pick out new shoes of any sort, needless to say, I am very picky. For my first day in the True Isis from True Linkswear, I decided that the true test would be sans orthotics. This is not a decision I made lightly – the fear of the sore heels for the next three days loomed over my head. I purchased a new bottle of Aleve and set out on my mission . . . first up, the driving range.
I spent 45 minutes on the range just getting used to my new shoes. I looked them up and down. It took me a few to get used to my view. They are wider than the traditional shoe at the toe box. For me, this is a very good thing. At what point did shoe cobblers decide that making shoes more pointed at the toe was a good idea? Maybe the appearance of the narrow toe is more appealing? I'm not really sure, but I will say, that I do not wear a wide shoe, just a traditional width, but my foot, like most of the human race that has five toes per foot, is wider at the toe than the heel. No question about it, these shoe were, by far, the most comfortable athletic shoe I have worn in quite some time. The wide toe box allowed plenty of room for my toes and there was absolutely no squeeze factor.  This might be a little weird, but my test then went to the tennis courts. Not with this shoe, but I had to play in a charity tennis event for about two hours, on hard courts. I switched to tennis mode, after which my feet are always achey.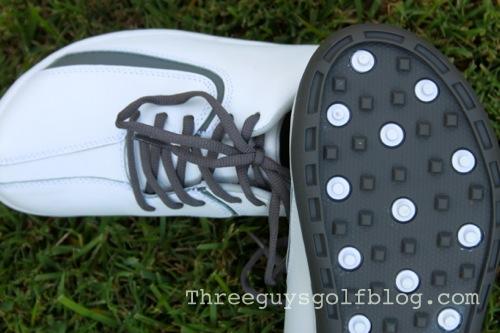 The true test here came when I switched back to golf mode and played 18 holes, in my True Linkswear True Isis. No way will my feet hold out, I thought. Again, no orthotics. No problem. While it took me a few minutes to adjust to the feeling of walking more on my heels, which is what it felt like after my traditional heel tennis shoes, I got the hang of it. I played 18, waiting with baited breath, for the aches and pains to begin. Not even a twinge. So, driving range, check, tennis, check, 18 holes check, now back to real life. Off to the afternoon of errands without switching from my True Linkswear True Isis shoes. I walked the grocery store, the post office and finally, a trip over the black asphalt drive in Georgia temperatures to check on the progress of the charity event. These "spikes" on the bottom of the Linkswear shoe can't hold out for this. Or can they? After a full day, most of which was spent in the True Linkswear True Isis, I got home ready to inspect the damage I surely inflicted. To my surprise, other than a little Georgia red clay left behind, these remarkable shoes barely looked worn. How is this possible? I'm not saying that you can wear these for the next five years with no wear and tear, but they are definitely much more durable than you might expect.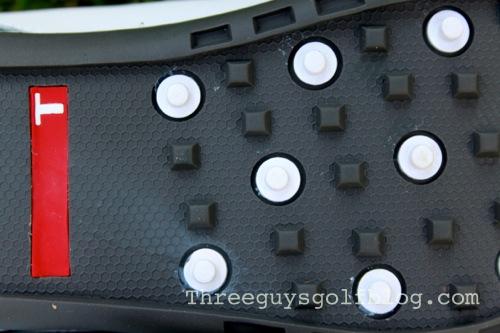 All that is fine, but, how do they work in my game? Again, I am used to the traditional shoe and was very weary of this "barefoot" technology. Will I slip without my spikes? Do I want to feel barefoot on the course? Will my foot suffer when I step into the shallows of the magnetic water hazard? Here you go: no, yes, and yes. After my initial worries about slipping without spikes, I relaxed and did my best to shove the ball down the throat of the fairways. My best Happy Gilmore impression couldn't even coax a slip out of the True Linkswear True Isis. Now, in golf, weight balance, not your spikes is the key to not slipping. That being said, when you do get carried away, the mental note that you have ground hugging spikes on your shoes does make you feel a little more confident. Never once did I feel as if I was not firmly anchored when I most needed it. I had full range of motion while maintaining steady, planted feet.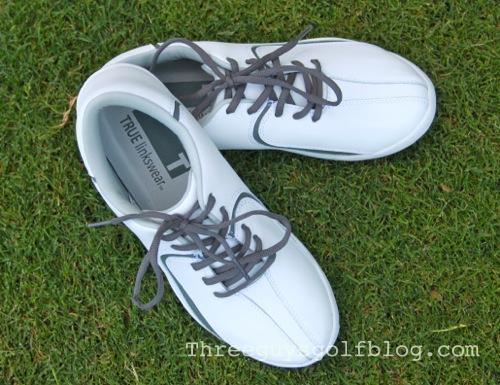 Fast forward a few weeks. Now my True Linkswear have been everywhere with me, from my home course to a local par three course to a mountain course in South Carolina and let's not forget all the menial tasks in between. My shoes and my feet are still in excellent condition. There is still no sign of wear to the bottoms of these shoes and I have retired my traditional golf shoes so this is the only pair I wear. I can't tell you the physics behind any golf swing or paraphernalia. What I can tell you is what works for me, the average, learn as I go along golfer. This shoe, the True Linkswear True Isis, works. It is comfortable, durable and innovative. I would recommend it to anyone, whether you are a beginner or a seasoned golfer.
You can learn more about True Linkswear Isis on their website.