Bunker Mentality 2014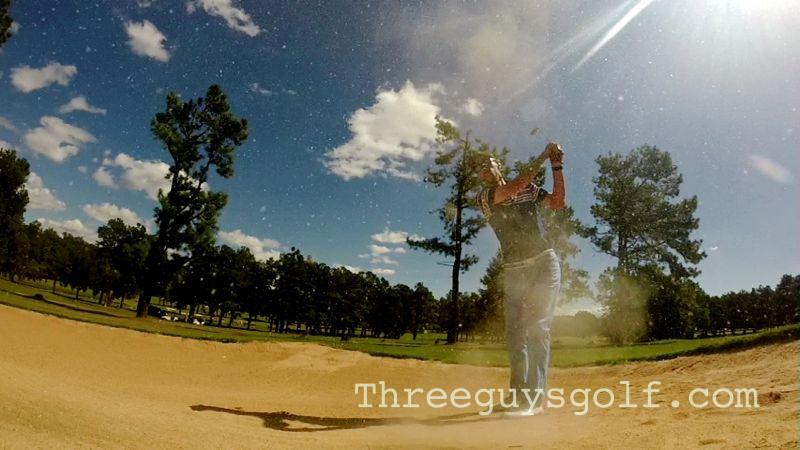 Right or wrong, often times companies get tagged for a certain look and then have a hard time shaking those conceptions even when they no longer fit. About four years ago, we were sent a bunch of Bunker Mentality shirts to review, and since our blog was still pretty new we were probably a bit over-giddy about the hip European brand. As the months wore on and we began to see more apparel, I compartamentalized Bunker Mentality as a "kinda cool, but a little over the top" brand.
Fortunately, I recently received some of their new gear and 'wow', I am having to adjust my idea of who and what Bunker Mentality is. Last fall I added a Bunker Mentality sweater and wind jacket to my collection and this fall a pair of trousers and the Players Stripe Polo. I have now fully revised my view of Bunker Mentality as they augmented the oversized crests with a number of outstanding designs that are incredibly functional, comfortable, and appropriate for even mild-mannered Americans.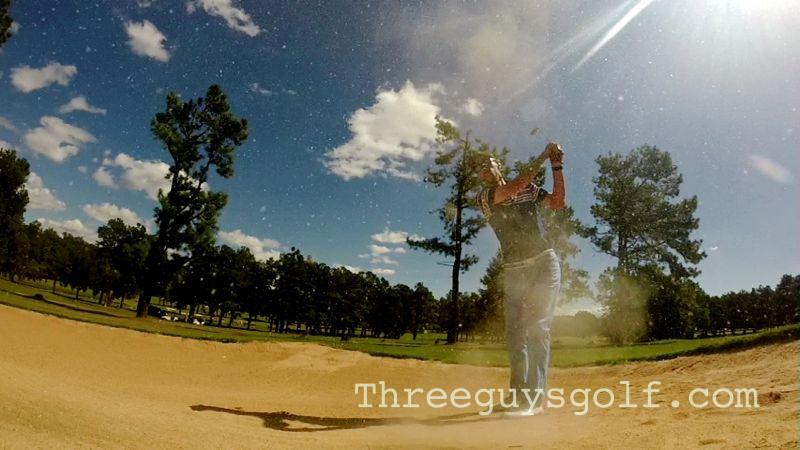 Lets start from the ground up:
Jetback Trousers: Pants are an essential part of any man's wardrobe and chief among that collection is surely a stack of jeans. Why? Because they are super comfortable, fit well and can be worn for nearly every occasion. How is it, then, that golf pants never fit or feel like our favorite pair of jeans?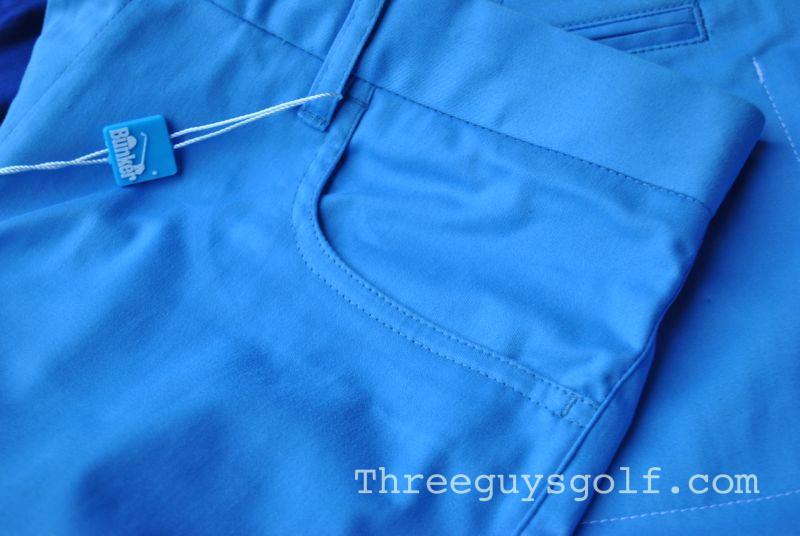 Side rant: You know how you can find a pair of jeans for like $30 on sale at Target? Hint, they suck, they all suck. I am the cheapest dude around and last year I finally broke down and spent $120 on a pair of jeans. I almost lost my mind when I realized how much they were but I had reached the point where I did not own a pair made after 2005. Well, I am now a card carrying member of the expensive jeans club. Fact is, they just fit so much better and for the number of times you wear them, it's actually not that an expensive a purchase. Plus, chicks dig them and frankly that is all that matters.
Back to the Bunker Trousers: Good news folks, the Bunker Mentality Jetback Trousers feel and look just as good as your favorite pair of denims. Made from mercerized cotton, these blue trousers are insanely soft. If not for the fact that I can't wear blue pants everyday, these trousers would be my everyday golf pants. Beyond the fabric, what I really like about them is how they are cut, which is similar to your high end jeans. In other words, a little lower, a shorter zipper, and trimmer legs. Obviously, not a great choice if you are bigger guy, but for the slimmer golfer they look great. They have also added a little white overstiching on the back pockets that is a nice touch. Pocket-wise (cuz the pockets are critical), the front ones are deep and pretty easy to get into. The back pockets are large and can easily handle a yardage book or scorecard holder.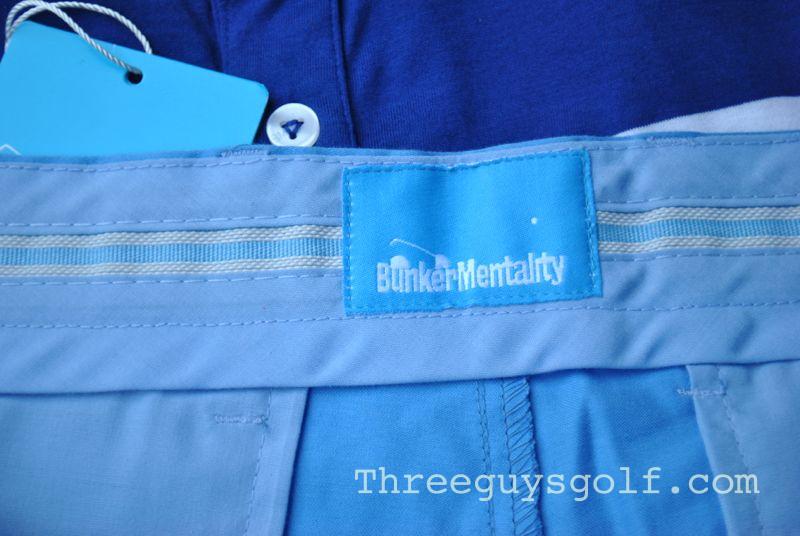 Care and concerns: Since these are made from mercerized cotton you are best to wash inside out and hang dry to avoid any shrinkage. My only concern with these trousers is that despite having a non-slip waistband you will likely spend some time re-tucking in your shirt due to the fact they are fairly low cut.
Racing Strip Playa Polo: No, that is not a typ0… it is called a PLAYA polo cause they are are just cool like that. Hip names aside, I literally had four guys at my club (AKA, Three Guys Golf Peanut Gallery), ask me what brand shirt I was wearing. In other words, the Racing Stripe polo got two thumbs up. This shirt is also made from mercerized cotton and definitely what I would classify as high quality. As expected, it does run small and you need to order a size up. Additionally, you will want to hang dry and steam. (hey, looking good sometimes requires a little extra time so no complaining).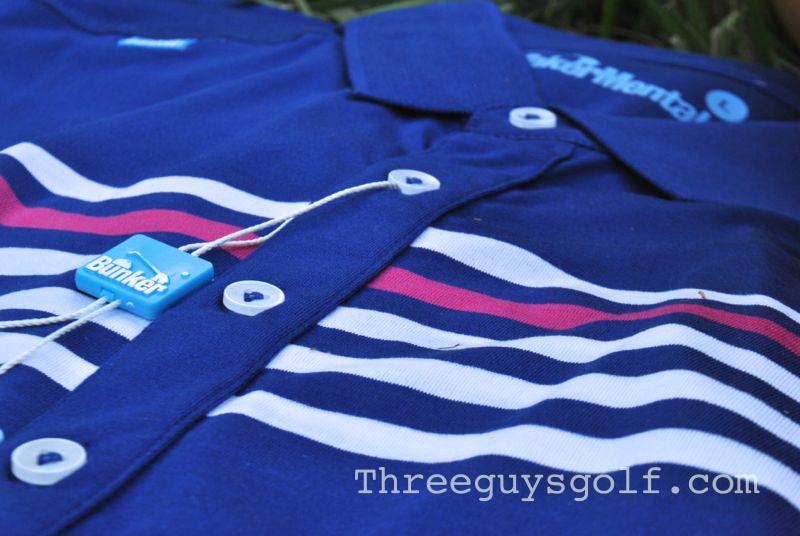 Belts: I have an embarrassingly large collection of belts and buckles so I am pretty picky. Until recently, I had only seen the leather Bunker Mentality belts, which for me did not measure up to most of my other belts. However, I do really like the Hippsway webbing belt. First off, they are only like $30 which is about a third of the cost of most quality leather belts. Furthermore, the lightness of the belt is a nice change and it works well with pants that have thin loops. Of course, being Bunker Mentality, they did add the tag line "Hit it Hard", which is kinda cool but does not jump out at you.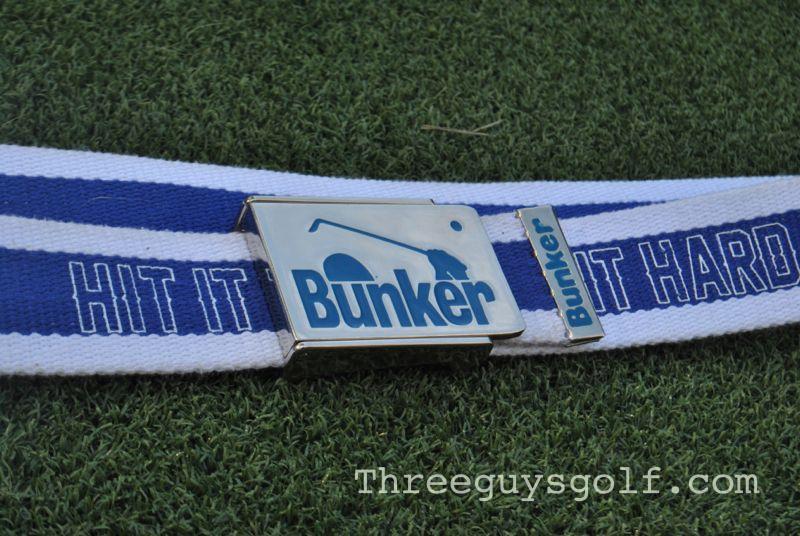 Wind Jacket: I don't know why it bothers me so much but I want to punch dudes who wear the old style wind breakers that make them look like the Michelin Man. Seriously, fellas, that looks good on NO ONE. Plus, they are all over the place. On the other hand I absolutely love the Bunker Mentality Black Wind Jacket. I have had this piece for a year now and it still looks and feels great. Slightly tight but not at all constricting, this jacket is perfect when there is a chill in the air. I am a big fan of sweaters for fall golf but when the wind picks up you really need a shell that will keep the warmth in while also letting your body breathe. I have been totally impressed with this jacket and it is a staple of my fall/winter golf collection.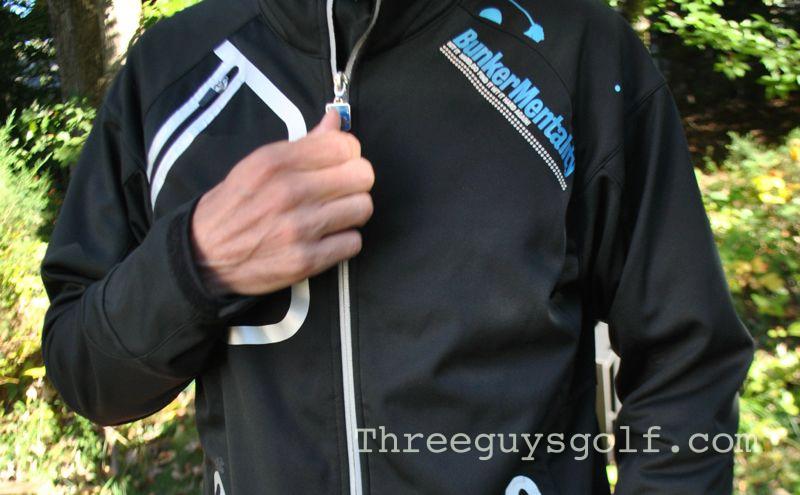 Pom Hat: Unfortunately, I do not have very much firsthand experience wearing this hat since my son to0k it from me nearly the day it arrived. So, yea, the kids dig it. There is nothing worse that an itchy forehead from a wool hat. Don't get me wrong, I love wool (for my socks) but not so much on my head. These hats are 100% acrylic and even have a fleece band so your head stays warm and your forehead happy.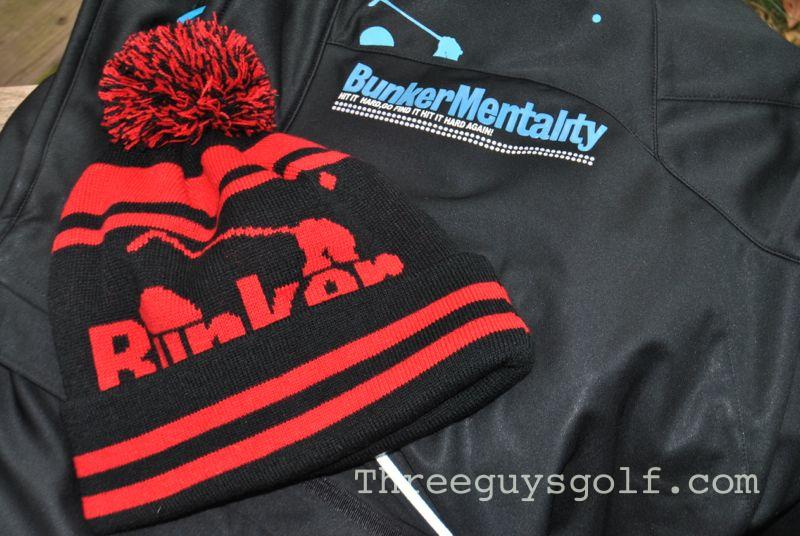 So if you are like me and had the impression that you were not nearly cool enough to wear Bunker Mentality, it might be time to revisit their site. Yes, you are still going to find the Bad Mutha Putta Clubhouse Polo that has a back graphic that is only rivaled by Jax Teller Reaper tattoo. However, you are also going to find some of the best trousers and shorts I have worn at really good prices. Plus a number of classic looking polos (at least on the Bunker Mentality scale of classic) that are appropriate even if you are a 40 something living in Kalamozoo (I was born in Michigan so I can tease).
Check out all the gear on the Bunker Mentality website.