Footjoy Hyperflex Golf Shoes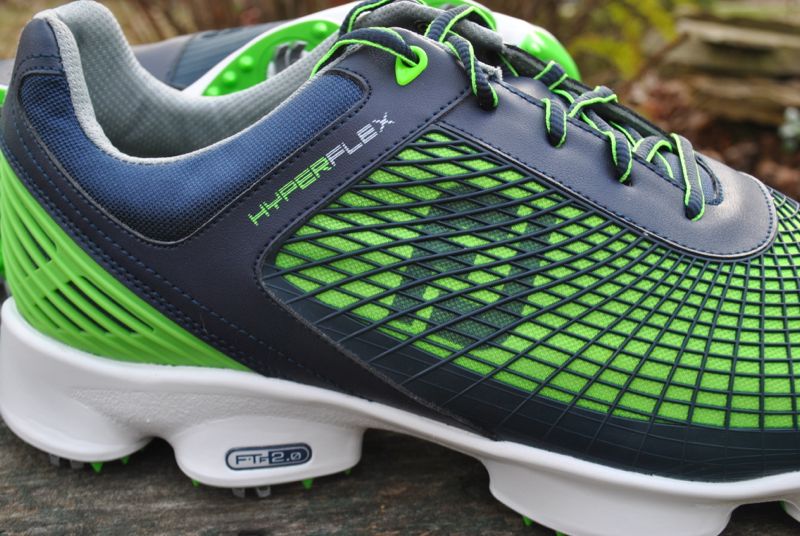 So you absolutely dominate the golf shoe market despite a ton of new companies trying to chip away at your base. Despite your storied history, resting on your laurels is risky with the required annual new model release. Inevitably, you are faced with the same question every year- play it safe or try something new. Surprisingly, for the past few years, Footjoy has chosen to the road less traveled and risked going outside their brown saddle history to try and reach a younger demographic.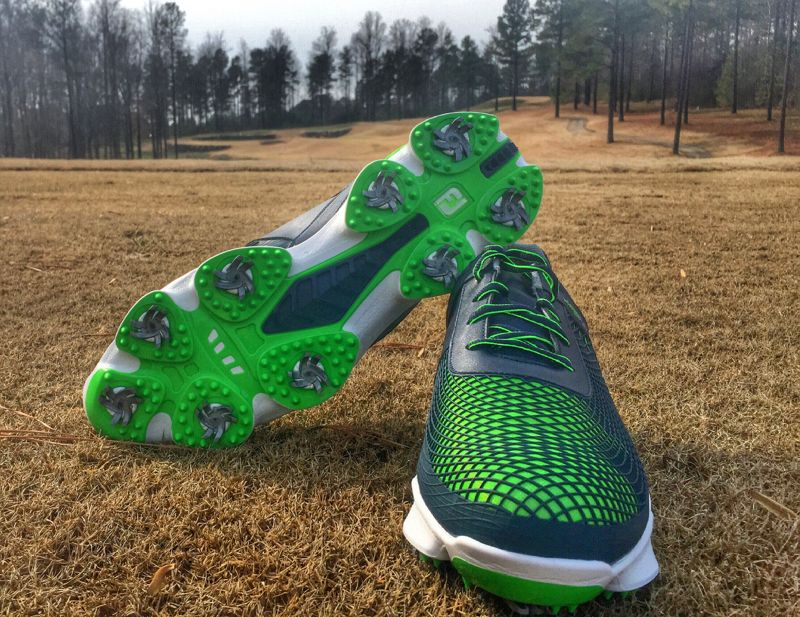 Two years ago, FJ took a stab at the minimalist shoe market when they released the M Project, and not only did we give them high praise but I still see them being worn fairly often. Then last year they released the FJ City in an attempt to get the hip crowd. We also reviewed that shoe and while we liked the idea, we did not love the shoe and frankly I have never seen anyone on the course wearing them. On the flip side, FJ also released the DNA in 2014 and garnished wide praise including our review. The point is Footjoy is not afraid to take risks despite their "old man shoe" reputation.
So in 2015, FJ is pressed yet again to come out with a new flagship model. A shoe that carries the FJ tradition of comfort and performance and takes another step toward reaching a younger market. That shoe is the FJ Hyperflex.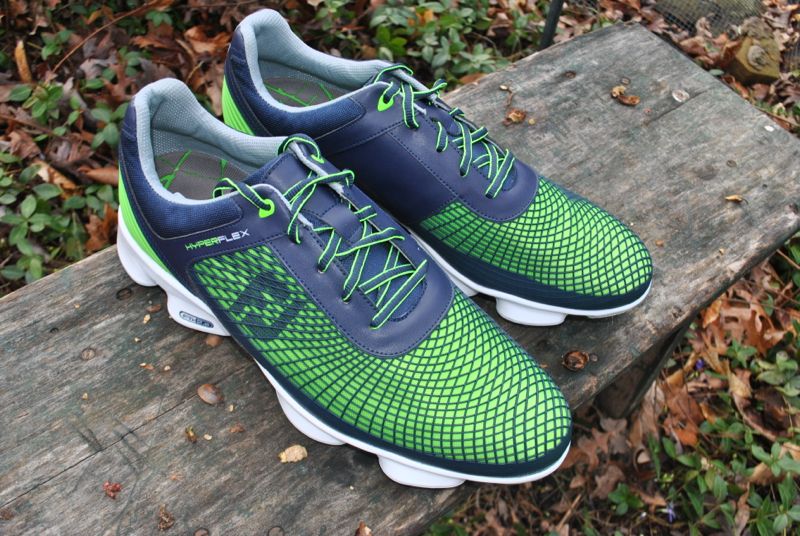 With obvious Spiderman looks, the Hyperflex is perhaps the boldest FJ shoe to date. While the black and white versions are not super loud, the green version is nothing short of "yikes". This coming from a guy who owns a pair of blue and gold FJ Icons (which I still wear and love). Bright green and blue will definitely draw attention, albeit they are very similar in looks to many running shoes (just not many golf shoes).
So for the record, I think FJ makes solid shoes, and models like the DNA are prime examples of a tour level shoe. So, I went into the review of the Hyperflex with the expectation that they would live up the their recent releases.
Anyone who reads this blog knows that I am not afraid of color, so the green was not off-putting to me. However, I am not a huge fan of the mesh and not just from a style point of view.
My office may be a disaster, but I like to keep my golf bag and equipment super clean, which means I typically wipe down my shoes after every round. In the case of the Hyperflex, the mesh makes it really hard to maintain that new shoe look as a damp towel will just not do the trick. After some experimenting I did find that I could use a hose to flush most of the dust and dirt off, but with pollen season just around the corner, I do worry that keeping these shoes clean will be quite a chore.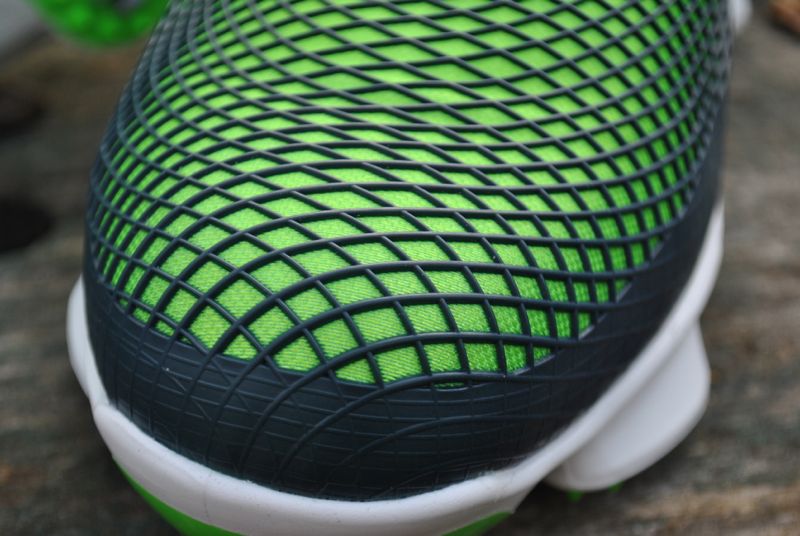 So while the FJ Hyperflex may not be ideal for those who like to wipe down their shoes, the mesh outer skin does serve a purpose, namely to give you flexibility and structure at the same time. The idea is that the shoe can move with you then snap back to its original shape. A nice idea, but frankly I have never really had problems with shoes that lose their shape so I am not convinced of the value. Moreover, the flex is only lateral, as the sole of the shoe is quite rigid. In other words, when you walk, the shoe does not bend very much. In fact, the sole is so stiff that it is very difficult to bend the shoe. The below picture is me pushing down on the shoe with quite a lot of force. Maybe I am missing the point and the idea is to let you foot move laterally, but in that case I don't even really know why that is important.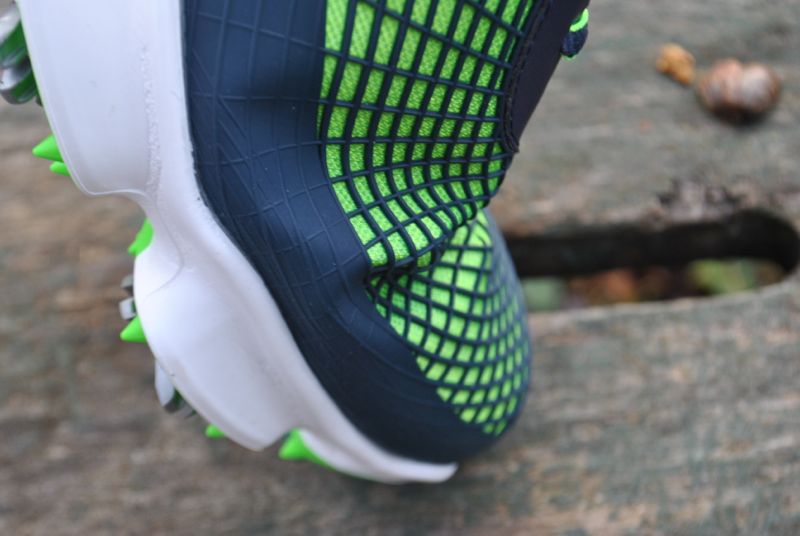 Looking back at the heel section you will notice a stiffer portion of plastic. FJ calls this this Optimize Performance Stabilizer. The idea is to give you added support in the heel section where you need less flex. Again, sounds good on paper but frankly I'm not sure how much value it adds compared to any other shoe.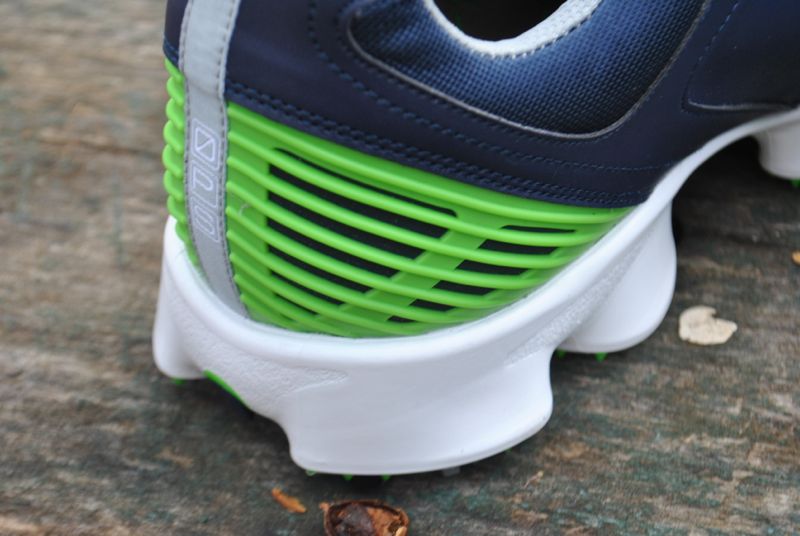 So far, as you can tell, I am not super impressed with the Hyperflex. I don't hate them, it just seems like they have added bells and whistles that I don't really care about and/or cannot really determine what purpose they are serving. With that said, FJ has pretty much always nailed the comfort zone. As I mentioned, I have a pair of FJ Icons that I wear on a semi-regular basis and still think are really comfortable and have maintained their look even two years later.
In the case of the FJ Hyperflex, I have worn them for 4 walking rounds. My takeaway is that they are "fine". My feet did not hurt, no blisters, no aches or pains. Why, then, just fine? Well, FJ has a reputation of absolute comfort and I hold them to a pretty high standard. When I put on the FJ DNA shoes, I instantly knew they were a tour level shoe (and you can see them on tour). My Icons, depite being old school, are also very very comfortable (although I only wear them when I ride a cart).
With the Hyperflex, I was like "yea, they are ok". Maybe that's unfair, but compared to other $180 golf shoes, I just don't think they have the 'wow' comfort factor.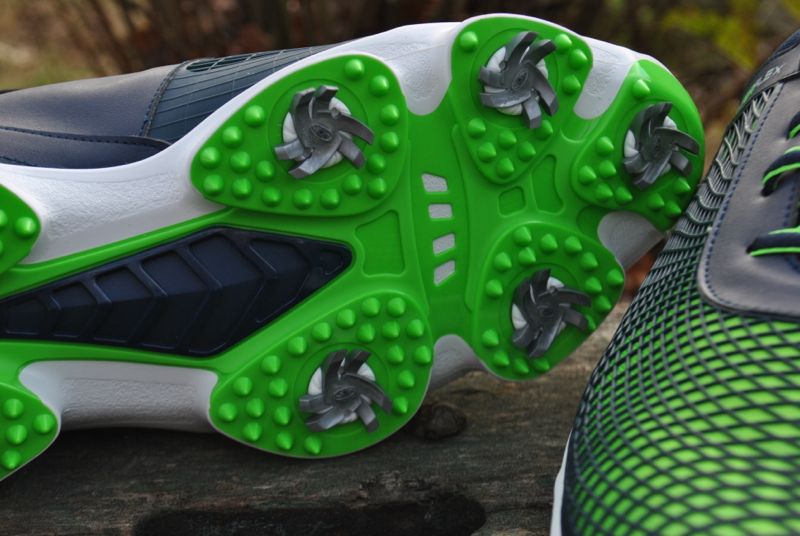 Alright, enough picking on the Hyperflex. Surely FJ nailed something, right? Well, if you are looking for traction, the Hyperflex has you covered. With Tornado cleats surrounded by additional built-in spikes, the FJ Hyperflex could give slippery ice a run for it's money. No way you are going to slip wearing these shoes. So you have that going for you, which is nice.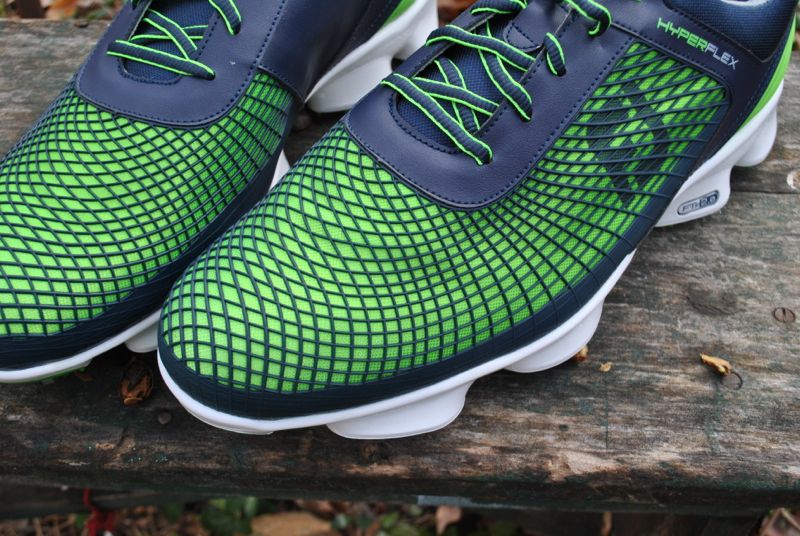 The verdict:
Footjoy should be commended for their commitment to technological and design experimentation, but it is unreasonable to expect them to bat 1,000. The Hyperflex is a fine shoe but for me it misses the mark on a few important levels. Setting aside the looks, which is subjective, I think the mesh makes them way too hard to keep clean and the comfort level is not to the level I have come to expect. Time will tell and I think the number of guys who wear them on tour will in part be a good estimation of how well they are being received.
You can check out more info on the Footjoy website.