Cleveland RTX-3 Wedges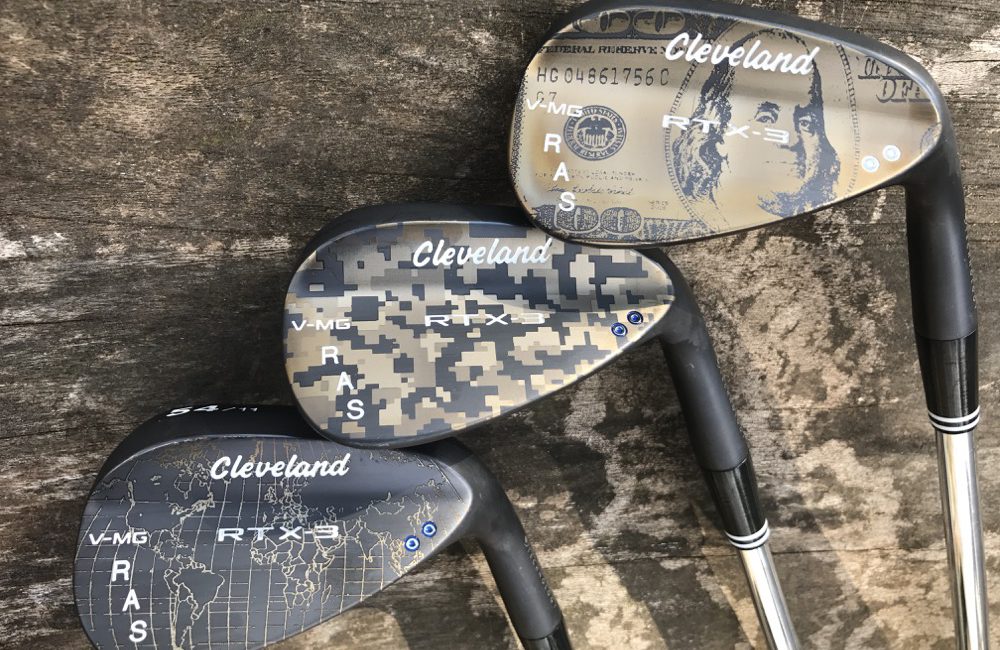 Historically, the best golfers have always been admired not for their technical skill but for their creativity. While we applaud the 350 yard drive, what really gets fans going are shots like Bubba's massive hook out of the trees to win the Masters, Mickelson's ability to see shots no one else could imagine or Roy McAvoy's persistence to never lay up.
You see, art has always been a source of inspiration and admiration. Despite governments' attempts to defund, delegitimize or even criminalize, art has survived because at a very human level everyone appreciates its beauty. Sports may not be classical art, but every fan knows art is a fundamental part of athletic greatness and we rightly celebrate it.
Golf is a great sport for so many reasons which are well told by organizations such as The First Tee. Personally, I have always felt that golf has improved some of my weakest traits, namely patience and concentration. For others, it might be honesty, humility or determination. Often lost is the more obvious skill gained by playing golf – creativity. Because there is no one way to hit a golf ball or play a shot, we are forced to channel our creative side and to weigh different options. A low runner, a high flop, Texas wedge? Each has its merits on any given day and that is what makes golf so wonderful.
Fortunately, golf allows for creativity beyond just shot making. Most notably, fashion has always played a huge role in golf. With no uniforms, players are free to dress pretty much any way they like. Whether you are a traditionalist, monochromist, Loudmouth-ist or somewhere in between, golf fashion is the easiest way to show your personal individuality.
Since I have been writing Three Guys Golf, I have started noticing a new trend that expands the concept of individuality. First it was the massive growth of custom headcovers, then it was blinged out putters. Now the big brands are starting to take notice by giving their customers the opportunity to customize their equipment.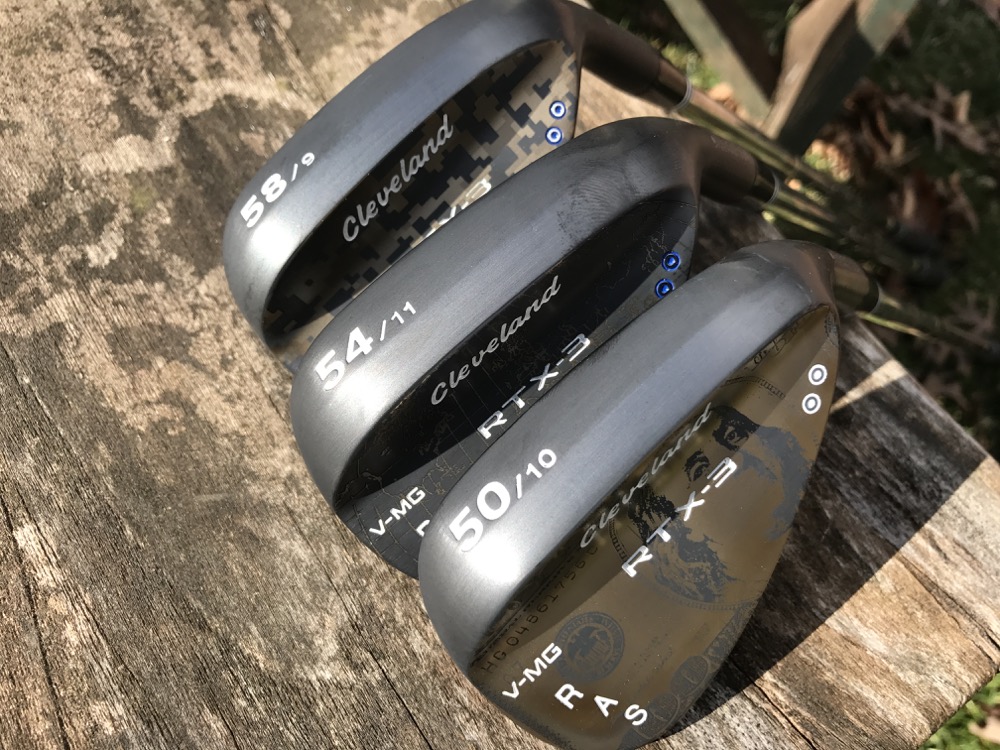 First a heavy dose of disclaimer – my short game is not particularly strong and I firmly believe that the player is more important than the equipment. With that said, wedges are some of the most important clubs in your bag and in the right hands can be critical in scoring. Hence, my review of the Cleveland RTX-3 wedges will be heavier on looks and feel rather than technical specs.
While every big golf company makes every club in the bag, most are known for one section of the bag. To that end, Cleveland has always been known for its wedges. If you have played golf for any amount of time I would bet dollars to donuts you have had a Cleveland wedge in your bag at one time or another. For me it has been a while since I have played a Cleveland club, but they were in fact the first wedges I ever owned. The new RTX-3 now ends a 10 year drought of Cleveland wedges in my bag and I doubt they will be making an exit anytime soon.
The Cleveland RTX-3 wedges give the player so many options. Beyond choosing RH or LH, you can choose the shaft type, shaft model, flex, length, lie, loft adjustment, grip and even additional grip requests (like 2" lower tape). Hello, my head is spinning and I have not even gotten to the fun stuff.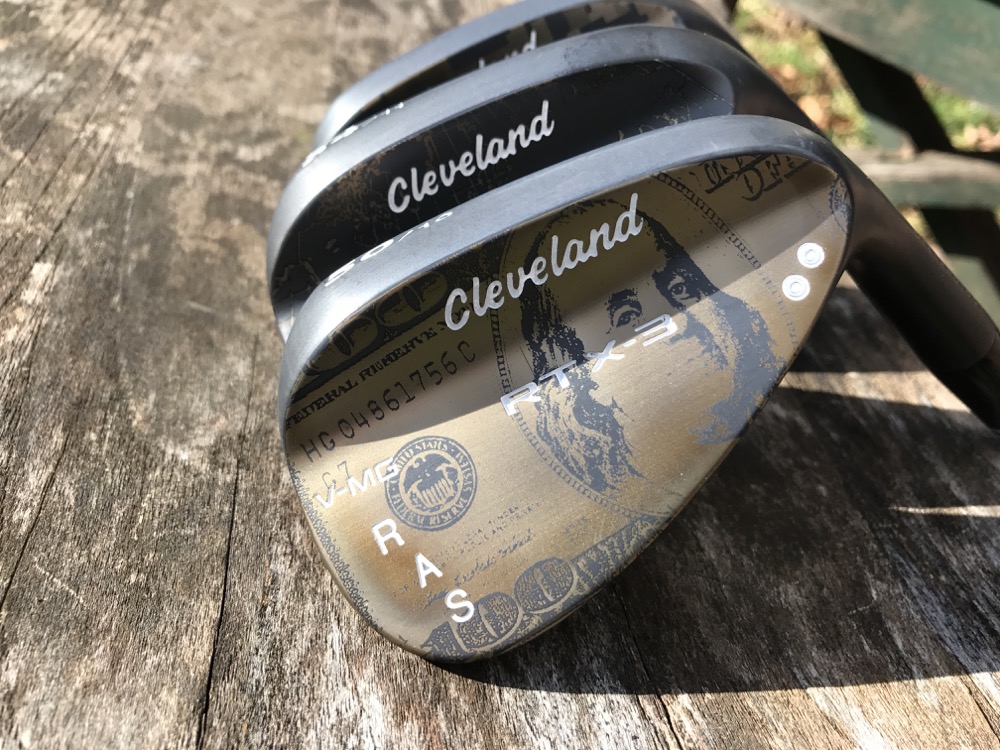 Let's start with bounce: there are 3 different bounce choices. For sophisticated players, this means you can choose the optimal bounce for the conditions and swing type you play. Specifically, you can get LG (Low Grind), MG (Mid Grind) or FG (Full Grind). Basically, the LG is for tight lies and a shallow attack angle while the FG is for softer conditions and a steeper attack angle. Not sure what is the best grind for your game? Take a page from my book, split the difference and go with MG.
I won't dive into the other options, but suffice it to say that you can tweak these wedges to be exactly what you want. The hardest thing is to know exactly what you want.
One thing that is standard with all of the wedges is the new groove technology.
Groove Technology:
We have all seen how Tour Pros spin their wedges back and we know our balls are supposed to check, but making it happen is not as easy as it looks. One obvious way to get more spin on the ball is to use a club with exceptional grooves. Even with the naked eye, you can see why the Cleveland RTX-3 wedges have serious bite. Utilizing a multi pass micro milling process and changing the angle of the grooves based on loft, Cleveland has created a serious amount of traction. Simply running your finger across the blade you can feel a huge difference compared to most other wedges. So for those looking for real bite and ability to spin the ball, the Cleveland RTX-3 wedges deliver.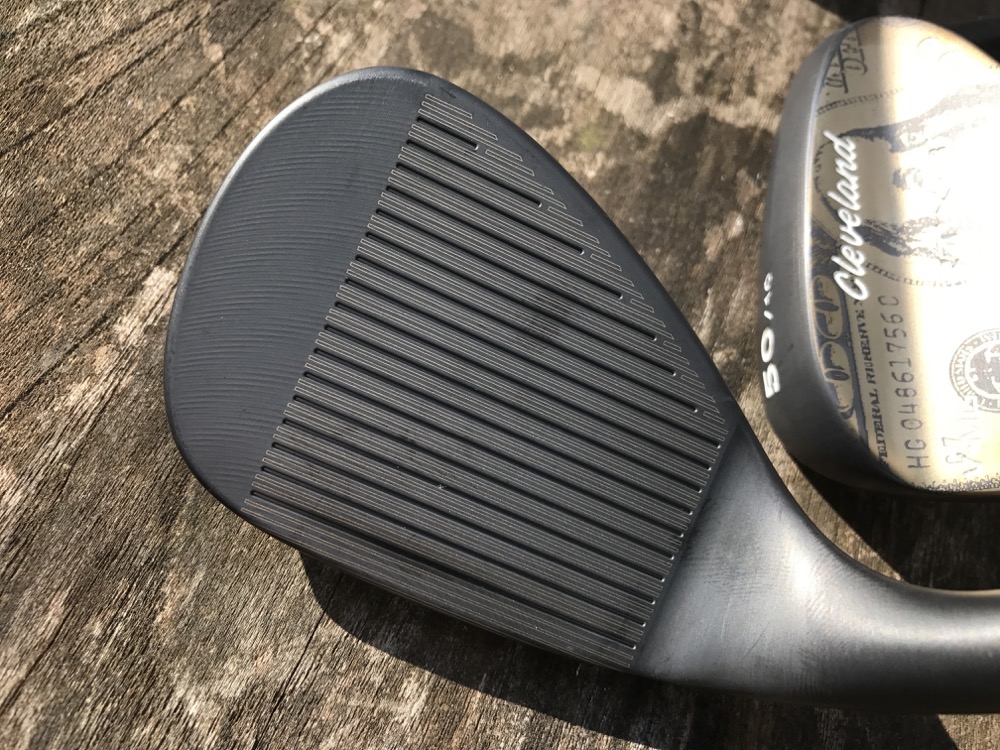 Beyond the technical spec options, Cleveland is offering a number of purely cosmetic options. This is where you get your creative juices flowing as you will be able to modify paint fill colors, choose a skin and add your initials.
If you are like me, you regularly like to check out all of the blinged out wedges that show up on Instagram and Twitter. Unfortunately, those wedges come with a big price tag. Fortunately, Cleveland is making it very affordable to customize your wedges beyond just adding your initials (which is not too shabby a start).
Cleveland has broken down the customization into three sections. Each of these sections can be customized with numerous paint fills. While it seems like a cool idea, I would expect most people will choose the same color for all three sections otherwise it tends to look a bit disjointed.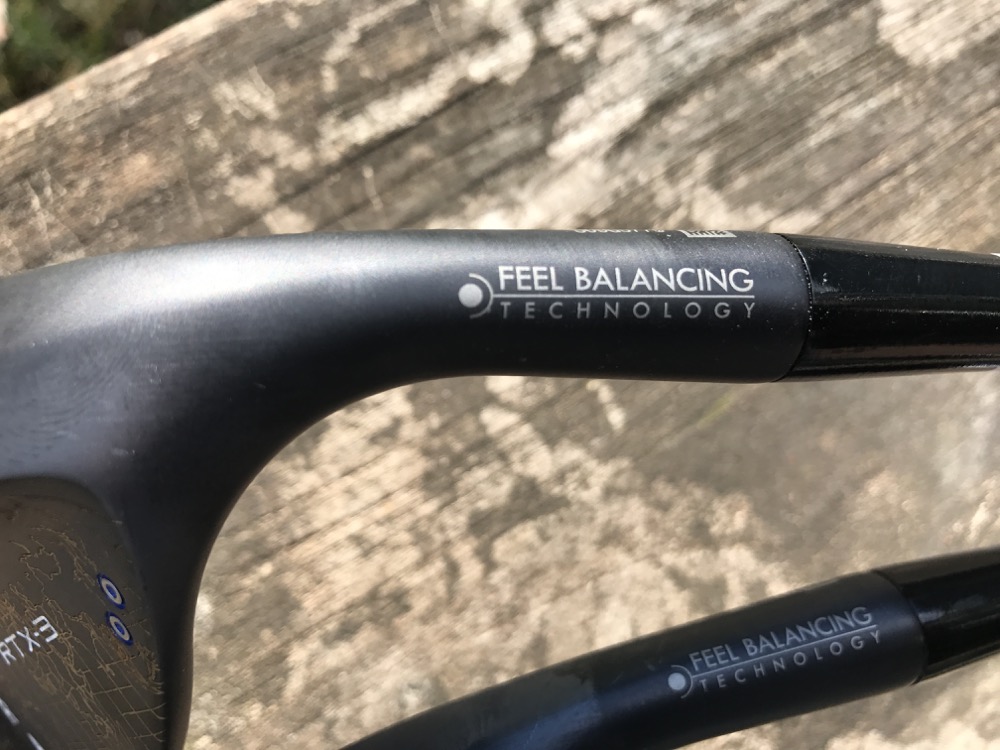 None of that matters though when you see that "skins" that are available. For years, skins have been a popular way to customize cell phones, but being the slow mover that golf is, it has taken a while to reach the club industry. With that said, I am super glad Cleveland has picked up on the trend as it gives you the opportunity to transform your wedge into something special. NOTE: paint fills are available on all RTX-3 wedges but skins are only available on the Cleveland Black Satin RTX-3 wedges.
For this Cleveland RTX-3 review, I chose three different skins: digi-camo, Ben Franklin and world map. This was a tough choice because I had to pass on carbon fiber, US flag and camo.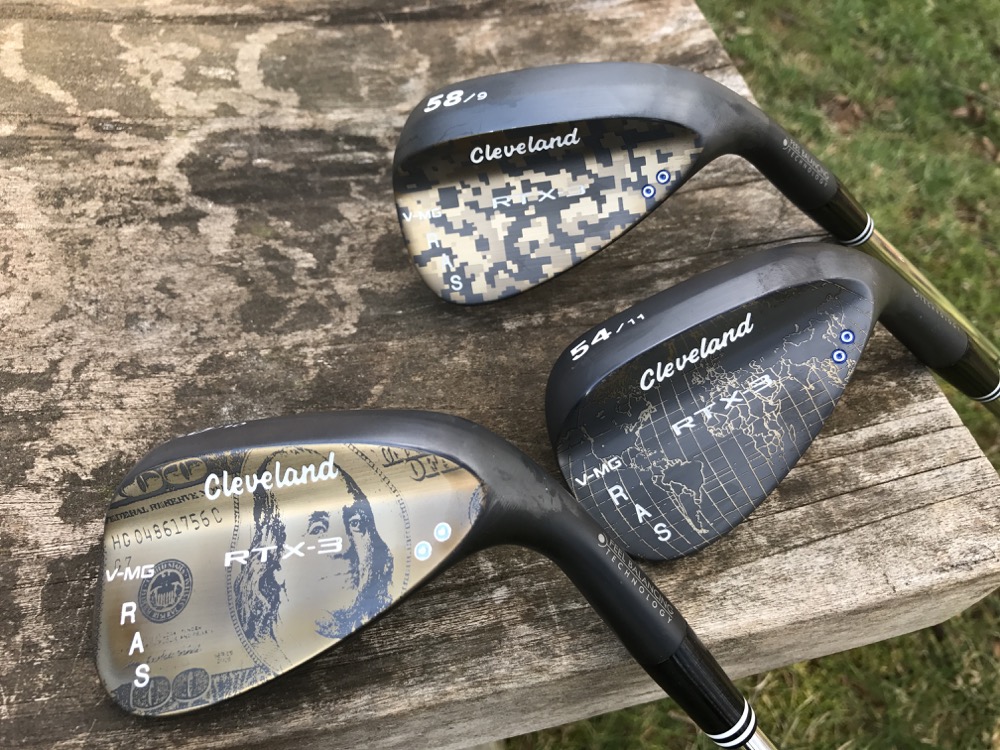 Wow! When I first received the clubs, that was my first thought. While my short game is still mediocre at best, at least I now had some of the best looking wedges I have ever seen. Each skin looked amazing and has held up fantastically. I have been playing these wedges now for over three months and while the bottom has lost some of the black finish, the skin remains in perfect condition. Plus, it's so money when I stick one close with Ben F.
Performance:
As I copped to, my short game is not great but I have absolutely noticed a performance difference with the Cleveland RTX-3 wedges. This is especially true when I am just practicing and not actually hitting a pressure filled flop shot that matters. First off, you can feel and see the effects of the grooves. Balls bite and I have even managed to spin them back a few times (something I just don't typically do).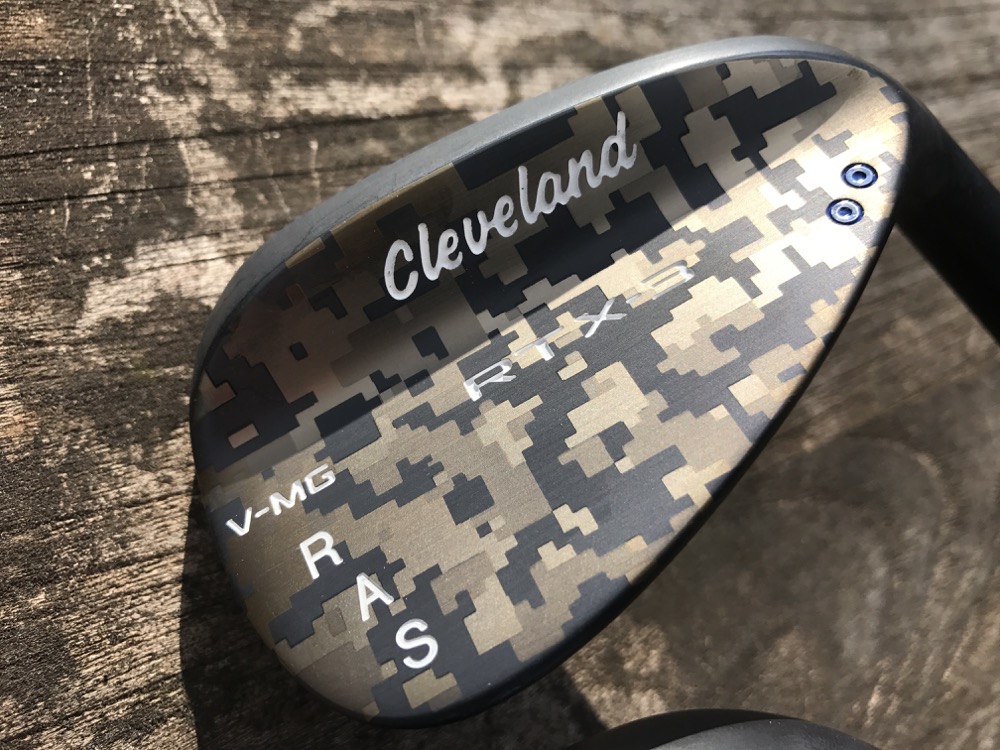 Sand traps are the other area in which I have really appreciated the Cleveland RTX-3 wedge. Recently, I played a course with some of the best sand I have ever encountered. I was just amazed at my ability to control the ball. Now, I am not giving all the credit to the wedge. In fact, I think most of us would have a much better sand game if we got to play out of PGA level traps. Unfortunately, many of us are forced to play out of hard, clumpy and just plain unpredictable sand. With that said, I have no doubt my sand game is in better shape with the Cleveland wedges.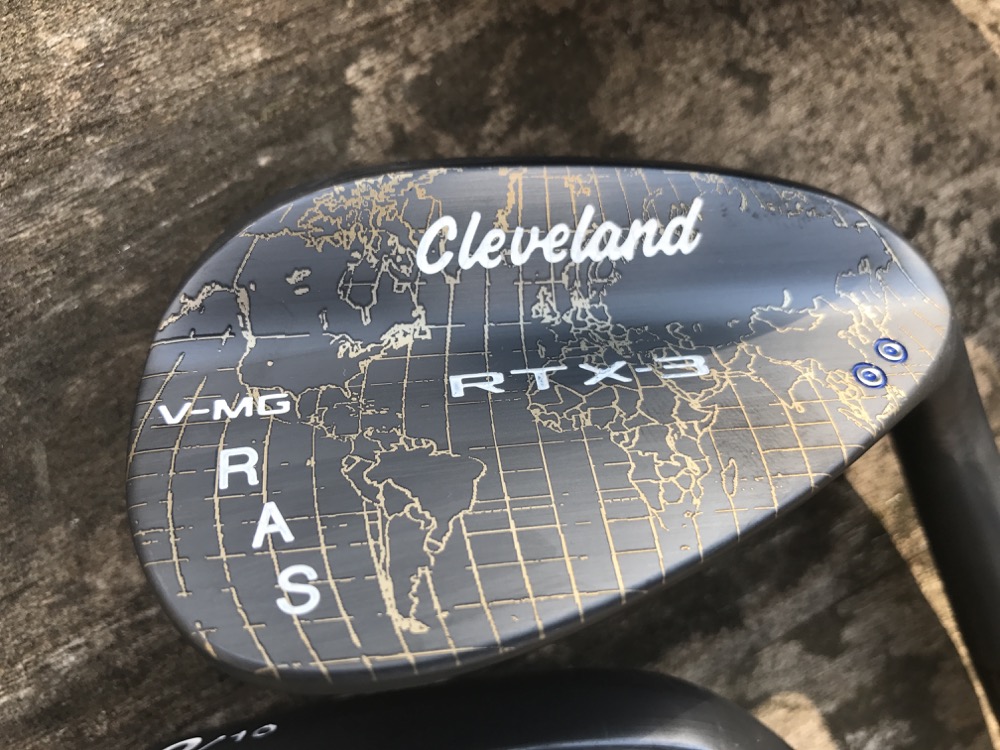 Bottom line (AKA The Money Shot):
For those of you who rely on their wedges to hit shots into the green, chip or play flopadopolis, you should be checking out the Cleveland RTX-3. If on the other hand, your short game is ass, you should definitely be checking out these wedges because it will at least make you feel like a player; on a good day can be the difference between a tap in par and recovering from a skulled shot that ran 40 yards over the green.